While most people search for places to eat at Tagaytay or what to do in Tagaytay, some, look for restaurants that allow pets or pet-friendly restaurants.
Whether it's going for a walk or driving around Metro Manila, we do our best to include them in our plans. And what better day out in Tagaytay with the cool breezy weather for fluffy dogs?
These pet-friendly restaurants are perfect to relax, dine, and bond with your beloved pet which is also situated near your condo in Tagaytay.
Restaurants in Tagaytay That Allow Pets
Farmer's Table
Located inside Nurture Wellness Village, Farmer's Table is an al fresco-style restaurant that serves healthy Filipino food mixed with other Asian cuisines.
It's a great place to take not only your furry friends but also your family members on a casual day out. Either seat on the terrace, garden area, or in the bar area.
Besides being pet friendly, there are numerous delicious dishes to try and while you're there, treat yourself to a relaxing spa treatment at the Nurture Wellness Village.
What to try in Farmer's Table:
Sizzling Bone Marrow Bulalo & Truffled Mushroom Gravy
Char-Grillled U.S Beef Cheeseburger
Herbs De Provence with garlic rice
Chili garlic Pork Knuckle "Crispy Pata"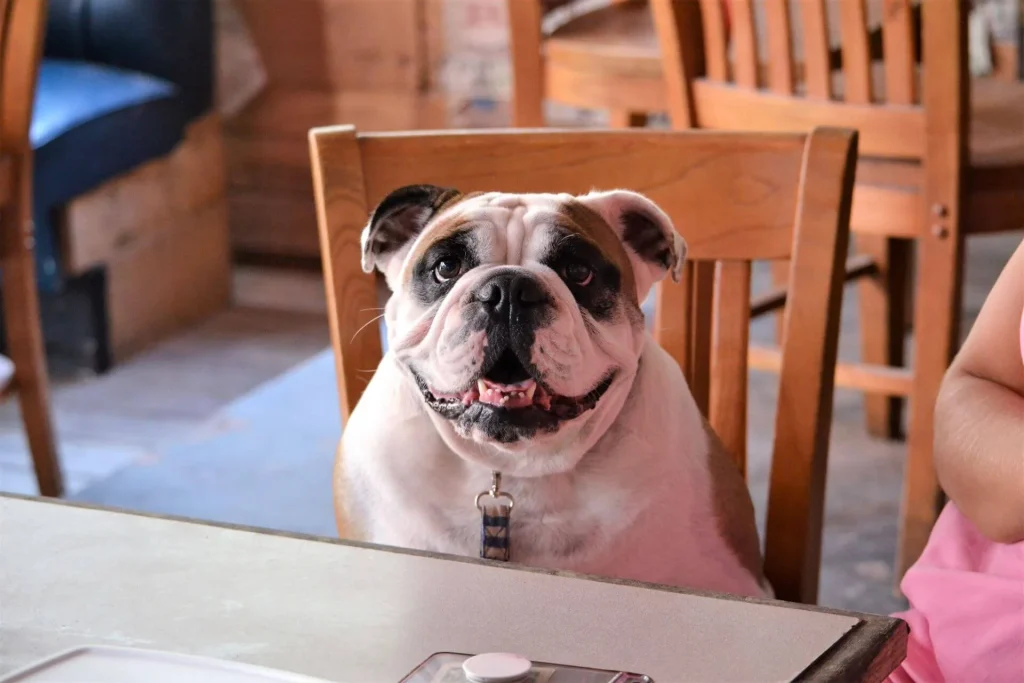 Cafe Voi La
At Crosswinds Tagaytay, Cafe Voi La is a cafe restaurant inspired by an Asian getaway by its owner Ica Sebastian. The cafe in Tagaytay is dressed with Asian ornaments and display, while its furniture is collected from Ica's many travels.
This cafe has the coziest ambiance while having an eccentric interior. Besides the comfort food and picturesque ambiance, they also allow pets inside their restaurant.
It's the perfect restaurant to enjoy a hearty breakfast or you could try their hot chocolate "Tsokolate E". Their other drinks are also worth the try.
What to try in Cafe Voi La:
Cafe Voi La Kare-Kare
Fettuccine al Pesto
Classic Puto with Cheese
Grilled Chicken Satays
Balinsasayaw
Leaving the metro also means going to Tagaytay for comfort food. One of the other pet-friendly restaurants is Balinsasayaw which is also al fresco and has a great spot to look over the view of Tagaytay.
What to try in Balinsasayaw
Crispy Kangkong and Spicy Ginataang Talong
Bulalo
Pork Sisig
Crispy Kare-Kare
Loumars Cafe and Restaurant
Another hidden gem among the restaurants in Tagaytay, Loumars Cafe is perfect for large groups or when out with your family.
It's a resto where you can satisfy your Filipino food cravings. Apart from the good food, they also offer coffee which you should definitely try. They are also known to have the best buko pie and fruit-flavored tarts in Tagaytay.
The ambiance really feels homey among customers who visit their place frequently. Because of its al fresco dining, pets are welcomed here.
What to try in Loumars Cafe and Restaurant
Pork Sisig
Bulalo ng Tagaytay
Mixed Seafood
Their coffee menus such as White Mocha and Iced Latte
Buco pie and other available treats at their pasalubong gift shop
Bag of Beans
Bag of Beans is one of the top restaurants in Tagaytay. If you wouldn't believe that, most customers have enjoyed their stay and meals, on top of that, it's always on the list of "where to eat at Tagaytay".
Bag of beans has several branches around Tagaytay. They offer different themes depending on the branch. Enjoy choosing from their wide array of breakfast meals which are generous in serving. They also sell coffee and other baked goods inside.
It's dog friendly regardless of size due to its al fresco area. Enjoy their hearty meal while spending time with your furry friend and the al fresco view of Taal Lake.
What to try in Bag of Beans
Shepherd's Pie
Frozen Blueberry cheesecake
Baby Back Ribs
Monstera Cafe PH
A pet-friendly restaurant that's also a garden restaurant, Monstera Cafe is surely a haven for plantitas or plantitos who are going on a date with their fur babies.
Enjoy their delicious food and sip on some good coffee as you look around their wide varieties of plants. They also sell plants that you may not have yet or, who knows, you might get into the plant hobby.
Don't miss the opportunity to blend your love for food, coffee, plants, and your fur baby at this rustic restaurant.
What to try in Monstera Cafe PH
Beef Tapang Taal, Crispy Liempo
Monstera Meaty Bolognese
Monstera Burger
Coffee (Specialty Coffee: Siphon Method, Iced White Chocolate Mocha Frappe)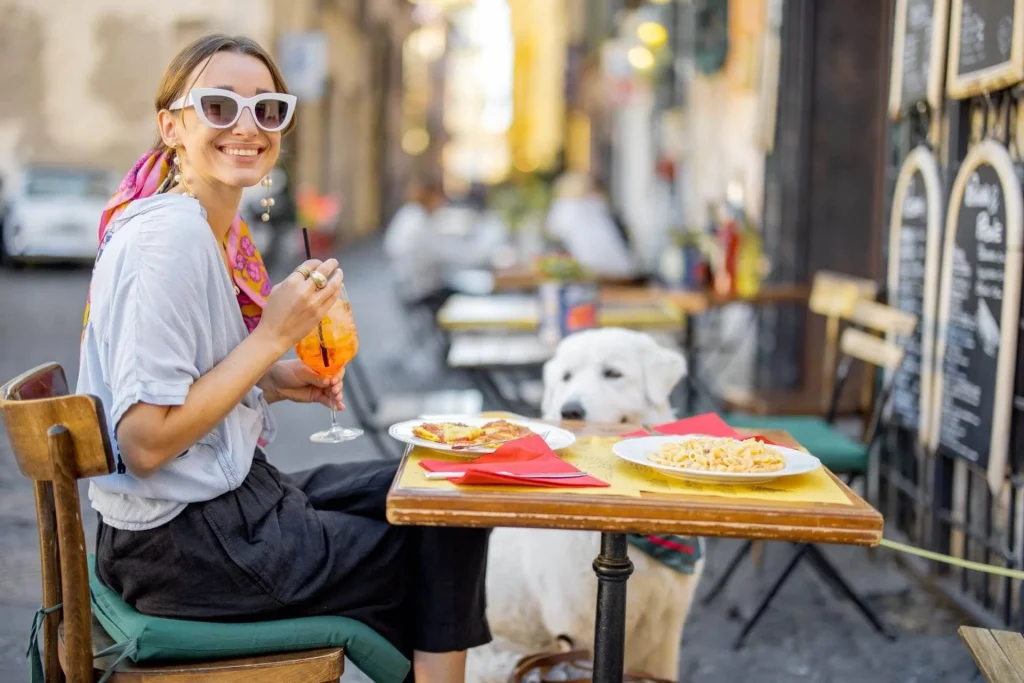 Marcia Adams' Restaurant
As you escape the busy metro with your friends and fur baby, this resto in Tagaytay takes you to Tuscany. A garden-setting restaurant, Marcia Adams offers Mediterranean dishes.
From architecture inspired by various Mediterranean structures to their garden that takes you to a different place, it's the perfect place to go on a date with your furry friends away from Metro Manila.
What to try in Marcia Adams' Restaurant
Steak with Truffle Butter
Kebabs
Grilled Aromatic Pork
Strawberry Yoghurt Ice Cream with Berry Compote
Lime and Basil Thai Restaurant
Once a vacation house, Lime and Basil Thai serve good food using only fresh and quality ingredients, even having their own herb garden!
So if you're out with your furry friends and are looking for healthy dishes, you definitely shouldn't miss dining here.
What to try in Lime and Basil Thai Restaurant:
Pad Thai
Salted Egg Fried Chicken
Kao Neiw Mamaung (Mango Sticky Rice)
Breakfast at Antonio's
Dubbed as Tagaytay's "best breakfast" destination, you, of course, saw this coming on the list. This favorite destination in Tagaytay serves all-day breakfast and is also pet friendly.
Serving you besides great food is the majestic view of the taal lake from their outdoor area. Whether you're craving a hearty brunch or light meals, this restaurant offers sophistication worth the visit.
What to try in Breakfast at Antonio's:
Antonio's Housemade Corned Beef
Smoked Salmon Benedict
Ensaymada (You can request to have it grilled)
Burrata Salad with Honey Garlic Kaffir for those who prefer light meals
A Reminder for Fur Parents
While these restaurants mentioned are pet friendly, it's best to keep an eye on your furry friends and that they too are on their best behavior.
Some of the restaurants mentioned above, require pets to wear diapers while others only allow smaller breeds of pets. It's best to keep them on their leash or on a pet stroller.
Read more: Making Your House Pet-Friendly