Because of its pleasant weather and accessibility to the city, Tagaytay has become a popular weekend destination for Manila residents. Regardless of how often you visit this location, there is always something new to uncover like maybe a new must-visit diner, resto or even a gym. Skip your usual cafes and coffee shops on your next Tagaytay getaway and try one of these new and hidden Cafés for a change.
These Cafés and coffee shops that we are going to feature are just a short drive away from the hidden paradise in the city, Pine Suites Tagaytay by Crown Asia. A leisure residential condominium development located along Bonifacio Drive, Silang Junction West, Tagaytay City just a stone's throw away from the city's top tourist attractions.
See how close Pine Suites Tagaytay is to some of the best Tagaytay coffee shop to visit as well as some famous restaurants.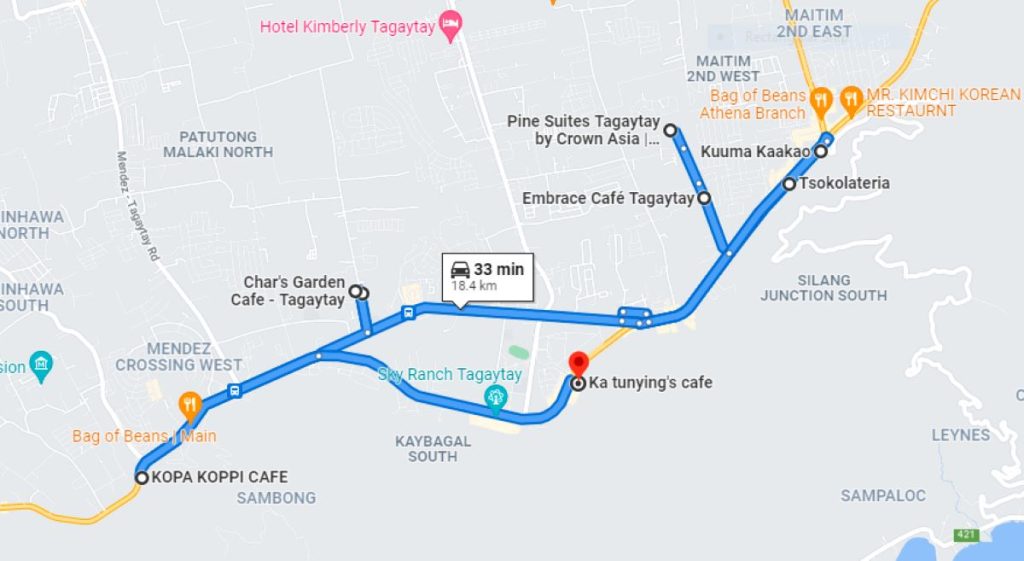 You can visit all of the cafes listed below in approximately 30 to 35 minutes.
6 Unique Must-Try Coffee Shops in Tagaytay
1. Embrace Café Tagaytay
Embrace Cafe is situated in a peaceful area of Tagaytay City. It is simple to get there by taking a bus from Manila and asking to be dropped off in Canossa, View site, or Magallanes Square. You can take a tricycle to embrace the cafe from there. If you're in a private vehicle, you can use Waze to find the cafe. And, if you're worried about finding a parking spot, don't fret; they provide free parking on the premises. This café along Bonifacio Drive Tagaytay – about 500 meters away from Pine Suites Tagaytay by Crown Asia is not your ordinary café as they employ differently-abled persons like those with hearing loss. They continued to serve the public despite the Taal eruption and the pandemic in 2020, as well as their differently-abled staff. We all know that many businesses battled last year and continue to struggle today, but let us be happy for them that they persevered and survived. You could include them in your itinerary when you visit Tagaytay to show your support to them.
Address: Bonifacio Dr, Silang Junction North, Tagaytay, Cavite
2. Tsokolateria Artisanal Café Tagaytay
Tsokolateria is located solely inside the famous hotel, The Boutique Bed & Breakfast, right across from the view of Taal Lake and Volcano. This Café inside the said hotel is Tsokolateria's second branch, which earned a name for itself in Baguio last year when it launched its first branch near SM City Baguio on Upper Session Road. Tsokolateria is most renowned for its original Tablea House Blend hot chocolate, which is handmade in a traditional manner. These come in a traditional patrol that can be whisked to bring out the chocolate's organic flavors. This Café is one of few Cafés in Tagaytay with Alfresco dining. Their Alfresco dining area is a terrific spot to relax and enjoy the cool Tagaytay wind, especially in the late afternoons when the sunset is magnificent. With its colorful private gazebos and amazing ambiance, the venue transforms into a romantic dining spot in the evening. Know more about their menu online on their official social media accounts.
Address: The Boutique Bed & Breakfast, 45 Emilio Aguinaldo Hwy, Silang Junction South, Tagaytay, Cavite
3. Kuuma Kaakao Kaffe
Kuuma Kaakao Kaffe is one of the underrated Cafés in Tagaytay City that deserve a lot more attention. Kuuma Kaakao is a humble homegrown cafe in Tagaytay that serves traditional hot chocolate and Filipino snacks. We all know that nowadays, most coffee shops provide mostly pastries alongside their coffee. But at Kuuma Kaakao Kaffe, you'll realize that not only pastries but also Filipino delicacies or "kakanin" like turon, bibingka, and puto bumbong will round out your coffee break. You don't have to wait for the Christmas season to have a bite of puto bumbong! Aside from that, this Café is also complemented with an outdoor dining area that overlooks the breathtaking view of Taal Lake and Volcano.
Address: Hillcrest Plaza, Silang Junction South, Tagaytay, Cavite
4. Char's Garden Café
Char's Garden Café is a tiny neighborhood restaurant where you can dine alfresco while eating Filipino cuisine. It has evolved from a small canteen in a charming cottage to a Garden Café. This is not your typical Tagaytay café with a view of the Taal Lake and Volcano. The tranquil, peaceful, and pleasant atmosphere of this Café is captivating. It's because of the flowering and ornamental plants that are on display, some of which are for sale. If you're one of the "plantitos" and "plantitas" you should visit Char's Garden Café. In terms of food, they are serving classic silog meals, sizzling sisig, Kare-kare, bulalo, sinigang, crispy tawilis, crispy bagnet, pinakbet, and more. Snacks, sandwiches, fried noodles, nacho salad, and other products are available as well.
Address: Patutong Malaki North, Tagaytay, Cavite
5. Kopa Koppi Café
The popular bulalo restaurant, Bulalo Capital Tagaytay, has opened a new café in Tagaytay called Kopa Koppi Café. This café is located along the Tagaytay-Nasugbu highway and, like the other cafés in the city, offers a spectacular view of Taal Lake and Volcano. This cafe is not as crowded as others because it is located outside of Tagaytay's downtown area. This is also one of the first cafés in the city to have a bulalo restaurant next door.
Address: 183 Tagaytay – Nasugbu Hwy, Tagaytay, Cavite
6. Greenhouse Café Tagaytay
Another shout-out to all of our "plantitas" out there! This is the first Greenhouse Café in Tagaytay, where you can savor delectable cuisine while also getting a firsthand look at their rare plants coming from various parts of the Philippines and Asia. Imagine sipping a cup of your favorite coffee while surrounded by the rarest flora from various parts of the Philippines and Asia, sounds relaxing right? As for the food, Greenhouse Café Tagaytay has a wide selection of soups, salads, pasta, rice dishes, sandwiches, coffee, and desserts at reasonable prices ranging from P160 – P290. Please note that you must make a reservation before visiting; you can do so by contacting them through their Facebook page.
Address: 9522 Enrile, Tagaytay, Cavite
It's sometimes better to explore every nook of a place you visit since that's where you'll uncover a paradise you didn't expect to see. Just like the Cafés mentioned above, they are located in a secluded area of Tagaytay yet they still provide an excellent coffee break experience. So if ever you found yourself in the Tagaytay area and wondering if "is there a coffee shop near me?" just visit this blog!
Aside from cafes there are other cuisine available in Tagaytay from Chinese to Japanese restaurants.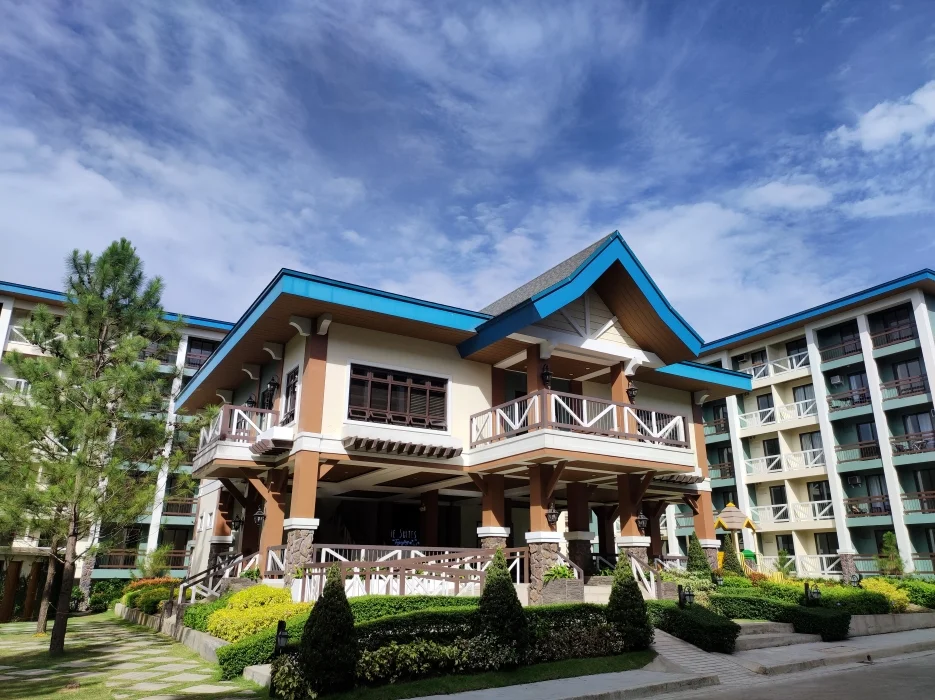 Discover the hidden Paradise in Tagaytay City by Crown Asia Properties
Crown Asia's Pine Suites is a leisure residential condominium development in Tagaytay. It is situated along Bonifacio Drive, Silang Crossing West, Tagaytay City. This masterpiece property development by Vista Land under Crown Asia consists of a one-hectare land composed of three mid-surface buildings, a 5-story building with modern Swiss-style, integrated parking, and its well-thought-out, centrally situated amenities area, and culminating in a lush resort-like community inside an exclusive ambiance.
Although Pine Suites is not offering a view of Taal, it still near some of the best coffee shop in Tagaytay overlooking the majestic volcano.
On the entryway in the gated neighborhood of Pine Suites, a lush, pine tree-lined welcomes homeowners. It is undeniably just one of the luxurious things Pine Suites could proudly offer. Besides, upon entering, homeowners can benefit from the features of a fireplace and panoramic floor-to-ceiling windows inviting the exterior and welcoming them in their very own log-cabin-designed lobby. Each unit in Pine suites comes with a two-bedroom suite with a large balcony to enjoy the magnificent view of the great outdoors and the cool Tagaytay breeze. It portrays the environment that Tagaytay is truly highland in the province of Cavite.
Pine suites Tagaytay is intended for experiencing the exclusivity of natural ambiance, a new home away from the heat of the city, pollution, and busy cities in the country.
Know more about Pine Suites: https://www.crownasia.com.ph/properties/selected/pine-suites-tagaytay
Related Blog: Best Coffee Places in Tagaytay