Nothing beats a scrumptious meal or a cup of hot chocolate drink that not only warms the stomach but also the heart amidst sweater weather. Preparing a meal plan might seem a very easy task especially when it is still just an idea but actually writing it down and preparing every single thing is a different story. Nevertheless, there are a lot of food recipes that people can look up to on the internet and try in the comfort of their homes.
Like other countries, the Philippines has developed its distinct cuisine from different cultures which resulted in a very unique set of foods. More than its culture, Philippine cuisine is unique because of the creativity of its people which leads to the fruition of divine, flavorful dishes. The country has a wet and dry season which also greatly affects how every Filipino home prepares its menu for the day.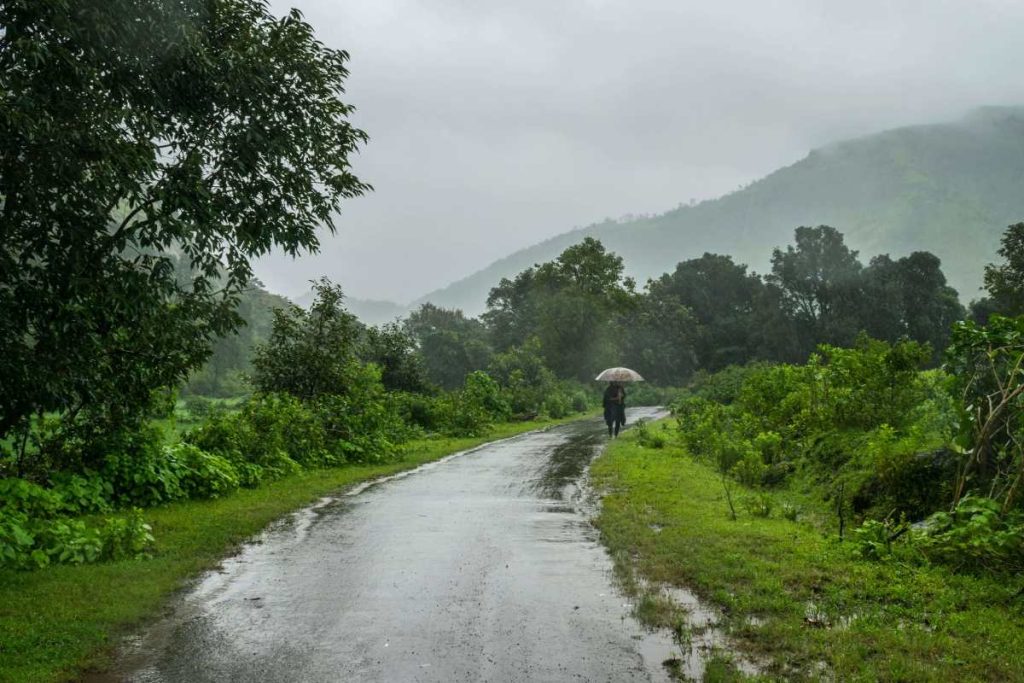 Truly, it is gratifying to feel full every meal, especially when it rains. One cannot let this season pass without feeling that warm sensation in the stomach after gulping a bowl of tasty soup. To spice things up, here are some of the best Filipino comfort food to try at home for this rainy season:
A list of the best Filipino comfort food to eat for the rainy season in the comforts of your Crown Asia home
1. Champorado
Chocolate rice porridge or champorado is an all-time favorite Filipino food that is usually made for breakfast but can also be served any time of the day. This chocolatey goodness can be traced back to the Galleon Trade when Mexicans introduced their champurrado to Filipino traders, a cacao-based warm and thick drink perfect for cold weather. However, champorado is a lot different because it is made with glutinous rice, tablea, or cocoa powder, and is topped with milk. Unlike the common misconception about this porridge, champorado is not too sweet. The sweetness will depend on the amount of milk but without putting it yet, the strong impression of dark chocolate goodness is highlighted. Filipinos top it up with tuyo (dried salted fish) or pan de sal.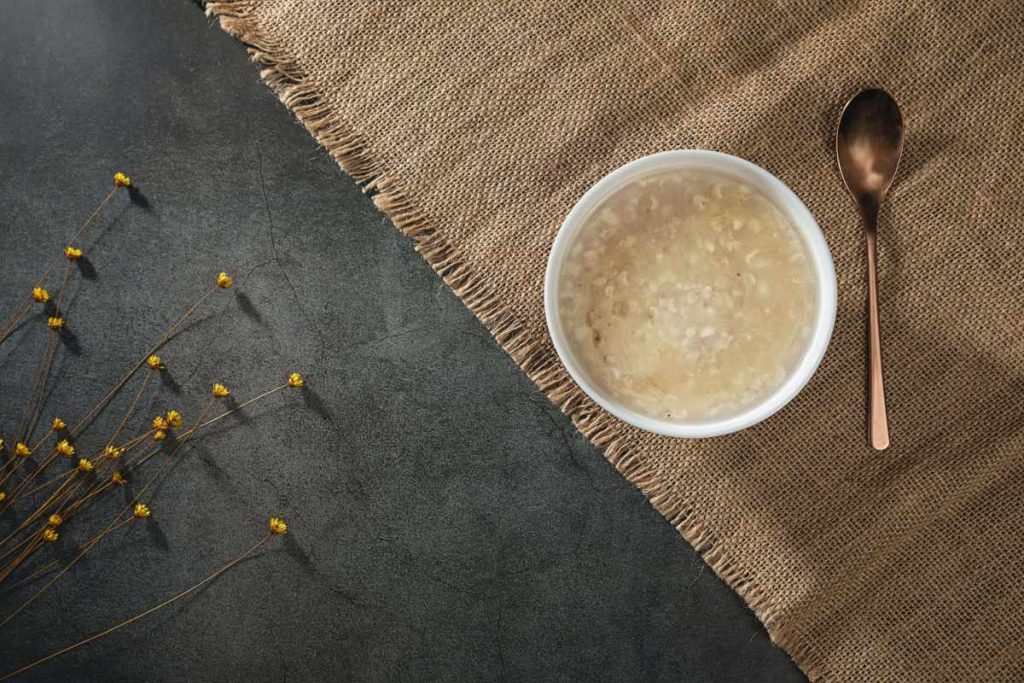 2. Arroz Caldo, Goto, and Lugaw
Philippine rice porridge is a food for everyone. Filipinos prepare this for breakfast since it is easy to cook and there is a lot of seasoning to match its plain but satisfying flavor. Arroz Caldo is a Spanish term for brothy rice but this ginger-flavored meal can be traced back to its origin from Chinese traders. The key ingredients of this porridge are rice, ginger, garlic, onion, black pepper, and chicken stock. There are also a variety of toppings that makes this porridge more flavorful and satisfying like boiled eggs, toasted garlic, calamansi juice, fried tofu, and fish sauce.
The difference between Arroz Caldo, goto, and lugaw is pretty simple. Arroz Caldo has chicken as its meat ingredient, goto uses beef, tripe, and other internal organs, while lugaw is a plain rice porridge and is usually paired with boiled eggs.
3. Bulalo
This light-colored soup dish is traditional to Southern Luzon where cattle roam and graze freely. Bulalo is made from cooking beef shank and bones for hours for the soup to have a richer flavor when the collagen and fat are mixed into the broth. Prepared in a large cauldron, there are a lot of vegetables present in this stew-like corn, chayote, bok choi, plantain, onion, ginger, and cabbage. This dish is indeed a bowl of protein and fiber. The main highlight of bulalo is the bone marrow which is removed by tilting and shaking the bone until it comes out. Tagaytay and Batangas are known for making the best bulalos in the Philippines.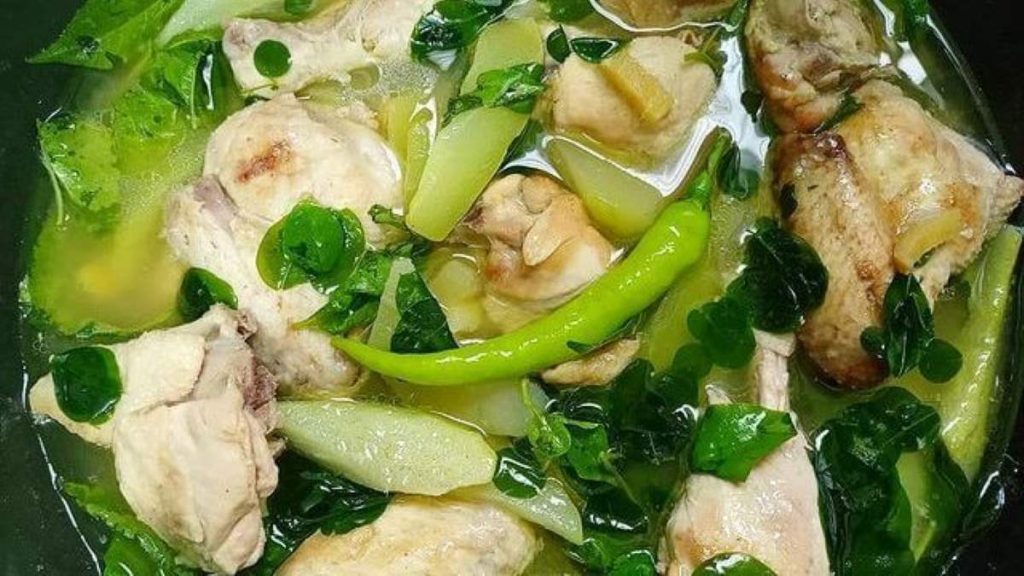 photo from: https://www.lutongpinoyrecipe.com/recipes/chicken-tinola/
4. Tinolang Manok
This chicken ginger stew soup is believed to be a result of cultural exchange with China. It is a very famous food for every Filipino home because the food is quite easy to prepare and the ingredients are present even in small local stores. Also, this dish is prepared when someone is not feeling well because it helps to warm the stomach. Garlic, onion, and gingered are sauteed along with the peppered chicken. When the flavors have seeped into the chicken, chicken broth, or rice water is poured. This is followed by sliced unripe papayas and when the cooking time is nearly done, one should top it up with chili leaves.
5. Batangas Lomi
Lomi is a type of hearty Filipino dish that originates from Batangas and is made up of thick yellow noodles in a very flavorful broth. This is always served hot and incorporates meat and vegetable ingredients. It is usually topped with pork, chicken, or offals for its protein content. Some of the vegetables in this are cabbage and carrots. Lomi cannot be called 'Batangas Lomi' if it is not generous with other toppings like kikiam, ham, chicharron, boiled eggs, or meatballs. Soy sauce and calamansi are then served separately.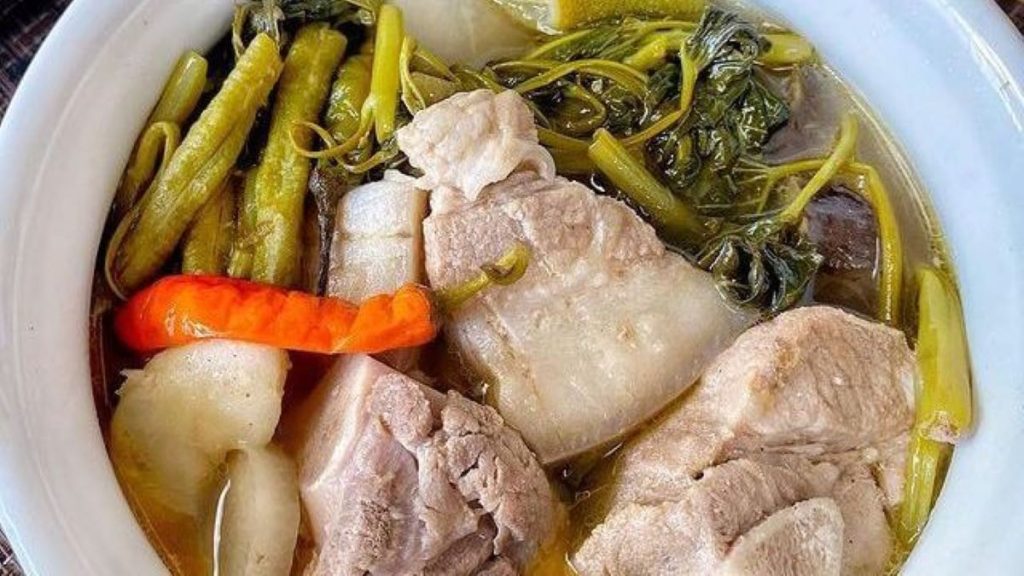 photo from: https://www.lutongpinoyrecipe.com/recipes/pork-sinigang/
6. Sinigang
Known for its savory and sour taste, this tamarind-based soup is famous and well-loved in the Philippines. This is usually prepared with pork belly and a variety of vegetables perfect as a meal itself but is usually savored with hot rice. The standard vegetables used in sinigang are labanos, kangkong, gabi (taro root), okra, snake beans, onions, and tomatoes. Unripe tamarind is what makes sinigang unique in taste because of its strong tangy flavor that when mixed with pork belly fat will surely satisfy one's longing for a perfect hearty meal. Although pork sinigang is famous, Filipinos also love sinigang na hipon or sour shrimp soup.
7. Ginataang Bilo-Bilo
Unlike the previous dishes, this unique Filipino snack is rather sweet. This is made up of glutinous rice balls, rich coconut cream, tapioca pearls, and ripe jackfruit along with several ingredients that are also found in halo-halo, a Filipino dessert. These ingredients include cubes of purple yam, taro root, plantain, incorporated with vanilla extract or pandan leaves. Ginataang bilo-bilo is also served cold but most people prefer a hot serving of creamy Ginataang bilo-bilo.
Eating a satisfying meal appropriate for the weather is also a self-care. As the saying goes, one cannot love, sleep, and perform well without eating well. Rainy day or not it's very important to have a hearty meal to have the energy for the day. As important as your daily meal is choosing the best home for you and your family, rainy days are coming so a house and lot for sale that offers safety and security should be your number one priority. Crown Asia Properties perfectly fits the description with its house and lot for sale in Cavite or even a condo for sale in Bacoor, Crown Asia got you covered for your journey to a new home.
Related Blog: Best Filipino Restaurants in Laguna and Cavite