photo from: preview.ph/fashion/gucci-new-boutique-greenbelt-4
The legacy of Gucci is expanding in the Philippine market. With the opening of new Gucci boutique in Greenbelt 4, this is a good opportunity for pristine commercial real estate as well. Greenbelt in Makati is known for a high-end mall for premium products, apparell, shoes, bags, jewelries, and fragrances. However, there are high end malls in the south as well. One of these is Evia Lifestyle which offers pristine dining and shopping experience, and is close to your premium homes.
Fashion is the extension of people's self-expression and how it reflects with their personality and taste. Fashion is a statement, and it paves way beauty, glam, and art. The world of fashion is dominated by big brands that continue to preserve their legacy on why they remain in the industry.
Fashion brands which stayed for more than 50 years proved that they have exquisite taste, and quality in the market. The older and well-known the brand gets, the more expensive they get. Fashion brands like Chanel, Gucci, Versace, Mugler, Jean Paul Gautier, and Dior are some of the high-end brands that still continue to innovate and mark their legacy in this generation.
High-End Fashion and Its Power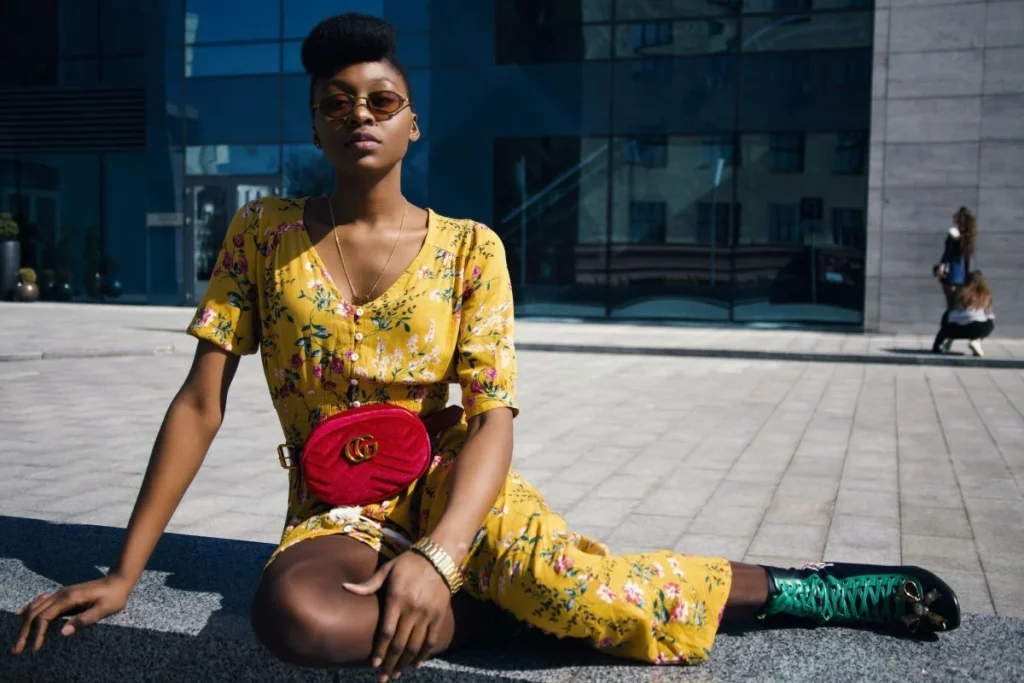 High-end clothing is wearable art, not just clothing. Designers are artists, and the works that adorn the runways are their handiwork. These works frequently straddle the threshold between fashion and art, questioning accepted ideas of aesthetics and beauty. Designers of high-end clothing push the frontiers of creativity and produce items that allow wearers and designers alike to express themselves.
The global economy is significantly fueled by the high-end fashion sector. Along with fashion design, it also includes other aspects including manufacturing, retail, and marketing. High-end fashion companies boost local economies, bring in foreign exchange, and create jobs. They frequently work together with artists and crafters to maintain old skills and methods.
High-end fashion is more than just a sector of the economy; it is a cultural force that forms our identities, affects how we view beauty, encourages innovation, stimulates economies, makes social commentary, and encourages civic engagement. It has the capacity to move beyond its materialistic features and turn into a means of expression, creativity, and transformation. Beyond the garments we wear, high fashion has a profound impact on our lives, culture, and beliefs, making it a crucial component of contemporary life.
The Domination of Italian Brands in the Fashion Industry
The fashion industry is constantly changing, with designers from all over the world vying for recognition. Italian fashion designers have been one of the industry's main powers in recent years. The Italian fashion scene is brimming with originality, inventiveness, and a keen sense of style from Milan to Florence.
Italian fashion has a long history of masterful artisanship and craftsmanship. Italy has a long history of being known for its talented craftspeople, particularly in the areas of leatherwork, tailoring, and textile manufacturing. Italian designers have a strong platform on which to create their brands because to this country's long tradition of craftsmanship. It enables them to produce exquisite, expertly created items that are admired all over the world.
The Background of Gucci
Guccio Gucci established a modest leather goods shop in Florence, Italy, in 1921, which marked the start of Gucci's history. Since its humble beginnings, it has grown into a prestigious legacy distinguished by a dedication to craftsmanship and quality. This illustrious past not only heightens the mystery of the brand but also attests to its steadfast dependability. Gucci stands out from many other luxury companies that have given in to mass production because to its uncompromising commitment to traditional Italian workmanship.
Gucci is the name of the Italian luxury fashion company established by Guccio Gucci in 1921; it does not stand for anything in particular. The company is renowned for its striking designs and memorable logos, and it has come to be associated with high fashion, luxury, and excellence.
Gucci is well known for its particular design aesthetic, which deftly combines contemporary aesthetics with classic elegance. The recognizable horse-bit detail, double-G emblem, and interlocking G pattern have all come to represent luxury in their own right. Gucci's products are kept desirable and aspirational by these design characteristics, which are instantly recognizable and highly wanted.
The Timeless Allure of Gucci: Why It Reigns as the Leading Luxury Brand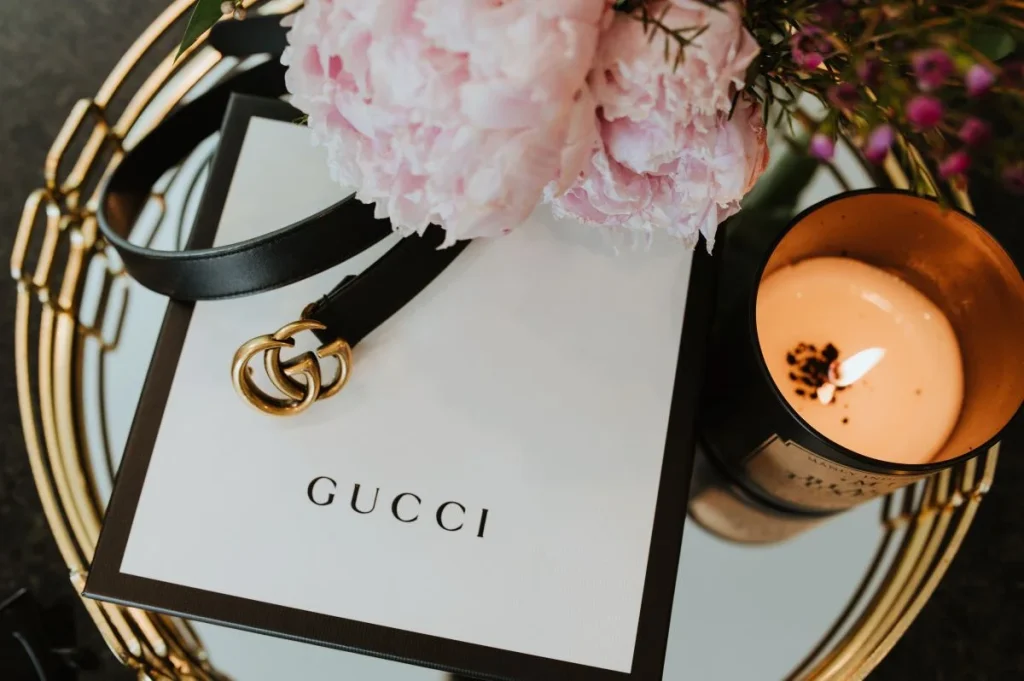 Gucci has established itself as a solid pillar of luxury and innovation in the rapidly changing world of fashion, where trends change with the seasons. This Italian fashion firm has maintained its status as one of the top luxury brands in the world for almost a century, winning over the hearts and purses of affluent shoppers everywhere. In this essay, we'll examine the persistent qualities that have fueled Gucci's unwavering success and extended its reign as a benchmark for luxury, originality, and fashion.
Gucci's capacity to reinvent itself while upholding its essential principles is one of the main reasons for its ongoing success. The creative directors who have led the brand are responsible for its transformational energy. Gucci has been forever changed by visionaries like Tom Ford and Alessandro Michele who pushed the frontiers of fashion, celebrated diversity, and encouraged creative experimentation. Particularly Alessandro Michele has given Gucci a new life with a modern, eclectic aesthetic, making it more relevant and appealing to younger generations.
Gucci's dedication to expanding its product line has been crucial to the brand's continued success. Despite having its roots in leather products, the brand has now expanded into a number of fields, including ready-to-wear, accessories, footwear, fragrances, and even home décor.
High Profile People Wearing Gucci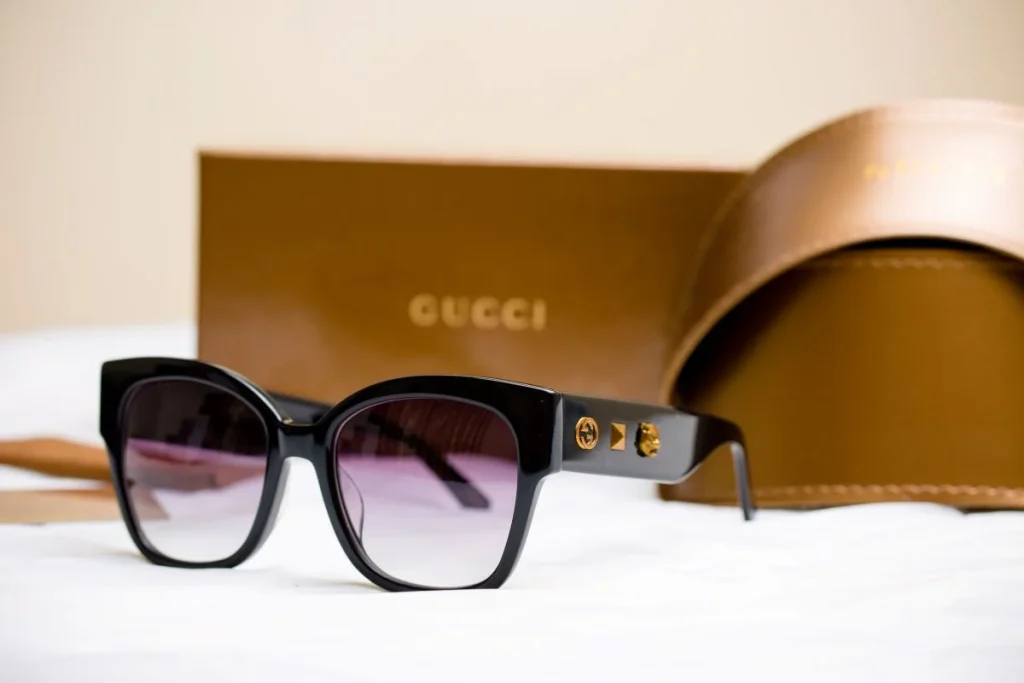 Princess Diana
Princess Diana left behind a significant fashion legacy, and the bamboo handle Gucci bag is one of her iconic designs. The royal's propensity for carrying the roomy accessory when she shopped in London helped it quickly gain impressive levels of buzzy popularity. The tote became so well-known that Gucci decided to reintroduce it 20 years later, this time in three additional size options and with a few minor design tweaks to match the Italian company's contemporary style.
Grace Kelly
Kelly was renowned for her elegant sense of style, and she frequently used a silk scarf as the finishing touch to her regal ensembles. The Princess of Monaco was personally given a silk scarf in what would become known as the brand's iconic Flora print by Rodolfo Gucci (the founder Guccio Gucci's son) as a thank-you for her devoted support to Gucci and because of her taste for the opulent accessory. The image shown above, in which Kelly is wearing the scarf like an ascot, has gone down in visual history for the Italian company.
Jaqueline Kennedy
The Constance bag, a curved mid-sized hobo shoulder bag, was introduced by Gucci in 1958. Even though the accessory had all the elements to become a cult favorite—notice the adjustable form that allows for small updates every season or its roomy but not excessively huge silhouette—it fell short of achieving that status. That is, until former First Lady Jacqueline Kennedy started wearing the bag everywhere as her go-to accessory. Gucci renamed the purse "The Jackie" in 1964 as a result of the enormous consumer interest generated by Kennedy's several outfits that featured the bag.
Rihanna
Rihanna was obviously smitten with Michele's Gucci Fall/Winter 2017 line. She wore the glitter catsuit, frayed denim cutoffs, and graffiti tank ensemble that made its runway premiere on Michele's fall collection at Coachella that same year. She did, however, add square eyeglasses with a gilded frame for an extra touch of distinctive RiRi drama.
Miley Cyrus
With Gucci Beauty, Miley Cyrus has unveiled a stunning new project in memory of her late grandmother.
Miley collaborated with the Italian fashion business on their newest fragrance, which has notes of gardenia, jasmine, pear blossom, and brown sugar. The former Disney actress and the company revealed their new relationship in June.
Miley posted the new photos and a statement with followers on Thursday. "Gucci Flora Gorgeous Gardenia reminds me of my grandmother who always smelled of fresh-cut flowers," she said.
'Mammie' Finlay, Miley's maternal grandmother, died in August 2020 at the age of 85. She formerly served as Miley's fan club's president.
Gucci Greenbelt 4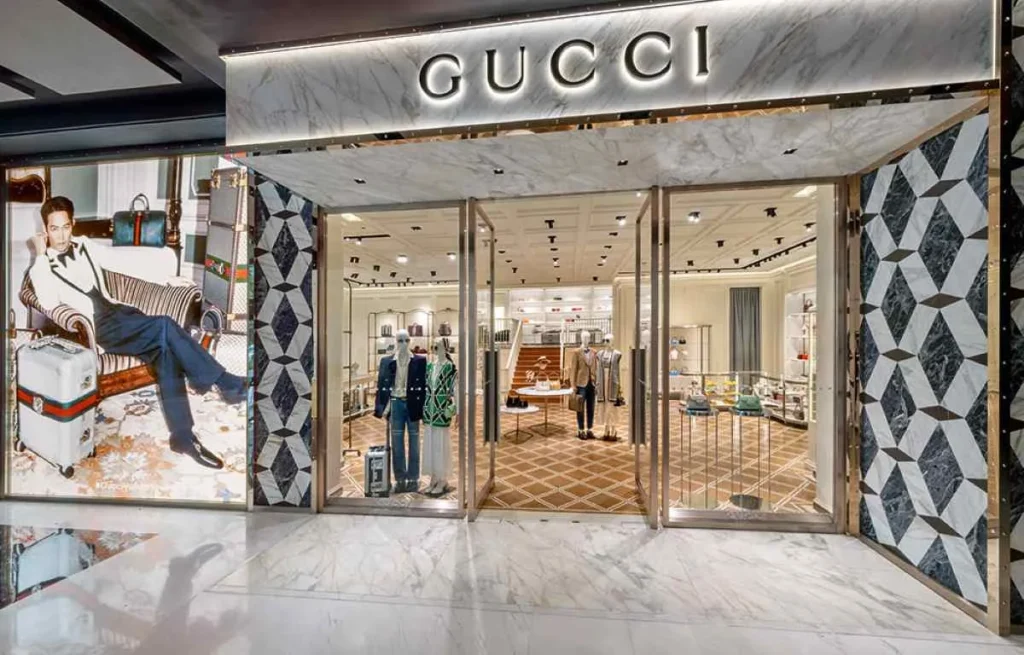 photo from: preview.ph/fashion/gucci-new-boutique-greenbelt-4
The interiors of the boutique mimic the entryway with their elegant color scheme and geometric features that allude to old historic structures. Hand-painted wood flooring gives the room a bright, welcoming air by drawing inspiration from features found in the House's collections. The exhibit items are well complemented by the soft linens that adorn the ivory boiserie walls. The boutique consists of 3 floors. The main entrance is where all travel bags are located, then the 2nd floor which holds all their high-end pocket bags and scarfs. Lastly, the basement wherein the elegant clothes and shoes are displayed. The Gucci store consists of fully furnished lounges and they offer champagne to drink for their customers.
Built-in displays that suggest walk-in closets and furnishings like velvet couches, sofas, and wool rugs all contribute to the homey atmosphere that is intended to make visitors feel at home. In contrast to the ivory walls, newly designed brass racks stand out and elegantly display a variety of ready-to-wear items and high-end bags.
Related Blog: Luxury Clutch Bags to Match Your Outfits