Manila is known as the capital and chief city of the Philippines. With the city being the center of the country's economic, political, social, and cultural activity, there is no question that it is loaded with a vast range of fascinating sights that brings people together for a historical and culture-rich experience. More so, due to its popularity as a tourist destination, famous restaurants are also flocking all around the Metro, inviting people from different places, from every region, to visit and have a taste of delight.
So, wherever you are in the country, especially if you are located somewhere near Metro Manila and are looking for a place to stay that is near the vicinity of some of the famous, scrumptious restaurants, you should check out Hermosa, a condo in Las Pinas. With great amenities and easy access to major establishments, the neighboring restaurants are definitely a great bonus! With that said, before moving in, you must first know how to navigate your way to find the best diners in town. So stay back, and read on because this article will do the work for you.
Here Are Some of the Best and the Most High-End Restaurants in the Metro Manila Area:
NINYO Fusion Cuisine & Wine Lounge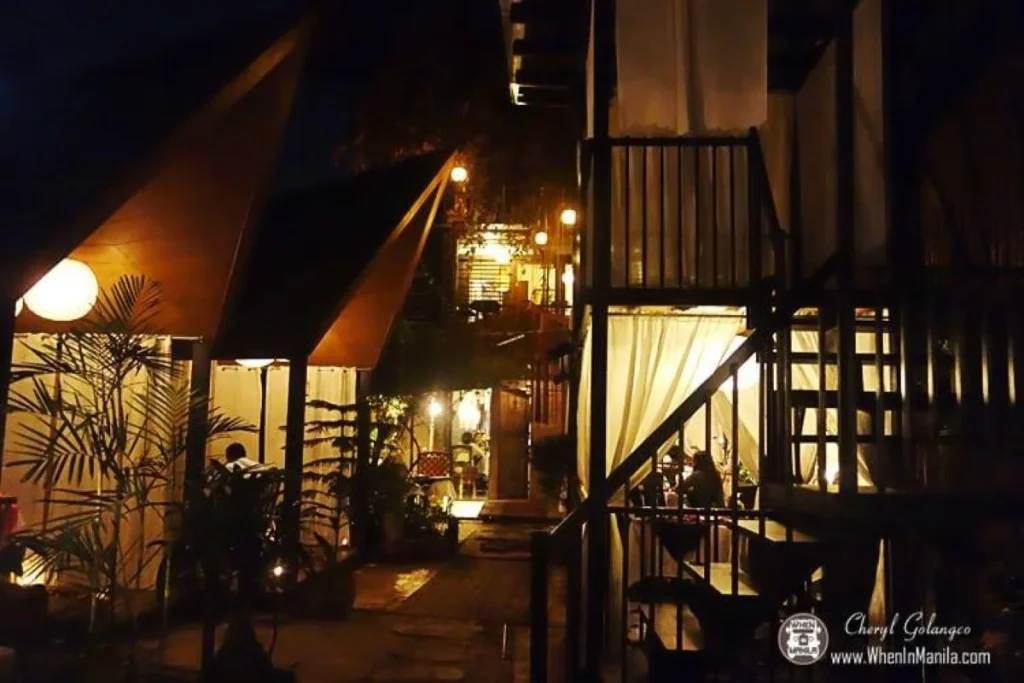 Photo from wheninmanila.com
Ninyo is a quiet, cozy garden restaurant that serves an artistic fusion of Asian and European Cuisines with one hundred of the world's great wines and is one of the fine dining restaurants Metro Manila has to offer. With its intimate and homey hidden paradise, the restaurant offers delicious gastronomic food made by Chef Niño Laus that can be enjoyed by couples, friends, and family. Ninyo is especially known for its romantic ambiance that has become a go-to place for dates with candle lights greeting customers from the moment they walk in, its beautiful pavilions, hanging vines, koi ponds, and antique accents. With its garden-like charm, this can be a temporary escape from all the metro madness. Nice environment, good food, with good people—how could it get any better?
Some of its best-selling dishes over the past years include Wasabi Fried Oyster, Nori Pumpkin Soup, Shiitake Confit Salad, Honey Glazed Grilled Salmon, Yuzu Sorbet, U.S. Hanging Tender Steak, and Belgian Chocolate Cake. In fact, Ninyo created a set menu containing all of the aforementioned classic dishes in a 7-course bestseller degustation plus a glass of wine (costs Php 1,500.00 per head).
Ninyo Fusion Cuisine & Wine Lounge is located at 66 Esteban Abada Street, Loyola heights 1108 Quezon City. They offer dine-in, take-out, and deliveries from Tuesdays to Sundays from 11:00 am to 9:00 pm.
Blackbird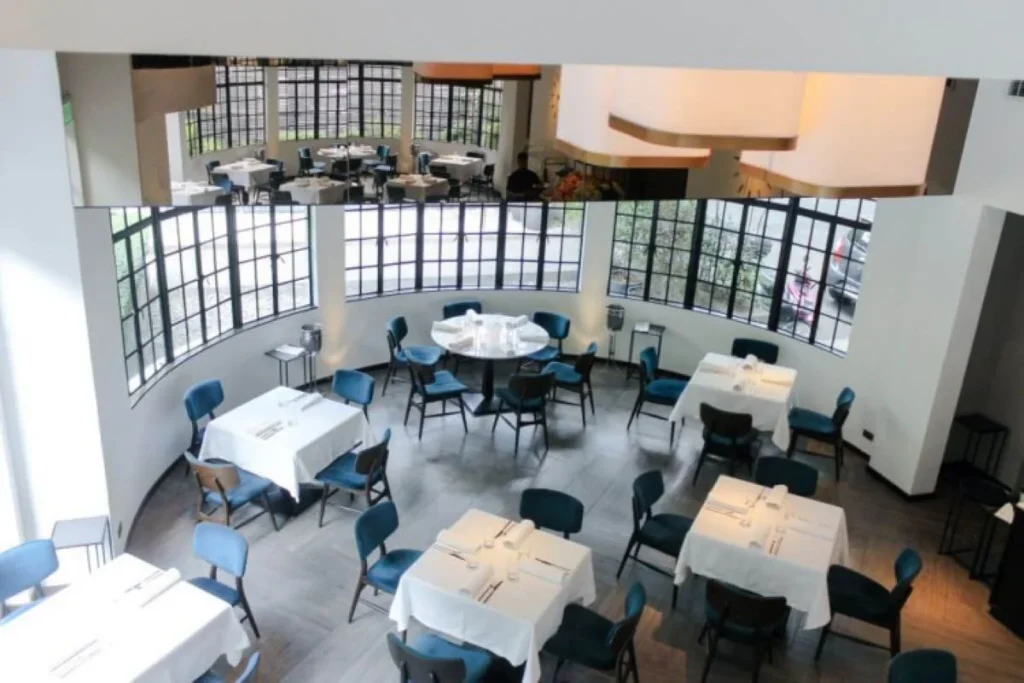 Photo from chuzailiving.com
Blackbird is an upscale contemporary European and Asian restaurant with an eclectic menu inspired by the aviation history of the building. The Nielson Tower was once home to the Philippines' first commercial airport. Now, it is home to Blackbird, in which the site has been lavishly redeveloped whilst maintaining the integrity of the original Art Deco design. What was once the check-in area of the then airport is now housing a bar and lounge, an oval grill room in the passenger terminal, a private room in the control tower, and where the tarmac used to be is now turned into an outdoor bar and dining space. The restaurant has an ambiance and offers a service that focuses on the warmth of Filipino hospitality.
Some of its popular dishes include Flatiron Steak, Wagyu Steak, and Grilled Kurobuta Pork Belly. The average cost is approximately Php 3,100.00 for two people. Blackbird is located in the heart of Makati City, specifically at Nielson Tower, Ayala Triangle, Makati. They are open daily from 11:00 pm to 10:00 pm and are available for dine-in, takeaway, and delivery.
The Loggia, Palacio de Memoria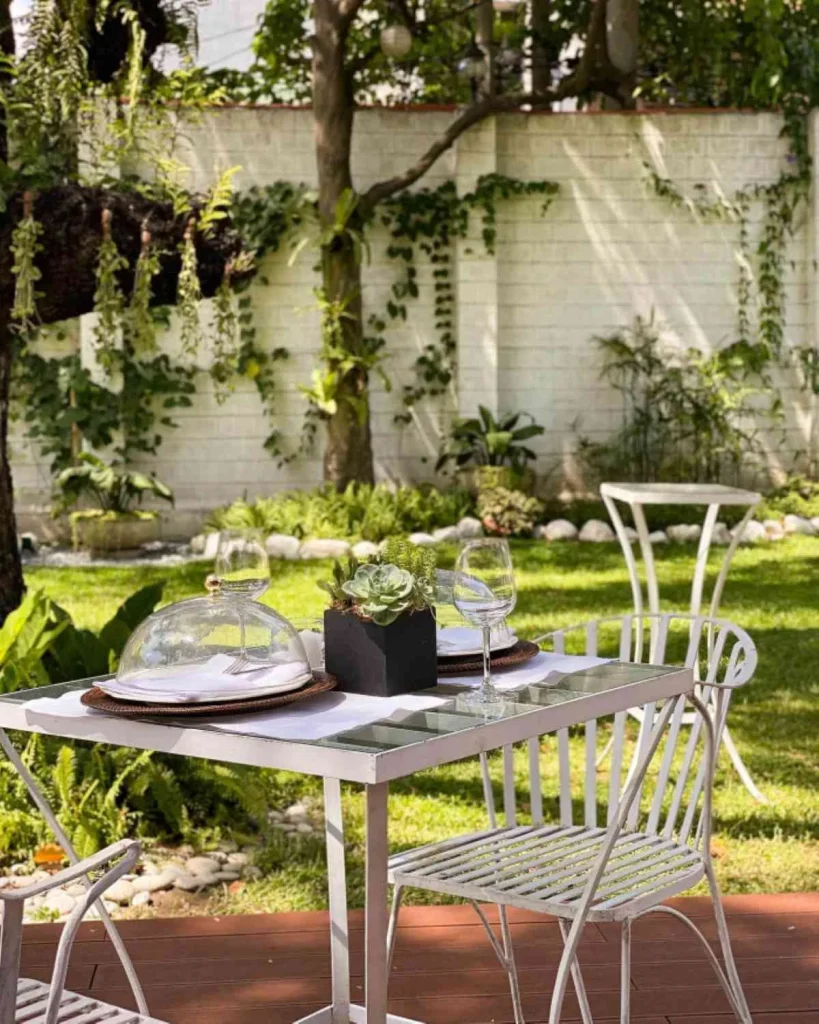 Photo from manilashopper.com
The Loggia is a restaurant set in the beautiful and historical Palacio de Memoria in Roxas Blvd that specializes in Italian-Filipino cuisine conceptualized by the 2016 Asia's Best Female Chef, Margarita Forés. From romantic date night outs, and Sunday al-fresco brunches with friends or family, to cocktails and events, the Loggia is ready to serve the best unique dishes that will satisfy your palate. On top of that, its historical old Manila ambiance and dazzling interiors of the Palacio de Memoria will surely keep your visual senses in awe as well. The al-fresco dining spot has a lanai with an open lawn and deck, a petite stage, and a flexible space for public or private events including sit-down dinners or cocktails beside the blue pool.
Among the must-try dishes at The Loggia is the Lamp Shoulder Brasato, a hearty meal braised in wine, vegetables, herbs, and spices with grilled polenta squares, and the Australian Beef Tenderloin Alla Scamorza, which is served with smoked mozzarella and red wine jus. For a dining experience rich with history, culture, arts, and good food, The Loggia is the place to go. It is open Mondays to Sundays from 11:00 am to 9:00 pm and is located at Palacio de Memoria, 95 Roxas Boulevard, Barangay Tambo, Parañaque City.
Din Tai Fung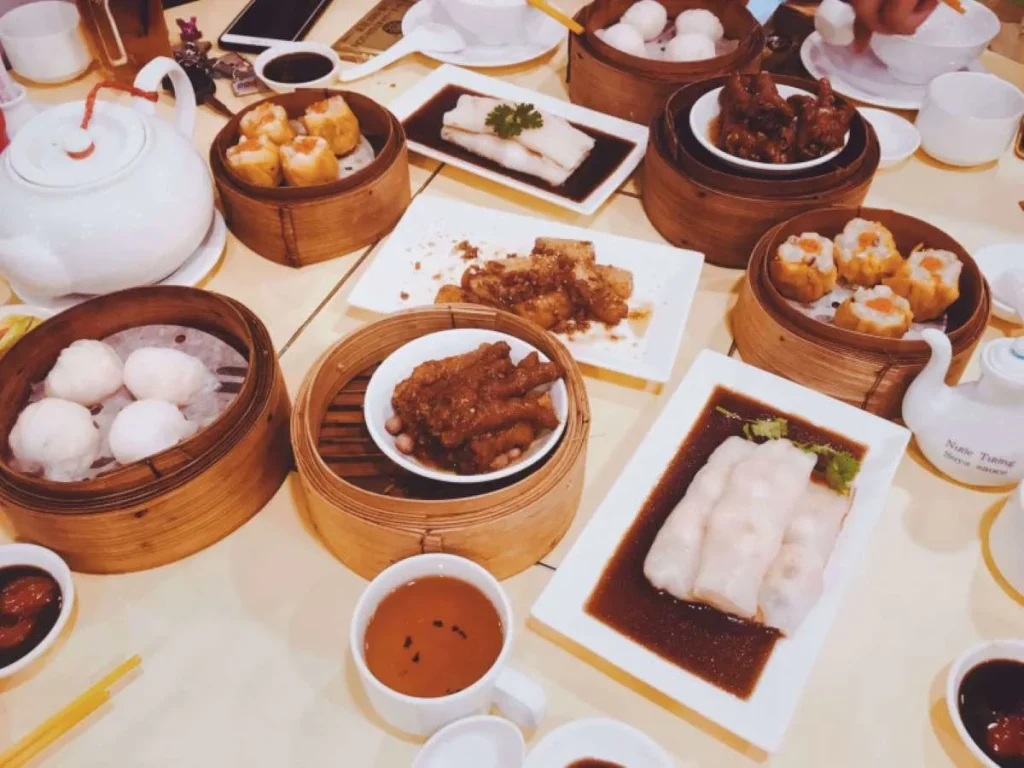 When we talk about steaming xiao long bao (soup dumpling), Din Tai Fung is always first on the list. Mr. Bing-Yi Yang is a Chinese who fled to Taiwan at 20 years old as a refugee with 20 dollars in his pocket. He decided to open his own shop to sell cooking oil and named it Ding Tai Fung. Together with his wife, they decided to dedicate half of their shop to making and selling xiao long bao. Their xiao long bao became extremely popular so Mr. Yang decided to phase out his oil business and turned Din Tai Fung into the full-fledged restaurant it is today. With over 170 locations around the world in 13 countries, Din Tai Fung also made its way to the country and has had long queues to the restaurant since then.
Aside from its world-famous xiao long bao deliciously paired with ultra-tender dim sum wrapper with meat filling that bursts with broth, other must-try dishes include Pork and Roasted Garlic Xiao long Bao, Crab Roe Xiao Long Bao, and Noodles with House Special Spicy Sauce. The average cost for two people is approximately Php 1,000.00 and it has various locations in the Metro: Ayala Alabang, Ayala Malls Manila Bay, Bonifacio Global City, Greenbelt, Rockwell, Trinoma, Robinsons Place Manila, and SM Megamall. Good thing, that if you are in your condo in Las Pinas, you can find Din Tai Fung near you in Alabang.
Lemuria Gourmet Restaurant
Photo from lemuria.com.ph
With over fourteen years of experience in the dining industry, Lemuria Gourmet Restaurant features French-Mediterranean cuisine made from scratch using only the best and freshest ingredients with fine wines straight from the cellars of Brumms Quality Wines, Inc. With its classy and sophisticated ambiance with an old-money and highly-cultured vibe, the restaurant is perfect not only for dine-ins but also for events like weddings, anniversaries, birthdays, or a simple gathering with the best people. Their innovative menu accommodates national and seasonal inspirations and evolves to offer new flavor combinations that best fit those with an adventurous palate looking for cuisine that's beyond mainstream offerings. Among its main courses is Rack of Lamb and Cape Grim Angus Tenderloin and for desserts, they offer a Cheese Plate for two and a Chocolate Ganache, among others. The cost is approximately Php 3,000.00 for two people.
Lemuria remains as exclusive today as it first opened its doors as a gourmet fine dining restaurant. Its mystical name still piques interest to the masses but patrons have kept returning for its expertly cooked and exquisitely served dishes. Available only for dine-in and strictly for reservations, the restaurant is located at 5 Julieta Circle, Horseshoe Village, Quezon City. It is open for dinner from Thursday to Sunday from 5:30 pm to 10:00 pm while lunch is to be exclusively booked.
Good food, good people, good times. Food is especially sweeter when shared with those you adore but more so if you are in one of the most beautiful cities in the country, inside one of the most delectable restaurants in town. City life can sometimes wear you out. Living in a condo in Las Pinas, or basically everywhere in the city can be exhausting at some point. But remember that when you hustle, you should also reward yourself; and what better way to do that than by eating your heart out. So every once in a while, delight yourself and get lost in the aromatic smell of good food.
So if you are looking for the best fine dining restaurants in Manila, luxury restaurants in Manila, or some of the most expensive restaurants in Manila this blog will help you out!
"Food may be essential as fuel for the body, but good food is fuel for the soul."
Related Blog: Ideal Restaurants to Celebrate Special Occasions around the Metro