Everyone wants to grab every opportunity to make things easier for them, and for them to look better and be better. This includes food (thus coffee machines and refrigerators), motor vehicles (why people buy cars and why they buy a Toyota Fortuner instead of a hand-me-down), a house and lot (moving into a Crown Asia subdivision in Cavite instead of a rental bungalow), and even the schools and universities parents enroll their children (private school versus public school; local university versus the Big 4). Not only that but people do love putting on accessories and doing something extra. Giving roses to a spouse during a romantic Italian dinner, putting on makeup, putting accessories in cars, and how your children recite every single time even though they already have straight A's. This thinking also goes to accessorizing one's house and lot.
Say you and your family were having a weekend getaway from your home in Tagaytay, and you happen to love the area so much that you just want to live there. A couple of years later, congratulations, you found yourself an ideal home at a subdivision in Cavite. You got such a great deal that you have so much remaining money just waiting to be spent. So what is the first thing that comes to your mind? Accessorize your home or living area, and expand it. One cannot have too much of a home after all.
But the question is, expand it with what? What do you tell the construction company about what kind of space you want from the deck to the interior design? We are here to tell you that the answer is not only "balcony terrace" porch vs. balcony or other balconies.
Here are the different extra spaces that you can install in your home at the subdivision in Cavite and their difference from each other:
Lanai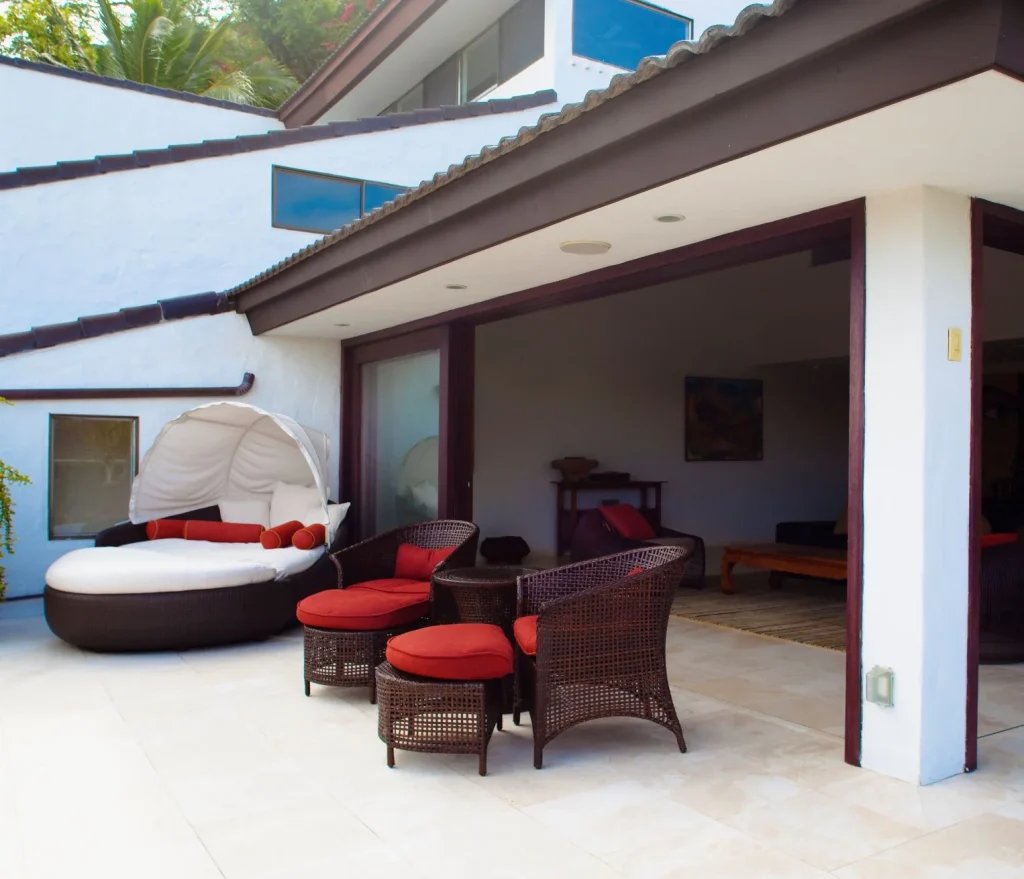 It is understandable if this is your first encounter with the word. Lanai's meaning is the least well-known of the terms for it comes from Hawaii. Actually, in a more general sense, any patio, veranda, or porch could be defined as a lanai. But Lanai is distinctive on its own. From the Hawaiian definition itself, the name eludes a more expansive space. Formed about 1.5 million years ago by the volcano PalawaiI, it is a bigger space not made for hanging clothes, or a couple of chairs to enjoy the morning sun. It acts like an additional room outside a house. Traditionally located around the back rather than in the front, lanais are connected to an entrance and covered by the building roof, much like other outer extensions.
For extra trivia, Lanai is also an existing island in Hawaii known as the "Pineapple Island" because it once was home to a plantation that produced 75% of the world's pineapples.
How about growing pineapple in your lanai? There are a lot of pineapple fields in Tagaytay where your subdivision in Cavite is located after all.
Patio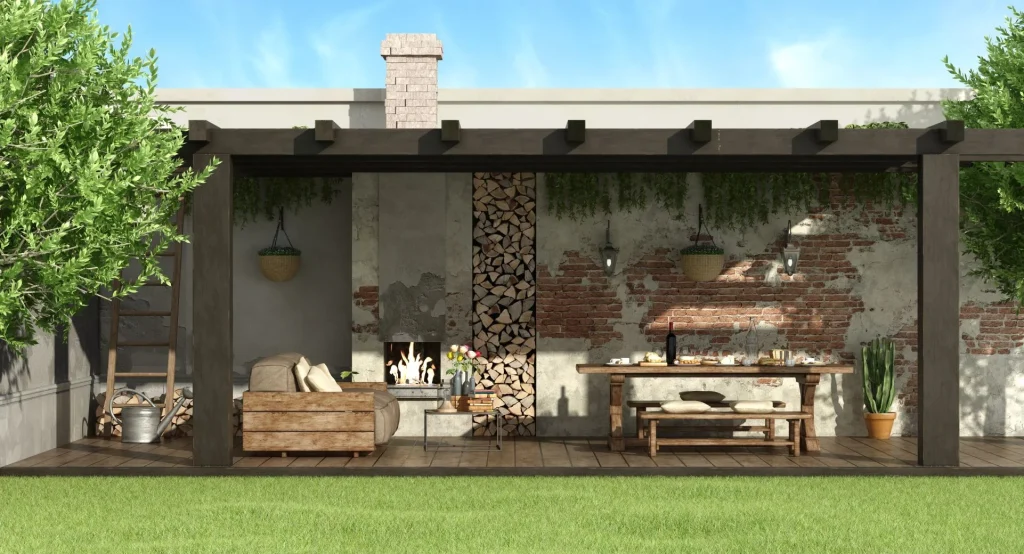 Patio is actually a Spanish word. It is derived from pati, also known as patu, which is defined as pasture, which, to the Spanish means the land at the back of the house.
Patios are outdoor living spaces, used mostly to relax or dine outdoors so you can picture this space to be medium-sized compared to the others. They are built on the ground level as opposed to most terraces.
Additionally, patios are not necessarily connected to the home but instead are built beside it or near it which pretty much differentiates them from others. Most patios in the Philippines have a paved surface in the yard. This could be in the form of cement, brick, stone, or a space that is surrounded by potted plants. Patios usually do not have roofs.
This type of design is meant for outdoor spaces that are mostly looked at as outdoor living rooms so to spice up your patio, make sure to include some cozy details.
Such as sectionals a paved outdoor area adjoining the home, suitable with sofas, and chairs. Oftentimes, patios are also used for outdoor activities (if it is big enough) such as a mini basketball court for your children to play in or a Zumba space for you and your spouse to have fun in maintaining your weight and keeping fit together.
Porch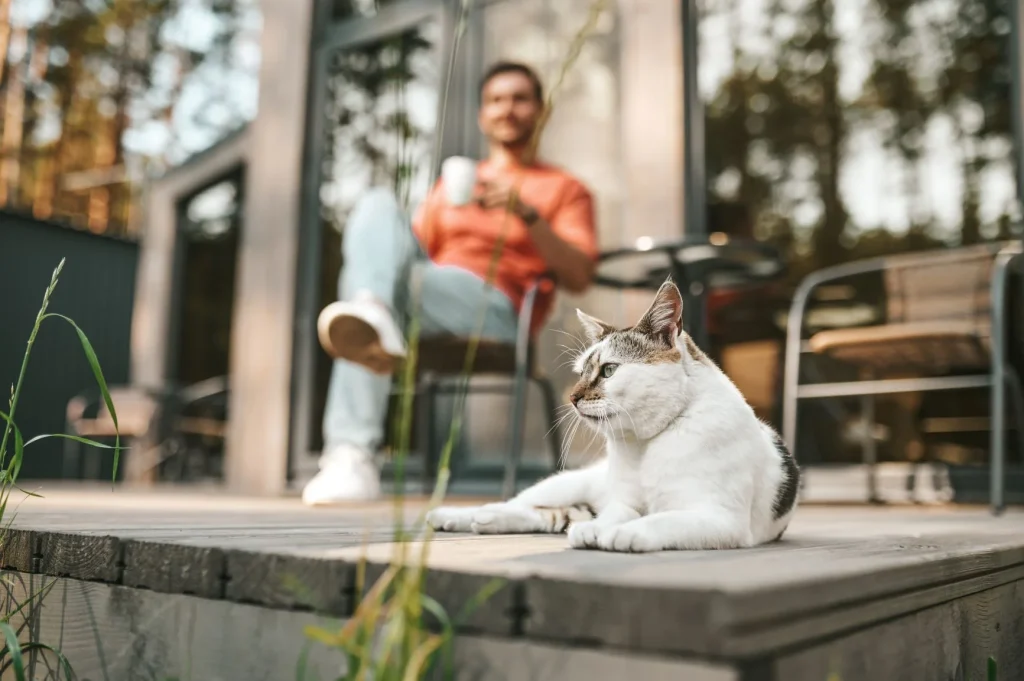 Porch goes all the way back to ancient civilization. The ancient Roman and Greek term "portico", refers to the exterior structure usually attached to the building that provides sheltered access to the outside world.
By modern-day definition, it is built in front of the house's entrance. It is an outdoor living space extension of the ground floor interior.
Although it could be an open porch or a screened porch, this type of outdoor space is often closed for protection from insects, weather, and the like. In other cases, a porch can be entirely isolated with screens or full-height walls. The enclosed porch must always have a roof on top. It could also be the extension of the roof of the building and could be considered a covered outdoor room.
If ever you choose this type, feel free to add a rocking chair or a tan chair so that you and your family can enjoy the morning sun while sipping some good coffee.
Veranda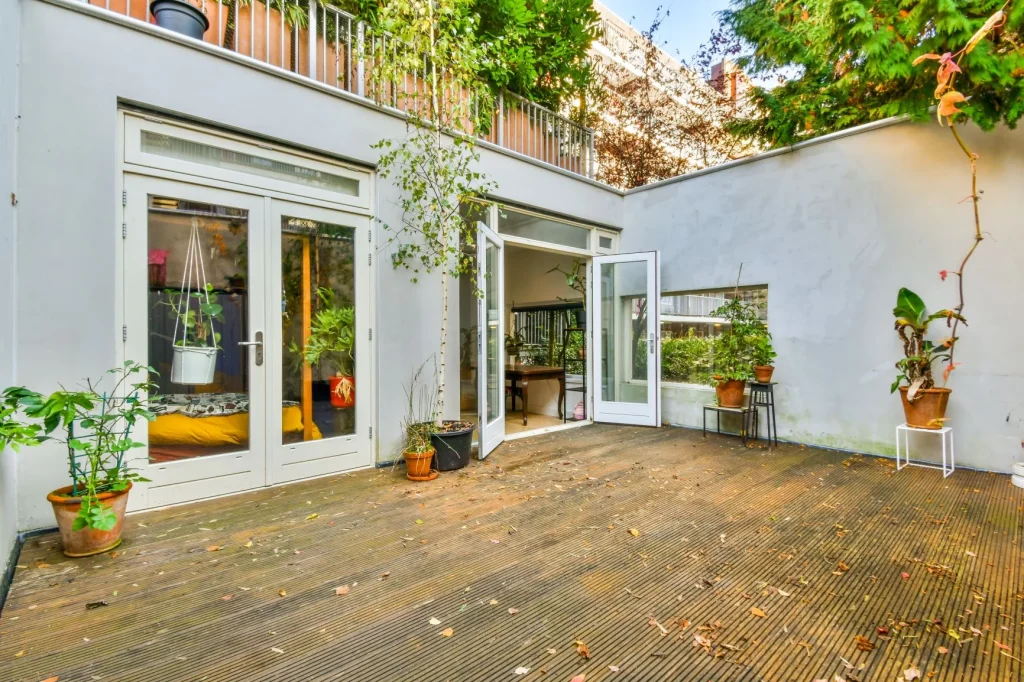 From a Hindi word that came around when the Portuguese entered India, veranda, (sometimes called the wraparound porch depending on its type) is quite a big, covered structure space compared to the others for it is a type of porch that stretches along one whole side of the building. It can even go around the corner and encompass several sides. Because of its porch-like nature, it is on the first floor and placed under a roof. If you wall it all up, it could turn into a whole new room for your home. Most of the time, though, only a railing or a gate is installed.
Terrace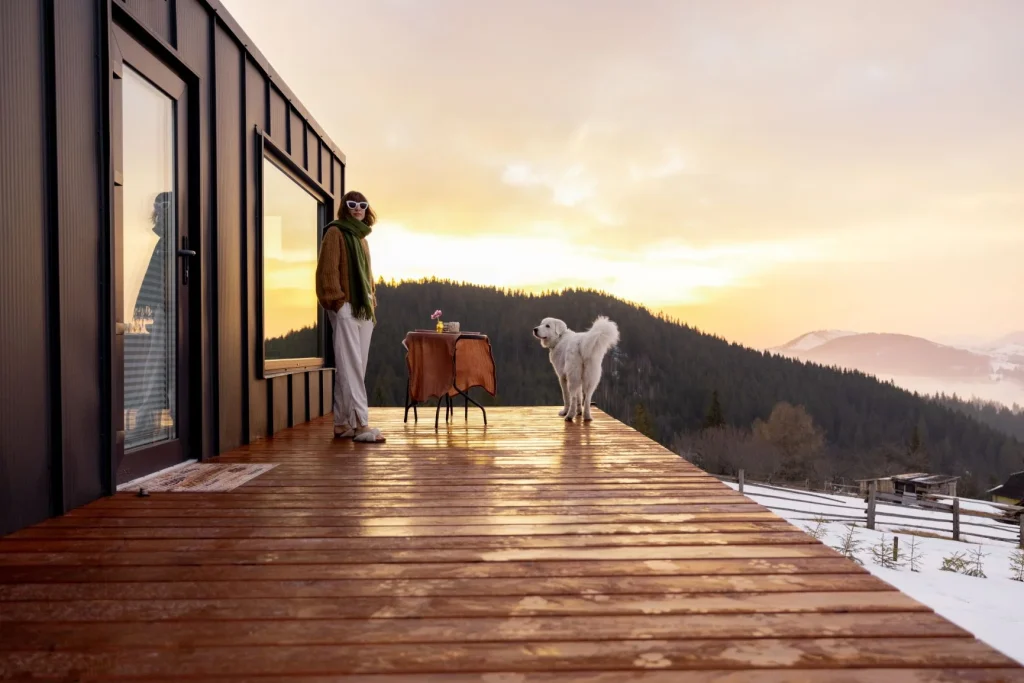 Last but not least is the most common term of them all: terrace. This is an open space that can be attached or detached from your house. It also refers to the flat that is either protruding or on the rooftops of buildings. Created either with a concrete slab, in the 1500s, terraces were commonly found in Venice as a place where laundry could be hung out to dry. Up til now, terraces are mostly used for just that. But some houses would have a few chairs on the terrace where they could enjoy the fresh air while having a cup of coffee.
Related Blog: Backyard and Balcony Ideas: Deciding Which Is Better For Your Home