Everyone has been extra careful because of COVID. If someone so much as sneezes in public, the crowd parts like the Red Sea, and they trip over each other as they try to get as far away as possible from the one who sneezed. Similarly, people now prefer al fresco or outdoor dining rather than sitting in a bit of a cramped and air-conditioned room with other people.
Imagine being able to breathe in fresh air while eating the most delicious food you've ever had. You're outside with one of the best meals ever in front of you, sitting on a table and observing your surroundings. You're living in the moment. That's what al fresco dining offers you.
It's fresh air, a great ambiance, good vibes, and delicious food all in one package. To help you find prime restaurants, we offer you this guide that lists some of the best al fresco dining spots in Laguna and Cavite.
What is al fresco dining?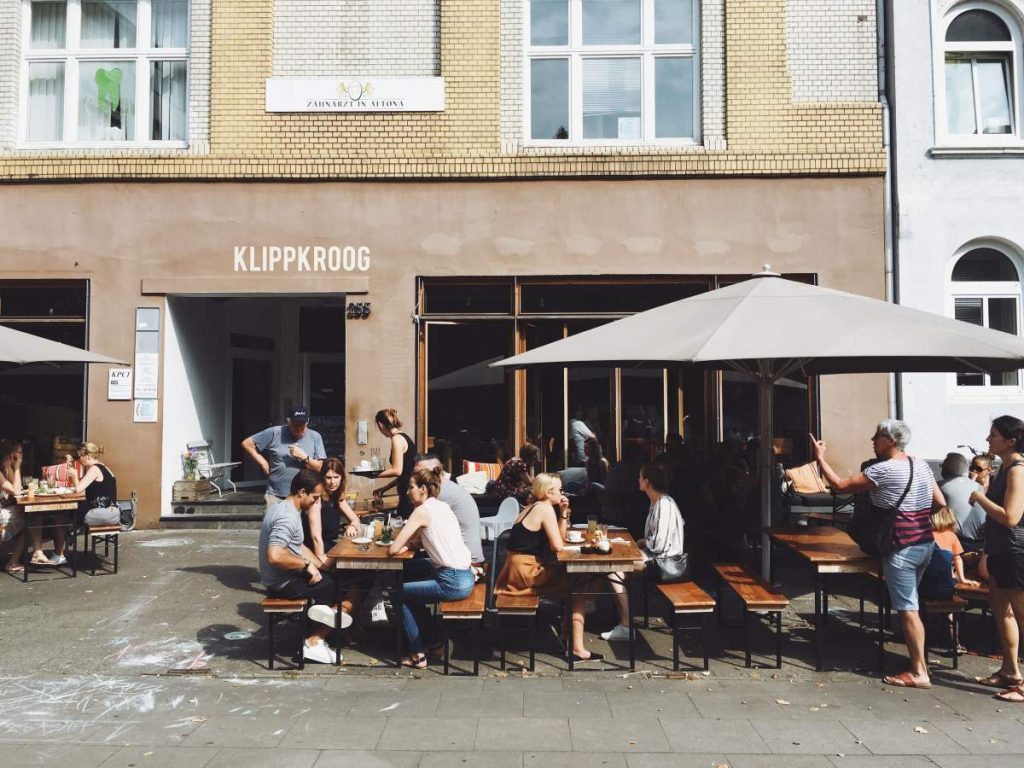 Al Fresco is dining outdoors or in the open air. In fact, this Italian expression can be loosely translated to "in the cool air". Almost everyone thoroughly enjoys al fresco dining especially when the weather cooperates. When it's cool but not raining and it's just the right amount of sunny, al fresco dining is a great option.
Some restaurants have covered patios outside in case it gets too hot or sunny in the area so you can still enjoy al fresco dining under the shade and away from the glare of the sun. Having the option of al fresco dining in restaurants doesn't only benefit the customers, it benefits the restaurants too! While eating in a cool, air-conditioned room sounds wonderful especially when you live in an area with such hot climates, some people prefer al fresco and outdoor dining because it offers an enhanced atmosphere, fresher air, and a great ambiance.
Pros and cons of al fresco dining
Dining outside? Exposed to nature's elements? Why would you want to do that? Why do restaurants even offer that option? If you still don't get it, don't worry! Here are ways al fresco dining benefits the restaurants, its pros, and cons.
Pros
More money? Count us in!
If you offer outdoor seating, you'll be able to attract more customers. Lots of customers prefer fresh air instead of sitting in a room filled with people. Some customers prefer the outdoor because it offers fresh air. If your restaurant has a beautiful view, that's an added bonus and more customers will want to eat outside instead.
If the weather is nice and you offer outdoor seating, that's an added revenue! Add in some extremely good food and you've got yourself a successful restaurant.
Great ambiance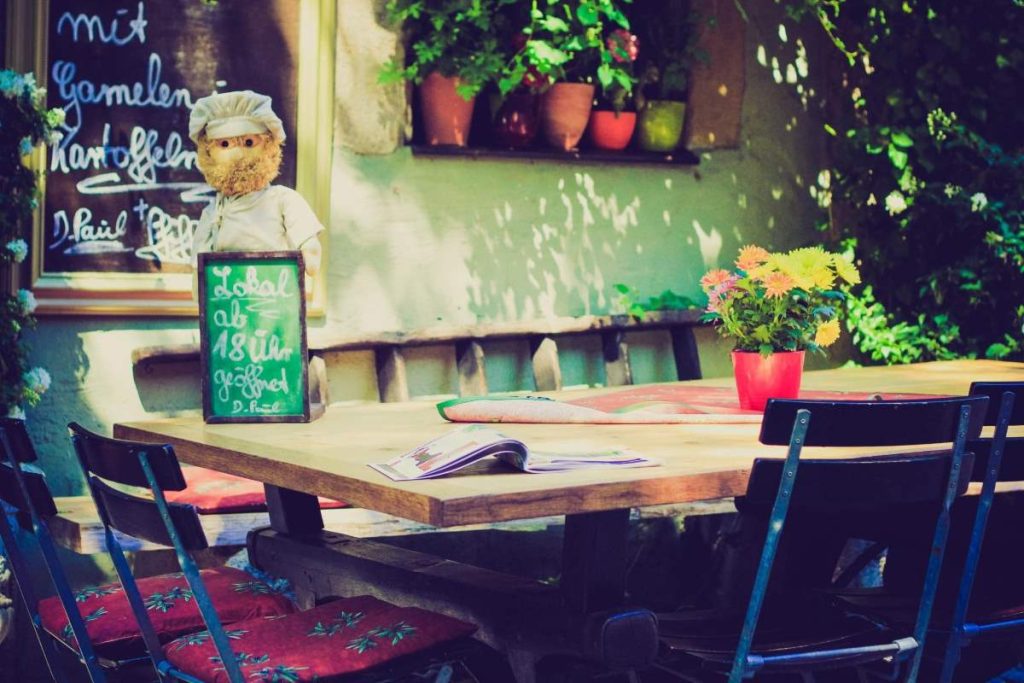 Why go inside and enjoy the view when you can eat outside and breathe in the fresh air? Outdoor dining offers a better ambiance. You're there to experience things and live in the moment. When you eat al fresco style and the weather is amazing, you feel more festive. It's more fun. It's an enhanced atmosphere. Who doesn't want that?
Extra seating
Al fresco restaurants or those that offer al fresco dining can offer extra seating. If you have a full restaurant, there's no need to worry! You can offer outdoor dining. People can sit outside and enjoy the meals you serve as well as the environment. In the end, it's more profit. If you want to live in a location with tons of amazing restaurants that offer al fresco dining, contact one of our Crown Asia agents and find a luxury home now! They're very accommodating and will make sure that you love where you live.
Cons
It relies on the weather.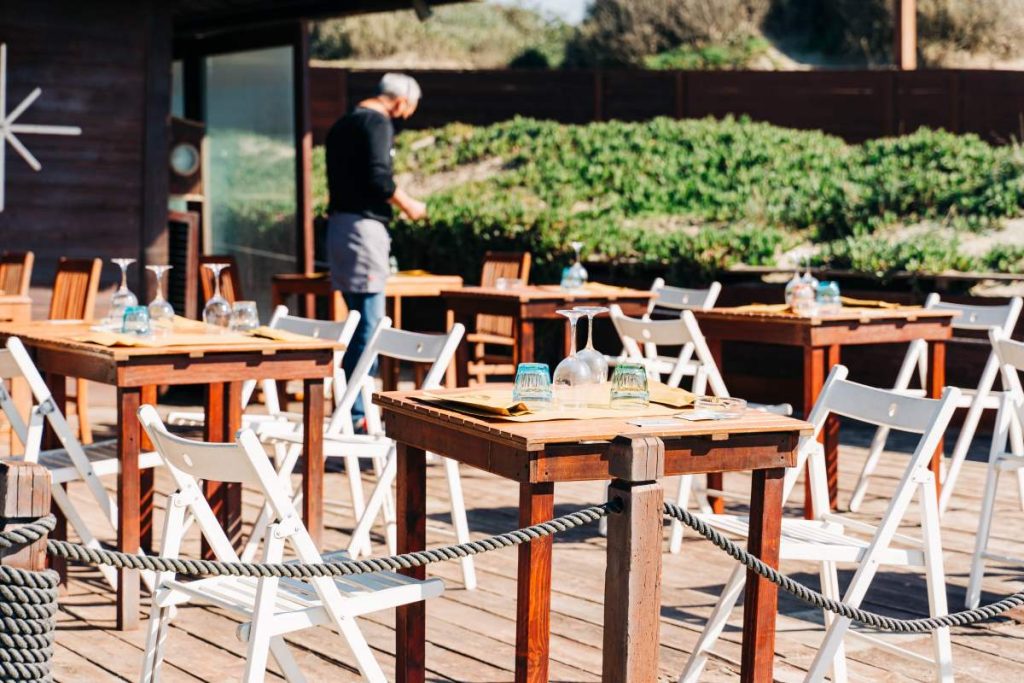 The downside of al fresco dining is that it relies heavily on the weather. If the weather is great outside, it's the prime time to start al fresco dining rather than dining indoors. You can feel the wind in your face and the fresh air. It's amazing!
However, if it starts raining heavily or if the heat is too unbearable, al fresco dining is not possible or is an option most people would not even consider. Because the weather is such a big factor, you can't really tell when you can go al fresco dining. You can't make a sure plan a day before to go al fresco dining because you're not very sure if it'll rain the next day or it'll be too hot. But there are days where we have amazing weather. Why not take advantage of it?
Better bring bug spray!
Bugs are pesky. And when you eat outside, bugs flying all over your meal are inevitable unless the restaurant does something about it. Everything looks very enticing to these bugs may it be salad or cold dessert. And that gets really pesky.
To make sure that outdoor dining attracts people instead of bugs, try putting candles on the tables, setting up some fans, or making a centerpiece of certain herbs that repel insects. Such herbs could be basil, lavender, lemongrass, or rosemary. Scatter them in the surrounding areas as well.
We hate bugs. They carry disease and then they start hovering over our food. It causes problems. On the bright side, there is something you can do about it.
Our Top 9 Al Fresco dining spots in Laguna and Cavite
Al fresco dining is an amazing option especially when the weather is amazing. The best part is that most restaurants offer al fresco dining! Living in an area near these restaurants is something a lot of people opt for. It's a great benefit! If you living near these restaurants is a must for you, Crown Asia can help you find a luxury home that's cozy and homey, and to your liking.
We'll stop droning on and on about what and why of al fresco dining spots. Let's move on to the fun stuff! Now that you get what al fresco dining is as well as the pros and cons, it's time to introduce you to some of the best al fresco restaurants and dining spots in Laguna and Cavite. Visit some if you're looking for a great place to eat!
Coffee Project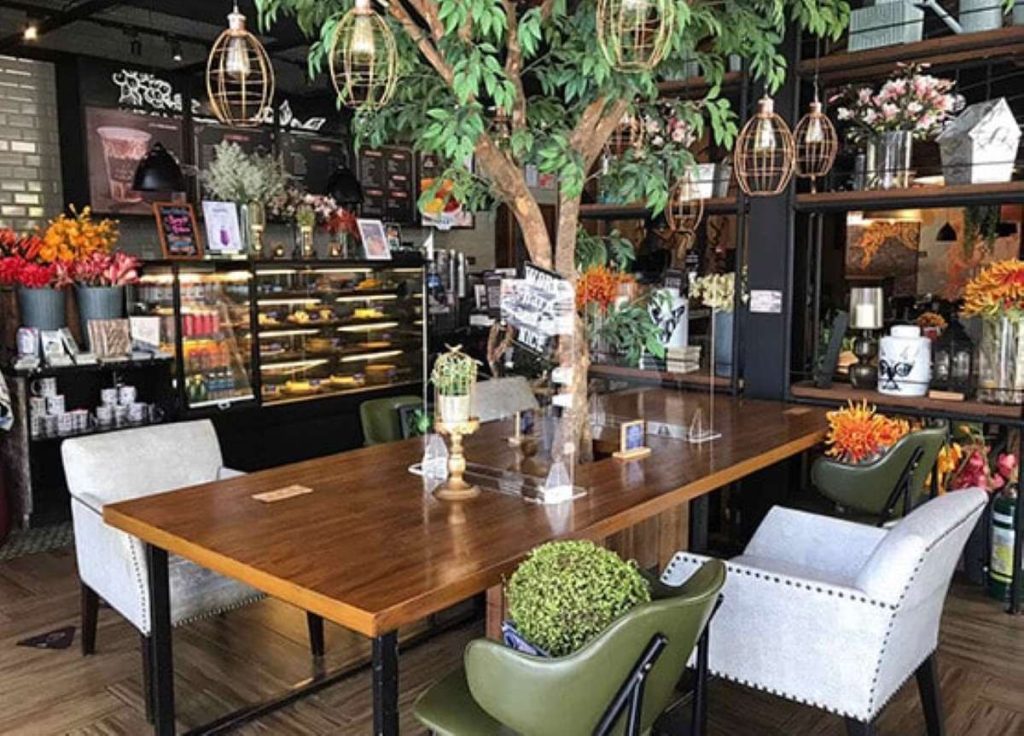 photo from allvalue.com.ph
Kicking off our list is one of the most Instagramable coffee shops in the world. Coffee project is already a household name in offering a good cup of joe and its variants in setting worthy of an IG story or post. Nowadays, Coffee Project has already began its operations in al fresco inspired settings like its shops in Evia Lifestyle Center and its acclaimed branch in Tagaytay, The Ruined Project which is an entirely new dining experience brought about by its unique and unconventional take on interior and exterior design. It is also one of the best coffee shops in Tagaytay.
Coffee Project offers a different feel in the trendy Al Fresco dining experience with its tasty brews and delicious meals you'll surely come back wanting for more!
Charito by Bag of Beans (Tagaytay, Cavite) 
Are you looking for a restaurant that is elegant but not too fancy? A restaurant that's perfect for light conversations? Trust us when we say it has a beautiful view of Taal Lake as well as a beautiful ambiance. The décor is stunning! And the meals? Just perfect.
Charito by Bag of Beans is in Maharlika East in Tagaytay, Cavite. This restaurant offers diners a great outdoor dining experience not only because of the view of Taal Lake but the great food. Some might opt for a perfectly blended brew of coffee with a slice of cheesecake. It blends international and local flavors perfectly to give diners an amazing and memorable experience of good food and an undeniably beautiful view.
Marcia Adam's Restaurant (Alfonso, Cavite)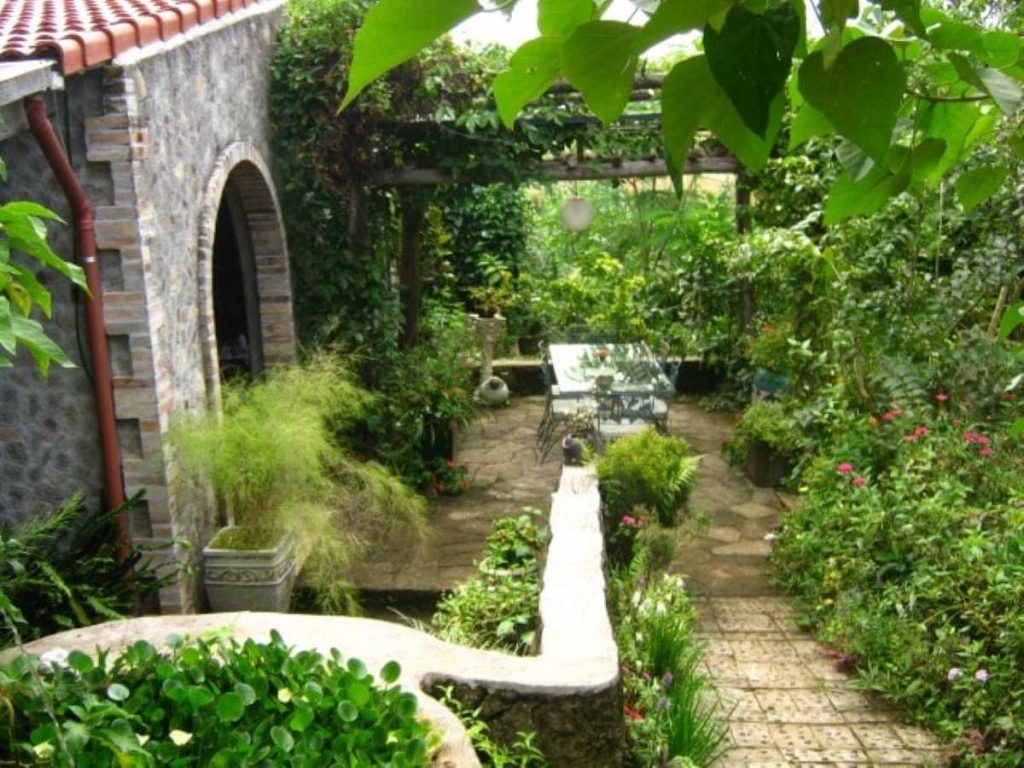 photo from lynne-enroute.com
This restaurant hidden in a two-hectare farm and peppered with colorful flowers and greenery is located in Alfonso, Cavite. The restaurant has a romantic ambiance and an Italian and Greek feel. And the décor just adds to the feeling. To get there, you have to walk on a stone path. You're able to smell the flowers and breathe in the fresh air. It's really relaxing.
Because it is a bit hidden, this restaurant can be likened to a secret waiting to be discovered. And the rustic architecture with the Mediterranean-inspired menu assures us that this secret is something you want found. It's as if a storybook has come to life. And diners describe this restaurant as romantic and perfect for those who want to travel to Tuscany or Greece.
If you want to live near such restaurants or if you want better access to these restaurants, we at Crown Asia would love to help you. This is most definitely making it on the list of top al fresco dining spots in Cavite.
Patis Tito Garden Café (San Pablo, Laguna)
We have discussed quite a bit about the restaurants in Cavite. We think it's time to introduce you to the beautiful al fresco dining spots in Laguna. One of these dining spots is Patis Tito Garden Café. This restaurant gives off an ambiance that takes you on a journey to discovering our Philippine heritage. Being able to sit outside while eating the delicious Filipino food offered by this garden café must feel like heaven.
This café is owned by a critically acclaimed designer named Patis Tesoro and her husband, Tito Tesoro. If you're looking for a restaurant that offers the opportunity to eat Filipino comfort food and delicacies while being surrounded by refreshing décor, this restaurant is for you.
Concha's Garden Café (Tagaytay, Cavite)
Concha's Garden Café is located in Cliffhouse in Tagaytay, Cavite. Serving Filipino and Asian food, this garden café offers al fresco dining. It also serves vegetarian food. The price of the food isn't too expensive and the ambiance is perfect. It offers outdoor seating with a cover in case the glare of the sun becomes too much.
This restaurant overlooks the Taal Volcano. Because of its reasonably priced Filipino food, the view you can't take your eyes off of and the delicious Filipino food such as bulalu, pancit, and salpicao, this café is a well-known dining area in Cavite.
Fire Lake Grill (Tagaytay, Cavite)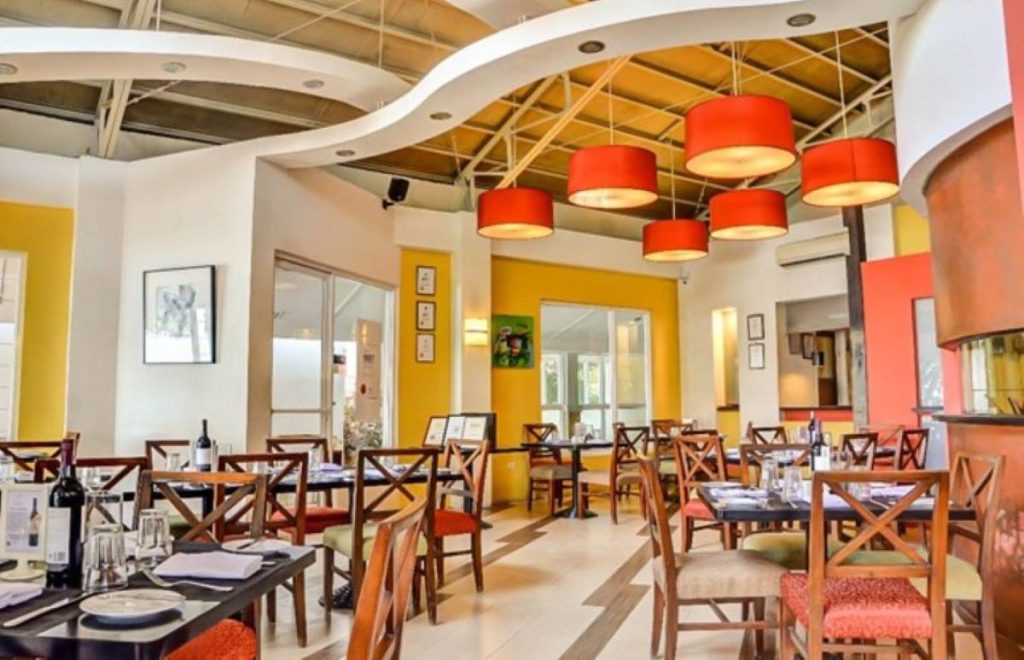 photo from firelakegrill.com
Soak in the stunning view of the Taal lake while eating a delightful four-course meal consisting of a starter soup, entrée or pasta, and dessert. It's a great place if you're looking for a relaxing meal with a scene.
Sitting in the outdoor dining area is a preferred option for tons of customers because it offers a great view of a major tourist spot in the Philippines. Can you imagine living near this place? Crown Asia can help you find the perfect luxury home near this restaurant and you can visit anytime you like. This is a great al fresco dining spot in Cavite specifically Tagaytay.
Nonna's Pasta and Pizzeria (Santa Rosa, Laguna)
Located in Santa Rosa, this restaurant is part of our list of best al fresco dining spots in Laguna. If it wasn't obvious enough, this restaurant offers Italian cuisine such as pasta and pizza. It even has a menu for kids!
Aside from the amazing Italian food, this restaurant offers outdoor seating with a great ambiance. Owned by those behind Mama Lou's, another great restaurant in Laguna, you can expect a modern vibe with a homey ambiance. It offers delicious food and quality ingredients. Try out this al fresco dining spot in Laguna now!
Chateau Hestia Garden Restaurant (Silang, Cavite)
Offering European cuisine, the Chateau Hestia Garden Restaurant is found in Silang, Cavite. It serves a five-course meal per person. This five-course meal consists of appetizers, soup, salad, entrée or pasta, and dessert. It now offers outdoor dining surrounded by lush greenery and a homey ambiance. However, because of how full it gets, you have to call ahead to reserve a table. It's just. That. Good!
Café Voi La (Tagaytay, Cavite)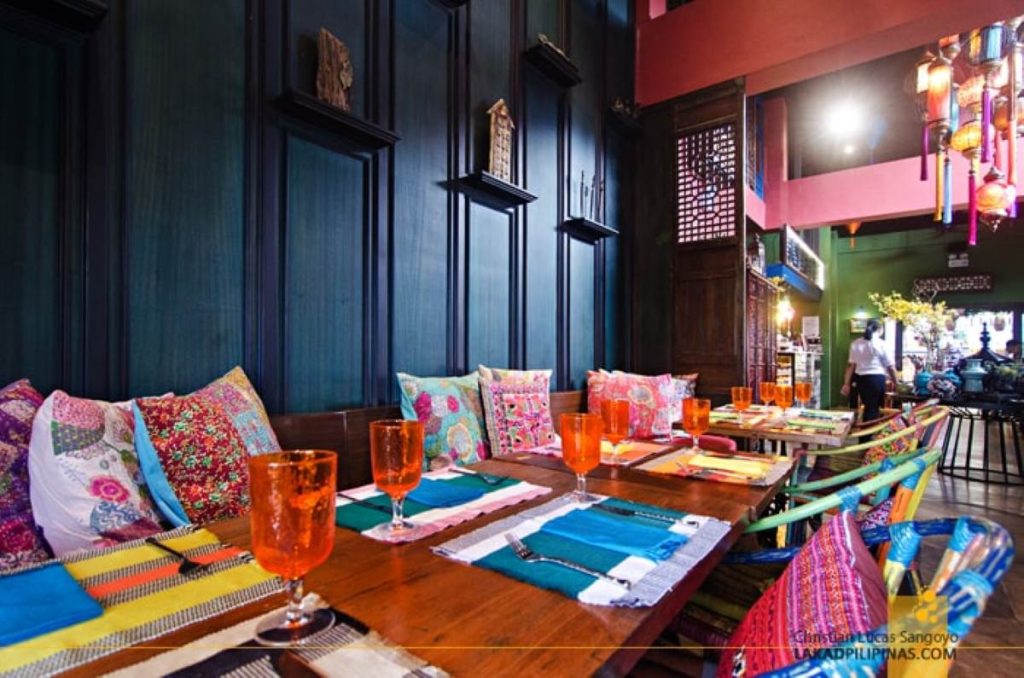 photo taken from lakadpilipinas.com
Dine with the pines, it says. Dining in Café Voi La allows you to enjoy the cool breeze while eating their Asian fusion cuisine. With the cozy couches, unique ambiance, and little trinkets from around the world, this restaurant offers a unique dining experience especially when you eat outdoors.
This al fresco dining spot in Cavite allows for intimate conversations over shared meals while being surrounded by breathtaking décor and great foliage. Partnering with Crown Asia to find a luxury home near Café Voi La seems like a great idea. Visit Café Voi La in Tagaytay, Cavite now!
The Takeaway
Al fresco dining brings eating out to the next level. Eating in al fresco restaurants is an option you might want to consider. Surround yourself with the refreshing cool breeze and foliage in the above al fresco dining spots found in Laguna and Cavite. And the ambiance isn't all we're going for. They serve great food as well!
If you want to live in an area near al fresco dining spots or near great restaurants, Crown Asia real estate agents will make sure of that. Just contact them to find your perfect luxury home.
Related Blog: Tagaytay Restaurants With Al Fresco Dining