For many couples out there, having their weddings is one of the key moments of their relationship. Often, this is followed by them living together in a home of their own in, for example, either a quiet neighborhood in Tagaytay or in one of the many subdivisions along Daang Hari.
Planning a wedding requires time and a number of factors to account for in order for it to become successful. One must be sure of the number of guests that they'll want to entertain, pick out the most reliable and professional catering service to feed everyone attending the wedding, and most importantly, know the best wedding venues in their area that can accommodate the wedding itself. It takes time to research, and sometimes it's best to rely on the services of experts to do most of the hard work so as to ensure that one doesn't have to experience the stress of planning everything out.
For those who are looking for the perfect wedding venues in South Luzon, below are three excellent facilities to choose from.
Looking for a Versatile Wedding Venue in the Heart of Quezon City? Inquire at La Chandelle Events Place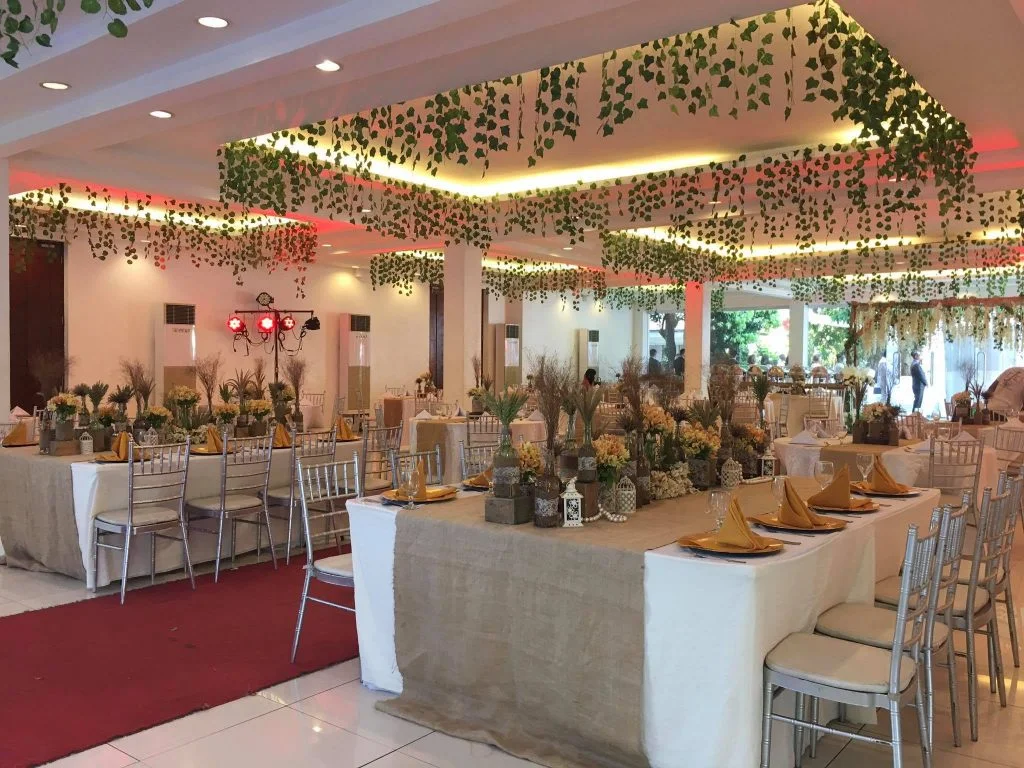 photo from: jenniferweddingandevents.com
Located along Mother Ignacia Avenue in Barangay Paligsahan, Diliman, Quezon City, La Chandelle Events Place is the ideal venue for those who want a secluded and intimate wedding in the Metro. As far as wedding reception venues go, La Chandelle Events Place prides itself on its elegantly-designed grand hall, which is sure to make one wedding a memorable one.
The venue is capable of redesigning itself according to the wants of its patrons, providing them with a degree of creative control as to how they want their wedding to look. In terms of the amount of people that it can accommodate, the venue can host up to a minimum of 50 individuals, and at most twice that number for those who want a larger party. The venue also has an outdoor space for those who want to conduct some activities requiring a bit more room.
Those who are interested in making a reservation in this event's place can opt to contact them via their Facebook page or through their numbers and email, which are also listed there for convenience.
For a Location with a Great View of the City of Makati, Host Your Wedding in The Loft at Manansala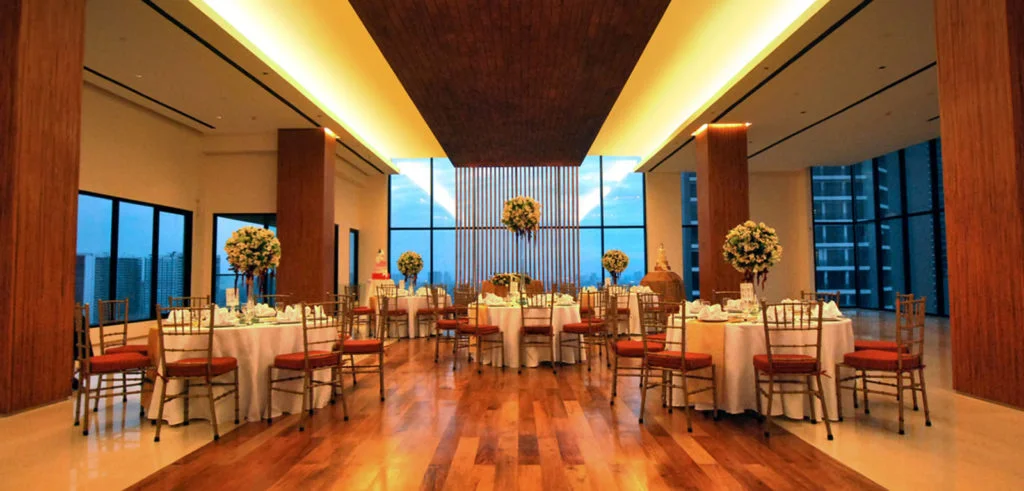 photo from:primovenues.com
Situated on the 38th floor of the Manansala Building by Hidalgo Drive in Makati City, The Loft is one of the best places to hold an urban-style wedding in Metro Manila. With over 440 square meters of space to work with, those who are planning on holding their weddings here are sure to not only have access to excellent amenities, but a beautiful view of the Metro skylight as well.
The venue itself is spacious enough to host a total of 300 people easily while making sure that they never feel claustrophobic with its floor to high ceiling glass walls. As one of the top wedding reception venues in Makati, The Loft also offers its own list of recommended caters and technicians to give only the best wedding experience. Patrons may also choose to take up the venue's valet parking options as part of their wedding packages, ensuring that their guest has access to parking within the nearby Power Plant Mall.
Outside of hosting wedding receptions, The Loft is also available as an events place for other sorts of gatherings, perfect for the up-and-coming business-oriented Filipinos who want to host the ideal social event for their colleagues, friends, and family.
Want to Wow Your Guests with the Best Garden Wedding Possible? Check Out Palazzo Verde in Las Piñas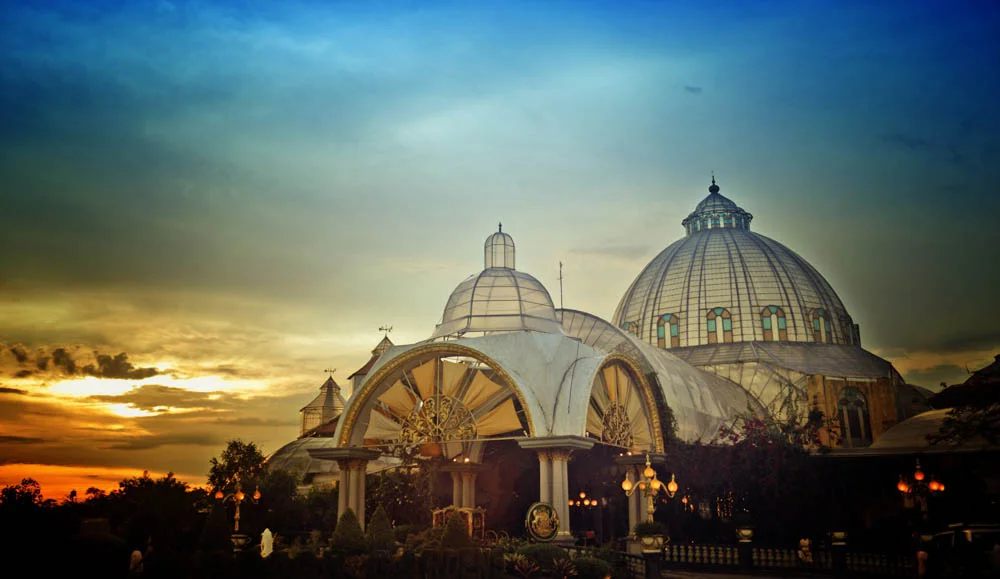 photo from:hizonscatering.com/venue/palazzo-verde/
Nestled within Vista Alabang by Daang Reyna in Almanza Dos, Las Piñas, Palazzo Verde is one of the top wedding venues in South Luzon for those looking to have an unforgettable garden wedding. Seeking only to provide the most enchanting memories for their clients, Palazzo Verde prides itself in making sure that their guests will be awed by the 'old world charm' of their intricately-designed venue.
Palazzo Verde features over five beautiful rooms to occupy, two of which follow a Byzantine theme, the other two centered on a Victorian setting, and the latter a ballroom which focuses on a Colonial motif. In their wedding packages, couples that will be wed can expect to reserve the following amenities if they so choose: a scenic bridge and a grand staircase to have photo shoots on, a gondola ride for a relaxing time with one's significant other, a horse carriage for those who want to make a special entrance to their wedding, and a bridal suite room for those who want to wind down for a bit. The weddings themselves can take place within the adjacent Notre Dame de Vie Chapel, a medium-sized church that is sure to take anyone's breath away once they enter and bask in its grand interior.
In terms of how many guests Palazzo Verde can entertain, it can host a minimum of 150 people and up to 500 at its maximum, with access to specific rooms and amenities specified in their packages.
In conclusion, South Luzon is home to numerous wedding venues that can surely satisfy whatever a modern Filipino couple would be looking for in their wedding. From the intimate atmosphere of La Chandelle Events Place, the urban high-rise setting of The Loft, and the fairytale-esque accommodations of Palazzo Verde, there are many choices to choose from in just this region of the Philippines.
For newlyweds, the next phase of their lives would be to find the ideal home for themselves, and for those who want to live in one of the many subdivision along Daang Hari, there is no better choice than Ponticelli by Crown Asia.
Situated just a kilometer and a half away from Daang Hari, the Italian-themed master-planned community of Ponticelli promises the dream suburban life for both its current and future residents. Not only can one experience a peaceful domestic life away from the noise of the city, but one would also have access to modern conveniences within and near Ponticelli, such as the standard set of amenities found within all Crown Asia properties and the nearby SOMO Market and Evia Lifestyle Center. The wedding venue Palazzo Verde is also in close proximity to Ponticelli, a handy fact to know for couples who want to both have their weddings in the former and are looking to settle down in the latter.
To those who are seeking out the best subdivisions along Daang Hari for their new forever home, why not visit one of the many properties in Crown Asia's Ponticelli today?
Related Blog: Settling Into Your New Home As Newly Weds