The question has been popped, the ring has been placed on your finger, and a date has been set. It's time to decide where the most significant day of your life will take place!
The location of your wedding ceremony and reception will be something you will remember for the rest of your life. Your wedding day will be documented forever in your images after it has passed, so picking a memorable venue will serve you well in the years to come.
Doesn't everyone want their wedding day to have a certain "feel" about it? So, if you want a low-key, all-natural wedding with just a few close friends, a modern art gallery is probably not the place to go.
On the other hand, dragging chairs through the sand on the beach is probably not going to work if you want a particularly exquisite, polished wedding day. To cut down the list of venue alternatives, start with your wedding concept.
The next step is to locate a wedding venue that matches your style. Once you've decided how you want your wedding to look, feel, and be remembered in images, the next step is to find a wedding location that matches your style. Here are some suggestions to get you started.
Palazzo Verde
Theme: Elegant/Romantic
Location: Vista Alabang, Daang Reyna, Almanza Dos, Las Piñas, Metro Manila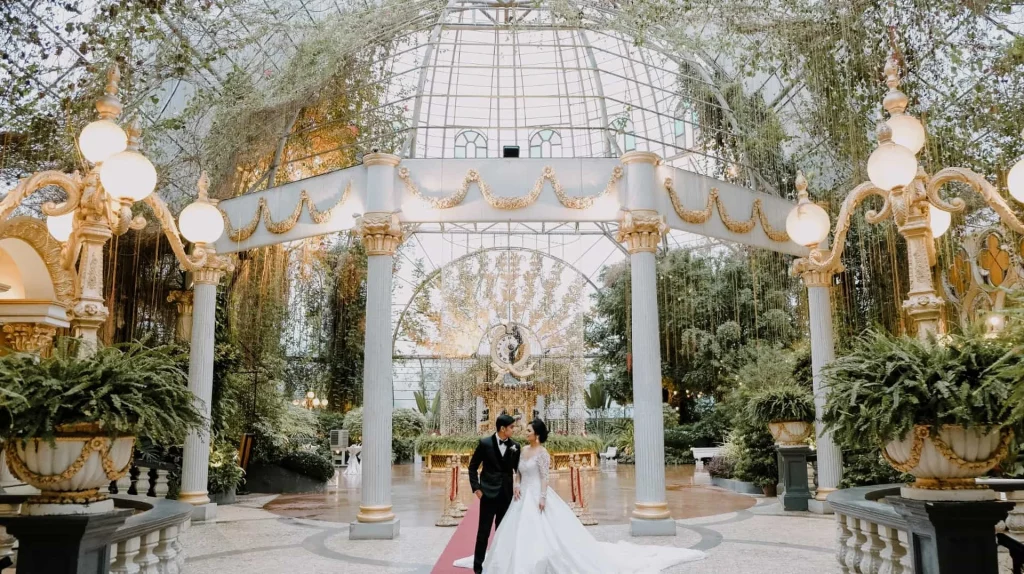 Photo from townsdelight.com
Palazzo Verde is the Philippines' most popular garden and ballroom wedding destination. It has areas that are uniquely created to give a beautiful venue for your once-in-a-lifetime events. Whether big or intimate, Palazzo Verde has something for everyone. Palazzo Verde to celebrate your life's most memorable events.
If you've always longed for a romantic ride on a gondola, or be chauffeured away by a majestic carriage, or have an elegant grand entrance through an exquisite staircase, or walk hand in hand with your spouse to be through an enchanting bridge, then you should definitely swing by Palazzo Verde for an ocular visit.
Hillcreek Tagaytay
Theme: Outdoor/Garden
Location: 134 Tagaytay – Alfonso Road Brgy, Alfonso, 4123 Cavite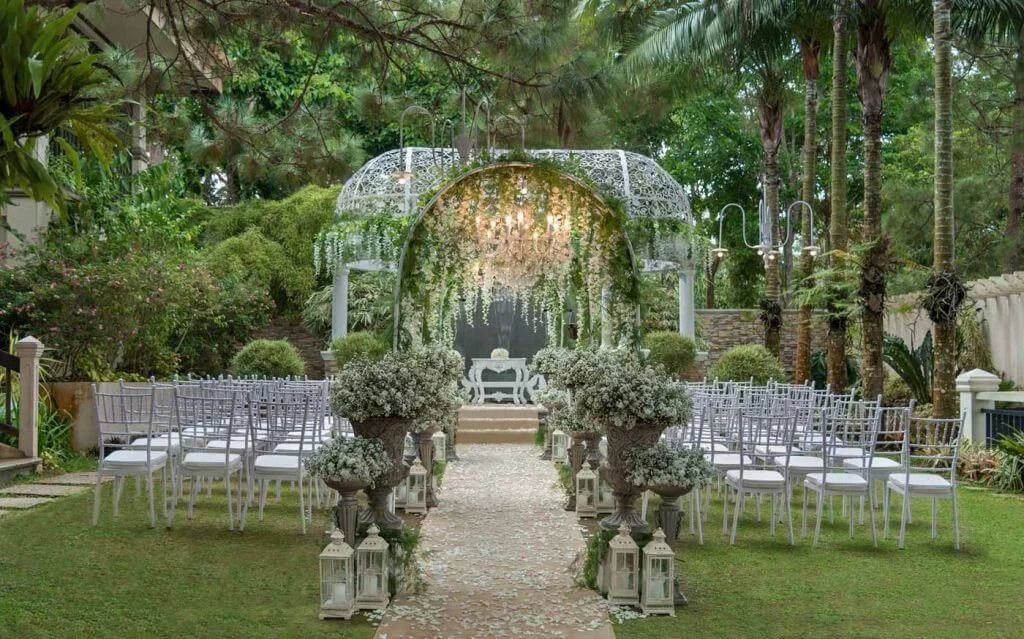 Photo from brideworthy.com
Hillcreek Gardens Tagaytay, is one of Tagaytay's best events venues and hotels, providing a unique experience for your once-in-a-lifetime event. Enjoy the cold climate surrounded by lush gardens and bask in the tranquil and fully soothing ambiance with 34 spacious and well-appointed rooms to select from, as well as our distinctive venues and function areas.
Hillcreek Gardens Tagaytay is known for a lot of events, like birthdays, baptisms, but particularly for romantic and unforgettable wedding ceremonies and receptions. Hillcreek Gardens offers a venue-only package or an all-inclusive plan that includes free use of a separate garden for the ceremony or cocktail hour, as well as a complimentary overnight stay. The Grand Ballroom, Pavilion, Garden, and Flowerhouse Place are among the amenities to avail for your dream wedding.
The Forest Barn
Theme: Classic/Rustic
Location: The Forest Barn, Kaysuyo Road, Magallanes, Cavite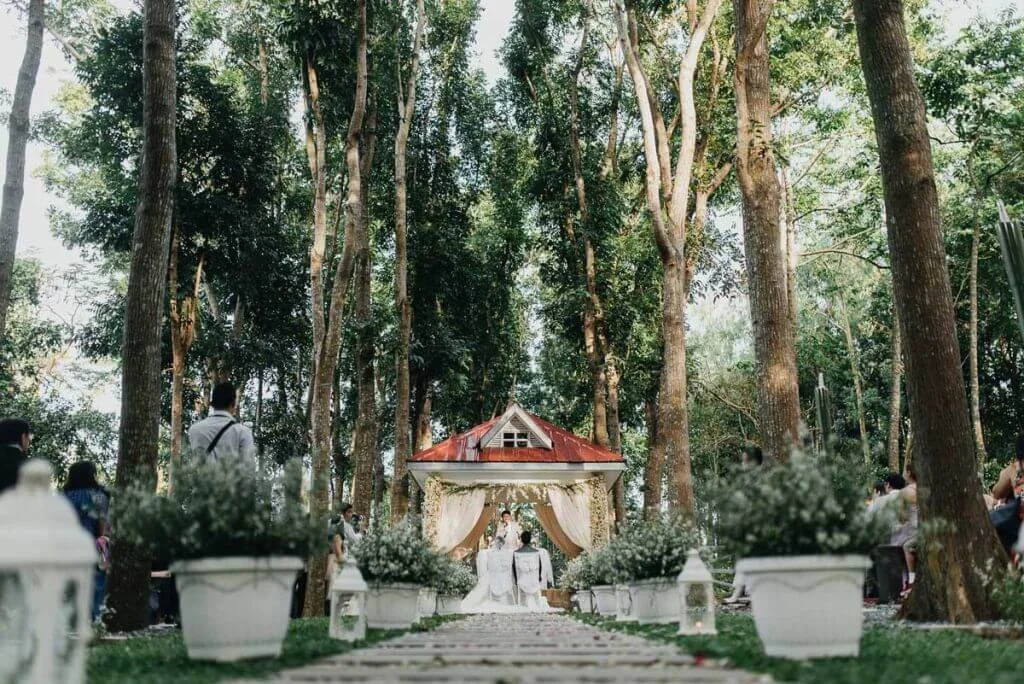 Photo from brideworthy.com
A beautiful country wood setting for an antique English barn. The Forest Barn is a unique 6-acre property suited for weddings and special gatherings, nestled among the picturesque rolling hills and valleys of Kaysuyo, Alfonso. In a secluded rustic hamlet, just minutes from Tagaytay, an exquisite sanctuary of tranquility awaits you.
With a selection of ceremony, reception, and event settings on the property, as well as features such as a tavern basement ideal for informal gatherings, a commercial-grade kitchen, a bridal suite, and guest room, and ample parking. The Forest Barn is the ideal location for your event. The woodsy ambiance is enhanced by a variety of wild ferns and flowers mixed in with pines and hardwoods. The rustic barn makes for a lovely photo backdrop. There are numerous photo chances at this location!
Listen to the sounds of birds, crickets, and other wildlife while you relax in peaceful surroundings. The versatile nature of this location allows you to personalize it as much or as little as you like, whether within the barn or outside at the gazebo.
The Oriental Luxury Suites
Theme: Vintage/Traditional
Location: Tagaytay – Nasugbu Hwy, Alfonso, Cavite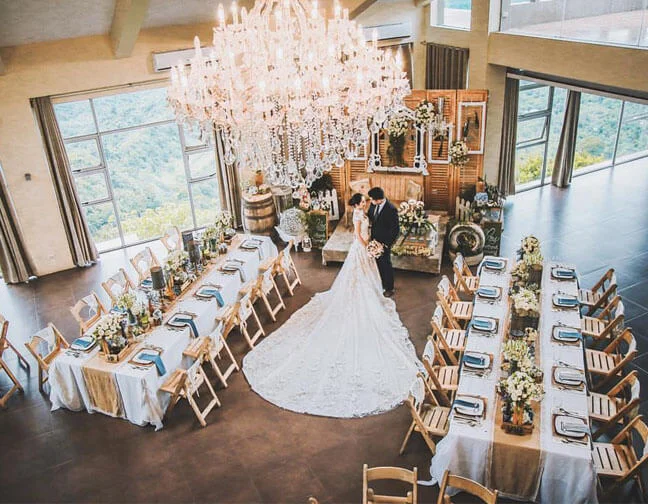 Photo from townsdelight.com
The Oriental Luxury Suites is the best venue for couples who want to have a more vintage and traditional touch to their wedding.
Only an hour away from the hotel lies Asia's largest Catholic church. St. Martin De Tours, also known as the Taal Basilica, is known for its facade, which is comparable to that of St. Peter's Basilica in Rome. The current exteriors of the church were built in 1856 after many reconstructions. Aside from its stunning exteriors, Taal Basilica is home to the country's sole silver tabernacle
Caleruega is a popular retreat place in Batangas named after a town in Spain. Visit the Transfiguration Chapel or take a leisurely stroll in the park while you're there. After passing through the hanging bridge and metal walkways, you can see the Caleruega Tent Chapel.
Hacienda Solange Private Events Place
Theme: Fairytale/Majestic
Location: Brgy, 047 Aguinaldo – Alfonso Rd, Alfonso, 4123 Cavite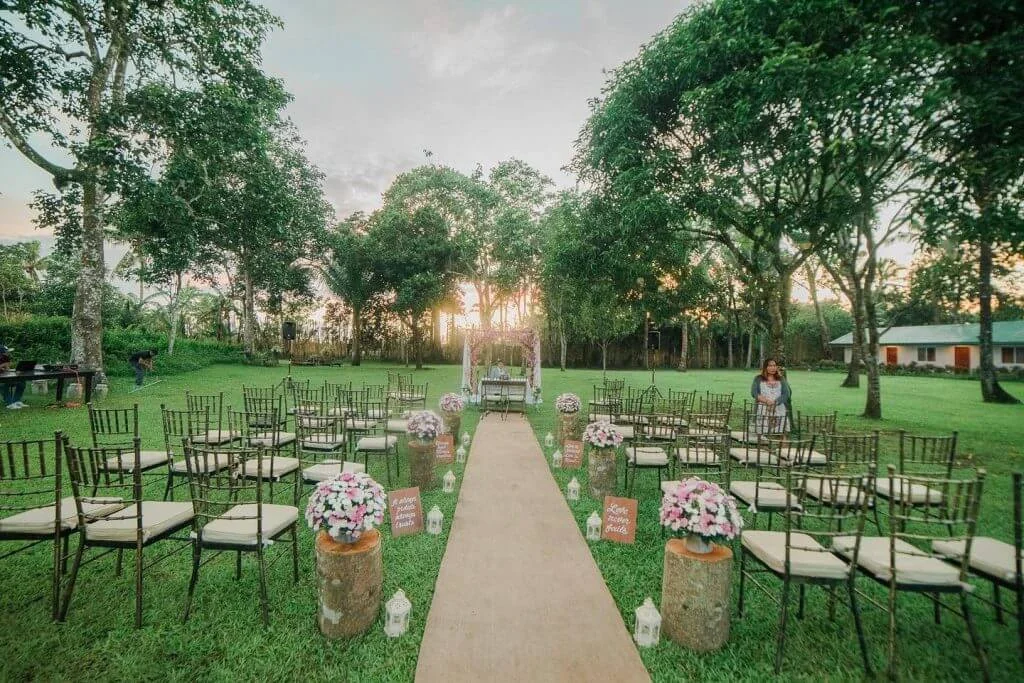 Photo from jenniferweddingsandevents.com
On the spacious meadows of Hacienda Solange, you can hold your magical once-in-a-lifetime event. You can choose between a bohemian-chic outdoor wedding surrounded by grasslands and flora, or a more industrial wedding surrounded by clear glass panels. Built primarily for wedding events, the hacienda has a ready set of wedding packages that include accommodations such as food, emcees, flower arrangements, lights and sound, fog and bubble machine, mahogany tables, and much more, depending on your package of choice.
Hacienda Solange is a ten-minute drive from Tagaytay and is surrounded by nature. Its sole purpose is to provide a "holiday home away from home." There are two houses: the Villa, which has two rooms and can accommodate six people, and the Chalet, which has three bunk beds and can accommodate nine people. With surrounding trees, chirping birds, one large pool, one little pool, and a grill station, Hacienda Solange provides a great ambiance. Imagine a place where you can sunbathe, sip a fresh coconut, and hopefully eat rambutan and lanzones (when they're in season) while grilling.
Now is an exciting time to plan this one-of-a-kind event in your life, while weddings are important we also have to think about the marriage aspect, like preparing for the future. If you are looking for a house to live in, Ponticelli is the right place for you. Ponticelli has RFOs, Lot Only properties available in Daang Hari.
Ponticelli by Crown Asia is located in Villar Land, a master-planned city featuring a broad range of retail, dining, entertainment, and business sectors, along Daang Hari Road. With apartments located close to the hustle and bustle of city life, you won't have to travel far to find the rest and leisure you require.
Read more: Settling Into Your New Home As Newly Weds