Updated as of May 27, 2023
Embarking on a journey through Cavite, Philippines, using its major roads is a captivating experience. Starting from the bustling city of Manila, one can traverse the Coastal Road, offering scenic views of Manila Bay. Continuing southward, Aguinaldo Highway welcomes travelers with its historical significance, passing through landmarks like the Aguinaldo Shrine. Veering onto Governor's Drive leads to the picturesque Tagaytay City, with its cool climate and stunning Taal Volcano. Exploring further, Daang Hari Road unveils modern developments and connects vibrant communities making it ideal, especially for those who are looking into Bacoor Cavite house and lot for sale and eventually merging into Molino Boulevard, where the bustling lifestyle harmonizes with serene landscapes. With each road traveled, the journey through Cavite unravels the region's rich heritage, diverse landscapes, and vibrant charm, making it an unforgettable experience.
Home buyers frequently think about a property's connectivity to highways and roads in order to get to their destination quickly and have easier access to leisure and entertainment. As a result, a lot of people opt to buy a Bacoor Cavite house and lot, situated specifically in Daang Hari.
Being close to universities, hospitals, and shopping centers, residents also benefit from easy access to the Daang Hari road. People may completely enjoy their road journeys because of Daang Hari's connectivity to various highways and extension roads, which prevents them from getting stranded in traffic. This is in relation to the multiple long weekends and holiday getaways this 2023.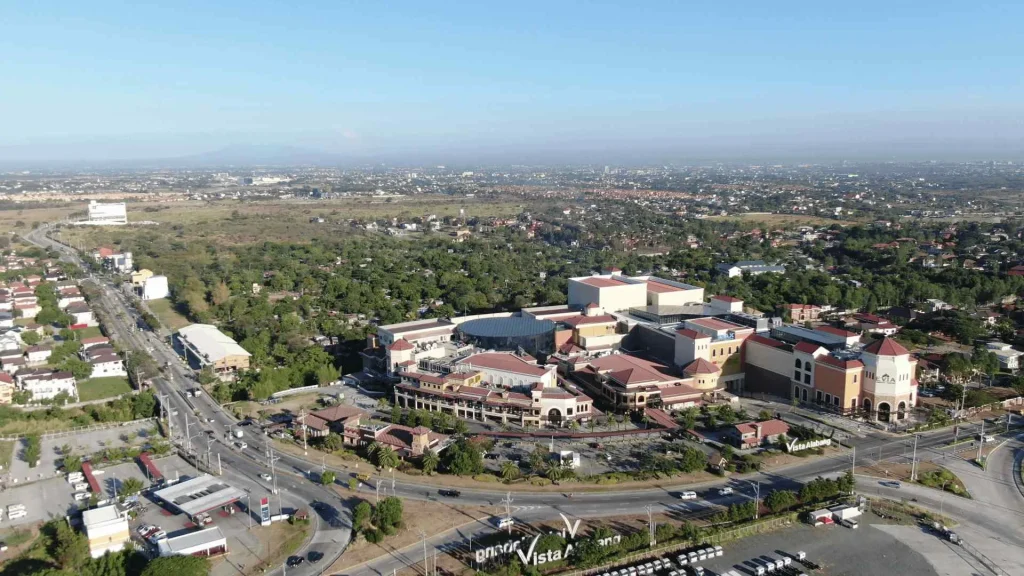 Why is it called Daang Hari?
Daang Hari Road is known for its historical significance. The name "Daang Hari" translates to "King's Path". This road was once used by Spanish colonial rulers, connecting the province of Cavite to Manila as a royal route for the King's expeditions. Over time, it evolved as a vital artery.
The vital artery serves as a linkage among residential areas, commercial hubs, and educational institutions. Today, Daang Hari Road stands as a symbol of historical heritage, bridging the past with the present, and enabling progress and connectivity for all who traverse its path.
This article will present some of the linking roads and highways that were a part of the Department of Public Works and Highways (DPWH) projects near Daang Hari Road, and what locations can be visited as you drive your way using these two roads.
Coding in Daang Hari
With its growing prominence as a major thoroughfare connecting various municipalities in Cavite, efficient coding systems have become crucial. Coding in Daang Hari is the implementation of traffic regulations and management strategies to ensure the smooth flow of vehicles through the Unified Vehicle Volume Reduction Program.
Traffic lights strategically placed along the road regulate the movement of vehicles, employing timers and sensors to optimize traffic flow. These systems help in minimizing congestion, reduce travel time, and enhance overall road safety. The scheme also has window hours between 9 AM to 3 PM with which when neglected, violators will have to pay the 300-peso fine.
To support coding efforts, local traffic enforcers play a vital role in enforcing road rules and maintaining order. They ensure that drivers adhere to speed limits, observe proper lane discipline, and comply with traffic signals. Regular patrols help deter reckless driving and provide assistance to motorists in need.
Las Piñas-Muntinlupa-Laguna-Cavite Link Road (LPMLC)
Daang Hari's History
Prior to the construction, the territory that Daang Hari Road currently connects was primarily rural and agricultural. In 2003, Senator Manuel Villar Jr. spearheaded the opening of the Las Piñas-Muntilupa-Laguna-Cavite (LPMLC) Link Road, now known as Daang Hari, as part of his initiative for constructing new roads to reduce traffic in Metro Manila's southern regions.
According to Villar, as time spent traveling to southern regions of Metro Manila is shortened, several thousand commuters and motorists are expected to benefit from the overall expansion of the road network. He also stated that the LPMLC Link Road runs from Molino Road in Bacoor, Cavite, to Zapote-Alabang Road in Las Piñas. In order to avoid spending hours in traffic, those traveling on the South Superhighway can now use the LPMLC Link Road as a detour to Molino Road, which goes to Dasmariñas, Cavite.
Moreover, Daang Hari is now more than just a convenient road – thanks to years of continuous growth and investment. As it offers many delectable options where "royalty" may dine and take a break from an extended road trip, it is now known as the "Road of the King."
Likewise, now that Daang Hari has finally been completed after many years, there are many projects that came after Daang Hari, such as Vermosa and Villar Land, where there are numerous restaurants and cafes that people can use as a stopover, have a place to study or work, or even conduct meetings with their clients and other professionals. Both tourists and locals can enjoy and benefit from exploring Daang Hari, especially those who have managed to purchase a Bacoor Cavite house and lot near the area.
Here's what you can expect upon taking a road trip via Daang Hari Road (LPMLC):
Malls and Establishments Along Daang Hari Road
The prominent malls in the area are SOMO Mall, Evia Lifestyle Center, AllHome Daang Hari, and SM City Molino. These malls near Daang Hari Road provide a diverse range of shopping, dining, and entertainment options by ensuring that residents and visitors have access to a comprehensive array of amenities and experiences.
SOMO Mall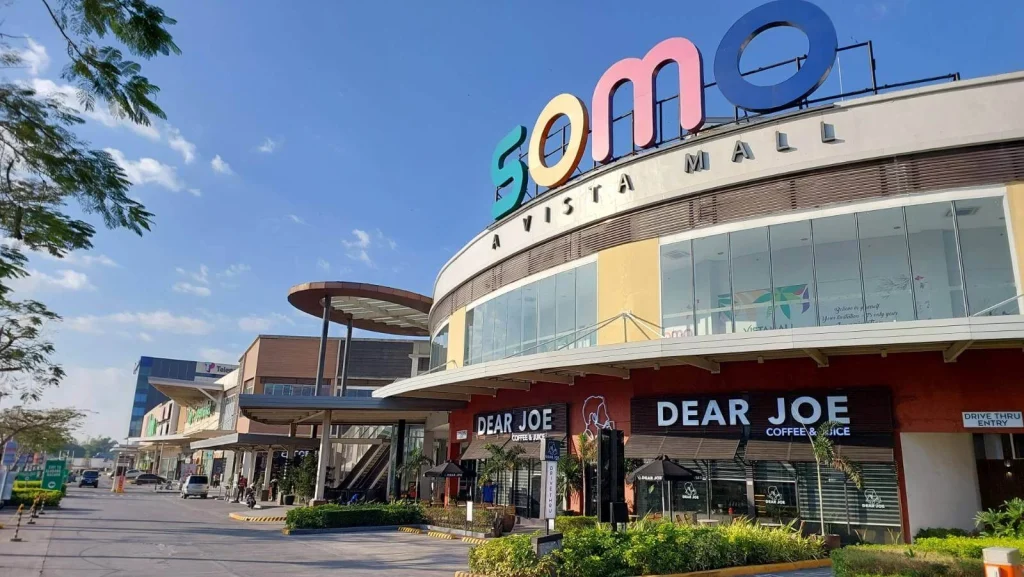 A Vista Mall has been redeveloped at the busy crossroads of Daang Hari and Molino Roads. Modern movie theaters, a ton of pure fun and adventure with Kinder City, a captivating new cafe concept called Dear Joe, and several other food options are all located in the enormous outdoor shopping and entertainment complex for the people of Bacoor and the surrounding towns of Laguna and Las Piñas.
Vista Mall is a prominent retail and entertainment destination in the Philippines, known for providing a holistic shopping experience. With multiple locations throughout the country, Vista Mall offers a diverse range of offerings, including a wide selection of retail stores, dining options, entertainment facilities, and essential services. The mall's spacious and well-designed layout provides a comfortable and convenient environment for shoppers. From renowned fashion brands to local boutiques, the Mall caters to different preferences and budgets. Moreover, visitors can indulge in a variety of cuisines at its diverse array of restaurants, cafes, and food courts.
Vista Mall features entertainment amenities like cinemas, gaming arcades, and recreational centers, ensuring a fun-filled experience for families and friends. Its commitment to customer satisfaction extends to the provision of essential services such as banking, supermarkets, and pharmacies, adding convenience to the overall shopping experience. With its vibrant atmosphere, diverse offerings, and customer-centric approach, Vista Mall continues to be a favored destination for leisure, entertainment, and retail therapy in the Philippines.
Evia Lifestyle Center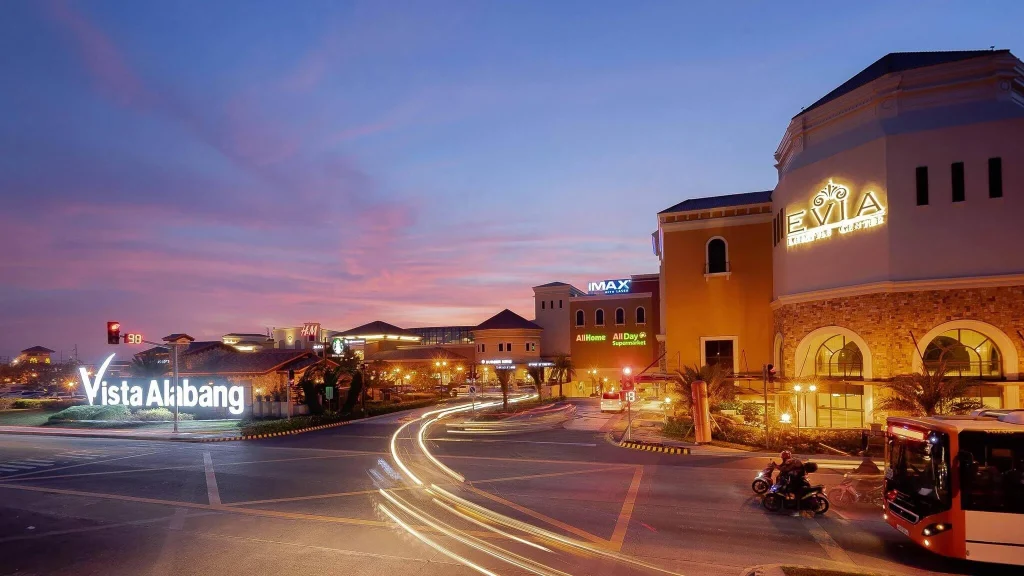 The Evia Lifestyle Center is known as the heart of the South and the crown jewel of Vista Land's Alabang Master-planned City Development. Additionally, it is home to some of the most prestigious international fashion labels and sophisticated culinary concepts in the Philippines; and a renowned dining, shopping, and leisure destination in the city of Alabang.
Enjoy world-class restaurants and cafés including Texas Roadhouse, Teppanya, which serves Japanese cuisine, Peri-Peri Charcoal Chicken, which features the greatest chicken spices from Africa, and Barcino, which takes your tongue on a tour of Spanish cuisine, are all located in the Evia Mall. For those who prefer a peaceful setting with a soothing atmosphere, The Coffee Project, which was named the 24th most Instagrammable café in the world (and the only Filipino Café to reach the list), is situated in Evia.
Be captivated with one of Evia's most outstanding spaces in the mall is the interior sky ceiling at the Piazza, which appears heavenly as its colors change and depicts the celestial skies for the guests. Some of the regulars were even brought back to the Great Hall ceiling from the Harry Potter series, which simulates the sky outside.
Crossing Cafe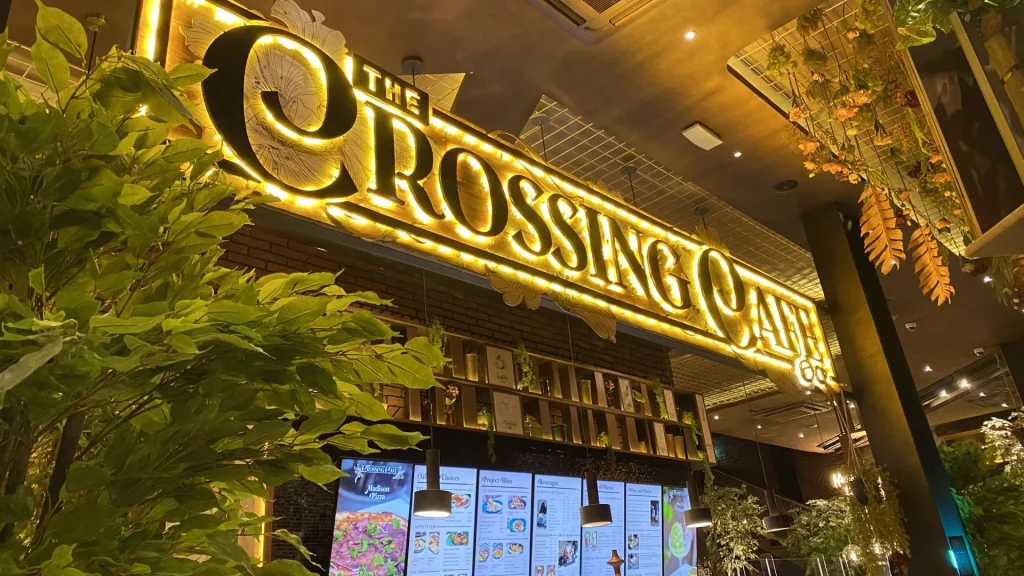 Crossing Cafe, nestled along Daang Hari Road in the Philippines, is a charming culinary haven that beckons food enthusiasts and coffee aficionados alike. With its cozy ambiance and welcoming atmosphere, Crossing Cafe offers a delightful respite from the hustle and bustle of the city. The cafe prides itself on serving delectable dishes inspired by international and local flavors. From hearty breakfast options to delectable pasta dishes and savory mains, Crossing Cafe presents a diverse menu that caters to a range of palates. Their attention to detail and emphasis on quality ingredients ensure a memorable dining experience for patrons. Moreover, the cafe boasts a curated selection of specialty coffee and refreshing beverages that perfectly complement its culinary offerings. Whether it's a robust espresso or a refreshing iced beverage, Crossing Cafe caters to discerning coffee lovers seeking a satisfying sip. Beyond its gastronomic delights, the cafe also provides a cozy and inviting space for relaxation or casual meetings, making it an ideal spot for social gatherings or quiet moments alone. With its combination of delectable cuisine, quality beverages, and a warm ambiance, Crossing Cafe on Daang Hari Road is a destination that promises culinary satisfaction and a memorable dining experience for all who visit.
Crown Asia Properties Near Daang Hari
Crown Asia's Ponticelli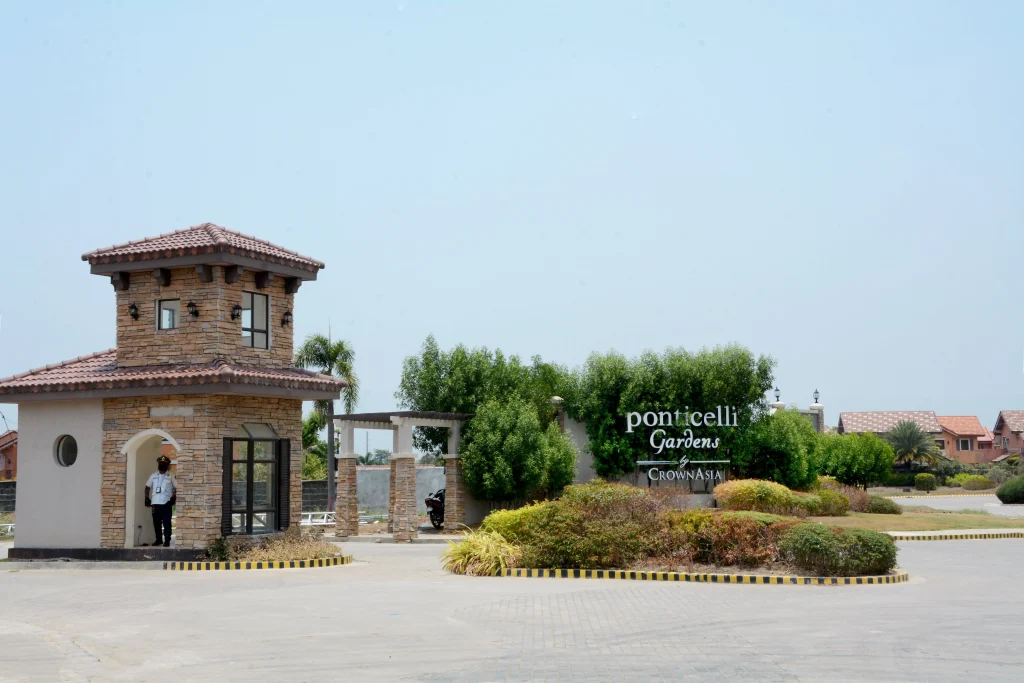 This elegant home with an Italian motif is extraordinary since it paradoxically offers both modern comfort and a sense of a traditional neighborhood. This exclusive address in Daang Hari, Bacoor Cavite matches the lifestyle of the prosperous given that the property is situated close to Tagaytay City and Metro Manila. It's the ideal house for experiencing and participating in the best of both worlds: the peaceable living for expanding families, as well as the modern amenities and vintage neighborhood.
Crown Asia's Amici
Crown Asia's Amici, located near Daang Hari in the Philippines, is a remarkable residential development that offers a modern and luxurious lifestyle. With its prime location, Amici provides residents with easy access to the bustling Daang Hari Road and its surrounding amenities. This exclusive community features beautifully designed homes that exude elegance and sophistication. The development boasts a range of house models, each thoughtfully crafted to meet the diverse needs and preferences of homeowners. Residents of Amici can enjoy a host of amenities within the enclave, including well-manicured parks, playgrounds, and a clubhouse with swimming pools and sports facilities. The community promotes a harmonious and secure living environment, with 24/7 security and a dedicated property management team ensuring residents' peace of mind. Moreover, Crown Asia's Amici benefits from its proximity to various shopping centers, schools, hospitals, and recreational spots, providing convenience and accessibility for its residents. Whether it's enjoying a leisurely stroll along Daang Hari Road or relishing the comfort of a luxurious home, Amici offers a refined and fulfilling living experience for those seeking an elevated lifestyle near Daang Hari.
Due to the extensive network of roads including the Aguinaldo and Arnaldo Highways, the Cavite Laguna Expressway, and the Muntinlupa Cavite Expressway (MCX), it is also quite accessible.
Muntinlupa Cavite Expressway (MCX) (Daang Hari – SLEX Link Road Project)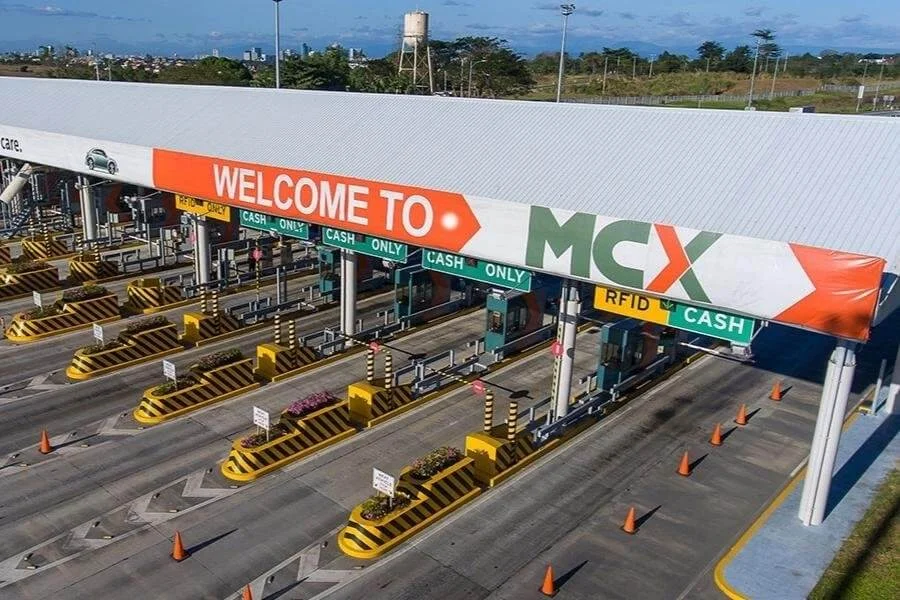 photo from philkotse.com/market-news/
The Muntinlupa-Cavite Expressway (MCX), formerly known as the Daang Hari-SLEX Link Road Project, is a new 4-kilometer, a 4-lane toll road that runs from the intersection of Daang Reyna and Daang Hari in Las Piñas/Bacoor, Cavite, to SLEX via the Susana Heights Interchange in Muntinlupa, passing through the New Bilibid Prison (NBP) Reservation. The Susana Heights Interchange is used by the link road as an exit and entry from the North and South of SLEX. The project involved expanding the Susana Heights toll plaza in addition to building a new bridge or expanding an existing bridge that crosses SLEX. It also seeks to relieve traffic in the cities of Cavite, Las Piñas, and Muntinlupa, especially from Commerce Avenue and Daang Hari Road ahead. The start of business operations was in July 2015.
According to the PPP Center, the Department of Public Works and Highways (DPWH) implemented this project, which has a Build-Transfer-and-Operate (BTO) PPP structure and a project cost of PhP 2.23 Billion. Ayala Corporation is the concessionaire for this project, and MCX Tollways, Inc. is the operator appointed.
Daang Hari Road offers numerous benefits to residents and commuters in the Philippines. Firstly, it serves as a vital transportation artery, connecting various towns and cities in Cavite, and promoting improved connectivity and accessibility. This ease of travel contributes to economic growth, as it facilitates the movement of goods, services, and people, supporting businesses and enhancing productivity. Daang Hari Road provides access to essential amenities, including schools, hospitals, shopping centers, and recreational facilities, improving the overall quality of life for those residing in the area.
The road's development has also spurred urbanization and real estate growth, attracting investments and creating employment opportunities. Moreover, Daang Hari Road's continued infrastructure improvements, such as coding systems, traffic management strategies, and technological advancements, aim to enhance road safety and reduce congestion, making commuting more efficient and convenient. Overall, Daang Hari Road plays a pivotal role in fostering progress, connectivity, and community development, making it a valuable asset for the region.
Related Blog: Everything to Know About Daang Hari and the Housing Opportunities it Covers