A huge investment of P1.5 trillion from Japan has put the Philippines on the verge of a significant revolution in its public transportation infrastructure. Millions of Filipinos' lives are expected to be improved, and economic growth is expected to be sped up, as a result of this enormous financial investment, which is intended to address the long-standing issues the nation's public transportation infrastructure has faced. Additionally, a condo in Muntinlupa and condo in Las Pinas will also highlighted with this investment, further enhancing the quality of life and transportation for the locals.
Philippine Public Transportation's Current Situation
With its fast expanding population and urbanization, the Philippines has long struggled with an overburdened and inadequate public transit system. Consistent problems that impede economic growth and the standard of living for inhabitants include traffic congestion, inadequate infrastructure, and a lack of dependable and effective mass transit choices. Daily commuting is an unpleasant experience for commuters since they frequently encounter lengthy periods of traffic congestion, crowded public buses, and erratic schedules.
In Manila, there are a number of transportation options, including some metro lines and jeepneys. Permissive transit policies regarding bikes and significant cycling infrastructure are links to active mobility. Manila's public transportation system has room for improvement in terms of speed, wait times, station density, and affordability despite its multimodal strengths.
"The poor quality of roads in the metro area and the meager regional connectivity offered by the national road network are just two of the difficulties that face the road transportation industry. Although Manila is crowded and polluted, the city's low car ownership rate should help keep these issues from getting worse."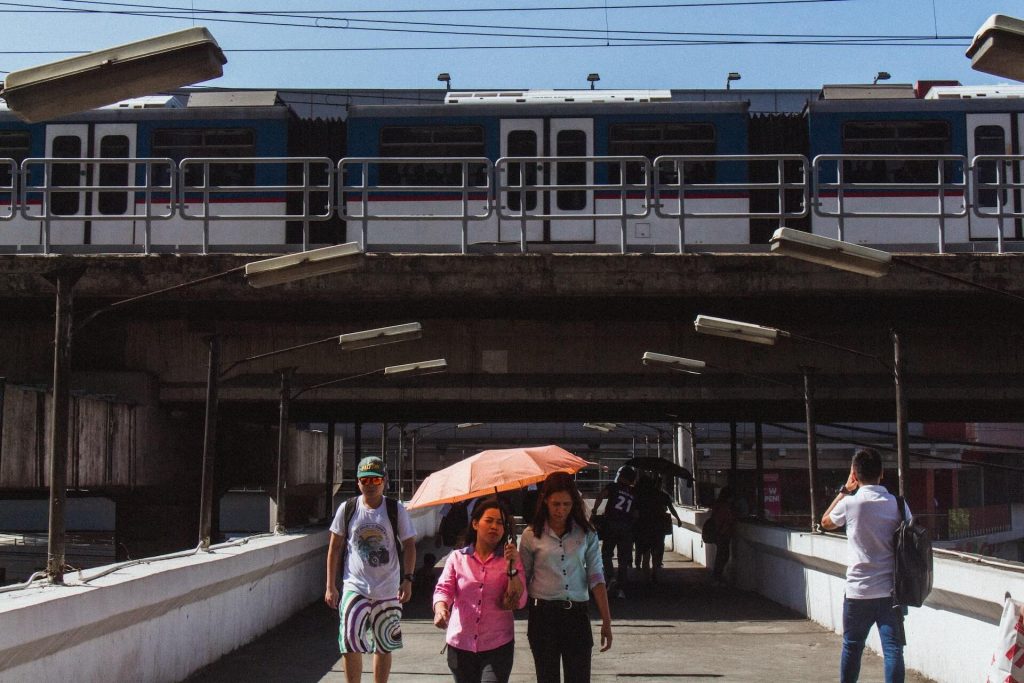 Manila's rail network and beyond
The Philippines has a limited rail infrastructure, so buses are the primary mode of regional transportation. The quality of these services varies greatly. Many people travel on outdated buses with hard seats, little leg room, and frequent crowding.
Old US military jeeps that have been converted into buses and used on city streets are known as jeepneys. Like Thailand's well-known tuk-tuks, the Philippines' colorfully decorated tuk-tuks have come to represent the country. Getting through the dense traffic in the Philippines is made easier by riding in the back of a motorbike taxi, which can maneuver through gaps between cars. They're not only affordable and practical, but dangerous as well.
The two types of tricycles that are frequently seen in the Philippines, in my experience, are a little less dangerous than motorbike taxis. When there aren't any legitimate taxis available, one type, in which passengers sit behind the driver, is comparable to a tuk-tuk and can be useful for short trips.
Public Transportation in the Philippines
Jeepneys
In the Philippines, jeepneys have long been a well-liked form of public transportation. They travel along established routes and are privately owned. For the sake of safety and the environment, there have been initiatives to modernize and regulate the sector.
Buses
Buses are frequently utilized for intercity and regional transportation as well as connecting different regions of cities. There are both city buses and regional buses in Metro Manila. City and regional buses, as well as others, are frequently utilized for public transportation. Both urban and rural regions are served by them.
Tricycles
In smaller towns and rural areas, tricycles are a regular sight. These sidecar-equipped motorcycles are frequently used for short journeys.
Rail
Rapid transit services are offered by Metro Manila's Light Rail Transit (LRT) and Metro Rail Transit (MRT) systems. These are essential for easing the capital's traffic congestion.
Difficulties and Impediments of Public Transportation in the Philippines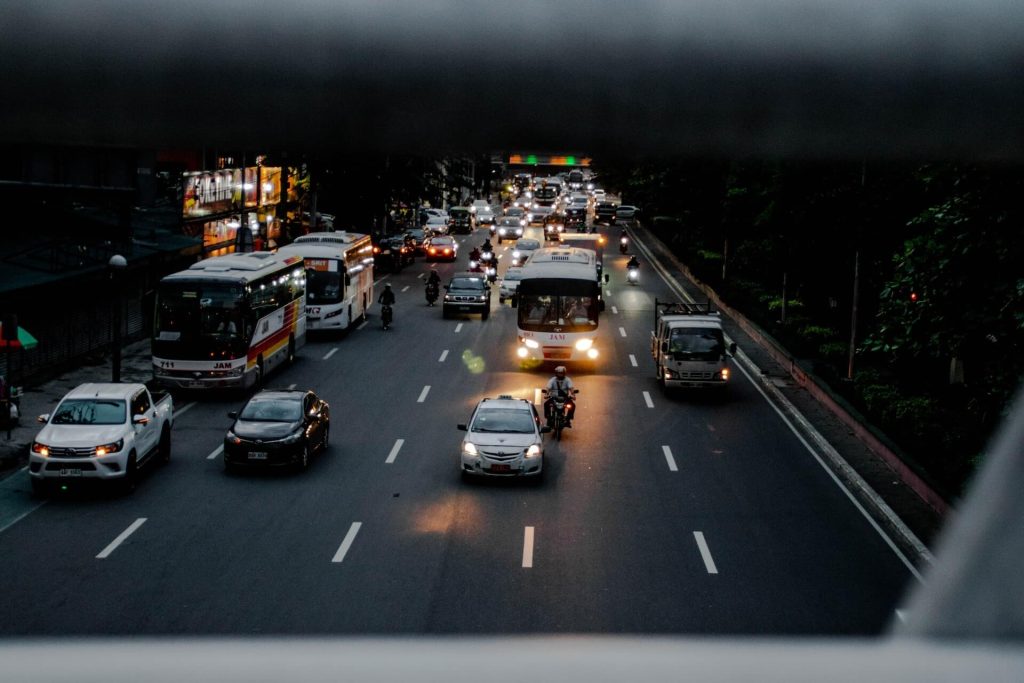 1. Congestion and Ineffectivity
Traffic congestion is particularly bad in Metro Manila. The effectiveness and dependability of public transportation are impacted by this problem. One of the world's cities with the densest populations is Manila. Because of the city's steadily increasing population, Manila's public transportation system is frequently regarded as inadequate and unreliable. Due to their frequent stops and starts, the city heavily relies on buses, jeepneys, and tricycles, which can cause traffic jams.
2. Poor planning
Infrastructure for public transportation, like bus stops and terminals, is frequently inadequate and poorly maintained. Though improvements to Manila's mass transit systems have been made, including the building of the Manila Light Rail Transit System and the Manila Metro Rail Transit System, the growth has not kept up with the city's expanding population. Poor upkeep plagues a large portion of Manila's roads, which causes congestion as a result of potholes and other road damage. To solve these problems, there is a lack of effective urban planning.
3. Poor upkeep
Many public transportation vehicles are old, poorly maintained, and not fuel-efficient. This contributes to pollution and road safety issues. The sheer volume of vehicles, including motorcycles and personal vehicles, on Manila's roads significantly adds to the city's traffic problems.
Construction of new roads and bridges, the expansion of the mass transit network, efforts to improve traffic management, and the enforcement of traffic laws have all been made in Manila to reduce traffic congestion. The complexity of the issue and the ongoing population growth, however, have prevented these efforts from consistently succeeding in finding a solution.
In the long run, reducing traffic in Manila might necessitate a combination of better urban planning, investments in effective public transportation, and regulations to limit the use of private vehicles. Traffic congestion can also be significantly reduced by strengthening the city's resilience to natural disasters and making investments in sustainable urban development.
Governmental Services Intervention
The Philippine government has been working to modernize the country's public transportation system recently. This includes the PUV Modernization Program, which aims to replace outdated and ineffective jeepneys with safer, more environmentally friendly automobiles. Additionally, local governments have started campaigns to encourage biking and walking as alternate modes of transportation, particularly in denser urban areas.
COVID-19's Effects on Public Transportation in the Philippines
Ridership on public transportation systems fell as a result of lockdowns, travel restrictions, and infection fears. Because of this, the income of transportation companies drastically decreased. In some areas, particularly in the beginning of the pandemic, some public transportation services, particularly jeepneys and buses, were suspended or reduced.
Operators of public transportation had to set a limit on the number of passengers in order to maintain social distance. This further lowered sales and created logistical problems. Numerous health and safety measures were put into place to protect both drivers and passengers. Face masks, shields, temperature checks, and routine station and vehicle cleaning were all part of this requirement. Due to decreased revenues and rising operating costs associated with safety precautions and cleaning procedures, many public transportation operators experienced financial difficulties.
Some cities in the Philippines introduced designated bike lanes and promoted walking as alternate modes of transportation in response to the reduced capacity of public transportation and the requirement for social distance.
COVID-19 had a wide-ranging effect on public transportation in many locations, including the Philippines. While it brought difficulties and disruptions, it also sped up industry changes, such as greater digitization and a focus on health and safety precautions.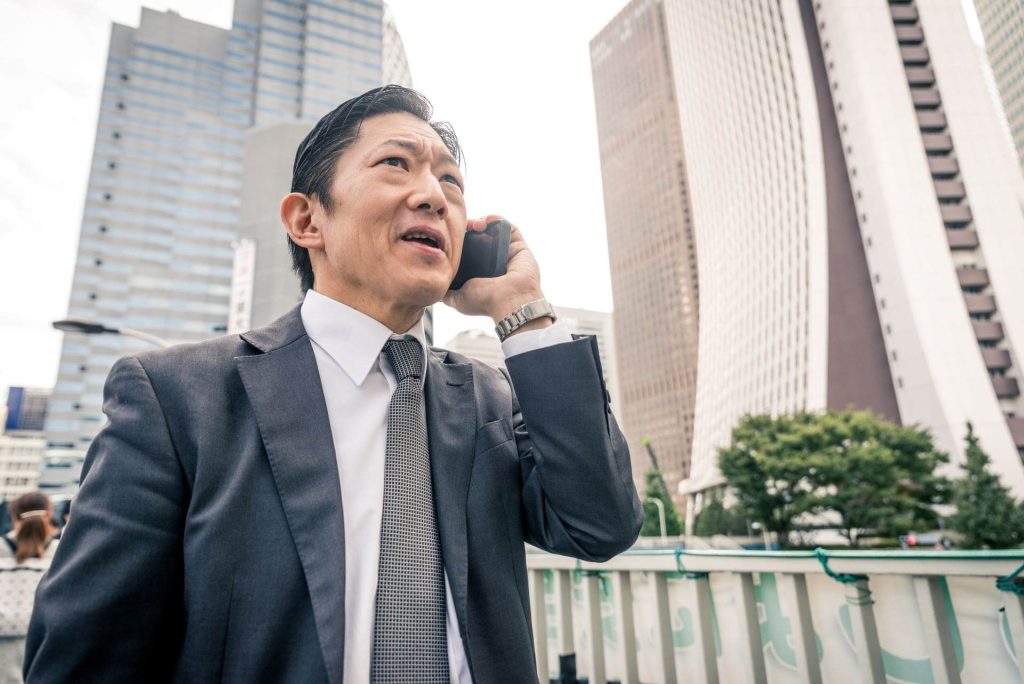 Japanese Investment to the Philippine's Public Transportation
Japan has stepped in with a massive P1.5 trillion investment after realizing the urgent need for a transportation revamp, paving the way for an optimistic transition. This investment is a component of a larger initiative to deepen relations between the two nations and support Philippine economic growth.
A proven track record: Japanese Mass transit system
A sizable percentage of the expenditure will go toward building and growing the current network of public transportation. This entails the construction of new railways, the enlargement of existing ones, the introduction of cutting-edge trains, and the installation of light rail systems in significant urban centers. In addition to offering commuters quicker and more effective mobility options, these initiatives seek to lessen traffic congestion.
The Shinkansen high-speed train system in Japan is well-known. This technology has been exported to other nations by Japanese businesses. The Taiwan High-Speed Rail and the future Texas Central Railway in the United States are notable projects. These systems are renowned for their dependability, effectiveness, and timeliness. Existing mass transit systems have frequently been upgraded and expanded thanks to loans and subsidies from Japan. Modernizing rolling stock, increasing safety protocols, and improving station amenities are a few examples of these improvements.
Japanese public transportation is renowned for its dependability and safety. In nations where Japanese investment is present, this reputation is frequently extended to transit systems, fostering commuter confidence.
Improvements to the Philippine's Infrastructure
Japanese infrastructure investments typically concentrate on enhancing different facets of a nation's physical and economic infrastructure. These investments, which can be made in the form of grants, loans, or partnerships, frequently work to advance trade, economic growth, and regional stability.
Infrastructure for transportation
Japan frequently invests in projects for roads, highways, bridges, ports, and airports. This investment facilitates the movement of people and goods by enhancing the effectiveness and safety of transportation networks.
Energy Infrastructure
Projects for the development of energy infrastructure, such as power plants, renewable energy installations, transmission and distribution networks, have been undertaken by Japan. These investments support the development of clean and sustainable energy sources while assisting recipient nations in meeting their rising energy needs.
Environmental Sustainability
In order to lessen the environmental impact of infrastructure projects, Japanese investments frequently take the environment into account. This could involve initiatives to lower greenhouse gas emissions, improve waste management, and encourage sustainable lifestyles.
Technological Development
When Japan partners with or invests in other nations, it frequently results in significant technological advancements across a range of industries. These developments are the outcome of Japan's steadfast dedication to R&D, innovation, and technology transfer.
Japanese investment frequently results in the adoption of cutting-edge industrial and manufacturing techniques in recipient nations. In order to increase productivity and product quality, this includes putting automation, robotics, lean manufacturing, and quality control methods to use. Automobile manufacturers from Japan have made investments in manufacturing facilities and R&D facilities abroad. This has resulted in the transfer of technology and advancements in the production of automobiles, including technology for electric and hybrid vehicles, safety features, and fuel-efficient engines.
Investments in healthcare frequently lead to improvements in pharmaceuticals, biotechnology, and medical devices. This covers the dissemination of information and know-how pertaining to the production of pharmaceuticals, medical imaging, and diagnostic devices. To impart knowledge and skills to the local workforce, Japanese investments frequently include training and capacity-building initiatives. In turn, this fosters the development of human capital, which advances technology.
Advantages of Japanese Investment to the Philippines
There are several advantages to investing in Japan, both domestically and through foreign direct investment (FDI) abroad. These advantages are important not only for Japan, but also for the host nations and the global economy.
Reduction in Traffic Congestion
With better mass transit systems and infrastructure, traffic congestion is predicted to significantly decline, making daily commuting for millions of Filipinos faster and less stressful. Traffic jams are predicted to significantly lessen with improved infrastructure and mass transit systems, making daily commutes for millions of Filipinos faster and less stressful.
Economic Development
Both at home and abroad, Japanese investment helps to boost economies. In the host country, it can accelerate economic development through the infusion of capital, technology, and knowledge. Domestically, it stimulates capital formation and job creation. An efficient public transportation system stimulates economic growth. It makes it simpler to access employment opportunities and boosts economic activity in urban and rural areas alike.
Technology Transfer
Japanese firms frequently hold top positions in a number of industries, particularly those involving the production of automobiles, electronics, and robotics. When they invest abroad, they frequently transfer cutting-edge technologies and know-how, which can help local industries become more competitive and capable.
Diversification
Japanese investment abroad helps Japanese companies diversify their stock holdings. By spreading investments across various regions and industries, diversification can lower risk.
Intercultural Understanding
Japanese investment can promote intercultural dialogue and understanding between Japan and the host nation. On diplomatic and cultural relations, this may have a favorable effect. A dependable and effective public transportation system can help the tourism sector by facilitating travelers' exploration of the nation and enjoyment of its many attractions.
A much-needed transformation in the public transportation industry is anticipated as a result of the P1.5 trillion Japanese investment in the Philippines. It has the potential to reduce traffic congestion, promote economic expansion, and improve millions of Filipinos' quality of life in general. The Philippines' transportation system appears to be entering a new era as this sizable investment starts to take the form of real projects and advancements, which will benefit future generations.
Read more: How Would a Train System Infrastructure Affect Your Investments in the Metro?