The rainy season has finally come. With two months left before the most wonderful time of the year, it is no wonder that the rain is the first sign of cool weather before the end of the year.
Some people find comfort in the sounds and smell of the rain, which in turn provides them a relaxing bliss at the comfort of their homes. It sets the perfect mood to grab your pillows, cover yourself in your blanket, and lay down across the couch or bed, and watch some movies on your laptop, phone, or TV. It is recommended that you watch with an amazing surround sound system or headphones that utilize a 7.1 or 5.1 Dolby Sound for absolute crisp sound and an immersive experience.
We have prepared for you a list of movies that are perfect to watch for a rainy day in your condo in Taguig – feel-good movies that either inspire, make you laugh, and give you a sense of comfort that reminds you that beauty exists in the world. Basking in the loving sense of wonder and creativeness of film and perfect for when you are staying at home due to quarantine.
Top 5 Movies to Watch on a Rainy Day in Your Condo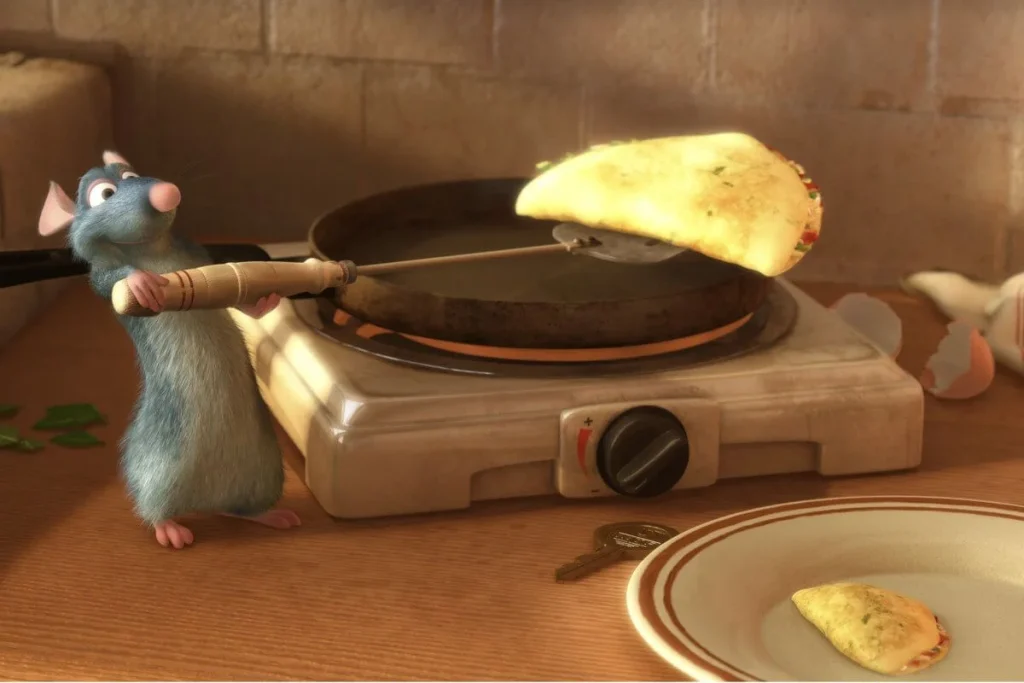 photo from eater.com
1. Ratatouille
This movie is one of the most masterfully crafted animations to ever grace the film landscape. Released in 2007, Disney-Pixar received numerous praises and awards for this peculiar movie about a rat who has the desire to cook. Breaking down that fun plot of an animal, who is known to be dirty, that dreams to cook is a wonderful lesson to anyone who watches it. From the title itself, it has a double meaning, one, it highlights one of the well-known French dishes, and two, it references the titular character, Remy, a rat.
The mantra of "anyone can cook" is repeated throughout the movie, which is very true. When you have a dream, there will be a lot of people or even your thoughts dragging you down. Sure, you may not be gifted, but you are surely capable enough to learn to get that skill or dream. That is the structure and themes of the plot itself. It is simple and poignant that it is a timeless message to hear. Besides that, the music is beautifully composed by Michael Giacchino, perfectly capturing the Paris landscape and the whimsical nature of it being a "cartoon." Everything is gorgeously presented in this movie, despite it being released 14 years ago, the animation and visuals still hold up to this day. Plus, it showcases an amazing lineup of [accurate] gourmet dishes, in which the animators consulted world-class chefs from France and the United States.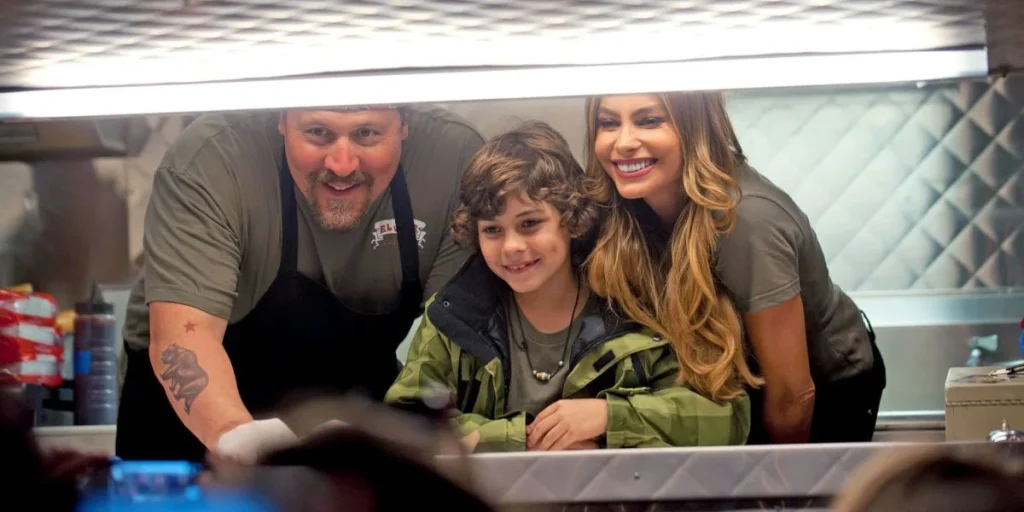 photo from talesfromtheborder.com
2. Chef
"Have you seen Chef? By Jon Favreau?" You may have heard that question in the golden days of YouTube, but if not, let us share why you should watch Chef. From acclaimed blockbuster director, Jon Favreau, who brought us iconic movies such as Elf, Zathura, and of course, the first two Iron Man films in the Marvel Cinematic Universe. You can tell outright what the film is about from its title – this is a legitimate feel-good movie. A lot of close-up shots showcasing the intricacies of preparing numerous delicious meals are shown in the movie. And just like Ratatouille, everyone involved in the production of the movie had to learn cooking. The entire movie is just a beauty to revel in the different food cultures and the joy of making and then eating them.
But it is not only on the food on display. This movie is also a passion project of the director himself, just in the lens of a chef. Chefs and directors are artists by heart. Creating things out of their passion for a project or recipe. Always out to challenge the status quo, making a difference in their industry and most importantly to them, doing what you always loved to do. That's why Chef is a beautiful film to watch, not only for the visual treat and the lovingly selected soundtrack of blues and Latino music but a commentary on how artists and creatives are treated today. Some people are satisfied once an artist reaches their peak and most people endlessly criticize every small detail they decide to make. Art is open-ended and whatever you consume and think about after eating a dish or watching a movie or TV show, or any other entertainment piece that you pick up, just remember the creative behind that vision and their purpose of creating it.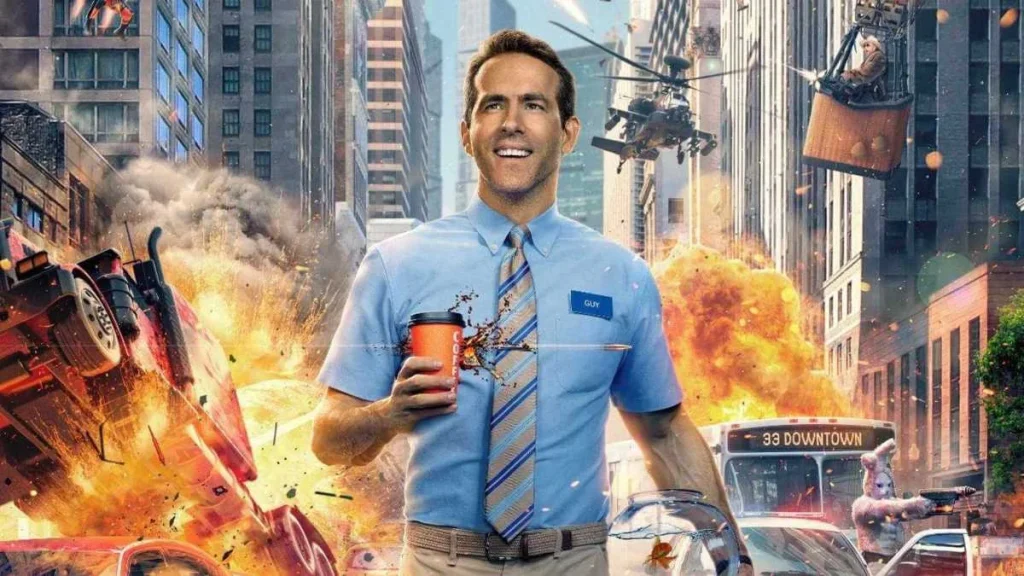 photo from gamesradar.com
3. Free Guy
This is a mash-up of many genres: sci-fi, romantic comedy, and adventure film all into one incredibly fun movie. Free Guy stars Ryan Reynolds, who is already one of the best actors in mainstream media and who has great comedic chops and is directed by Shawn Levy, whose filmography includes the Night of the Museum Trilogy and Real Steel, and some episodes of Stranger Things. The movie utilizes familiar plot tropes of The Matrix's "We're living in a Simulation" and the existentialism of The Truman Show but instead uses video games as its setting and an A.I. gaining self-awareness about his environment.
Hence the title, Free Guy, Ryan Reynolds plays Guy, and the movie's concept is very entertaining, especially to gamers, as most of the jokes and easter eggs rely on gaming and mainstream pop culture. Besides the star power and talent Reynolds, starring alongside him is Jodie Comer (Killing Eve, The Last Duel), Lil Ray Howery (Get Out, Bird Box), Joe Keery (Stranger Things), and Taika Waititi (director and actor of Hunt for the Wilderpeople, Thor: Ragnarok, What We Do in the Shadows, and Jojo Rabbit), all of which do an incredible job in the movie, the latter of which provides the other tip of the comedic rapport of Reynolds.
It is an entertaining movie that knows what it is and you will have a fun time watching it, even though you wouldn't get some of the gaming-related jokes, this is just another staple in making something unique by blending different ideas and strong writing.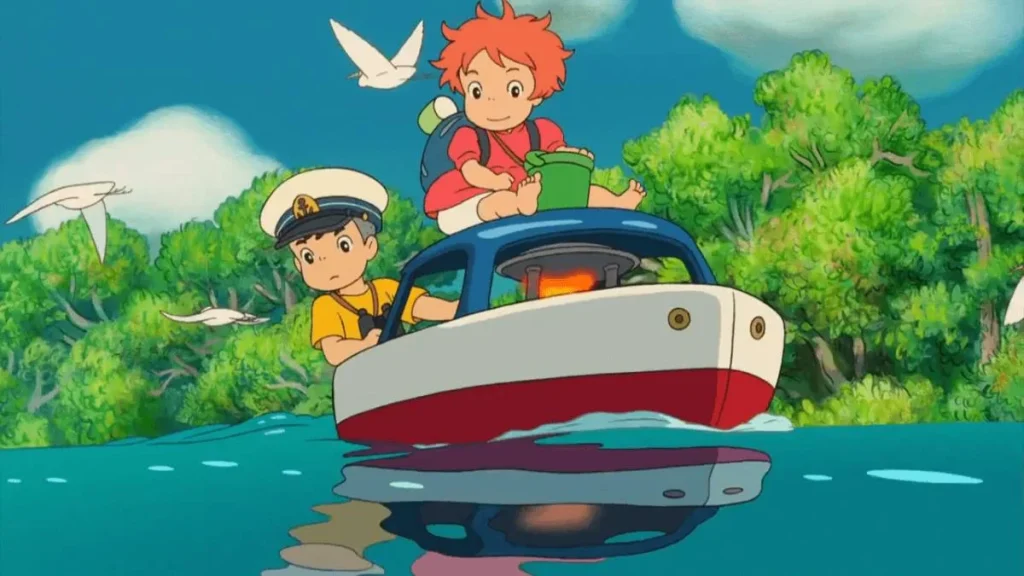 photo from screengoblin.com
4. Ponyo
What else there is to say about Studio Ghibli's filmography? Across their films, they have created some imaginative worlds, emotionally touching stories and a sense of comfort in the musical tones and characters. You can say the same thing about Ponyo. Again, magically directed by the great Hayao Miyazaki, Ponyo is a retelling of the classic story of The Little Mermaid by Hans Christian Andersen, but given that Studio Ghibli charm. Right out of the gate, the movie greets you with a warmth of cuteness from the titular character herself and her growing relationship with Sosuke, a human boy on land.
Ponyo is special for a reason, as it is so wholesomely cute until the final shot and the end credits. Everyone can enjoy this movie, from kids to adults, for showing us magical joy, uplifting themes about the environment, and innocent love. Besides that, this is Studio Ghibli at its finest, with every animation and shot gorgeously drawn on screen and the satisfaction of spotting the small details that breathes life to every character and movement. Go watch this movie and you might smile uncontrollably at the catchy musical composition.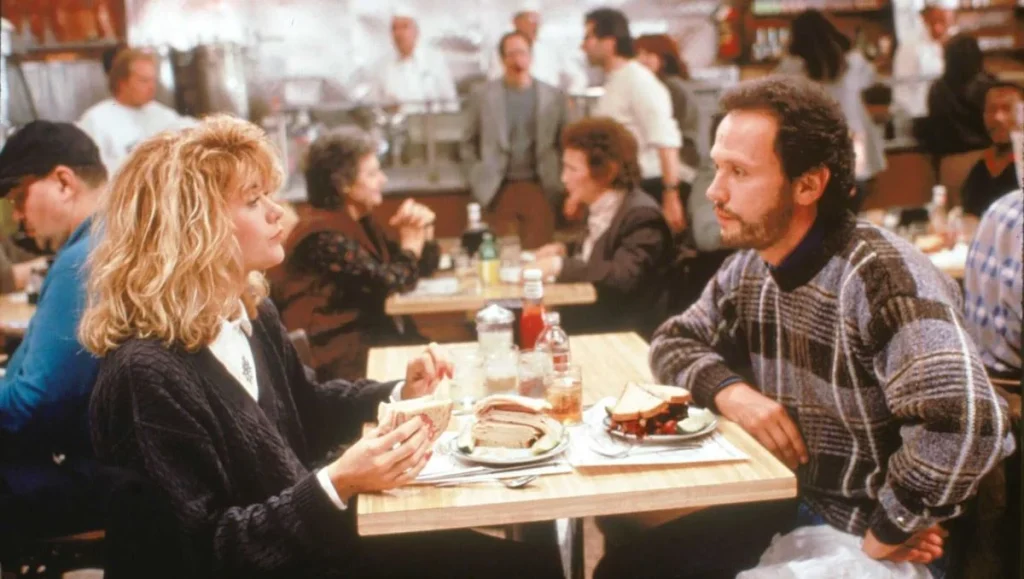 photo from usatoday.com
5. When Harry met Sally
When Harry Met Sally is a different kind of love story. It is different in a way that builds its titular characters over the course of many years before they would even get to act out the usual tropes of romance movies. The story itself flips many of the established tropes on its head and instead does an excellent job of breaking down stereotypes and certain points of dating and love – creating a charming and unique film within the genre. But most importantly, it answers the question of "Can men and women ever just be friends?"
The script, as well as it's acting and direction, particularly of the chemistry between the two leads Billy Crystal (Monsters Inc., The Princess Bride) and Meg Ryan (Sleepless in Seattle, You've Got Mail, Courage Under Fire), and the rest of the cast, is amazing and paced excellently in just 96 minutes. Within that time frame, you get to know deeply their characters and motivations, and how love and friendship are tightly nipped. It is also known that this movie is hilarious and the diner sequence is one of the iconic scenes and the delivery of the punchline.
There is so much to digest here and it is also another feel-good movie on how funny and pure love can be when a friendship is the very foundation of the relationship of two people.
The Courtyard Condo in Taguig by Crown Asia
The Courtyard is your next premium real estate investment that will give a slice of that lifestyle. The Courtyard is a pre-selling condo in Taguig that offers extraordinary upscale development within the urban city. The condo development provides residents the absolute conveniences of living near Bonifacio Global City, a retail commercial strip on the ground floor, and the accessibility of multiple road infrastructures for faster travel times.
After a long day at work, The Courtyard greets you with its resort-inspired amenities and an open green space pavilion that harkens to the feeling of an everyday vacation. Residents are comfy with The Courtyard's compact and modern Studio Units that give you a spectacular view of the Bonifacio Global City skyline.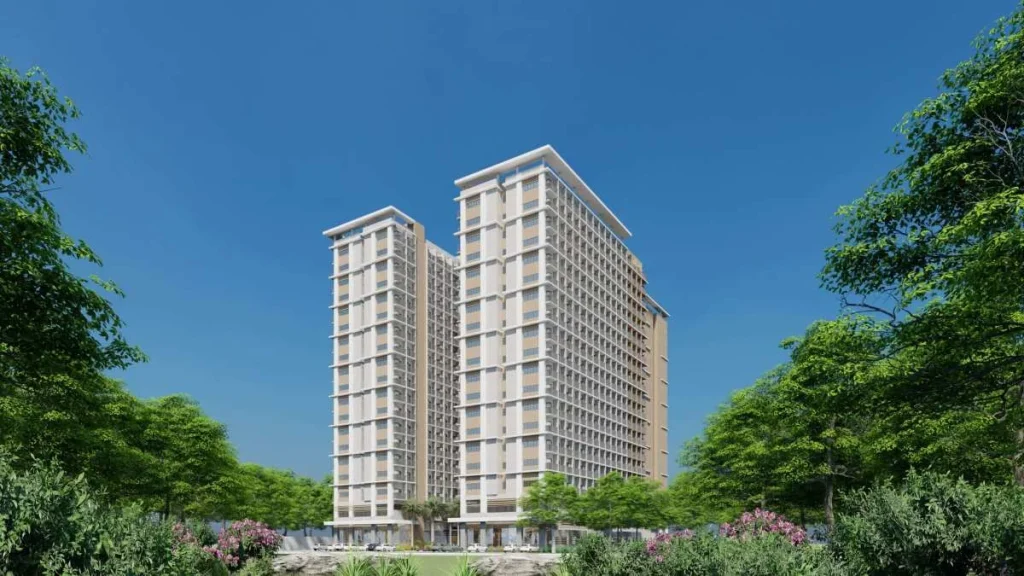 Everything is at an arm's stretch, as the property is located along Pedro Cayetano Boulevard, strategically near the C-5 Road that gives residents a 15-minute drive to BGC and other places in Metro Manila. Transportation hubs, medical facilities, and lifestyle centers, such as Vista Mall Taguig, are within your reach.
The Courtyard is the best condo for sale in Taguig, one that enables its investors a progressive and investment-worthy condo living – providing you with an exclusive, vertical village community that is designed with finesse and elegance.
Related Blog: Relax and Watch a Movie Inside Your Home