Before you put up a house for sale in Cavite, you might want to wait until the railway and road developments are accomplished because this can have a significant impact on your investment. In this article, we'll give you details about the new subway project, and other railway projects, and how they can affect your business or real estate investments.
Ready for the first subway in the Philippines?
The Metro Manila Subway Project (MMSP) is set to begin.
The Philippine News Agency reported last March 8, 2022, that the DOTr already acquired 197,000 square meters of land and 585 structures from 324 property owners. Despite these numbers, there hasn't been any forced eviction or resettlement through the help of the Valenzuela City government.
In recent news, they are currently preparing for construction, as the tunnel boring machines were already lowered last June 12, 2022.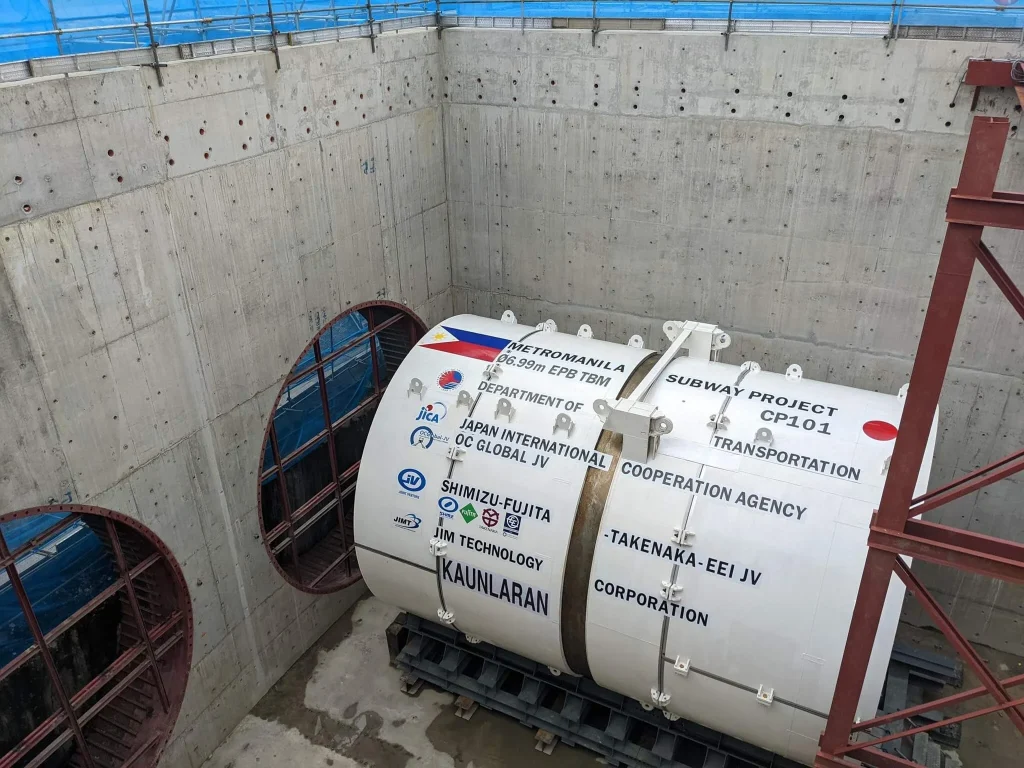 Photo from portcalls.com
The Japanese Ambassador, Kazuhiko Koshikawa, witnessed the lowering and positioning of the boring machine in Barangay Ugong, Valenzuela City, together with President Rodrigo Duterte and Transportation Secretary Arthur Tugade.
According to the Japanese Ambassador, this subway project is a "testament to the friendship between Japanese and Philippine people."
Meanwhile, according to the Transportation Secretary, the funds used to complete the MMSP came from a load granted by the Japanese government to the Philippine government via the Japan International Cooperation Agency and not through the General Appropriations Act. Hence, even after Duterte's term on June 30, the MMSP is still set to continue until its target full operation in 2027 (partial operation in 2025).
76 percent of the project is going to be funded by the Japan International Cooperation Agency, amounting to about 370.8 billion pesos. The remaining 24 percent of the cost will be covered by the Philippine government, amounting to about 117.7 billion pesos.
The Mega Manila subway project is set to be a 33-kilometer underground railway with 17 stations starting from Valenzuela City to the Ninoy Aquino International Airport (NAIA) Terminal 3 in Pasay City and extending to other parts of Parañaque. Once completed, this should cut travel time from Quezon City to NAIA to just 35 minutes, according to the Department of Transportation (DOTr). It is also expected to serve up to 370,000 passengers per day.
The stations will be as follows: East Valenzuela, Quirino Highway, Tandang Sora, North Avenue, Quezon Avenue, East Avenue, Anonas, Camp Aguinaldo, Ortigas, Shaw, Kalayaan Avenue, Bonifacio Global City, Lawton, Senate-DepEd, NAIA Terminal 3, FTI, and Bicutan.
These routes follow similar stations in the MRT-3, which serves between 250,000 to 300,000 passengers per day. With the completion of the subway system, passengers of the MRT-3 will have an alternative commute to different parts of the National Capital Region.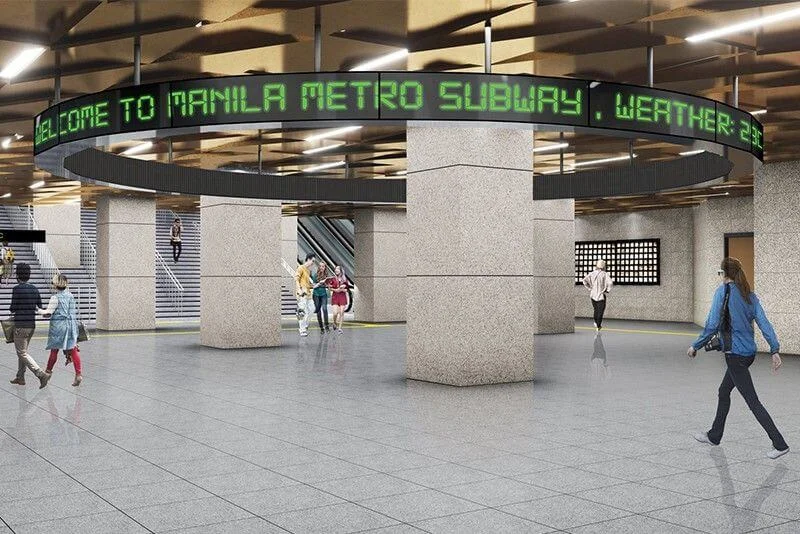 Photo from philstar.com
How will the subway and new railways affect businesses and real estate?
Long before the subway project even started, the property prices in areas along the planned stations are already doubling (even tripling) in prices, as developments become more attractive to buyers and property investors because of their accessibility according to the Manila Times in 2018.
Colliers International Philippines urges real estate developers to build different types of properties like hotels, residential, mixed commercial, and institutional within a kilometer of the stations of the subway project.
The value of residential land around the stations is expected to increase at least two-fold and commercial land will most likely increase by three-fold as soon as construction begins, according to the Director for Valuation Services of Colliers, Paul Vincent Ramirez. He also said that seven stations will be located in Quezon City, which can further increase the demand for residential, mixed-use, office, and retail projects in the city.
Furthermore, they also said that North Avenue in Quezon City is the best area for townships because of the interconnection among three rail systems: LRT Line 1, MRT-3, and soon-to-be MMSP. For residential and hotel projects, Quirino and Tandang Sora will be good spots, as the demands from Nothern Metro Manila, Valenzuela, and Bulacan are expected to increase.
With other railway projects extending to Cavite, you can expect property prices to increase as well, so it would be a great choice to buy a house for sale in Cavite or consider selling your house when the project is done so that you can take advantage of the prices. We'll talk more about the other railway projects and when you can expect them at the end of the article.
This price increase near a station can also be found in other countries.
A 2016 research article published in the Journal of Discrete Dynamics in Nature and Society focused on the impact of subway lines on residential property values in Tianjin, China. In the study, they found five key factors.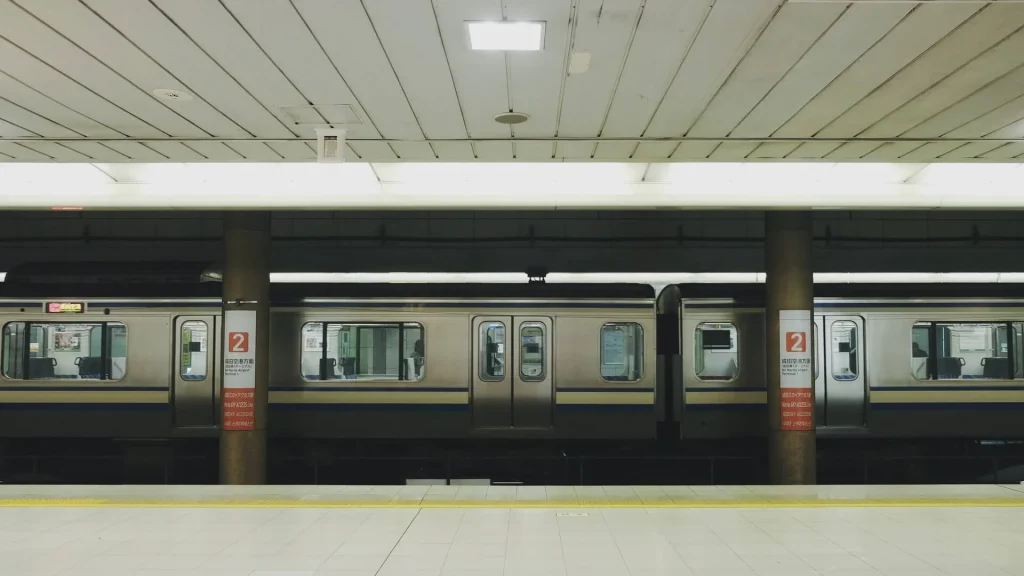 First, the researchers discovered that the construction of a subway has a significant impact on promoting the surrounding land in a station. Subway lines that are already complete and functional can also further increase the prices of residential housing, compared to when planning is still ongoing.
Second, the construction of subway lines has more impact on the marginal zones of a city compared to downtown areas. In urban center areas, the impact on the pattern distribution of property prices is barely seen. However, in nonurban center areas, prices near stations show decreasing spatial distribution, which means more people tend to stay in the area.
Third, residents living in more urbanized areas tend to focus on their distance to the nearest landmarks or schools, and the condition of the neighborhood when they choose a place to stay. This means that locals tend to pay attention to convenient transportation, degree of comfort, and the residential landscape. So once the railway system reaches the lower areas of Metro Manila, you can expect people to look for a house for sale in Cavite because it will be more accessible and the area is peaceful.
Fourth, the researchers found that the influence of rail transportation is associated with a station's distance from the center of the city. Moreover, train fares and additional transportation costs can also affect the influence of a train station on real estate prices. So, for example, one station is far from the city center or bayan, so much that a person still needs to take additional trips via other modes of commute, prices of the real estate of the area around the station don't increase that much.
Finally, fifth, in addition to their fourth finding, if a city has convenient connecting forms of transit, this can further expand the sphere of influence of a station in real estate prices. Improving the connecting transit from the station to other parts of an area can effectively increase the land that can be developed around the train station.
You can base your purchasing and selling decisions on this study by checking out the area of the property near the station you want to buy. If the area near the station has a great development in terms of accessibility and transportation, you can sell for higher prices or you can also invest in residential properties like condos, hotels, or apartments.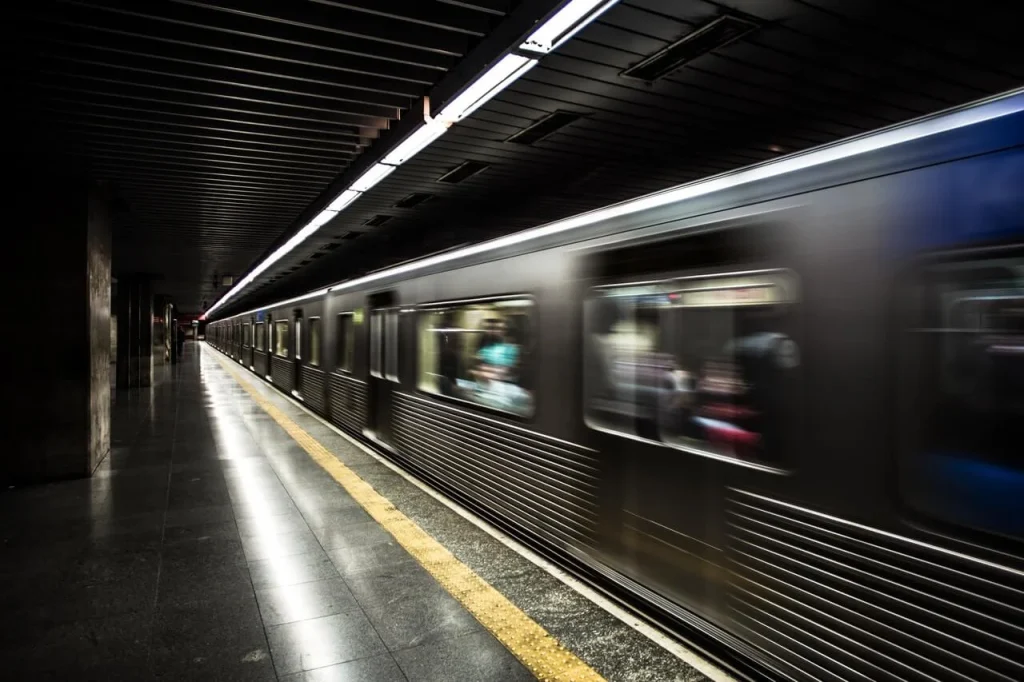 Advantages and disadvantages of subway transportation
According to a 2018 article called Socioeconomic Analysis for High Capacity Transportation, there are different advantages and disadvantages of having a subway system. Here are some of them:
Significant reduction in travel time
Railway stations, in general, tend to be a faster mode of transport because it cuts through different cities without exposing you to the hellish experience of getting stuck in traffic. Speaking of traffic, travel via train can avoid any kind of congestion, so it's technically better than riding a bus, jeepney, or even driving.
The only thing stopping Filipinos from taking the train more often is the lack of stations available in various parts of Metro Manila.
To put it in perspective, Japan — notably one of the best countries in terms of public transportation — has 8,579 train stations in the entire country, with just Tokyo having 882 stations. For this reason, most Japanese folks choose to take the train than bring their cars because it's more convenient and inexpensive.
High implementation cost
The transport infrastructure of railways tends to be very expensive to implement because they can affect a lot of existing properties and will sometimes require an elevation to cut through a city without destroying commercial real estate. Subways, in particular, tend to cost about 207 million USD per kilometer.
This is one disadvantage of subways, which is why the Philippines only started this now.
The MMSP has an average cost of 488.5 billion pesos in the budget, that's considering that everything goes smoothly.
Even if subways are underground, construction workers still need access to the above-ground for some of their equipment and to connect the stations to the different cities. This could mean some residential and commercial properties will have to be relocated, which will add to the cost because owners need to be compensated before the government can impose their Power of Eminent Domain.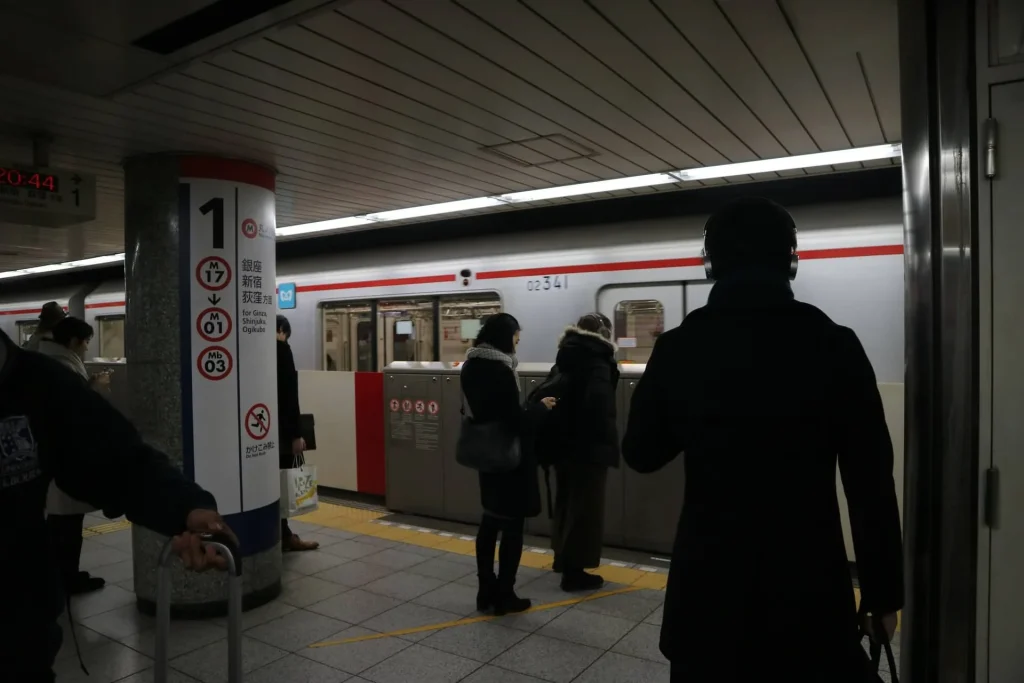 Cheaper for commuters
A great benefit of trains is that it's generally cheaper compared to other modes of transport. An MRT train ride from Ayala to Quezon City can only cost you about 24 pesos in the Philippines. Whereas bringing your car would mean costs in fuel — which hasn't been cheap since the war between Russia and Ukraine.
Not to mention, buying a car is generally more expensive compared to commuting because you have to consider car repairs, insurance fees, taxes, licensing, maintenance, fuel, and even parking fees. On average, a car owner would spend about 405,552 pesos per year on their vehicle.
Unfortunately for Filipinos, we can't really blame people for using their cars more often than using public transport because it's still way more convenient despite the traffic congestion and cost. With cars, you don't have to fall in line and wait for your turn to ride the bus or train.
However, for the general public, railway systems are definitely a great way to reduce fare costs because trains don't use diesel or gasoline, so it's not affected by fluctuating fuel prices. So if you're planning on buying a house for sale in Cavite, that could be a great investment once the railway systems are complete and you can visit Metro Manila without having to drive.
Heavy crowds
It is, however, undeniable that train stations are crowded. Subways, to be specific, have tendencies to be more crowded because it has lesser space compared to regular railway stations. Hence, introverts might suffer this disadvantage because crowds are inevitable in subways.
Another risk to heavy crowds is the exposure to petty crimes like pickpocketing. So be extra careful when using the subway.
In New York, subway crimes are so common that NBC has a tag for their articles specifically for subway crimes. Unfortunately, these occurrences aren't just thievery. Some of them include gropings, killings, and other severe physical harm.
Eco-friendly
Subways use electricity, so it doesn't have carbon emissions, making them the most environmentally friendly mode of travel. Not to mention, subways can transport a lot of people a once, which helps reduce the carbon footprint of each person riding the subway.
Other railway projects underway
The DOTr is developing even more projects to help commuters go to and from Metro Manila quicker and easier. A total of 8.4 trillion pesos is budgeted for this project, which includes the subway and the following: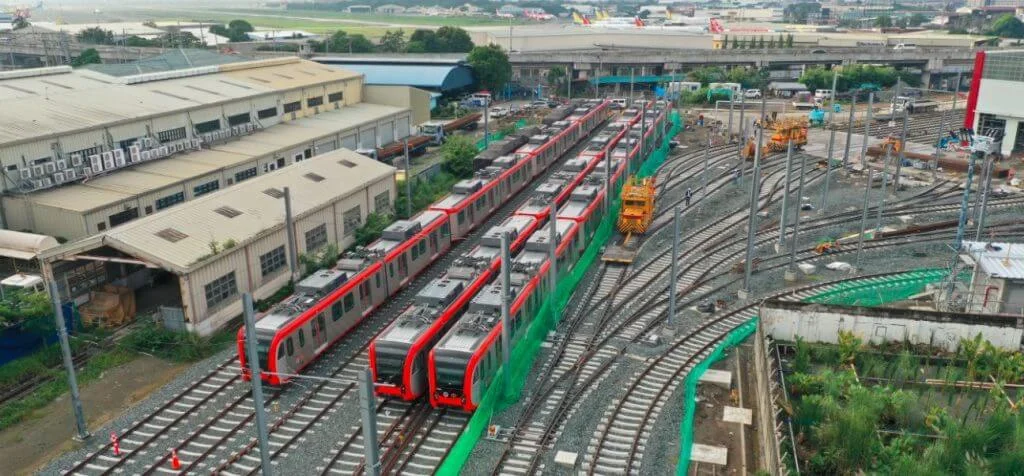 Photo from firstbalfour.com
LRT-1 Cavite Extension
Buying a house for sale in Cavite might be your best decision yet, as a new, more convenient way of commuting to Metro Manila is about to begin. The LRT-1 Cavite Extension project extends from Baclaran up to Bacoor. Last March 2022, they announced that they are about 70 percent complete, as they are pushing for full operations in 2024.
MRT-7
The new MRT-7 will soon connect Bulacan to the rest of Metro Manila, as the project has begun last June 2, 2022. It will have 108 train cars, which is expected to accommodate 300,000 passengers in its first year of operations. The project is expected to be fully operational in the fourth quarter of 2022.
North-South Commuter Railway (NSCR)
The NSCR is the biggest railway project, as it is a 148-kilometer railway system with three segments: PNR Clark Phase 1 from Tutuban to Malolos, PNR Clark Phase 2 from Malolos to Clark, and PNR Calamba from Solis to Calamba. It is also set to have tunnels that will connect the NSCR to the MMSP. According to the National Economic and Development Authority, the project will be finished in 2024.
Read more: A Guide to the Railways of the Philippines: It's Present and Future (And Maybe Yours)