Daang Hari, also known as the LPMLC Link Road, is indeed the king of roads as it unites Las Piñas, Muntinlupa City, Laguna, and other areas of southern Metro Manila to the province of Cavite which your Crown Asia house and lot for sale probably resides at. This road that brings convenience to many families including yours begins as this north-south road from Commerce Avenue, just south of the Alabang–Zapote Road runs for 5.9 kilometers on the boundary of Las Piñas and Muntinlupa. Consequently, it runs east-west for about 9.2 kilometers from its junction with Daang Reyna, winding through the cities of Bacoor, Imus, Dasmariñas, and General Trias.
But Daang Hari is more than a road. Convenience is not the only thing that this long pavement brings to the table. Of course, what is a Road of the King if it does not have such delicacies and treats in which royalty can drop by to get a taste and a breather from a long trip? Below are some of the restaurants along Daang Hari road that you and your family can definitely drop by to know one of the reasons why they named this road fitting of a king. There are a lot of malls you can choose from to dine in, like Vista Mall Daang Hari and Evia Lifestyle Center.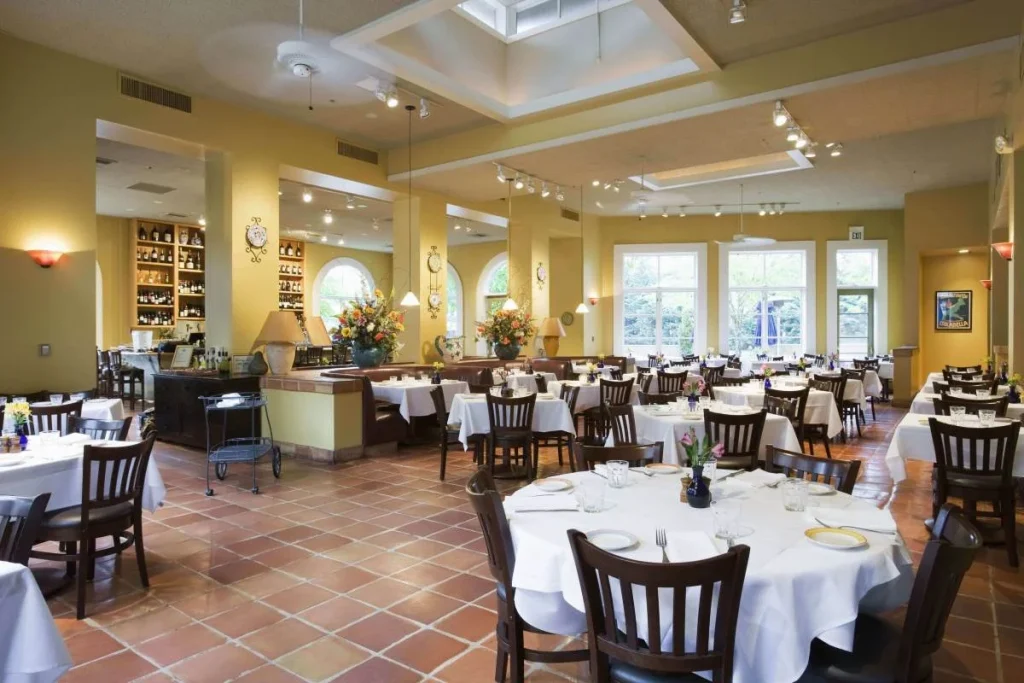 You don't have to go to Metro Manila to check out some good restaurants, you just have to visit Daang Hari Road. This road connects Metro Manila – Muntinlupa, Metro Manila – Las Pinas and Cavite Province – Las Pinas, and it houses a lot of good food hubs!
1. San Marco
Your children may have been bugging you to go on a cafe-hopping trip. Who could blame them? Seeing Youtubers taste one of the best things in life (coffee, of course) in the prettiest, daintiest most aesthetically pleasing of cafes? We are sure you and your spouse are tempted as well. This is why we give you San Marco, Daang Hari's exquisite cafe with coffee indeed fit for royalty.
Located in Evia Lifestyle Center, Las Piñas, San Marco is a younger cousin of the Coffee Project. Thus a cozy atmosphere and a perfect ambiance for Instagram-worthy pictures are expected at this Cafe. However, this cousin must not be underestimated since this relative of ours is from Europe for the interior and exterior of this cafe is Italian-inspired. Fret not if you want to hang out in this cafe to work, for your children to study, or just to unwind for the large, spacious area totally welcomes you to oblige to this urge of yours. We are tempted as well. Not only because the place is everything homely, but their menu is just so rich and sumptuous! Their meals are from breakfast to dinner, feel free to have all three of your meals Italian in San Marco.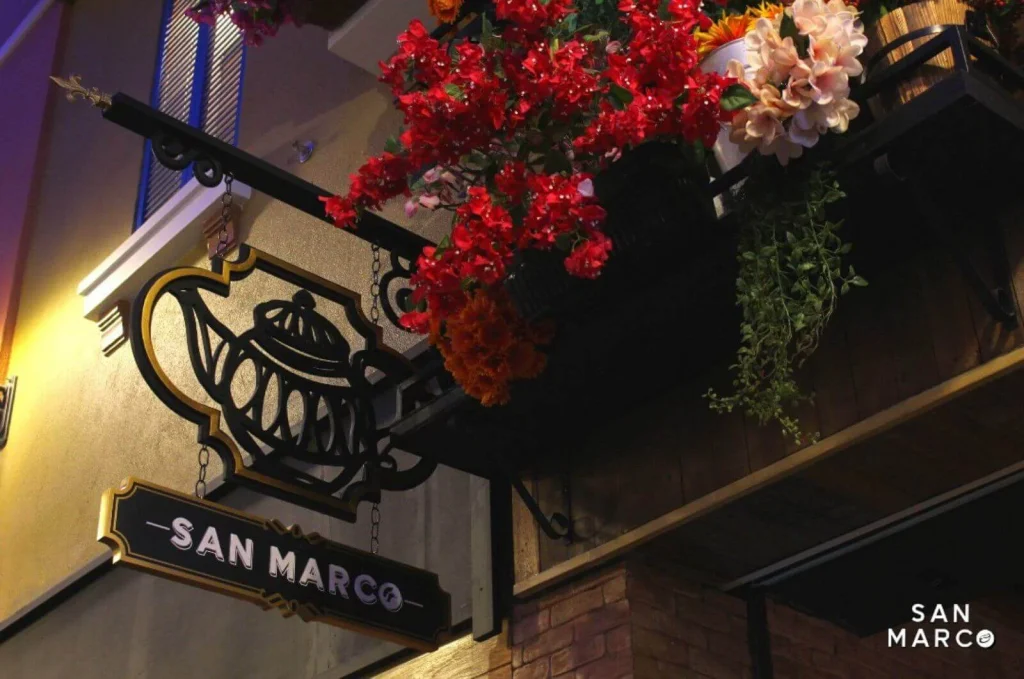 You may use their freshly brewed coffee to go with all of your meals. Their coffee is just that kind of beverage that you will never get tired of. (Well, literally since the caffeine would give you that energetic boost). To kick it off with food that will immediately bring you the craving satisfaction you have been yearning for, you can first try their thirst-quenching Cafe Monachella.
Of course, what is an Italian-inspired restaurant if pizza were not on the menu? Try out their Rustic Margherita Pizza— a perfect mixture of tomato sauce, garlic, mozzarella, and fresh basil. Pair that with something unique such as their squid ink spaghetti called Black Smoked Pasta, which is topped with shrimp, parmesan cheese, and garlic bread.
To crave your sweet tooth, you may order the famous classic, Brownie a la Mode, a chocolate sensation you would not dare to resist.
Hold up, San Marco is not finished with the perfect meal plan for you. Let them serve you with the best show stopper yet: wine. With all this yummy and sophisticated food, you know that you will have a blast at this restaurant, may it be a date night with a special someone or a night out with your friends.
2. AllAmerican!
Let's jump to a different continent, shall we? We got another pizza menu rolling that you and your family just have to get a taste of. We think we can all agree with All American: pizza is a staple comfort food for everyone that really doesn't leave much for imagination—it's basic and predictable. That is why this American pizza hub is essential to your pizza cravings. It brings the more in pizza. It maximizes the potential and gives space for yummy surprises with its wide range of crazy choices of their 10" pizza such as Black Margherita Pizza, Black Seafood Pizza (yes, the crust is literally black!), Buffalo Chicken with Blue Cheese Pizza, and Godfather pizza – all great choices that would definitely satisfy your enticed imagination.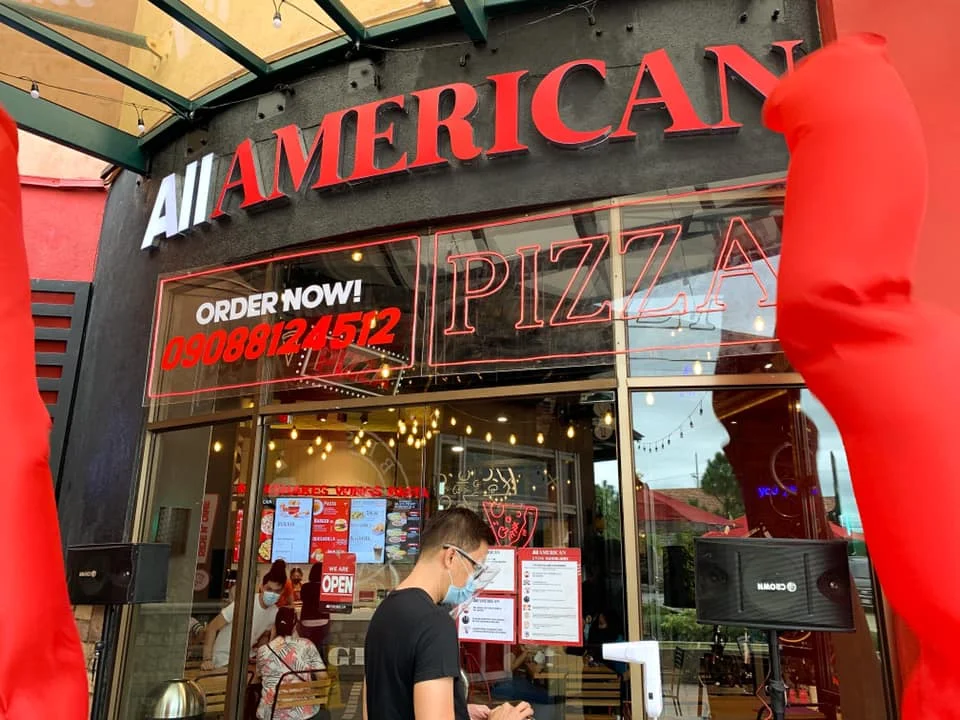 Photo from facebook.com/evialifestylecenter
Of course, aside from pizza, All American also serves pasta, chicken, burger, and quesadillas to go! Feel free to order takeout so that you may enjoy all these at your Crown Asia house and lot for sale.
3. Another Story
Situated at Evia Mall in Vista Alabang, experience a feel-good ambiance in a restaurant that oozes with a great story about to unfold at Another Story. But this is just no other narrative for this restaurant serves the best home-style cooked food you'll sure to love. The whole place itself seems to be meticulously detailed, carefully thought-about, and simply, visually striking. If you want creative juices flowing while your tummy is flowing with the tastiest of food, Another Story is definitely your place to be.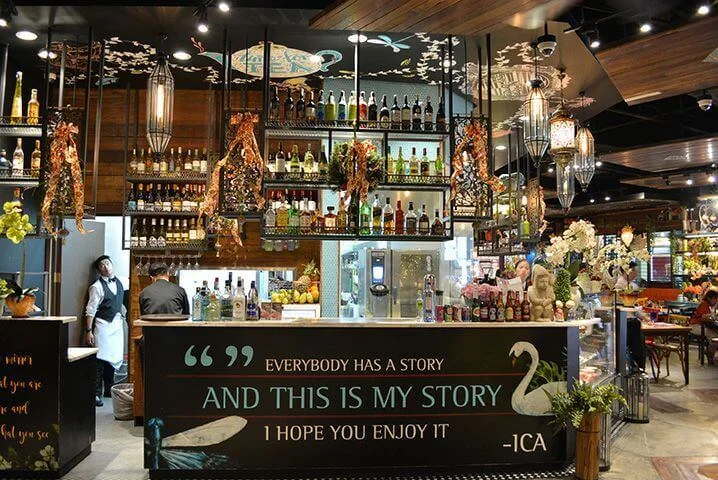 Photo from facebook.com/anotherstoryph
Start with their crowd-favorite, Vietnamese Latte, a heavenly rich beverage that would definitely set the calm tone of your meal. Next, to be ever-mindful of all things healthy, you may order their sumptuous but hearty Another Story Salad made up of prawns, shiitake mushroom, walnuts, parmesan cheese, and Raspberry Vinaigrette dressing. For the main course, you and your family must either try Rib Eye Steak of Angus in Au Jus Sauce or Roast Chicken in Mushroom Sauce. Or both! They are both equally so good that ordering both of them will actually be a smarter choice.
Indeed, this place will not only enlighten your inner quirky, creative spirit but definitely your tummy. Take a picture to frame at your house and lot for sale's wall!
This list definitely goes on for a long time but we want you to try these first before embarking on another mouth-savoring spree at another set of splendid high end restaurants just like these! A king and a queen know how to enjoy each and everything life has to offer to them. Enjoy Daang Hair road!
Related Blog: Everything to Know About Daang Hari and the Housing Opportunities it Covers