Famous for its cool breeze and picturesque views, Tagaytay City has a lot to offer tourists and locals alike. The eastern and southern portions of Tagaytay are secured by hills and mountains filled with pine trees, forests, and open grasslands. The city is right along the 32-kilometer Tagaytay Ridge (it extends from Mount Batulao in the west to Mount Sungay where elevation can reach up to as high as 2,000 feet above sea level). The ridge overlooks Taal Lake in Batangas province and is the actual edge of the Taal Caldera. Just like Trece Martires City, Tagaytay is a planned city, with segments created from the towns of Mendez, Indang, Amadeo, Dasmarinas, and Silang (which is why parts of these municipalities are considered to be "part of Tagaytay" itself).
If you're still scouting for a place where you will buy a condo for sale in the Philippines, here are 19 reasons for you to choose the scenic Tagaytay City. We've listed the top places many tourists (as well as locals) visit whenever they are in the vicinity of Tagaytay. There is something for everyone and many of these places are just 5 to 15 minutes away from the Tagaytay rotunda.
Here's a List of the Best Places to Visit in the City of Tagaytay
1. Taal Volcano and Crater Lake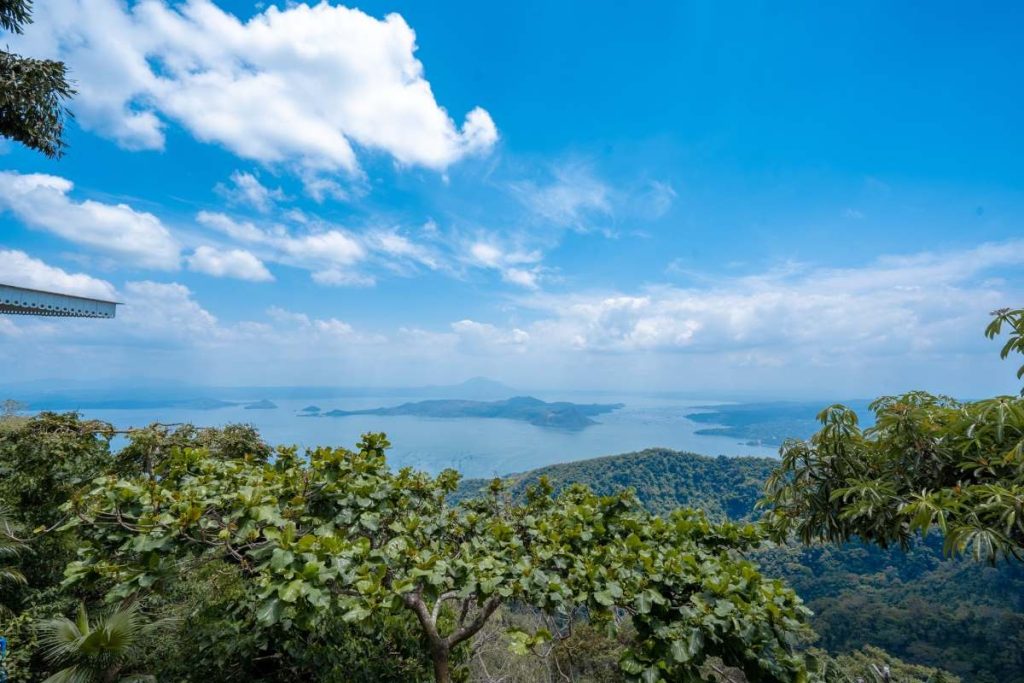 A real force of nature, you cannot miss Taal Volcano whenever you traverse or visit Tagaytay. You can relish the majestic view of one of the country's most active volcanoes from various food and hotel establishments right at Tagaytay Ridge, but you can also get an unobstructed view for free right from the Tagaytay Rotunda.
Address: Talisay, Batangas. But you can experience a panoramic view right from Tagaytay.
2. Sky Ranch Tagaytay
Reminisce about your childhood days or bring your kids to Sky Ranch! Enjoy a time with friends or family with its exciting amusement rides and games. Once you're tired or hungry, you can fill your tummies by choosing from an array of food kiosks and restaurants while you enjoy the panoramic view. The Sky Eye in Sky Ranch is the country's second-tallest Ferris wheel. You can also try Sky Cruiser and Super Viking, as well as other rides for the kiddos and teens (like Nessi Coaster, Kiddie Train, Bumper Boat, City Rail, and Rocking Tug, Fastrak Convoy, Bubble O Fun).
Address: Km. 60 Tagaytay-Nasugbu Highway, Barangay Kaybagal South, Tagaytay (beside Taal Vista Hotel)
3. Museo Orlina
Art lovers will rejoice when they learn that Tagaytay City has one of these hidden gems: Museo Orlina. It showcases various kinds of artworks made by local and foreign artists. Aside from the sculpture garden and amphitheater (where you can enjoy theatrical, dance, and musical presentations!), Museo Orlina also has a mini coffee shop (reportedly closed for renovation). From time to time, it also hosts foreign and local art exhibitions.
Address: Hollywood Street, Hollywood Subdivision Road, Brgy. Tolentino East, Tagaytay
4. Ilog Maria Honey Bee Farm
About 8 minutes away from the Tagaytay rotunda, you will find the Ilog Maria farm tucked away from Gen. Emilio Aguinaldo Highway. Founded by Joel Magsaysay, the farm offers various products made from honey, bee pollen, bee propolis, and royal jelly; among others (product formulations used are 30 up to more than 300 years old!). It also offers bee sting therapy and site tours (with film showing) for groups.
Curious why they called it "Ilog Maria"? According to Joel, it was in honor of the Blessed Virgin Mary with whom his mother (Lilia) had prayed for rain during the El Niño season in early 1987.
Address: KM. 47 Gen. Emilio Aguinaldo Highway, Brgy. Lalaan 1, Silang, Cavite (Landmark: entrance/exit in front of Sacred Heart Villa School)
5. Picnic Grove
Another popular tourist destination in Tagaytay, the 13-hectare-wide Picnic Grove allows you to enjoy the cold weather while relishing the stunning Taal Volcano view. Picnic lovers will enjoy the area using the built-in cottages. Adventurous visitors can enjoy the zip line, 390-meter eco-trail, horseback riding, and cable car rides.
Address: Tagaytay Picnic Grove Complex, Tagaytay
6. People's Park in the Sky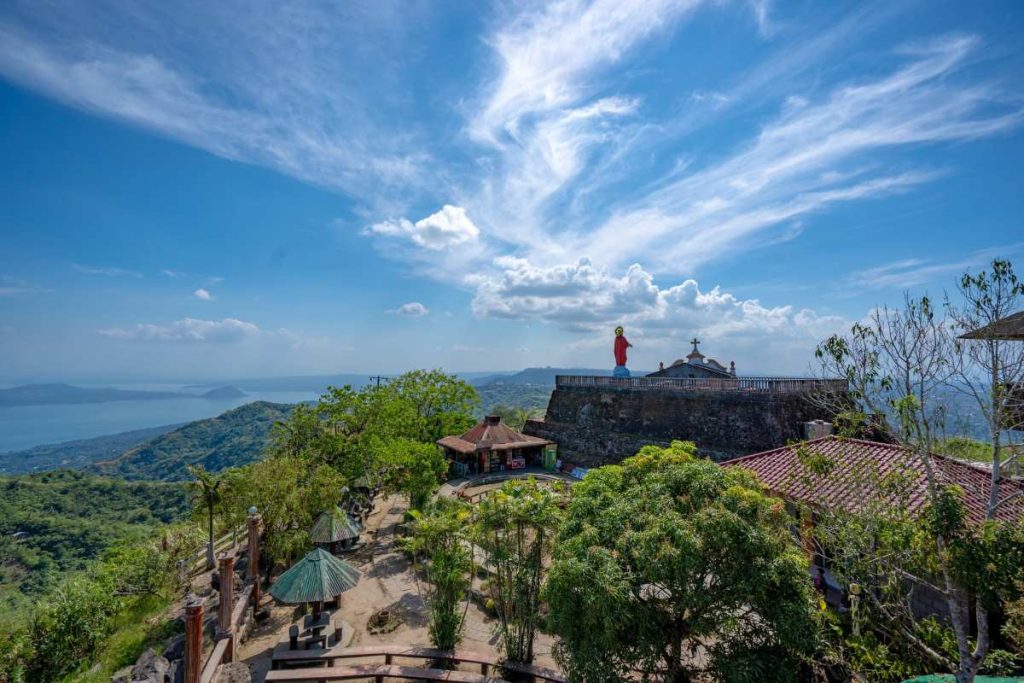 People's Park in the Sky, previously known as the Palace in the Sky, is an unfinished mansion in Tagaytay City (originally meant for US President Ronald Reagan) that has been converted into an urban park. It offers a breathtaking view of Tagaytay Ridge and a 360-degree view of Taal Lake on a perfect sunny day.
Address: Tagaytay-Calamba Road, Tagaytay
7. Puzzle Mansion
Puzzle Mansion boasts one of the largest collections of finished jigsaw puzzles in the world, which is why puzzle collector Georgina Gil-Lacuna earned a Guinness World Record in 2012. Here, you can find a wide array of 2D and 3D puzzle sets. There are also puzzle reproductions of paintings by world-famous artists like Degas, Gaudi, and Picasso. Not only that, it has a garden, pool, restaurant, and a souvenir shop. Making it a perfect place for fun family activities to go to.
Address: Cuadra Street, Brgy. Asasin, Tagaytay
8. Sonya's Garden
The verdant and flower-laden Sonya's garden offers a quiet and relaxing getaway to tourists from around the country. With shops, a spa, a bed and breakfast, a wedding venue, and a restaurant, did you know that Sonya's Garden also offers masterclasses (bed and breakfast; organic farming) and botanical products?
Address: Barangay Buck Estate, Alfonso, Cavite
9. Mahogany Market
Another iconic destination in Tagaytay, many tourists and riders (bike and motorcycle) complete their Tagaytay trip by heading over to Mahogany Market. Bulalo (beef marrow stew) is affordable and particularly popular during the chilly weather season. There are also plant nurseries in the vicinity.
Address: 10 Mahogany Ave, Tagaytay
10. Paradizoo Theme Park
Located in a 10-hectare rolling terrain, Paradizoo is a place for nature and animal lovers, young and old! Because it's a combination of zoo and theme park, it's the only theme farm concept in Tagaytay. It offers a variety of educational, outdoor, and group outing programs. Furthermore, it has a sit-up zip line as well as a wedding pavilion, goat house, pet cemetery, honey bee farm, and various gardens (vegetable, meditation, eclectic, and flower garden).
Address: KM. 63 Barangay Panungyan, Mendez, Cavite
11. Pink Sisters Chapel and Convent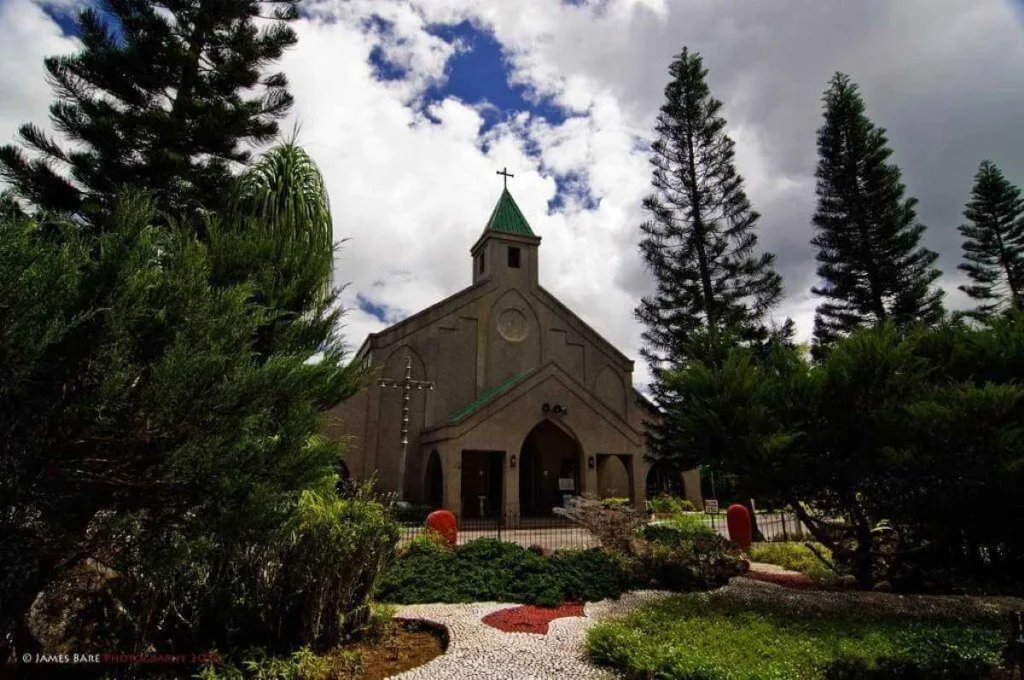 photo from vigattintourism.com
Pink Sisters (Adoration Convent of Divine Mercy) is a chapel where you can see sisters wearing uniquely pink apparel. It is said to be famous for people who want their wishes to be granted. A really tranquil place that many tourists and churchgoers go to; it's one of those must-visit places if you want silence and solitude!
Address: Holy Spirit Drive, Brgy. Maitim 2nd, East, Tagaytay
12. Our Lady of Manaoag at Tierra de Maria
A church that many locals visit, Our Lady of Manaoag at Tierra de Maria is a place for reflection, prayers, and meditation. It houses the 50-foot statue of Mother Mary. Those who are fond of doing a Visita Iglesia in Tagaytay, almost always include this church on their list.
Address: 333 Tagaytay-Calamba Road, Tagaytay
13. Yoki's Farm
Founded in 1996 and opened to the public in 2016, Yoki's Farm is a 10-hectare, hobby-turned-passion project, family-owned farm that has an orchidarium, hydroponics farm (started in 2001), nursery, museum, resto (All-Day Breakfast Restaurant), and an animal sanctuary. It offers three major walking attractions (Museum of the Antique Collections; the Hydroponic Vegetable Farm; and the Animal Sanctuary of Domestic and Exotic Animals). The hydroponic farm is popular with visitors from organizations and educational institutions.
The enchanting Antique Museum houses a private collection of Old Asian artifacts and souvenirs, from famous brass replicas like the laughing Buddha, the thousand hands Buddha, jade boats, brass replicas, Terracotta Warriors, relics of old churches to old house equipment. With their available rooms and beds, you can stay for a day or two and experience the animal sanctuary and garden by night. They provide a 20% discount to senior citizens as well as a 30% discount to kids that are 4 to 7 years old.
Address: 003 Tabluan Road, Palocpoc 1, Mendez, Cavite
14. Crosswinds Tagaytay
Crosswinds is a Swiss-inspired community offering the best view of the city's most beautiful terrains partnered with the crisp smell of its thousands of pine trees.
Address: Crosswinds Drive, Tagaytay – Calamba Rd, Tagaytay, 4120 Cavite
15. Ruined Project?
A new look at a typical coffee shop, Ruined Project is a unique place for enjoying a cup of coffee. Overlooking the other side of Tagaytay, the place is a somewhat unfinished construction site but is magnificently designed for that aesthetic look for a trendy IG feed!
Location: Crosswinds Dr, Tagaytay, Cavite
16. NAPA at Crosswinds
Another food hub in Crosswinds, NAPA offers scrumptious meals and drinks you can enjoy while gazing over the Swiss-inspired chalets.
Location: Crosswinds, Tagaytay, 4120 Cavite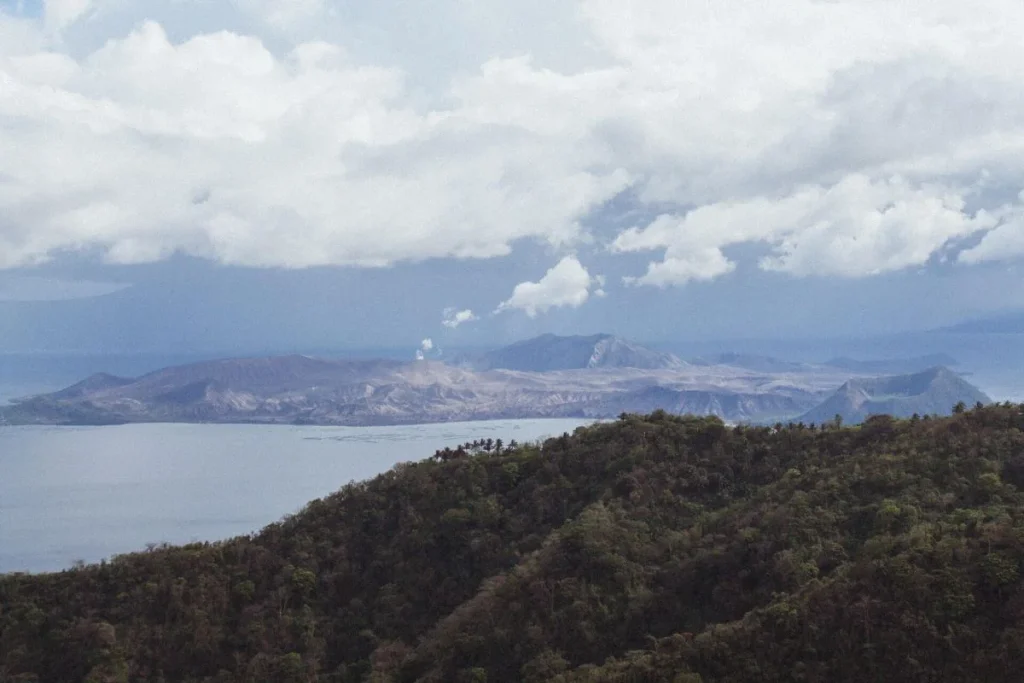 17. Acienda Designer Outlet
Dubbed the "first true international outlet mall" in the Philippines, Acienda Designer Outlet offers customers the best deals all year round (with discounts of up to 60 or even 70 percent off!). It houses over 60 establishments (ranging from sports apparel and footwear, food and beverage, kids, fashion, gadgets, jewelry, and accessories).
Address: KM. 48 Gen. Emilio Aguinaldo Highway, Balubad Road, Brgy. Lalaan 1st, Silang Cavite
18. Caffe Sant'Antonio
Caffe Sant' Antonio is a cozy cafe, pizza, and tea haven named after San Antonio de Padua. The café (and the school beside it) is managed by the congregation of the Rogationist of the Heart of Jesus. It serves authentic Italian pizza (brick oven-cooked!) as well as pasta and desserts.
Address: KM. 51.8, Brgy. Lalaan 2, Silang, Cavite
19. Santis Delicatessen
A "hidden" gem found just meters away from Caffe Sant' Antonio is Santis which offers unique dairy and dry products, as well as premium and gourmet food products (Angus beef, cold cuts, and European sausages). If you can't wait to take a bite, the Silang branch of Santis (the main branch is in Makati) is complete with a dining area.
Address: KM. 52 Brgy. Buho, Gen. Emilio Aguinaldo Highway, Silang, Cavite
Experience Tagaytay All Day, Every Day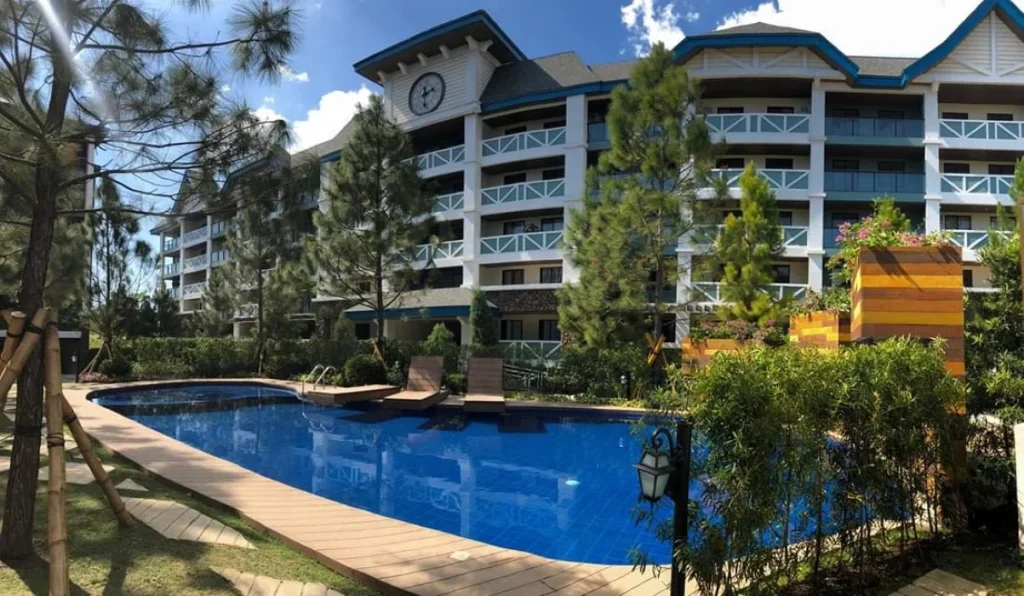 A Tagaytay condo for sale, Pine Suites Tagaytay is a one-hectare-plus RFO (ready for occupancy) exclusive residential condominium property to which you can come home. It's conveniently located right at our country's second summer capital. You can choose from easy move-in options as well as the various studio (21 to 23 sq.m.) and two-bedroom units (48 to 51 sq.m.).
Pine Suites Tagaytay is Crown Asia Properties' first and only condominium development in Tagaytay City, developed by Vista Land and Lifescapes Inc. This condo in Tagaytay is located at Silang Crossing West, Bonifacio Drive, Tagaytay City (landmarks: Nurture Wellness Village, Sky Ranch, Our Lady of Lourdes Parish Church, Tagaytay Medical Center, Shim International School), and is easily accessible by Gen. Emilio Aguinaldo Highway, Santa Rosa-Tagaytay Road, Tagaytay-Calamba Highway, and Tagaytay Nasugbu Highway.
Related Blog: Things to do When Visiting the City of Tagaytay