Have you heard about the newest neighbor of the upscale condo in Las Pinas – The Hermosa by Crown Asia? December is definitely getting better as we welcome the newest branch of Dear Joe Cafe, located in the proximity of The Hermosa.
Last December 20, 2021 (Monday), the first letter-writing cafe in the Philippines opened its 10th Branch in Pulang Lupa Uno, Riverdrive, Las Pinas City. Dear Joe is the first letter-writing cafe in the Philippines. It's the perfect place to write a letter to someone special, friends, family, or even to yourself while taking a sip of your favorite drink!
A New Dear Joe Cafe in the in the Vicinity of Crown Asia's Condo in Las Pinas Offering Is a Must-Visit!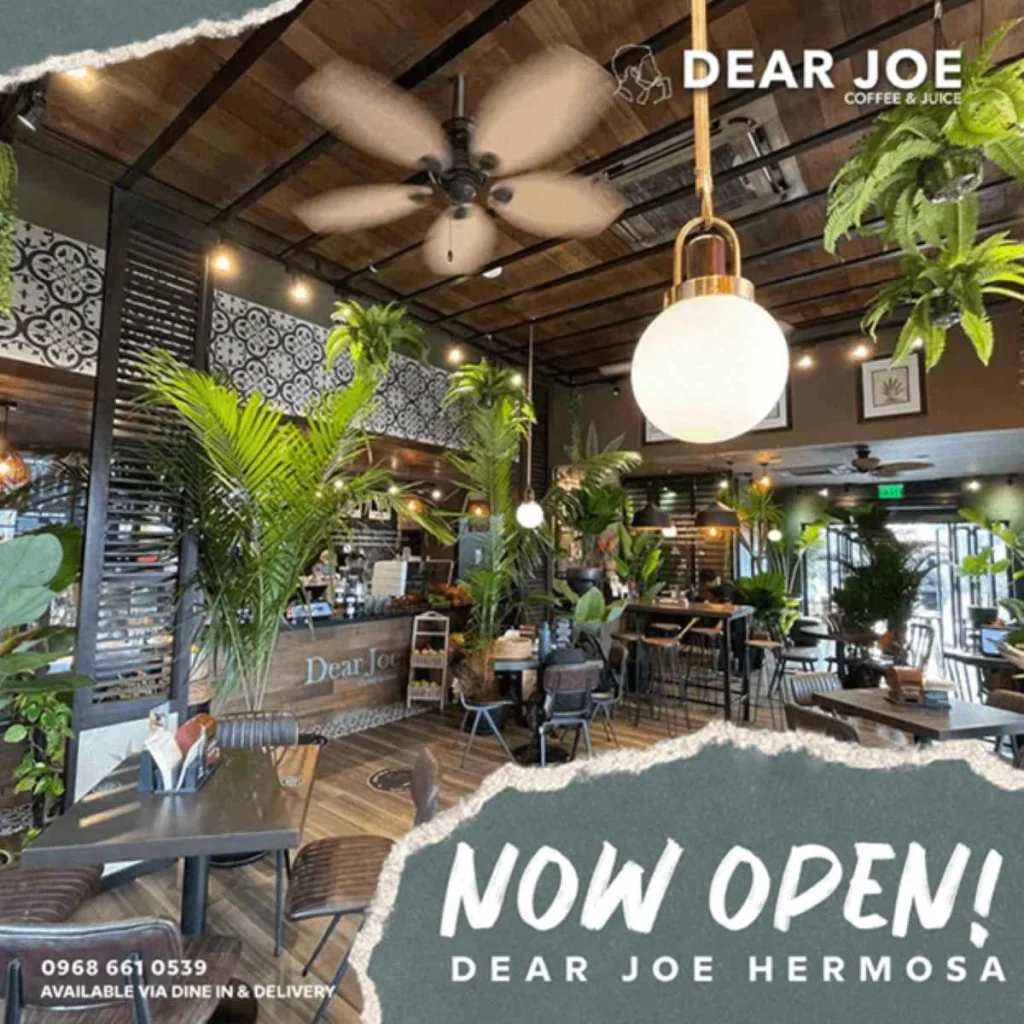 Dear Joe Cafe in Hermosa really showcases the feeling of living in an upscale and modern condominium development developed by one of the high-end brands of Vista Land. This cafe is a perfect go-to cafe for the residents of Hermosa and those who are living near the project since it is along the Riverdrive which is the main way going to the C5 Extension Road in Las Pinas City. This cafe is open daily from 7 AM to 10 PM. All around the cafe is a sleek yet comfortable vibe that is reminiscent of the American retro style. The earthy palette and warm lighting are easy on the eyes, allowing guests to spend long hours in the cafe comfortably. This cafe lets you write a letter to your loved ones while enjoying your favorite food and beverages from the menu. Indeed, a very relaxing, comfortable, and serene ambiance if you wish to unwind and de-stress. If you are staying in the cafe, you can write anything you want on a cute piece of paper for your loved one. What's more interesting is that Dear Joe Cafe will send out those love letters to the doorstep of your loved one's house. All you have to do is to pay Php50 for the delivery of your mail letters. That sounds like a good deal. Dear Joe is actually the brainchild of the folks behind the Coffee Project franchise, so you can expect IG-worthy aesthetics in every corner.
2021 has brought us the new trend of being fond of growing plants and makes us call ourselves "Pantitos and Plantitas", Dear Joe Cafe is somewhat of this kind of vibe since you can see from the interior designs that the main theme of the coffee shop is more of plants and the beauty of the nature. From the counter, you can see baskets of fresh fruits, yes! Fresh and real fruits are being used in making mouthwatering juices and smoothies.
From the outside near the road, they also put some tables for those customers who would like to experience the serene and fresh air of the area. In this part of the cafe, you will get to see the beauty of the place and the nearby houses near the shop. Everyone sipping their coffee from this spot will give you the feeling of contemplating life and thinking about the rest of the days of 2021 and how one can spend it in a more meaningful and productive way.
You Can Enjoy a Cup of Joe Amidst an Upscale Condo Community
The Dear Joe Cafe in Hermosa is just the start of more exciting news for Hermosa and its residents. Apparently, this Dear Joe Cafe is located now in Phase 3 of The Hermosa. The project is set to have 2 buildings facing the main entrance/exit gate that will have its commercial strips on the lower ground floor. Dear Joe Cafe is the first commercial establishment in the Project, and from what we can see, the residents of the Hermosa were so excited about this first move and for the future plans for the said condominium development.
Aside from these commercial strips, residents from Hermosa will get to experience an upgraded lifestyle in collaboration with some of the famous retail brands in Vista Mall Global South, which is a few minutes away from Hermosa. They can find the ultimate shopping experience with AllHome, AllDay Supermarket, and various fine-dining restaurants in this mall. They can also explore the newest open market relevant to SOMO Market in Daang Hari–which is the Global Market, which offers an array of fresh market items and local goodies that they can try during weekends. A lot of food go-to stalls and ventures have emerged in this open market and they will surely love this local offering. From food and other stuff, Global Market also offers arts and crafts, and other home designs which are locally based and hand-made.
Those are some places that they might want to visit next time, but in a few years or even months, The Hermosa will definitely be a complete package condominium as it will offer them an upgraded lifestyle experience just a few steps away from their home. So next time you pass through the Riverdrive in C5 Extension Road, Las Pinas, make sure to swing by the newest cafe here in Hermosa.
Log in to the Upscale Lifestyle with Hermosa, Crown Asia's Condo in Las Pinas
A sprawling and verdantly landscaped condominium village complemented by resort-inspired amenities that give a refreshing ambiance to modern city living. It has continuously been a testament to its potential as the metro's breakthrough city. One of the most in–demand urban vertical villages in this city blends the promise of progress with a uniquely beautiful lifestyle in a modern development- The Hermosa.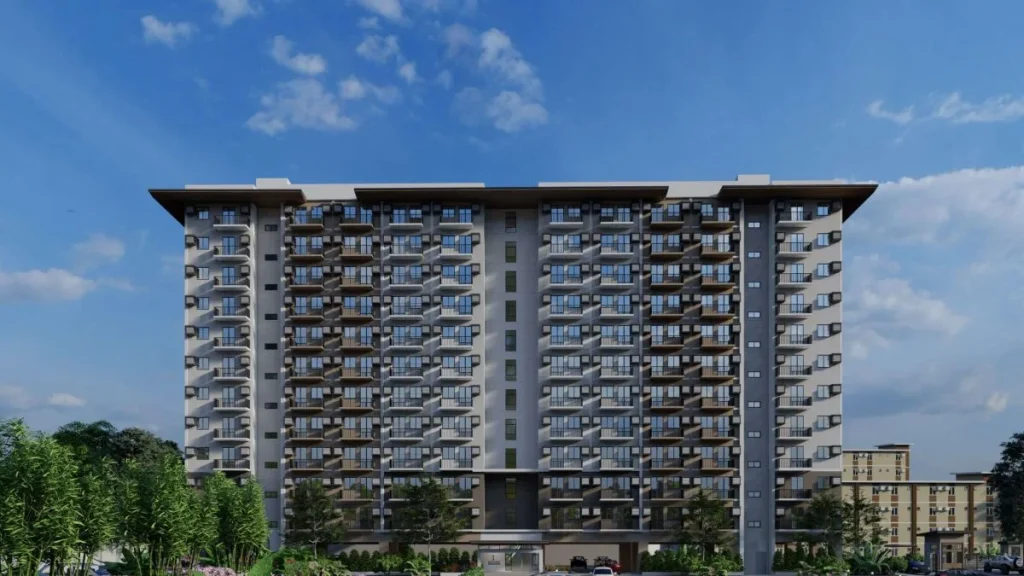 The Hermosa is a 2.9-hectare modern and exclusive resort-inspired condominium village rising in the vicinity of the upcoming 100-hectare integrated and master-planned Vista Global South township development rising along C-5 Extension in Las Piñas City, just 15 minutes away to NAIA and The Bay Area. The said condominium development is now on its 5th Building- Las Palmas. It offers spacious unit options from Studio units at 24sqm to 1 bedroom with a balcony at 34sqm and 2 bedrooms with Balcony at 44sqm. Aside from all existing and upcoming development in the Vista Global South, Hermosa is set to become more prime in the years to come, as commercial developments in the vicinity of the project itself have finished their construction. Hermosa will launch its new building features, set of amenities, and exciting story that will make it a desired home and a solid long-term investment.
Start your new story at Hermosa and create the life you deserve where the ultimate modern city living meets and its beauty pronounced value.
*All photos were taken from Dear Joe Official Facebook Page*
Click here to view Hermosa's brochure.
Related Blog: Something's Brewing Up: What to look forward to in Hermosa?