A quote once said, "A house is made of walls and beams; a home is made with love and dreams." Vivace will showcase the two model houses where your big dreams will find their homes.
In Vivace, you'll be able to re-discover yourself, strengthen your existing bonds and enjoy the amenities designed to spice up your mundane life.
Accessibility is another thing you need to consider when finding a house. Travelling to far places is a hassle as it takes up too much of your time and energy. It would be great to be in the center of everything. As time passes by, Cavite continues to be more and more accessible. With the help of infrastructure projects, Cavite does not only connect to Manila but to other places, as well. Be it going to the north or south. These allow us to have an easier access to go to the workplace, airport, entertainment establishments and more!
A non-South once asked, "Are you a true-blooded South?"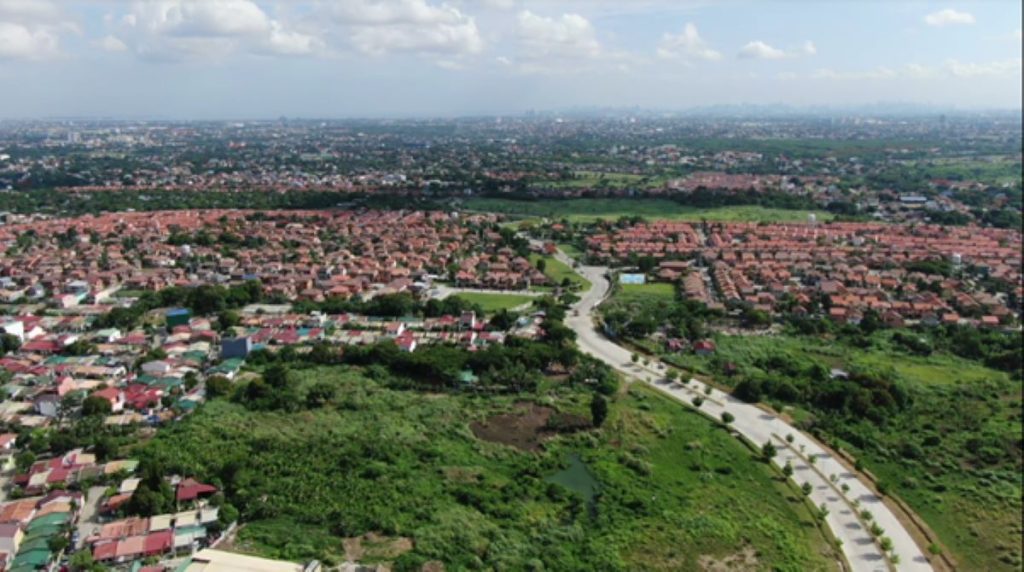 Cavite offers a lot of possibilities for everyone, especially to those who want to see and experience a new environment. The province vibe of Cavite won't let you miss the fun. Exhausted and burnout from school or work? Cavite has places where you can really chill and relieve some stress. Places that allow you to experience first-hand the beauty of nature. Exhale the problems and inhale some fresh air while admiring the view. If you want to be extra adventurous, have a fun road trip with your go-to barkada or with the Tito's and Tita's of Manila and relax in the safe spaces of your home here in Vivace.
Business minded people won't be out of place for Bacoor, Cavite has a lot of commercial areas open for business lease. But the serious aura of it won't leave you behind the fun. Evia Lifestyle Center is an establishment that has everything you're probably looking for. It's a place where you can chill, roam around, and have fun with your friends or even alone. Bacoor is also starting to be accessible for everyone which also gives easy access to places you have struggled travelling before. The province of Cavite is becoming more and more developed which allows everyone to somehow experience life at ease.
No passport? Worry no more for Vivace is a 3-hectare estate which gives you an Italian feel with its Italian inspired houses. A secured private village established in Cavite. Next to the village is an AllDay branch which gives you easy access to groceries and other necessities. Vivace is an Italian term which translates to "lively" and true to what the name implies, they aim to provide a lively surroundings.
Having a premium house and lot spare you from some hassles. It's really a great investment. Having your own house gives you freedom from doing what you want to do with it and technically speaking, it's cheaper than having to pay rent all the time. The money you supposedly allot to pay your rent can be allocated to more important bills you need to pay. Another thing is you can make sure that you will have the privacy you wanted. You have the freedom to choose the location that's most accessible for you. Know more about the available homes in Bacoor, Cavite.
Take a glimpse at the two model houses in Vivace
Amber Model Home
Amber is a fully finished ready-for-occupancy (RFO) house. Located at block 7, lot 10, this two-storey house with a fifty square meter floor area will allow you to spend quality time with your family and friends without worrying about your safety and security. With its 88 square meter lot area, you will be able to park a car and two motorcycles. You could also rearrange the garage and have a mini summer party!
Standing with three rooms, two bathrooms and a garage, there would be no doubt that this is a good solid investment. As we practice social distancing, you may sit on the balcony and wave a hello to your neighbors! You can place a table and chair for tea time. If you also want to unwind and reflect on things, it's the right place for you.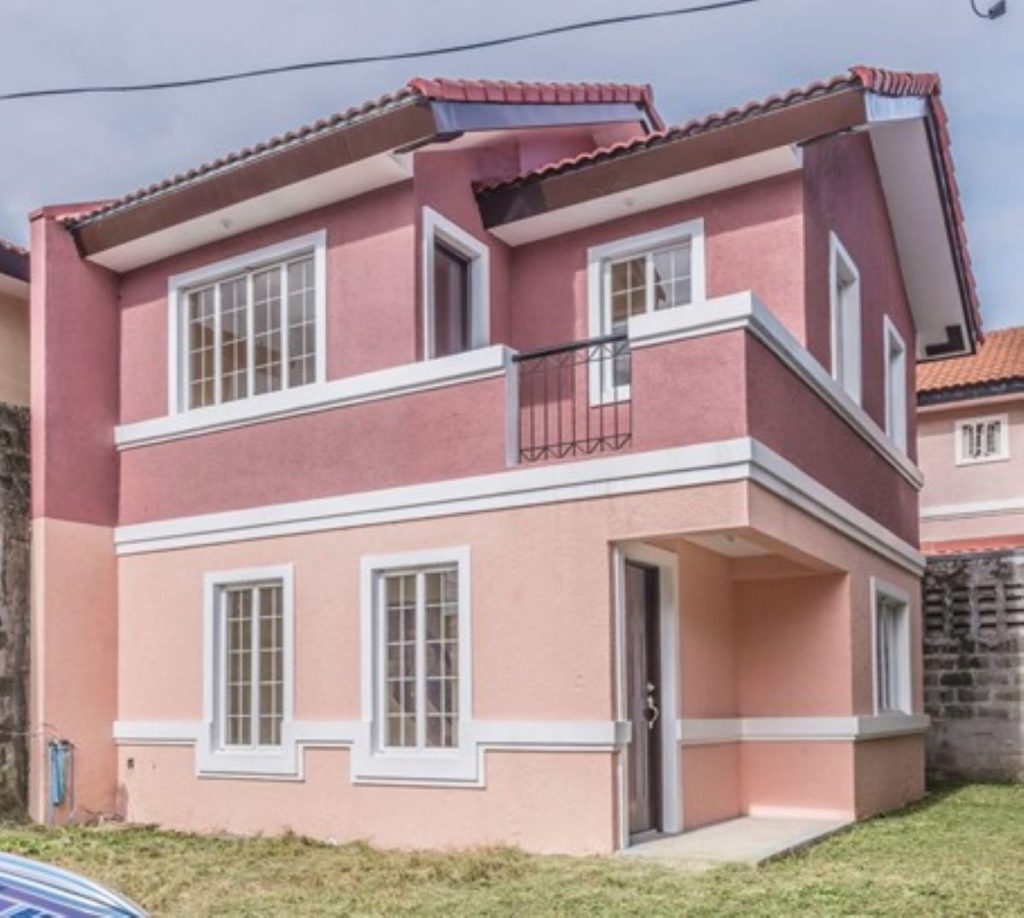 It's flesh-like color will leave a remarkable impression.
Amber's vivid exterior is a perfect contrast for its white interiors. You'd want to enter your home with a smile and lose track of time as the white walls scream the color of perfection. The huge windows make the brightly lit space look wide and refreshing. The living room and dining room may be adjacent to each other. Watch television with your parents or play hide and seek with your kids. Stay fit and jog around your house. Take a rest and prepare some meals for you and your family. You could even make a music or dance studio! You can do a lot of things. Make up the most out of your safe space.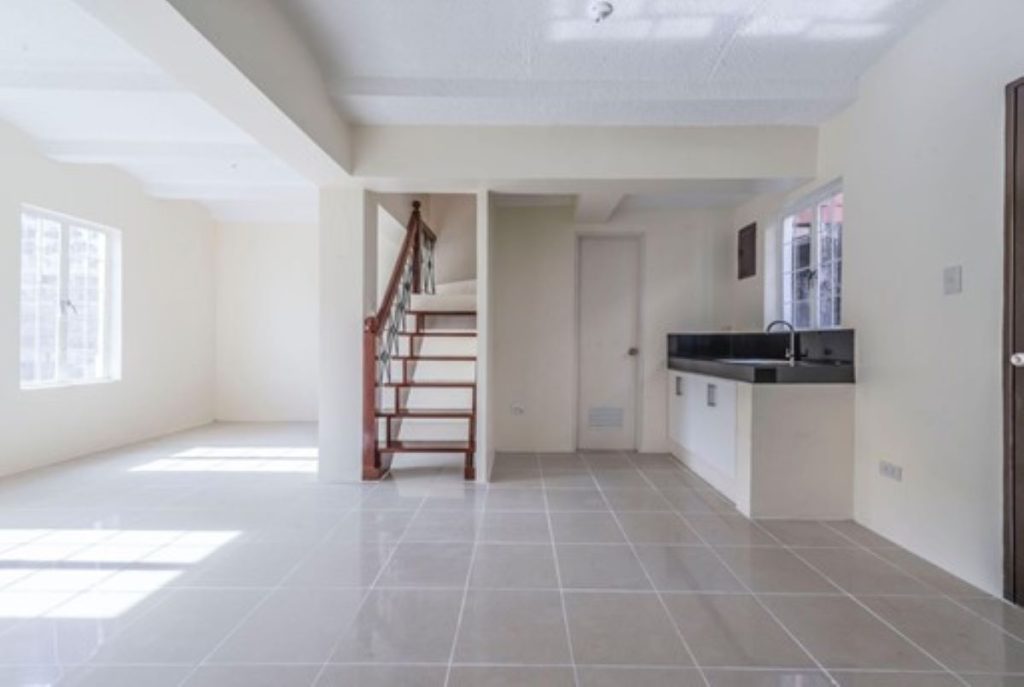 The white interiors makes the ground floor a lot spacious.
The kitchen sink and the first bathroom will be seen beside the staircase. You may also use this space as a utility area. Install a washing machine with a dryer or hang your clothes to air dry. The back door will lead you to your space that could be turned onto a narrow garden. Planting thin plants will brighten up the view. And satisfy that inner plantita in you.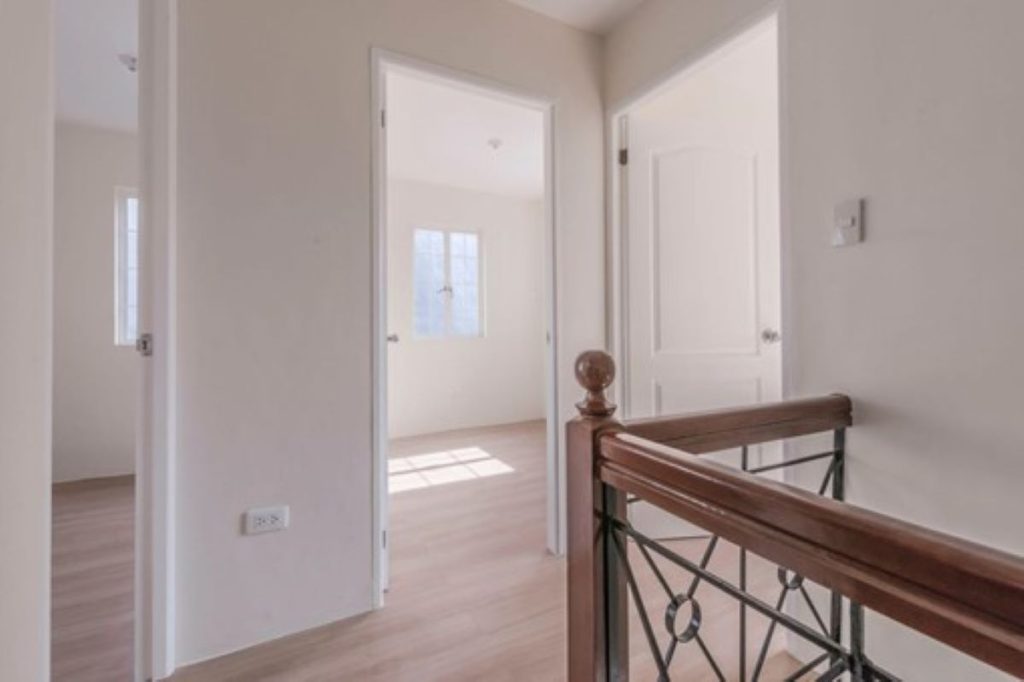 The second floor looks welcoming with its steady glow.
Located on the second floor are the three rooms that you could turn into a storage room, kid's play room, music room, game room, movie room with a snack bar, walk-in closet, bedroom or guest room. A master's bedroom, children's bedroom, and a storage room is also a great mix.
A vanity area would be great as most women are fond of putting on make-up, and dressing up for grand events. Schedule a date night with your partner and enjoy the night sky on your balcony. Show your stay-at-home outfits and post it on your social media! Don't worry if you are alone as you can video call your friends and have an online drinking session, too.
Our super dads also deserve some alone time and privacy with their own man cave. A room where they can relieve some stress from work through playing video games or billiards. It wouldn't be complete without some music. You can score cheap vinyl records online and let it bring you back to the gold old times.
Having your own room has a lot of advantages. You can read the pile of books you've been neglecting for a while. Dance to the rhythm of your favorite jam. Show us your fantastic dance moves. You can even start exploring things you've long wanted to learn. Or sleepover! You and your family can share and sleep in one room, and watching movies together definitely nourishes your relationship with them.
Renew your dreams and live lively.
The situations may have postponed your previous plans and dreams but it is never too late to take a detour and restart again. Renew your dreams and pursue what your heart wants. Amber is the perfect house for you to rebalance your life. May you rekindle your relationships and fulfill your promises. Live the life you want.
You just have to spend a hundred thousand to make this house and lot your own home. Amber is waiting to be owned by you. This is the dream house you didn't know you'd dream about.
Amethyst Model Home
Block 5 Lot 15 Amethyst is a premium house and lot with 74 square meters (floor area) just enough space suitable for everyone to create memories and strengthen bonds. It's like hitting two birds with one stone because the aesthetically designed house also provides comfort. It's the ideal house for families, couples starting to form a family or individuals who want to experience that independence they wanted.
Vivace is made for family but it doesn't mean you're not welcome if you want to experience that independent life. Everyone is welcome here. Vivace Amethyst will greet you with smiles plastered in our faces.
It's situated in Buhay Na Tubig Rd, Imus, Cavite 4103 which gives you easy access to everything. An exclusive village that has an entrance gate to keep an eye and monitor whoever goes in and out. There's also a perimeter fence which makes you feel safe and ensures your security. It lets you enjoy the amenities specially made fitted for you. Playgrounds and parks allow your kids to run and play free which also lets you feel how nice it is to be a kid again. For plantitos and plantitas out there, worry no more for Vivace got you covered with its pocket gardens.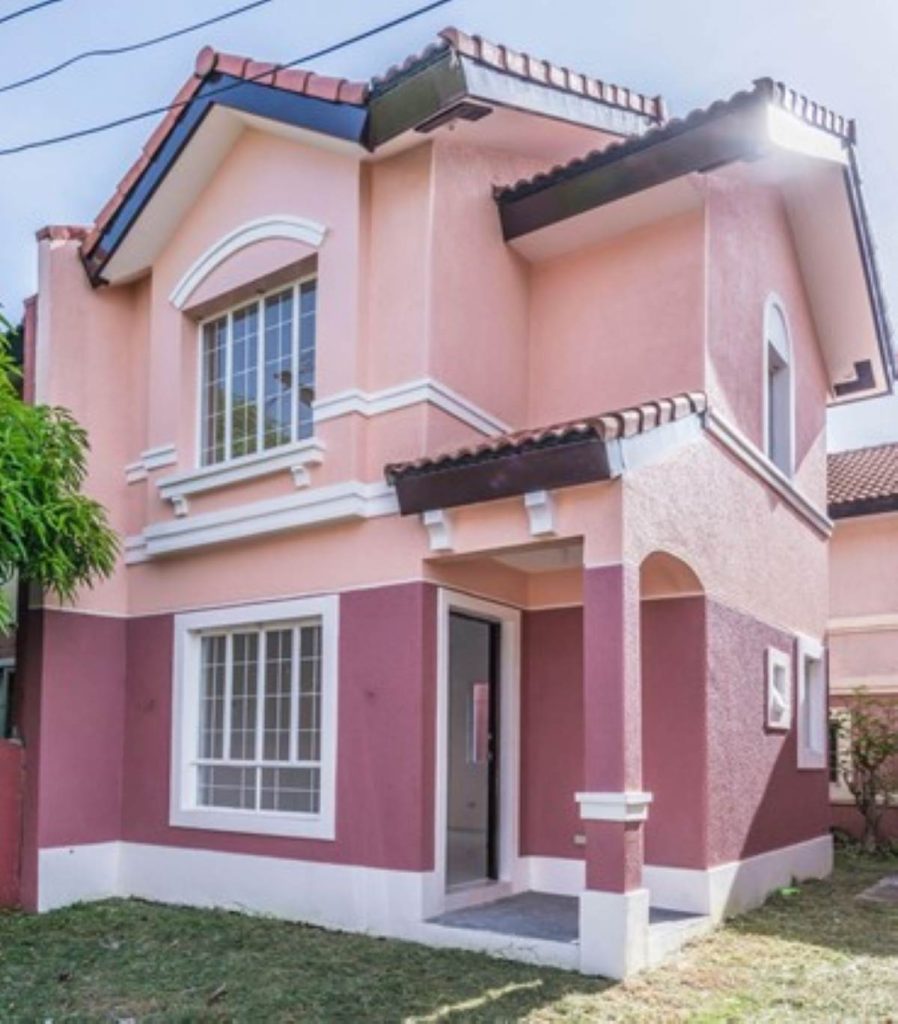 Amethyst releases a calming and peaceful aura with it's light colored Italian-inspired residence.
Come home to your dreams
Amethyst, a two storey house which has a 100 square meters' floor area. An Italian inspired that highlights even the little details of the house. It's a fully finished house which has a garage that can fit one vehicle.
When you enter the house, the first thing you will notice is it's clean and light aura because of the white, black and wood combination. The spacious first floor allows you to maximize the place by putting furniture and other displays that will complete the look of your house. You can always redesign or rearrange it anytime when you want to see another view.
The first toilet is placed beside the stairs just across the kitchen. The simple black countertop adds a pop of color to the plain white L-shaped kitchen. The simplicity of it might attract you to cook or start learning how to. In another viewpoint, cooking can be a family bonding. There's always something in the food that brings everyone closer.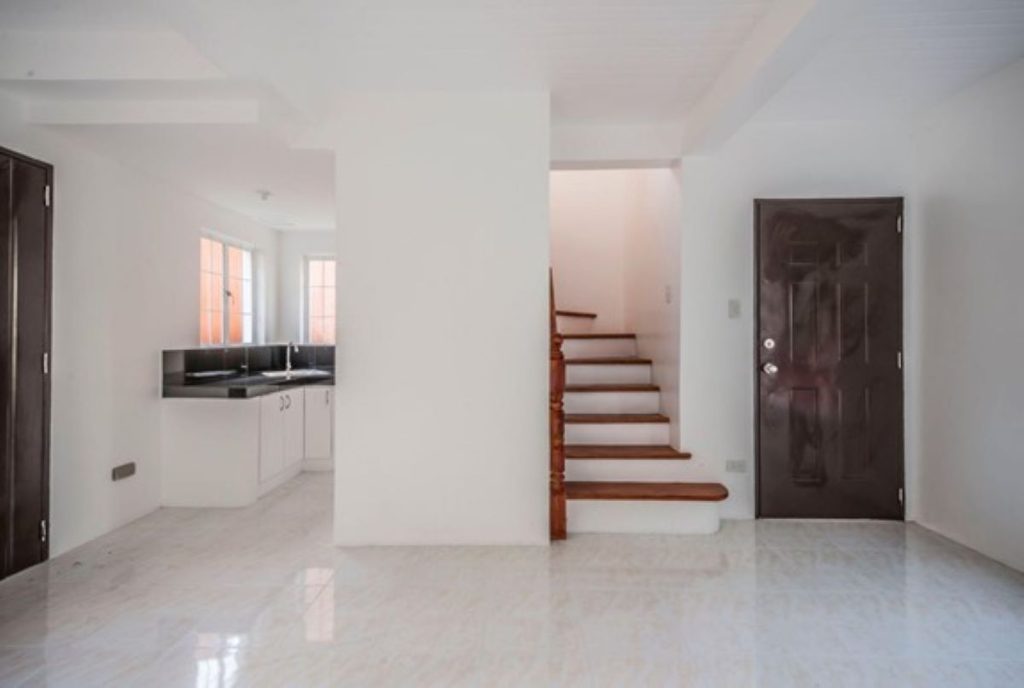 The pure color of the first floor encourages you to open a new beginning.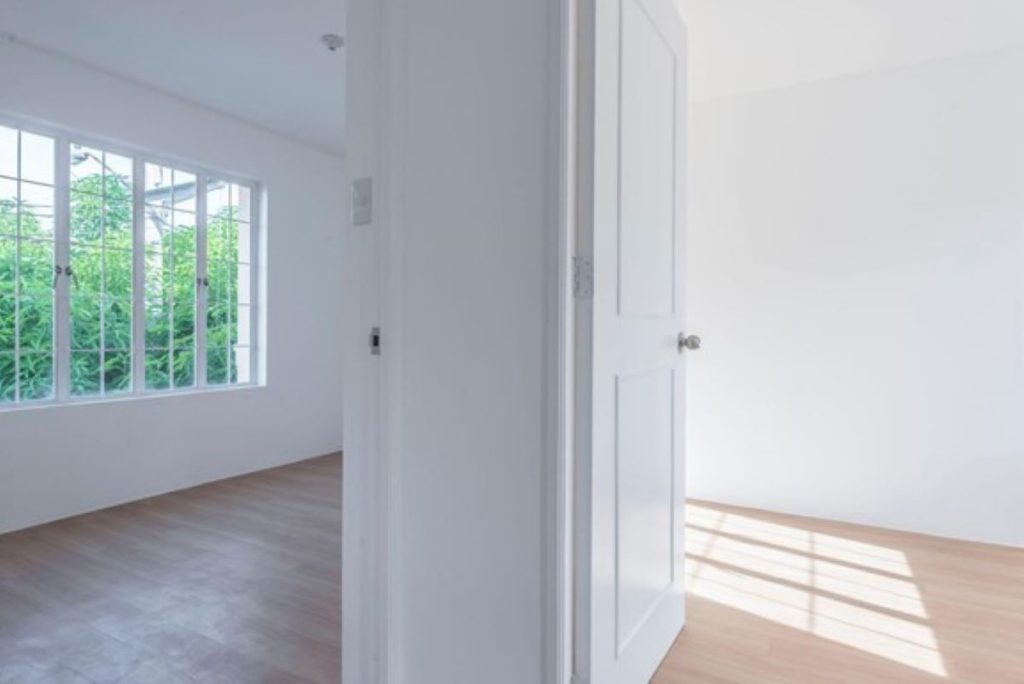 The second floor is your den, a place where you can relax.
From the stairs up to the floors of the rooms utilize the wood color accent. Privacy starts from here. The second floor has a toilet and bath shared by everyone. You can customize the spacious rooms according to your liking. A well-arranged and organized room can help you to be productive. It's also an enclosed room where you can do your hobbies and discover new things to try. The large windows are also an advantage. You can still see the big picture outside even though you're at the comfort of your homes. Be amazed by how breathtaking the Italian-inspired houses are. Or even score that perfect sun kissed picture you wanted to try.
Are you retiring soon and currently finding a perfect home? Or a starting couple which plans to build a family? Amethyst is the answer. A premium home made by a premium real estate developer is the home of your dreams.
Having a home is as important as the house. Nothing beats the echoing laughters and unending stories you could cherish and look back to. Calling all the attention of the country's upper middle class families, professionals and individuals who want to experience that stylish living without neglecting that homey vibe. You've waited long enough. You know that house and lot in Bacoor, Cavite is the one for you. Let it light up your dim and plain life. Living in Vivace is not just a dream, it is the dream.
Live life in perfect balance. A perfect mixture of everything. Invest now.
Related Blog: Things You Need to Know About Imus Cavite