When it comes to acts of love, nothing is more romantic than watching a good old-fashioned love story or a romantic comedy. After all, it is the season of love and everyone is looking for that perfect seasonal movie, akin to how tradition dictates that everyone in the world would watch Christmas movies in December or a horror movie in October.
Love is one of the things that truly holds together the essence of humanity. The drive and funny feeling you get in your gut when you really, really like someone or maybe, you have come to realize that the person you cannot stop thinking about is the one – the one who you absolutely love. These sentiments are very cliche, I know, but the definition of love has not changed since the time humans have appeared on this planet and started interacting with one another.
Thus, we have curated once again a list of amazing and, dare I say, the greatest romantic movies to watch during the season of love or whenever you are feeling romantic or sappy about the person you love and are looking for some inspiration to spark a newly timed relationship with somebody. Or heck, you have already gotten into a relationship and you found this list for a fantastic bonding time by watching movies to remind you of your growing love for each other.
Fall in love again. Here is a list of the best romantic movies to watch:
When Harry Met Sally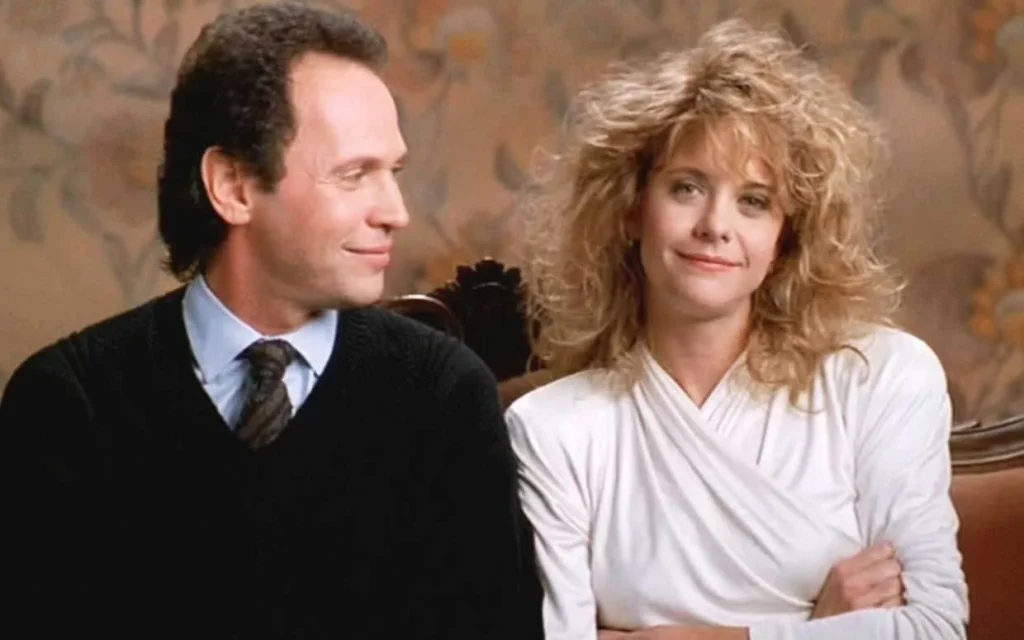 Photo from digitalspy.com
When Harry met Sally is a different kind of love story. It is different in a way that builds its titular characters over the course of many years before they would even get to act out the usual tropes of romance movies. The story itself flips many of the established tropes on its head and instead does an excellent job of breaking down stereotypes and certain points of dating and love – creating a charming and unique film within the genre. But most importantly, it answers the question of "can men and women ever just be friends?"
The script, as well as its acting and direction, particularly of the chemistry between the two leads Billy Crystal (Monsters Inc., The Princess Bride) and Meg Ryan (Sleepless in Seattle, You've Got Mail, Courage Under Fire), and the rest of the cast, is amazing and paced excellently in just 96 minutes. Within that time frame, you get to know deeply their characters and motivations, and how love and friendship are tightly nipped. It is also known that this movie is hilarious and the diner sequence is one of the iconic scenes and the delivery of the punchline.
There is so much to digest here and it is also another feel-good movie on how funny and pure love can be when a friendship is the very foundation of the relationship of two people.
Casablanca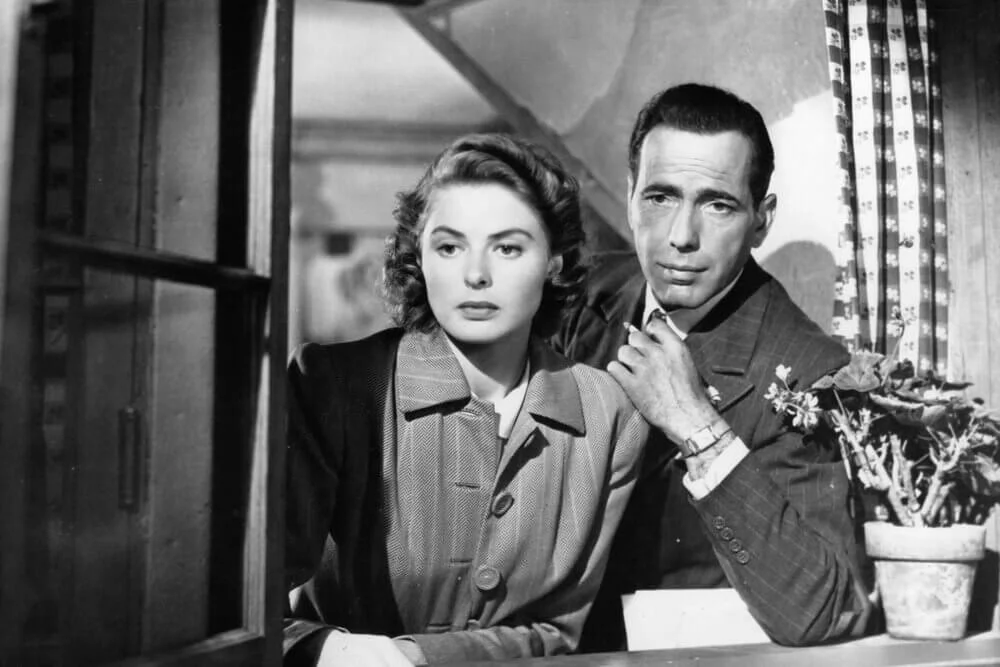 Photo from tufnellparkfilmclub.com
Nothing beats a timeless classic. Casablanca has been cited so many times as one of the best romance movies ever made and even one of the best films of all time. This film was also referenced countless times for its iconic lines and imagery. The film's title is derived from a name of a real place in Morocco and holds a huge significance to the Allied's operations in World War 2, to which this film also takes place and, ironically, this movie was released in 1942, during one of the heights of that historical event.
This, in turn, provides a beautiful nostalgia for the horrible events of the past and focuses on the good parts of that time, which the majority of the movies produced during WW2 are made to calm the fears of citizens. Casablanca is a classic tale of lovers and showcases strongly the themes of honor, friendship, and loyalty to what you believed in. The performances of everyone in this film are remarkable. It is virtually flawless. The chemistry between the two leads – Humphrey Bogart and Ingrid Bergman – both of whom exhibit class, beauty, and incredible amounts of charisma, is one of the strongest highlights of the film. Everywhere else also does a fantastic job as well of conveying emotions and wit from the screenplay.
The music is also timeless, from the jazzy tunes to the soothing love themes, the composers made a perfect motif and truly is a product of the 40s that delivers the same tunes of its peers. This is especially true for the film's theme, "As Time Goes By," and its lyrics recaps everything that happened in the movie.
Casablanca is really the shining film of the Golden Age of Hollywood as its shining example. The elements utilized here remain to be timeless and its simple themes about relationships and loyalty are universal and can even be applied today. This film encapsulates the beautification and romanticized feelings of love. But, in its simplicity and the core essence of romance, it is understood why it is a timeless romance classic.
Notting Hill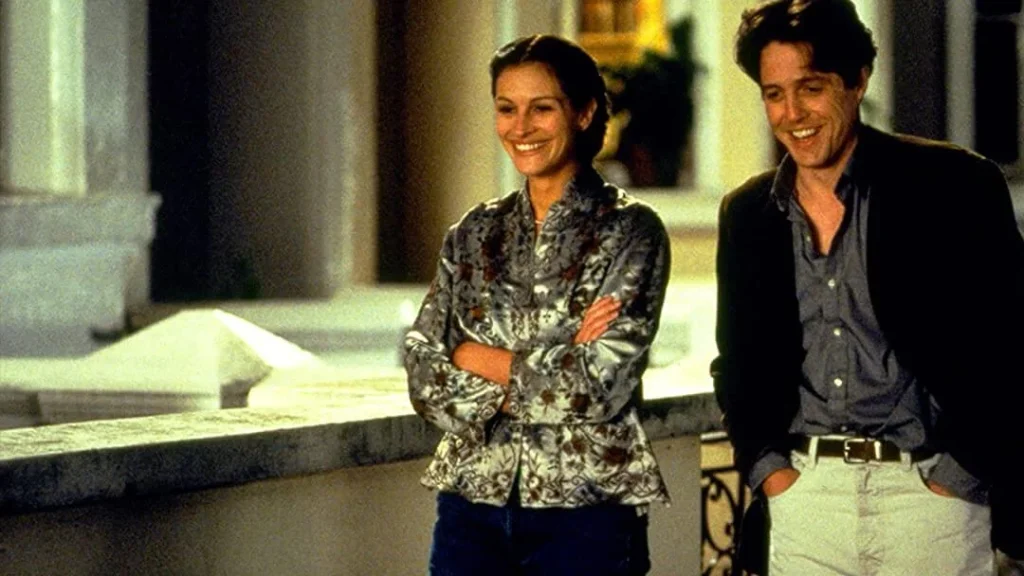 Photo from bridestoday.in
Notting Hill is another classic that again is referenced countless times for its most iconic line, "I am just a girl, standing in front of a boy, and asking him to love her." This is nothing short of a feel-good movie that tackles the true essence of love, no matter what class of society two lovers come from.
Although the movie is a homage and somewhat of a modern retelling of Roman Holiday (1953), starring Audrey Hepburn and Gregory Peck, this movie is unique on its own. The screenwriter who penned the story, Richard Curtis, wrote Four Weddings and a Funeral years prior to this one, which is another romance classic and he too wrote Bridget Jones' Diary, Yesterday, About Time, and Love Actually. The writer has a knack for creating several romantic comedies, but Notting Hill is a much smaller and more intimate feeling than his other works.
The chemistry between the two leads is cute and heartfelt. Their characters truly bounce off each other well, from the quiet and patient nature of Hugh Grant to the glamorous life, yet longing for true peace and love of Julia Roberts. This is one of those movies that delivers again that finding your "one true love" takes time and probably many failures from your past relationships.
Also, the main song from the soundtrack, She by Elvis Costello, is an absolute classic that serenaded audiences everywhere after the release of this movie. Plus, the film's success cemented once again Julia Roberts as a star-studded actress after her brilliant performance in this movie and the smash hit, Pretty Woman, years ago and the unique leading male, Hugh Grant, was a change of pace from the chiseled male archetypes of Prince Charming leads with perfect bodies and faces. Instead, the charm and wit of both leads' personalities bring them closer and harkens true peace and quiet that a lot of people long for as their primary source of love and happiness.
Call Me By Your Name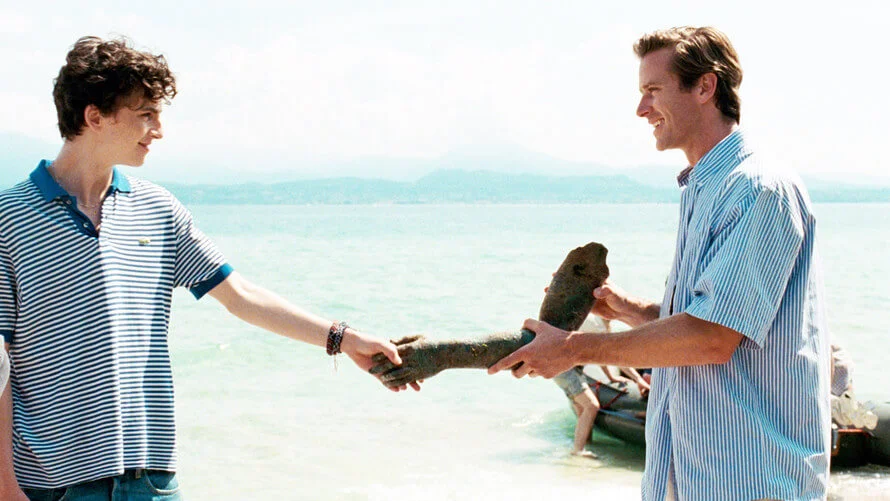 Photo from marketwatch.com
If you want another kind of romance, one that displays true longing and expression of the human self, Call Me By Your Name is one of those perfect coming-of-age romance films.
The movie is astoundingly beautiful. The shots are intricately breathtaking, as with every shot you can smell the fresh dews of the landscape and intimate scenes between the two leads. Plus, on the scenes where it takes place outdoors, it shares the same feelings and cinematography of a Studio Ghibli movie, in this case, a live-action one. The film takes place in Italy, and from the excellent direction of director Luca Guadagnino, he transports you on a nostalgic trip of the 1980's backdrop of Europe.
The performances of Timothy Chalamet and Armie Hammer are amazing. It feels natural how they interact with each other and oftentimes, you would think that they adlib their lines.
Call Me By Your Name relies on the pure emotional drive of love and most importantly, exploration and desire, given the nature of the main topic of this movie. Yet, it does so naturally and, even, the rawness of desire and pleasure. But, it is portrayed with class and an easement to it without relying on the explicitness of romance. Since both characters are somewhat struggling with their identity and relationship, especially set in a timeframe where their connection is still forbidden, it is still human in nature. According to the director, the film's main aspect of love within the romance genre is about, "the beauty of the newborn desire, unbiased, and uncynical." Whether it may be in the moment, as a core memory that shapes your entire life and personality, or long-term, love and happiness should be the main thing that elevates you, especially coming from your significant other. The teenage and young adulting years are the most exciting time to explore yourself, especially in the pursuit of romance in your growing identity.
Portrait of a Lady on Fire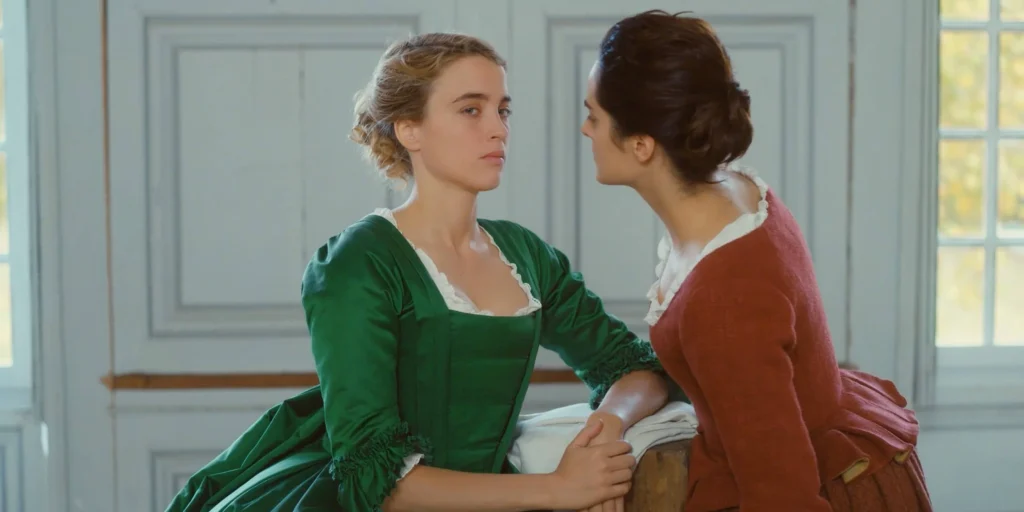 Photo from documentjournal.com
Portrait of a Lady on Fire is similar to the themes presented in Call Me By Your Name, however, what makes it different is the extreme intimacy portrayed between the two characters. Instead of the wholesome, coming-of-age presentation of Call Me By Your Name, Portrait of a Lady on Fire is raw, intense, and purely innocent at the same time.
The longing and desire between the two leads are encapsulated well in this film. Beautifully directed and the dialogue is very minimal and puts in front of the camera the two actors' emotions – absolutely amazing. The cinematography is framed in a way that it is a dream-like state when the two leads interact, portrayed excellently by French performers, Noémie Merlant and Adèle Haenel, their expressions and chemistry evoking true love and passion are captured perfectly. At the end of the day, actions speak louder than words and the performances and direction portrays that essence of love excellently.
The Courtyard – Condo in Taguig by Crown Asia Properties
The Courtyard by Crown Asia Properties is your next premium real estate investment that will provide you with a global lifestyle at your doorstep. The Courtyard is a pre-selling condo in Taguig that offers an extraordinary upscale development and takes advantage of the rental opportunities within the urban city. The condo development provides residents the absolute convenience of living near Bonifacio Global City and other first-rate key establishments, a retail commercial strip on the ground floor, and the accessibility of multiple road infrastructures for faster travel times.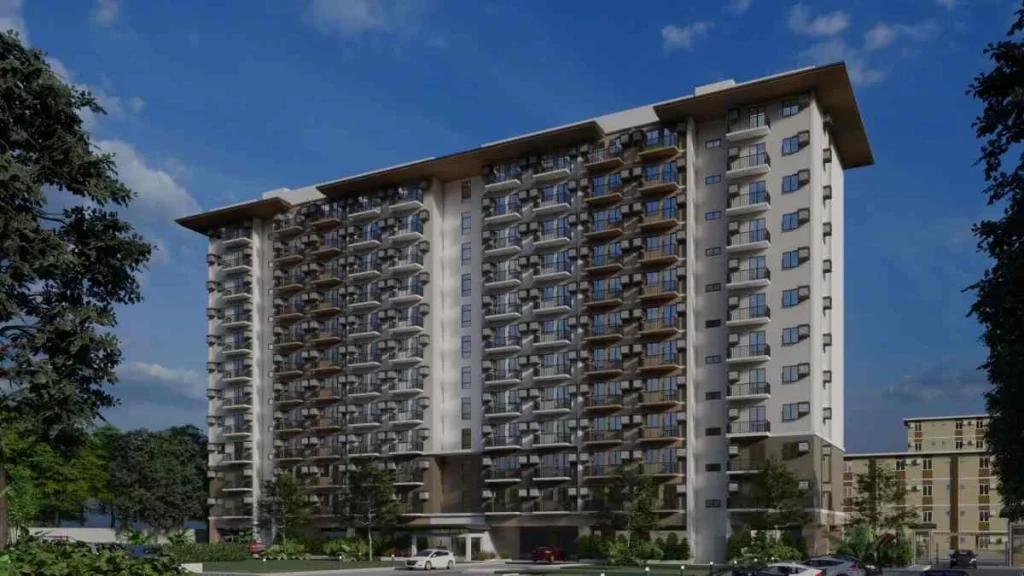 After a long day at work, The Courtyard greets you with its resort-inspired amenities and an open green space pavilion that harkens the feeling of an everyday vacation. The posh amenities put future residents' wellness first and create a serene atmosphere just a few steps away from your home. An active lifestyle is capable within this high-rise community and investors are attracted to this condo development's live-work-and-play atmosphere. Residents are comfy with The Courtyard's compact and modern Studio Units that give you a spectacular view of the Bonifacio Global City skyline.
Everything is at an arm's stretch, as the property is located along Pedro Cayetano Boulevard, strategically near the C-5 Road that gives residents a 15-minute drive to BGC and other places in Metro Manila. Transportation hubs, medical facilities, and lifestyle centers, such as Vista Mall Taguig, are within your reach.
This is the perfect time to invest in a property like The Courtyard by Crown Asia Properties, as the capital value appreciation of the property is growing. Due to the various infrastructure developments within the area, such as the C-5 Southlink, the future Metro Manila Subway and South East Metro Manila Expressway, and the recently opened BGC-Ortigas Link Bridge. It is no wonder that the property is well-poised to appreciate in value over the next few years. The area's continuous developments further add benefits to the pre-selling development for seamless and accessible driving, higher rental yields, and the news of the Philippine economy opening up again due to more vaccinations and eased restrictions.
The Courtyard is the best condo for sale in Taguig, one that enables its investors a progressive and investment-worthy condo living – providing you an exclusive, vertical village community that is designed with finesse and elegance. Upon investing in this pre-selling condo development, you will truly achieve a global lifestyle and access to the romantic spots of Taguig at a moment's notice.
Related Blog: The Best Netflix Series of 2021 to Watch in Your Condo in Taguig