Unbeknownst to some, rewarding yourself with a staycation and temporarily putting yourself away from the hustle and bustle helps in maintaining your well-being. It does not only let your mind and body rest, but it generally puts you in a better state of mind. As a consequence, your productivity and creative juices will flow even greater, and contentment in the simplest of things will come naturally.
Having said that, find the time to relax and unwind. May it be on your own or with your family and friends, all that matters is that you are comfortable and are truly getting the rest and self-care that you deserve. So if you're from the Metro or perhaps you own a house and lot in Cavite or Laguna, and you are one of those people who are planning your next staycation trip somewhere that isn't too far away from the city but is somewhat closer to the serene embrace of nature, here are some of the best high-end hotels in the provinces of Cavite and Laguna that you can visit.
Twin Lakes Hotel Tagaytay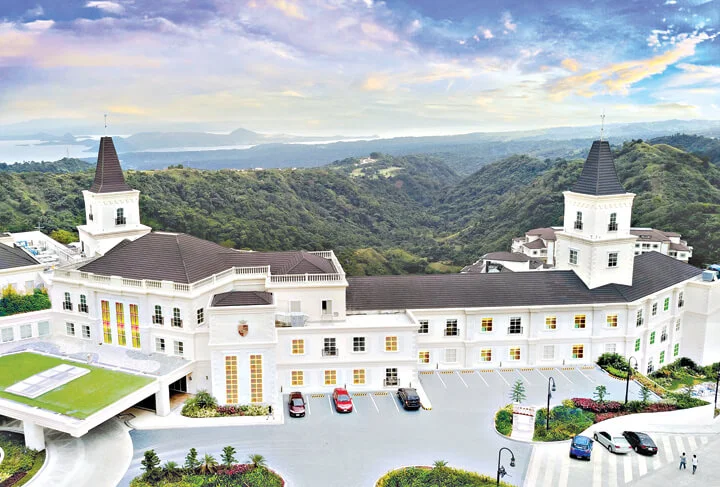 Photo from businessmirror.com.ph
Tagaytay is a city that is frequently visited all year round by locals and tourists alike due to its breathtaking landscapes and the cool breeze brought about by the city's altitude. Along with many other hotels, Twin Lakes Hotel is one of the most chosen accommodations. It is an 8-level, European architecture-inspired, luxury hotel in Cavite that is perfect for visitors who are looking for a quick getaway from the bustling Metro. With generously spaced rooms starting from 34 to 106 sqm, 126 air-conditioned suites, and fully furnished modern room amenities such as an LED TV with cable channels, a private bath with hot and cold showers, bathtubs, coffee and tea makers, and a safety deposit box, these suites are spacious enough for a family or a group of friends.
Four different types of rooms to choose from are also available: Presidential Suite, 2-Bedroom Family Suite, Deluxe Room, and Superior Room. On top of that, one of the main highlights of the Twin Lakes Hotel is its majestic balcony view overlooking the Taal Lake and Volcano, making the place seem more like a natural, healing oasis. There is also a heated outdoor infinity pool, a cafe with a viewing deck, fitness center, kids corner, game room, and a function hall for events. Conveniently, the Twin Lakes Hotel is nearby some of the famous attractions in the city such as Sky Ranch, Puzzle Mansion, People's Park in the Sky, and even Caleruega Church in Batangas, among others.
Escala Tagaytay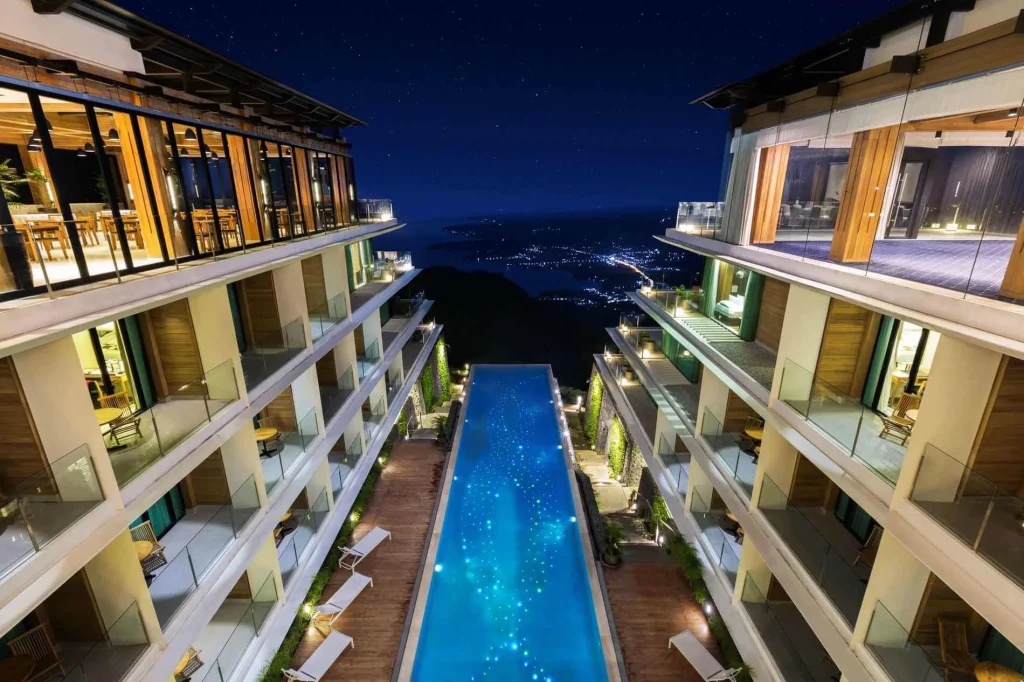 Photo from escalatagaytay.com
Also located in Tagaytay, Escala Tagaytay is a 60-room luxury boutique hotel with a panoramic view of Taal Volcano. It offers a wide range of room amenities such as television LCD/plasma screen, wireless internet access, air conditioning, and a minibar in some rooms. For recreational facilities, the hotel offers an outdoor pool for kids and adults with an incredible view and a massage that can make your stay worthwhile. Aside from these, 24-hour security is also ensured, daily housekeeping, 24-hour front desk, facilities for disabled guests, and free Wi-Fi in all rooms. Escala Tagaytay is also conveniently situated near the city's must-visit destinations like Museo Orlina, Sky Ranch, and Picnic Grove, so as not to miss any of it and fully enjoy what the lively city has to offer.
The hotel offers various types of rooms, such as Deluxe, Deluxe Premier, Premier, Cellar Premier, Executive, Family Prestige, and Prestige, therefore leaving guests with a lot of options to choose from that will surely fit them no matter how big their group is—there is something for everyone.
Summit Ridge Tagaytay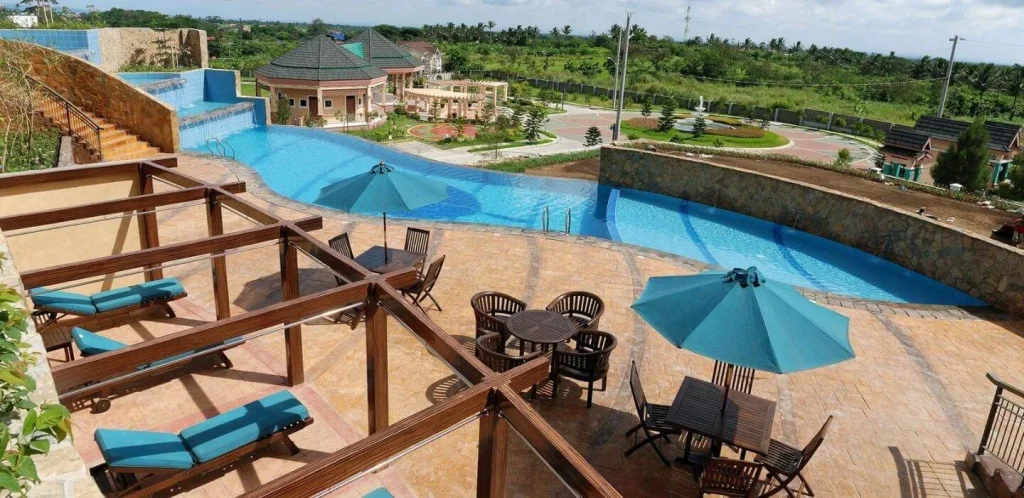 Photo from summithotels.ph
Who doesn't love to be exposed to nature and have a breath of fresh air after a long, exhausting day? If you have a house and lot in Cavite, or perhaps you are somewhere from the Metro or in its neighboring cities and want to temporarily take a break from the fast-paced city, then the Summit Ridge in Tagaytay is available to tuck you in on its cozy abode. The hotel has 108 rooms, with eighteen suites featuring two bedrooms, a living room, and a kitchen area, all with an impressive view of the Taal Lake and Volcano. It offers a bunch of recreational facilities that can keep guests entertained throughout their stays, such as an infinity pool, an in-house gym, a tranquil spa, and indoor basketball and badminton courts. Aside from recreation, food can also relieve stress. Fortunately, a bunch of dining restaurants, outlets, and cafes such as Cafe Summit can be found next door at Robinsons Tagaytay.
Summit Ridge Tagaytay also has event spaces and dinings such as a ballroom that could accommodate up to 500 guests, an events lawn, and so forth, which are perfect for big and/or intimate celebrations, conventions, meetings, and other activities. The hotel's banquet and events team provides efficient service ensuring to provide delectable catering, customizable menus, and captivating venue settings.
The Bayleaf Hotel Cavite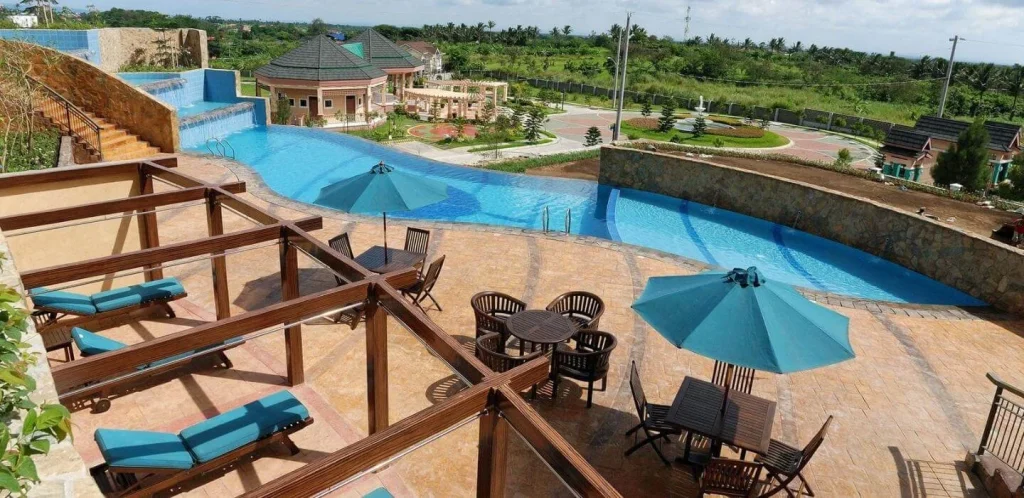 Photo from thebayleaf.com.ph
Driving a few kilometers away from Tagaytay, you will find yourself at the historical city of General Trias where the next featured hotel is located. Set along the Governor's Drive, the Bayleaf Cavite is a 4-star business hotel designed for both business and leisure. It has 148 rooms and suites that can accommodate families and groups. Along with that, it also boasts an all-day cafe, entertainment center, four meeting rooms, an exclusive lounge, a ballroom, boardroom, a sky-lit atrium lounge, an outdoor wedding park, and a pool bar.
For individuals who own a house and lot in Cavite—mayhap residing at Citta Italia in Bacoor or at The Island Park in Dasmariñas—the Bayleaf Cavite is a convenient place for a staycation that's not too far away from your location and also the Metro, therefore giving you the opportunity to go for a break every once in a while whenever you needed to.
Caliraya Ecoville Recreation Farm & Resort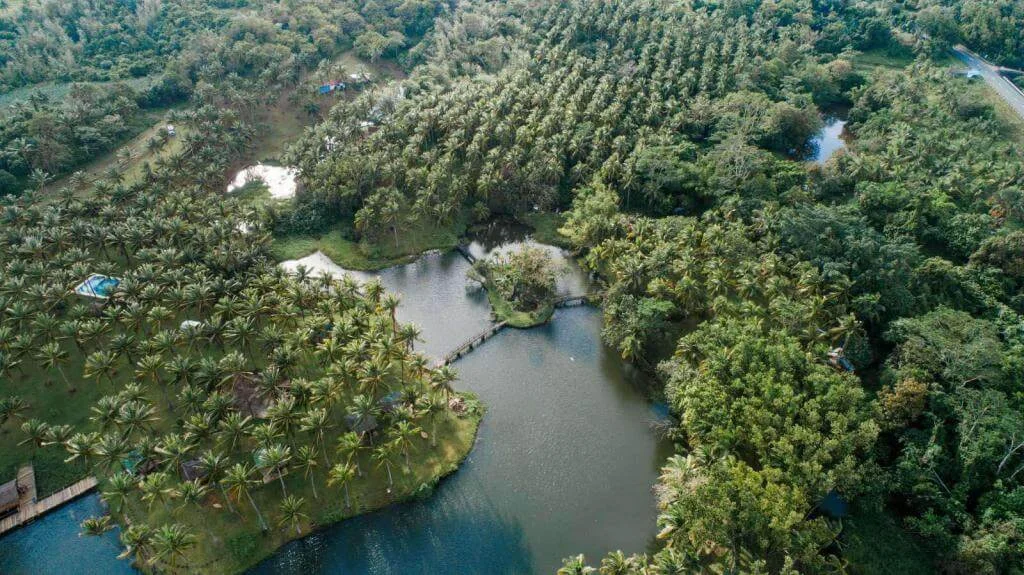 Photo from agoda.com
Going a little way to the South and with a little bit more fun added, Caliraya Ecoville Recreation Farm & Resort is a 21-hectare property located at Lumban, Laguna. It is envisioned to be a premier agri-tourism center promoting organic and aquaponic farming, farm-to-table lifestyle, integrated with amenities and activities that support relationship building and quality time with families and friends. Unlike the aforementioned hotels, Caliraya Ecoville has various accommodations that guests can choose from according to their needs and liking. They have an EcoHotel that has 20 well-appointed rooms ideal for families and couples, guests can also camp out in tents and soak in nature's glory, stay by the lake in lakeside cottages, or nestle in bunk beds in dormitory rooms.
Aside from that, Caliraya Ecoville also has tons of amenities such as a 2-hectare fish pond, campsites, nature trails, an ATV adventure, jet ski, a function room, dining, an indoor game area, and many more fun activities that can nurture one's mind and body. Of course, there are also Filipino dishes cooked with naturally cultivated ingredients that can fill your stomach after a long day of adventure.
Microtel by Wyndham South Forbes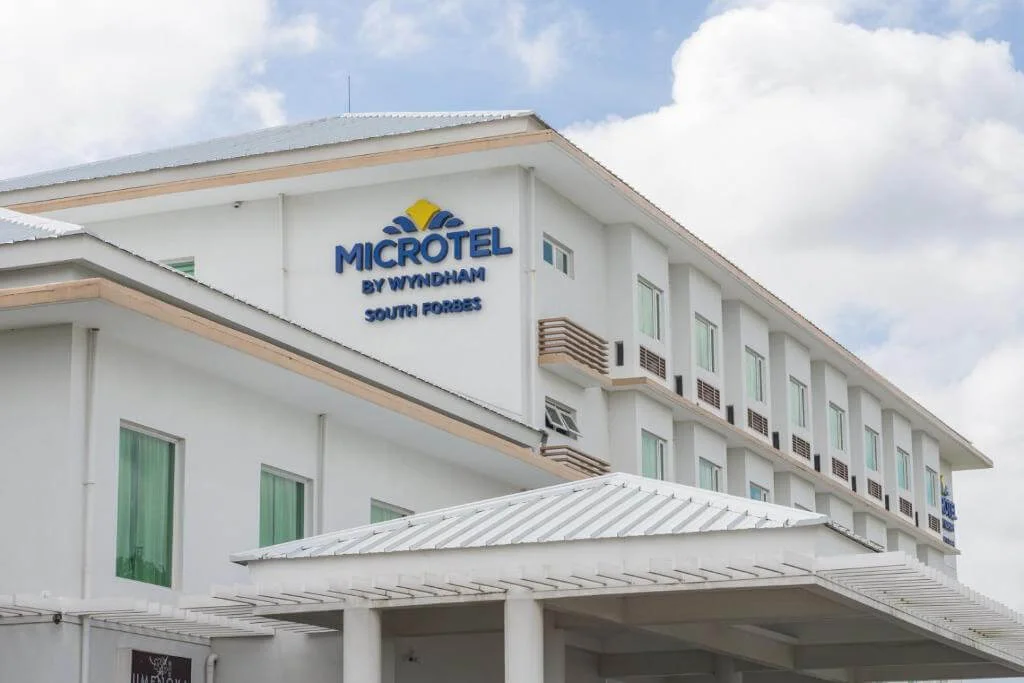 Photo from booking.com
Microtel by Wyndham is an international chain of limited service hotels under Wyndham Hotels & Resorts that has 300+ properties worldwide, including fourteen in the Philippines—one of those chains being the Microtel by Wyndham South Forbes located in Silang, Cavite, Near Nuvali, along Sta. Rosa, Silang, and Tagaytay growth corridor. This 61-room hotel offers the best value with amenities such as an individually controlled air-conditioning unit, LED TV, high-speed internet access, safety deposit box, hairdryer, toilet and shower with hot and cold water, fully automated fire safety system, electronic keycard entry system.
The hotel comes with various facilities and services such as a function room for up to 100 persons, a swimming pool, a restaurant, wireless internet access, airport transfers, transport services, laundry, and water stations, among many others. Guests can also enjoy jogging and biking or playing a round of golf at South Forbes Golf Club or visiting other nearby landmarks like Westborough Town Center, Nuvali, or Vista Mall Sta. Rosa to shop, eat or wander.
Being one with nature gives us the feeling of peace; temporarily forgetting the chaos that we bear in our minds and lives. Continuously engaging yourself in a stressful environment without catching a break is toxic and self-destructing. Therefore to be able to maintain a healthier outlook, take a pause; breathe. Treat yourself to a simple getaway or staycation that can bring forth stillness in your life even just for a little while.
Related Blog: The Best High-End Hotels You Can Stay at for the Weekend