If you are a new parent, or a newborn is now part of your family after 9 months of patience, it gives you an indescribable feeling of being a parent. Your values and priorities become more obvious once you have a baby.
A baby is a very precious gift. The arrival of a child affects the entire family's perspective on a variety of issues. Parents start working more, siblings get closer, and relationships seem to get stronger.
A delightful hobby for new parents is designing a nursery in their home at a subdivision in Cabuyao Laguna. The design can be as simple or complex as you like. Although the ultimate goal of any nursery design is to create a safe, comfortable, and serene area for your baby to sleep, play, and develop, it's important to keep in mind that a baby room serves as just as much of a functional and aesthetic purpose for parents as it does for babies.
While you can decorate a nursery in any style you want, remember that it's just another room in your house. It should be cozy and flow with the rest of your aesthetics and decor, as well as be a comfortable place for grown-ups to spend time in, with a comfortable chair for nursing and bonding, adequate storage, and a changing table that takes some of the stings out of that never-ending chore. Above all, a nursery should make you happy, with colors, accents, and designs that speak to you.
Important Details for Your Baby's Room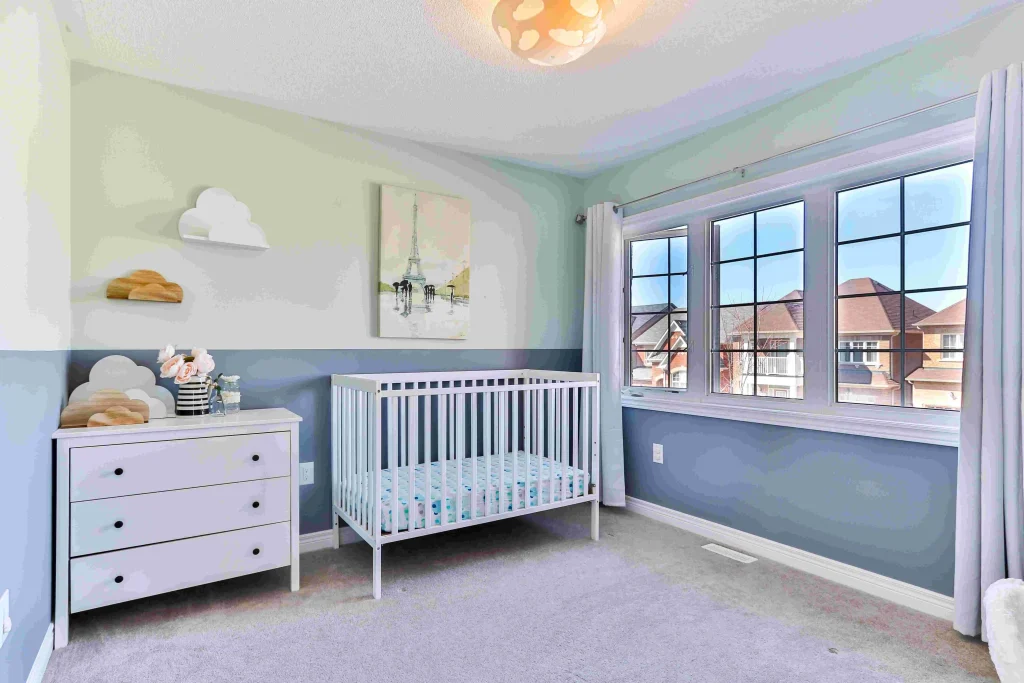 The baby's comfort, calmness, and coziness are all equally important while constructing his/her baby room. As a loving and caring parent, all you want is a perfect place. Creating a cheerful space that brings you joy will make your nursery feel like a home within a home. Working to have an adorable room in your home in a subdivision in Cabuyao Laguna for your infant's room? Set up your nursery in your new home using these suggestions. You may create a practical nursery for your prettiest new family member using these affordable little nursery ideas!
Color
Color is a crucial design factor to take into account while creating a nursery for your new baby. The ambiance of a warm environment and, consequently, how content a newborn feels in his or her surroundings can be affected differently by different hues.
It's crucial to comprehend how infants interpret color if you want to ensure that they love their environment as much as you do. The American Optometric Association states that babies don't properly understand color until they are five months old. In fact, a newborn's primary color vision during those early months is black, grey, and white. According to Toll Brothers, based on the mood you will set for the space, these are some of the most popular colors for nurseries:
Green represents rebirth and is related to growth.
Pink is soothing.
Purple has long been connected to monarchy.
Pale blue is linked to innovation.
Orange is to represent improved social interaction.
Gray suggests practicality.
Brown denotes strength.
Blues signify dependability and security.
Room Space and Furniture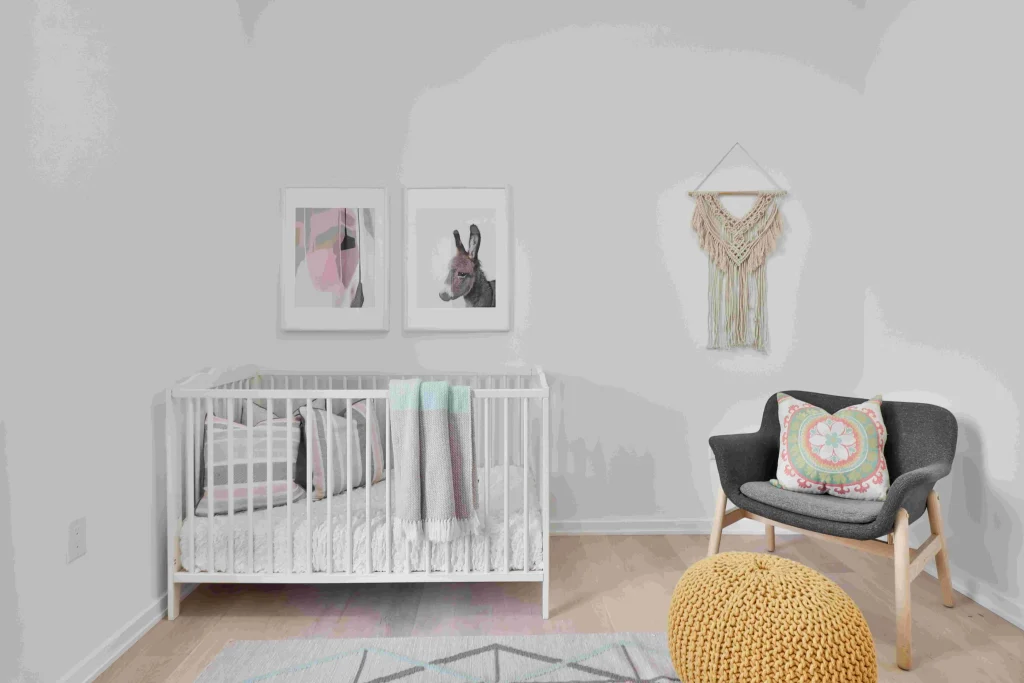 Decide how much space you have, what style you want for the nursery, and how much money you have available before you start decorating.
Depending on the size of your room, you may be able to fit a tiny, regular, or large crib. Additionally, it will determine whether you can have a dresser and changing table or if you have to pick and choose which items you want to include and which you can skip.
Your nursery furniture should ideally be cozy and fit your room comfortably. You don't want the furniture to be packed in so tightly that there is no room for other items.
These common components are found in most modern nursery rooms:
Crib
Diaper holder
Rocking or gliding chair
Infant mattress
Baby blankets
Dresser
changing desk
location to put things in a closet
Nightstand
To make the space cozy for your little one, use a soft floor covering and arrange the crib correctly. It is advised to keep the crib away from windows and other glass objects, especially in places that are prone to earthquakes.
Baby Boy Room Ideas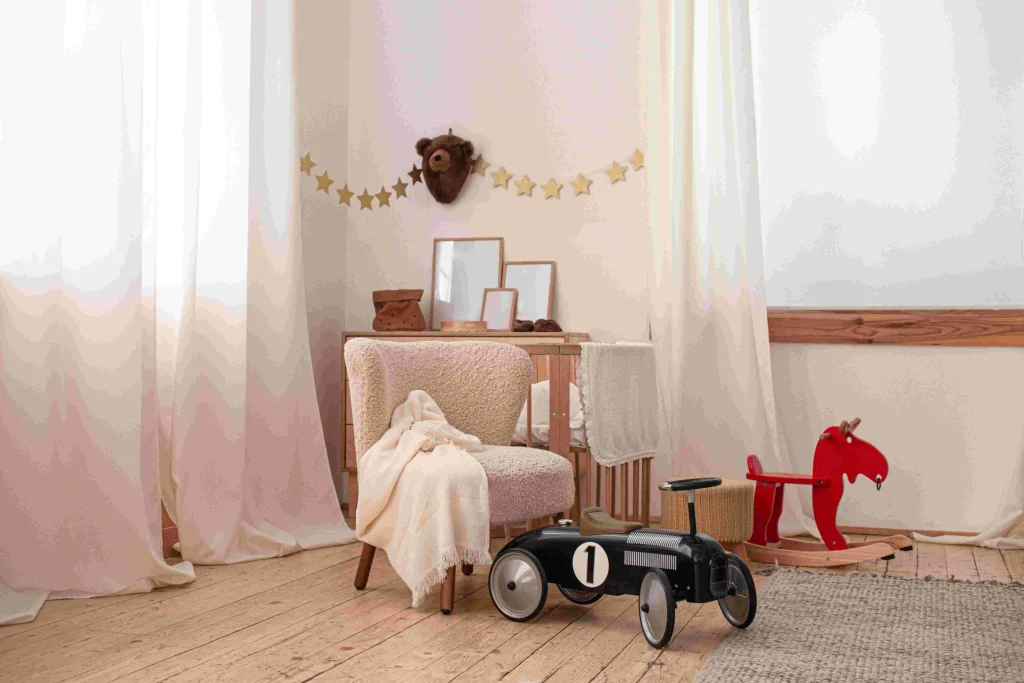 You might think it would be challenging to decorate your baby boy's nursery and that there wouldn't be many areas for experimenting. Make sure his nursery is prepared for him before bringing your bouncing baby boy into the world.
With some playful creativity and a lot of love, any area can be transformed into the ideal spot for your little man to rest and play.
You may find decorating your little boy's room to be a lot simpler than you expect thanks to the abundance of baby boy nursery room ideas that are available online. Pink was once thought to be the color of females, whereas blue was thought to be the color of guys. But there are no color restrictions in nurseries today. You are completely free to do your work however you like.
Explorer theme
Baby boys are innately adventurous and energetic. Encourage the exploration of the world in your child. The ideal theme to stick with as he or she gets older is one that features globes, soaring airplanes, and charming teepees for reading.
Vintage vibe theme
Decorating your baby boy's room with antique accents includes crimson Persian-style carpeting, a stuffed animal trophy head, a thrift store pirate picture, a wire hot air balloon chandelier, and vintage rocking chairs. All of this results in a classic style, that can easily transition into a child's room once the baby crib is switched out for a bed.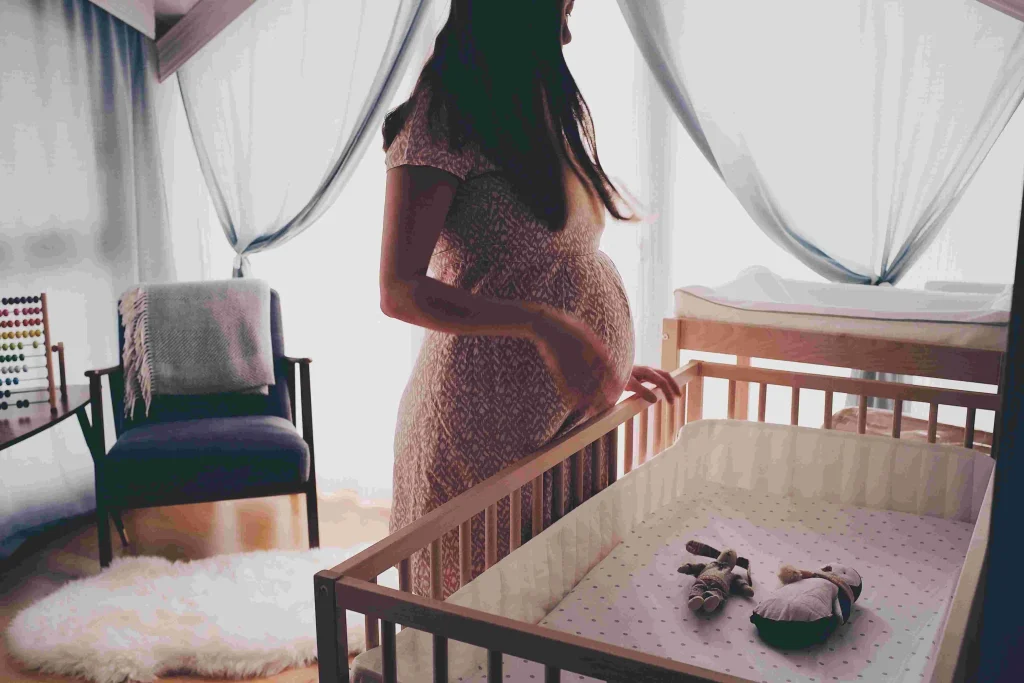 Hot Air Balloon theme
With a theme that contains hot air balloons, you may inspire your child to soar in life. Fun ways to use this style include framed tabletop photographs, wooden baskets, and wall art.
Baby Girl Room Ideas
Congratulations on the impending birth of a lovely daughter!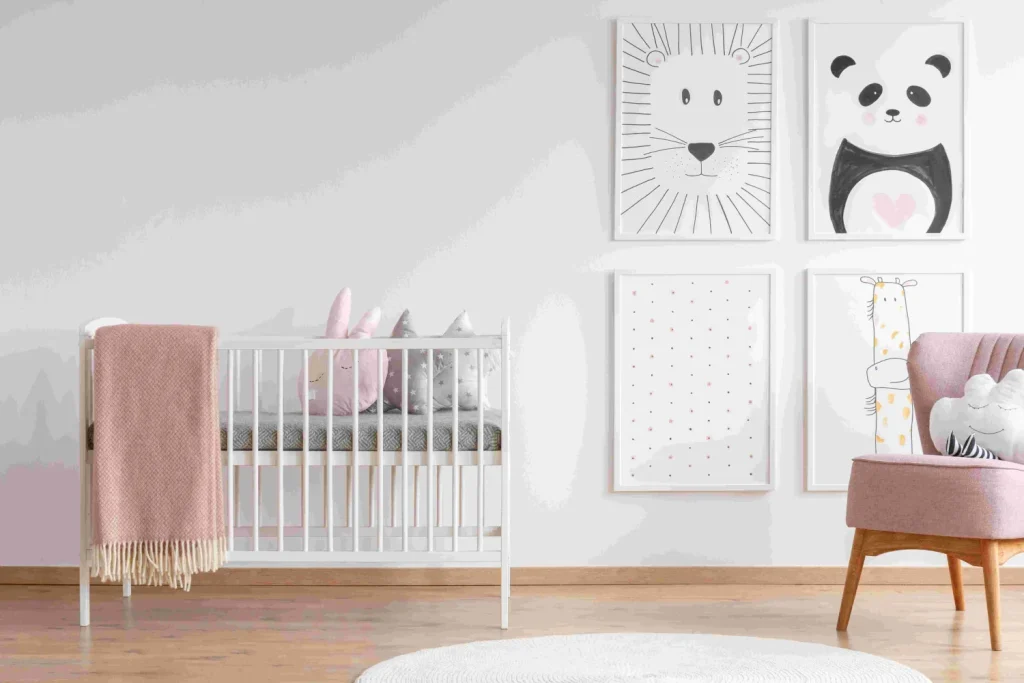 Choosing a nursery theme is one of the most enjoyable aspects of getting ready for her arrival. The rest of the room's design is simpler to complete once you've chosen a theme and gathered some ideas.
Rainbow theme
Transforming the baby room into a rainbow-themed design represents a sweet and straightforward baby nursery. Rainbow-tinted elements and patterns are pleasurable with a few basic DIY that anybody could copy, like multi-colored painted knobs on the changing table storage drawers. A rug with a multicolored geometric pattern provides refinement while yet being fun, whimsical, and enjoyable.
Princess Theme
A traditional nursery theme is a princess from a fairy tale. Your lovely new room will be finished with a posh chandelier, luxurious furnishings, and plenty of tiaras. Your daughter will adore it.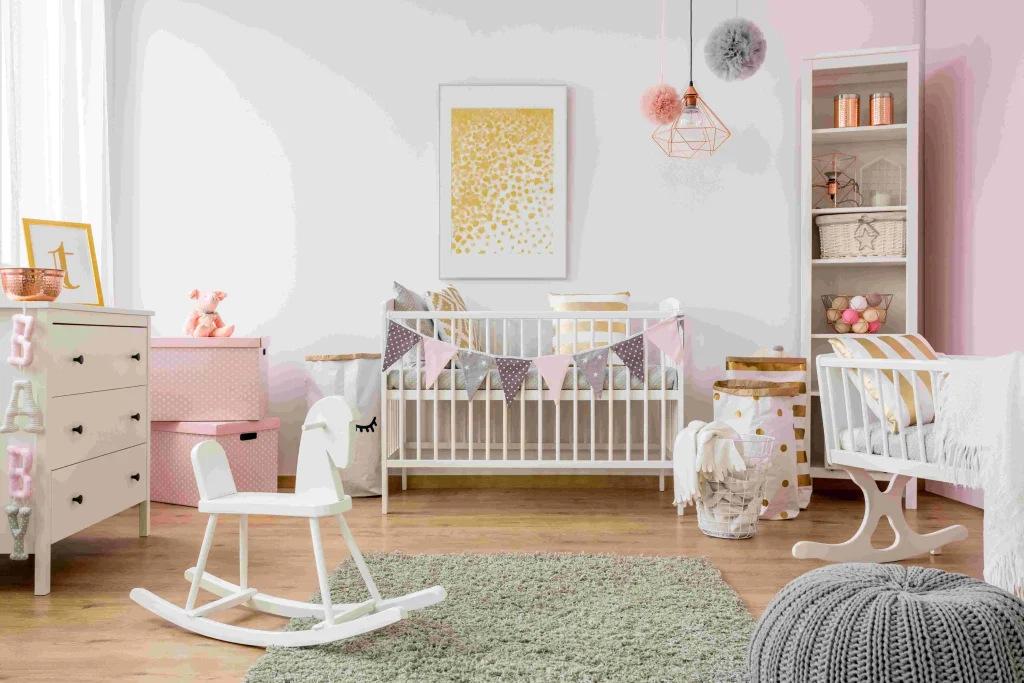 For newborn girl nurseries, a princess motif has always been a popular choice. Including tiaras and luscious flora, your young princess will undoubtedly have lovely dreams here.
Alice in Wonderland theme
For good reason, Alice in Wonderland is becoming popular again in nurseries for little girls. This nursery's design incorporates frequently recited passages from the book, whimsical white furniture, rustic walls, and soft knits to produce a warm and motivating space.
To create the effect you desire for your baby nursery with an Alice in Wonderland theme, you can choose between bright hues and gentler tones.
Pastel Party theme
Any color that has just enough white in it to make it appear fragile and delicate while retaining its vibrant character is considered a pastel. Soft millennial pink, light azure, creamy mint, and whimsical yellow are the most prevalent light hues we have seen this year.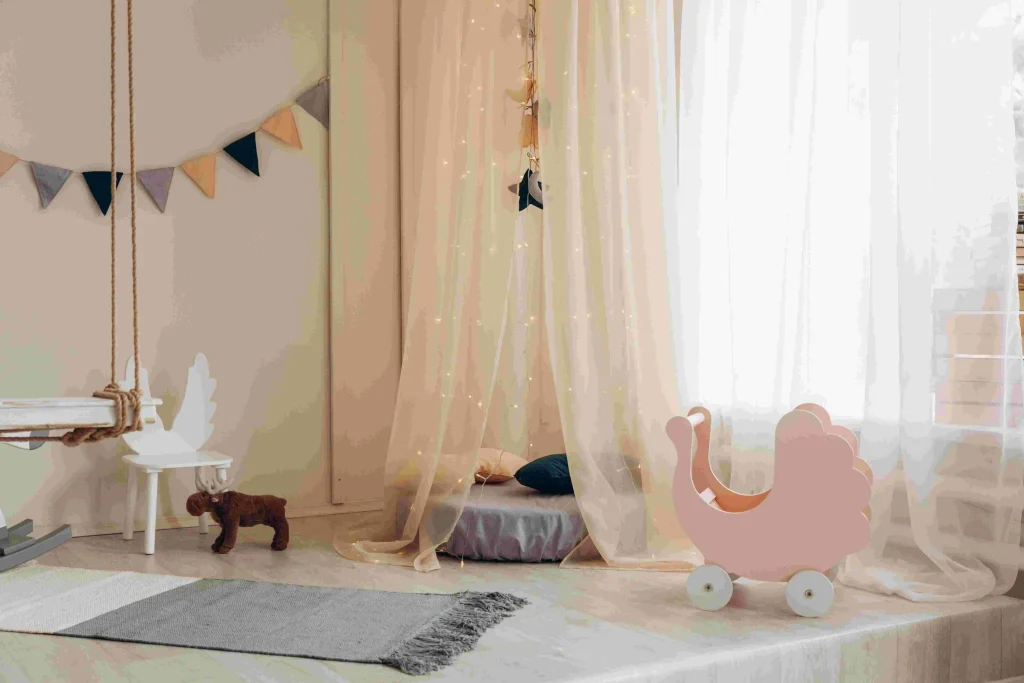 Pastels feel sophisticated and adorable. A baby room with this soft-toned theme gives the cutesy vibes and feels surprisingly cool. You can include a pastel wallpaper to complete the vibe. Shop for a similar set or get creative and DIY your own.
Modern Art Can Be Part of Your Baby's Room Design
Here's an idea: Choose a print or several prints that you adore for your baby's room, then use these items as inspiration for the color scheme of your nursery. Make sure that the room decor, wall art, and framed prints are a perfect complement for the baby's nursery room.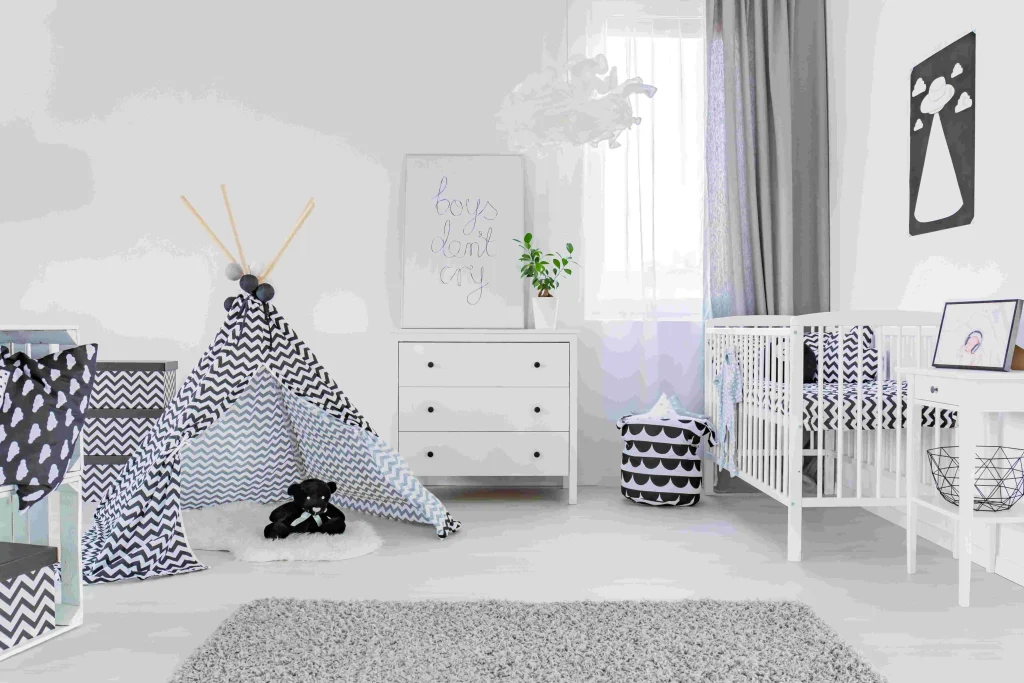 A Classic, airy, and breathtakingly beautiful child's portrait painted in oil or watercolor would look stunning over the crib or anyplace else in your infant's personal space.
Devin Kirk, an interior designer, decided on a sophisticated yet childlike nursery design for his family's Chicago apartment in order to welcome change and allow for growth. Black and white striped wallpaper conveys a sense of youth and refinement while establishing a visual connection to the rest of the house.
Related Blog: The Only Guide You'll Need in Personalizing Your Bedroom