At the heart of Sta. Rosa, Laguna sits an exclusive 25-hectare residential community inspired by the beauty and romance of Italy. Upon entering the gates of Valenza, one would immediately feel the wonder of beholding an entirely distinct and extraordinary kind of neighborhood, where the design and architecture of the houses evoke much fascination and awe. It's hard not to be captivated by the splendor of the homes in this community, where each house model can definitely be considered a masterpiece. Just like the great works of art of famous Italian artists, each Valenza house and lot for sale in Sta. Rosa Laguna are undeniably built with great passion and notable excellence.
Choosing a home in Valenza means choosing a home in the bustling city of Sta. Rosa Laguna. The city is widely regarded as one of the most progressive city in the Southern area of the Luzon island. The city is a prime address, it houses a lot of commercial establishments for your every need, from grocery chains, pharmacies and even places of leisure like the renowned Enchanted Kingdom, which is arguably the most well know amusement park in the country.
The city of Sta. Rosa Laguna is easily connected to the National Capital Region through its entry and exit point in the South Luzon Expressway. The city is also home to various multi national companies which makes it a good place as well for career opportunities and career growth.
Italian living and the Promise of the Upscale Lifestyle Offered in Valenza
Lining the streets of Valenza is an array of lovely Italian-inspired homes that are sure to make the heart of any homebuyer ache with desire and longing. What kind of heart wouldn't after being arrested with such beauty and charm? Everyone longs to live in the home of their dreams, and the homes at Valenza surely reflect what these dreams are made of.
Homebuyers will be pleased to find out that beneath the gorgeous façade of every Laguna house and lot at Valenza also lays a well-planned home, with spaces and features designed to fit the needs and preferences of different kinds of families. All houses are two-stories, offering 3-4 bedrooms and 2-4 bathrooms. Most homes also have a balcony, 1-2 car garage, or a lanai with trellis. Choose from an array of exquisite house models such as the Murano, one of the most popular models, offering 3 bedrooms and a maid's room, 3 toilets and bath, one-car garage, lanai with trellis, front porch and balcony, and one powder room with pocket garden; and the biggest model, Franco, with 4 bedrooms and a maid's room, 4 toilets and bath, a two-car garage, a porch, and a balcony.
Aside from Valenza's beautiful Italian themed homes its also great to look at the wholeness of the community. Situated just along the Sta. Rosa – Tagaytay Road, Valenza makes for a good home if you are looking for serene cool mornings due to its proximity to Tagaytay. It is also near essential establishments such as Vista Mall Sta. Rosa which houses several stores fit for your daily needs.
Stores like AllDay Supermarket, for your daily grocery needs and All Home, your one stop shop for home repair, design, or renovation, are some of the shop located in Vista Mall Sta. Rosa. If you are looking to enjoy a quick meal and don't feel like cooking a meal, the whole family can just drive for 5 minutes to Vista Mall Sta. Rosa and enjoy a variety of restaurants, the mall has Italian, American and even Filipino inspired cuisine in its restaurants making your choice of food wide and more enjoyable.
In addition to the upscale lifestyle that Valenza offers, if you are looking to invest in a real estate property in the province of Laguna, like a house and lot for sale in Sta. Rosa Laguna, Valenza is your best choice with its prime location and the promise of continuous development and modernization of the city you are really choosing a winning investment that will surely appreciate in value in due time.
Serene and Balanced Living in the Community of Valenza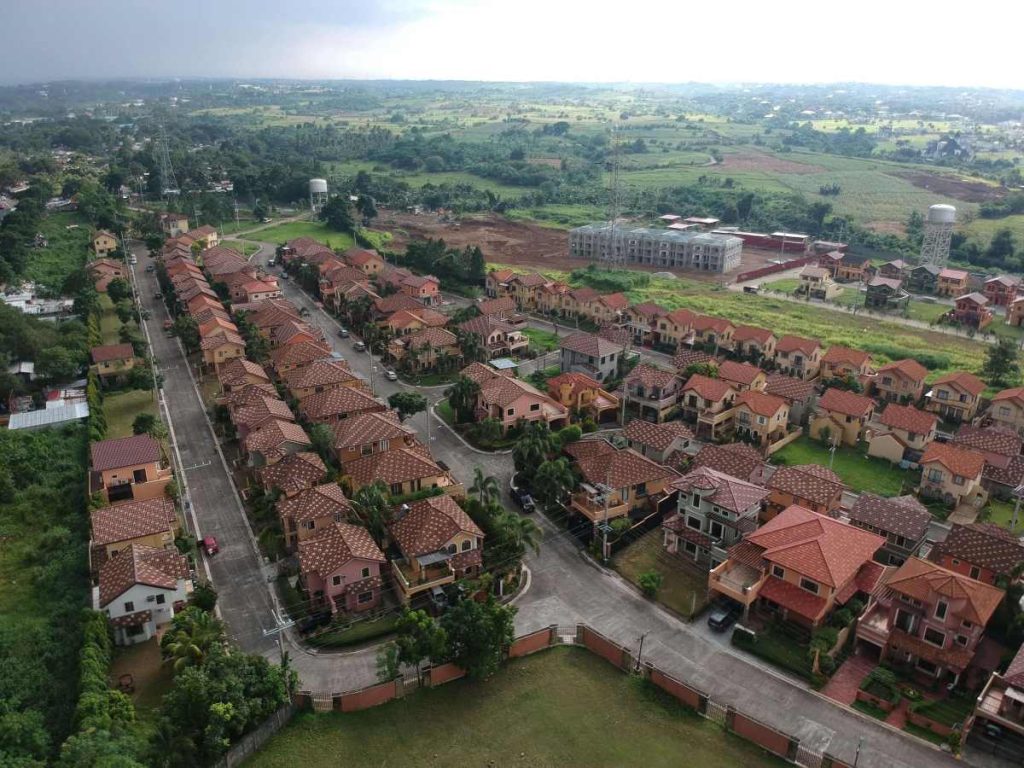 Aside from offering luxurious dwellings, Valenza's house and lot for sale in Sta. Rosa Laguna also offers an idyllic setting for families to grow and thrive in. Imagine a neighborhood where going out for a walk is like strolling on a whimsical park, where the gentle, quiet and laidback atmosphere permeating the neighborhood as well as the beauty of nature surrounding it will definitely invigorate and inspire you. You'd surely want to go out for a stroll or jog all the time, take your dog out for a walk daily, or bring your bike out for a ride more often!
A healthy lifestyle awaits at Valenza, with its open spaces and greeneries you will enjoy breathing fresh rural air without compromising the convenience that the highly urbanized city of Sta. Rosa Laguna offers! Imagine waking up in the cool morning breeze due to Valenza's proximity to Tagaytay, while being greeted by your Italian home's rustic aesthetic. A dream home indeed!
At Valenza, residents also get to enjoy excellent amenities such as a lavish clubhouse, all-purpose courts and function halls, and a manicured park/garden complete with charming water fountains, just like in Italy. There's truly nothing like living in the safety of an enclosed community, where it's peaceful and quiet, the surroundings clean and green, and the scenery just absolutely amazing. At your Valenza house and lot for sale in Sta. Rosa Laguna, we've made sure you'll definitely love the neighborhood!
Sta. Rosa Laguna awaits for your next big move. Valenza's offering of house and lot for sale in Sta. Rosa Laguna can be your new address in the South or a new investment opportunity for the whole family. Whatever reason you may have in owning a property in Valenza, keep in mind that if you are looking for a home that offers comfort and convenience or an investment that grows, Valenza in Sta. Rosa Laguna is your dream home.
Related Blog: Valenza – Balance Life Within Sta. Rosa