Have you ever wondered how is it like to dine in Italy? Here is all about a charming Italian-inspired cafe tucked away in the "Crown Jewel of the South". From the moment you step inside the cafe, you'll be transported to the vibrant streets of Italy, with its warm ambiance, delightful aroma of freshly brewed coffee, and inviting menu filled with authentic Italian delicacies. Whether you're seeking a quick pick-me-up or a leisurely meal, San Marco Cafe in Evia promises an unforgettable experience that will tantalize your taste buds and leave you longing for more. The best part? It is close to your house and lot in Cavite.
Vieni con me!
Cafe San Marco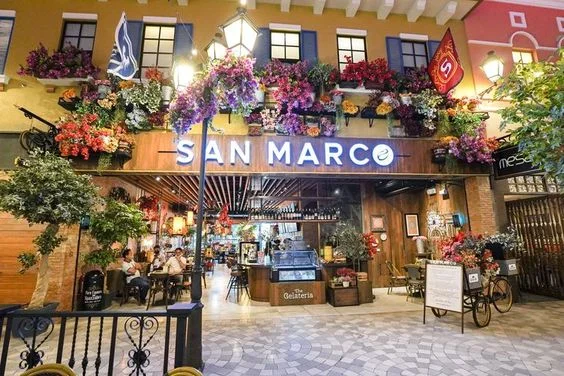 photo from pinterest.ph/EviaLifestyleCenter
The cafe takes its name from Piazza San Marco. Piazza San Marco, also known as St. Mark's Square, is one of the most famous and iconic squares in Venice, Italy. Known for its stunning architecture, historical significance, and lively atmosphere, Piazza San Marco serves as a symbol of Venetian culture and heritage. The cafe's name pays homage to this renowned square, capturing the essence of its charm and inviting guests to experience a taste of Italy in its own unique way.
Embrace the Enchanting Atmosphere
photo from facebook.com/sanmarcophl
I must say, the cafe exudes a remarkable sense of coziness that perfectly complements the overall dining experience. Whether you're looking for a romantic setting for a date or a conducive environment for a business meeting, this place ticks all the boxes. San Marco's interior design embraces a charming Rustic Italian style, adorned with an abundance of delightful flowers. What truly sets it apart are the eye-catching plates on the walls, adorned with captivating graphic Italian patterns, creating a uniquely Italian atmosphere that captures your attention.
Upon perusing the menu, it becomes evident that this cafe is a haven for coffee enthusiasts. If you have an undying love for coffee, you're in for a treat. Their menu offers a diverse and extraordinary range of Italian coffee selections. Make sure to indulge in their signature Café Monachella and Iced Espresso Tiramisu, as they are absolute must-tries! Moreover, their special espresso options provide a variety of choices to satisfy even the most discerning coffee connoisseur.
If you want an al fresco dining experience, San Marco's balcony offers an inviting ambiance where you can embrace the pleasant view of the skies.
A Must-Visit Place in Evia Lifestyle Center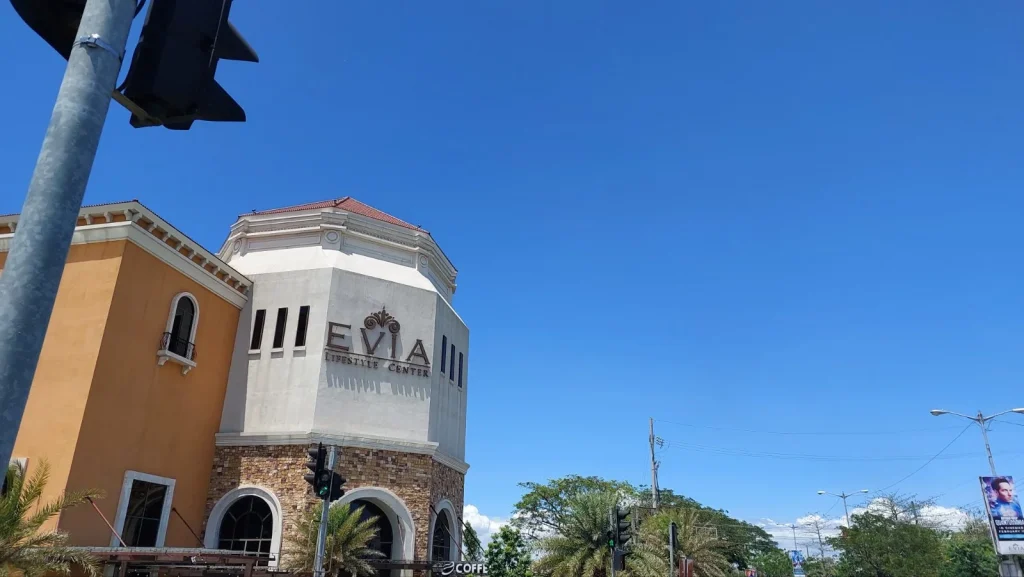 Situated in Evia Lifestyle Center in Las Piñas City, San Marco Cafe offers a prime location for both residents and visitors alike. Nestled along Daang Hari Road, this cafe is easily accessible and serves as a great pit stop for those exploring the vibrant South. Even if you are from Metro Manila, it's just 40 minutes away to visit. Whether you're a coffee aficionado, a food enthusiast, or simply seeking a relaxing ambiance, San Marco Cafe provides an ideal destination to satisfy your cravings. Its close proximity to other restaurants, shops, and entertainment options within Evia Lifestyle Center adds to the convenience and makes it an excellent choice for a memorable dining experience. The Evia Lifestyle Center is conveniently located just a 5-minute drive away from Vista Alabang.
Not the Usual Rice Meals, But their Entrees are Superb
I had the pleasure of experiencing the Chicken Truffle Gratin at San Marco Cafe, and it was an unforgettable culinary adventure. The tender, perfectly seasoned chicken combined with the fragrant truffle infusion created a symphony of flavors that delighted my taste buds. The velvety gratin sauce, with its creamy texture and golden crust, added an indulgent touch. The mashed potato was exceptional. This dish was a true masterpiece, showcasing the perfect fusion of flavors, textures, and culinary artistry. It's an experience I highly recommend for anyone seeking a remarkable Italian dining experience at San Marco Cafe.
San Marco Cafe ensures a memorable dining experience. Let's explore some of the remarkable best-seller dishes that grace their menu:
Breakfast: Pancetta and Eggs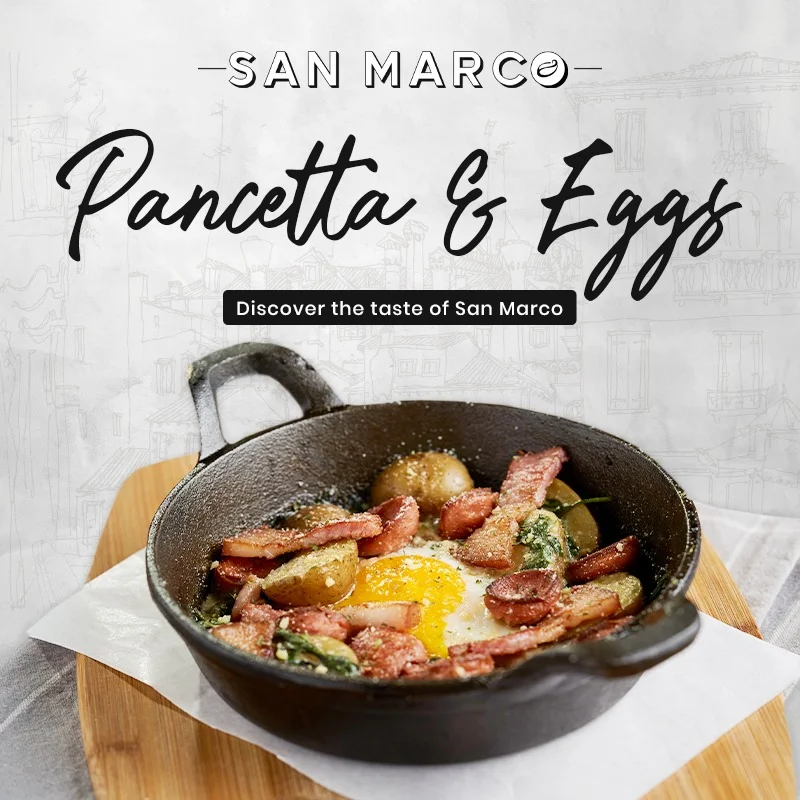 photo from facebook.com/sanmarcophl
According to the waitress, Manny Villar, the Chairman of Vista Land & Lifescapes, is known to have the delightful Pancetta and Eggs as one of his preferred dishes when he dines at San Marco Cafe. Start your day off right with this tantalizing dish. This classic breakfast combination features perfectly cooked pancetta alongside eggs prepared to your preference. The marriage of crispy pancetta with creamy eggs is sure to satisfy your morning cravings.
Pasta: Parma Truffle Pasta
Indulge in the luxurious Parma Truffle Pasta, where homemade pasta is delicately tossed with aromatic truffle oil and topped with shavings of savory Parma cheese. This pasta dish is a harmonious blend of flavors that will transport your taste buds to culinary bliss.
Main Entrée: Herb Pork Chops
For a satisfying main course, the Herb Pork Chops are a delightful choice. Tender pork chops are marinated with aromatic herbs, then expertly grilled to perfection. Served with a side of seasonal vegetables and your choice of starch, this dish offers a delightful combination of flavors and textures.
Appetizer: Spin Art Dip
The Spin Art Dip showcases the vibrant flavors of artichokes, carefully prepared and blended into a creamy and savory dip. Every scoop reveals the delightful combination of tender artichoke hearts, herbs, and a medley of seasonings. The creamy texture of the dip pairs wonderfully with warm, toasted bread or crispy pita chips, providing the ideal vessel to savor the flavors.
Salad: Rustic Salad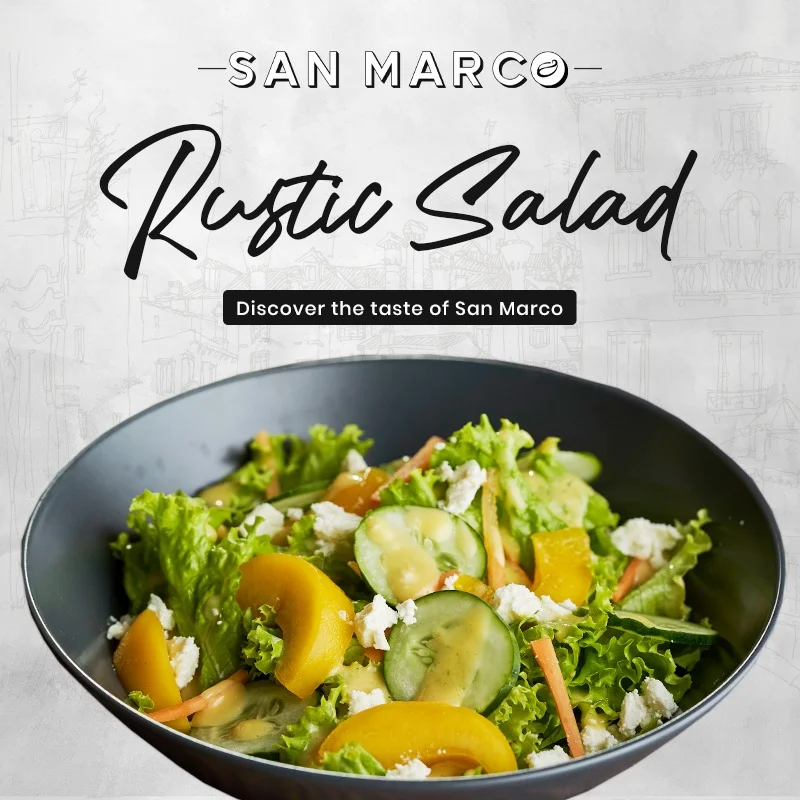 photo from facebook.com/sanmarcophl
The Rustic Salad is a refreshing blend of crisp greens, vibrant vegetables, and tangy dressing. Topped with a sprinkling of nuts or cheese, this salad offers a delightful mix of textures and flavors, making it the perfect starter or light but good meal option.
Pizza: Bacon and Mushroom
Pizza lovers will rejoice in the Bacon and Mushroom pizza. The thin and crispy crust is generously topped with savory bacon, earthy mushrooms, and a medley of cheeses. Each bite is a delicious explosion of flavors that will leave you craving more.
Sandwich: Grilled Four-Cheese
Indulge in the comfort of the Grilled 4 Cheese sandwich, a heavenly creation for cheese enthusiasts. The combination of melted cheeses, toasted bread, and optional add-ons creates a gooey and satisfying sandwich experience.
Plated Dessert: Brownie Skillet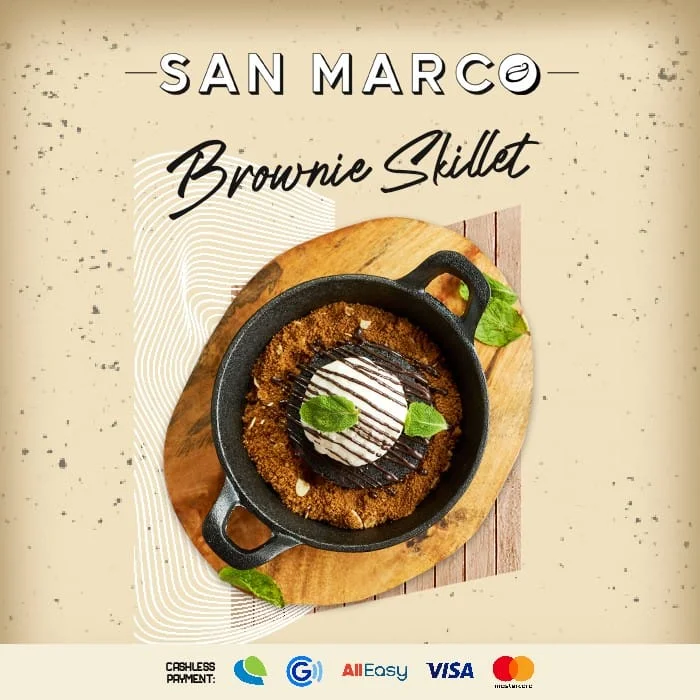 photo from facebook.com/sanmarcophl
Finish your meal on a sweet note with the irresistible Brownie Skillet. Served warm and topped with a scoop of velvety ice cream, this decadent dessert will satisfy your chocolate cravings and leave you wanting another bite.
Raise a Glass: Celebrate Life's Moments with Exceptional Wines at San Marco Cafe
San Marco Cafe also boasts an impressive selection of wines, available by the bottle. Whether you prefer the elegance of white wine, the richness of red wine, or the effervescence of brut, they have a wide variety to cater to your taste. Some of their best-selling white wine bottles include Domaine Drouhin Oregon Arthur and Glenelly Estate Reserve Chardonnay.
For red wine enthusiasts, the Clavis Orea Saint Emilion Bordeaux and Roda Reserva Tempranillo Rioja are among the popular choices. If you're in the mood for a celebratory toast, don't miss the Charles Heidsick Brut and Champagne Drappier Champagne. Pair your wine selection with their delightful deli and cheese platter, creating the perfect combination for a romantic date or a memorable dining experience.
Experience the Best of Italian Cuisine at San Marco Cafe
San Marco Cafe offers a delightful array of culinary delights that will tantalize your taste buds and satisfy your cravings. Whether you're seeking a hearty breakfast, a flavorful pasta dish, a mouthwatering main entrée, or a sweet indulgence, San Marco Cafe ensures an unforgettable dining experience that celebrates the richness of Italian cuisine.
If you're in the mood for good food, great meals, and exceptional coffee, San Marco Cafe is perfect for dinner with friends or a relaxing lunch with family. Make sure to check out their Facebook pages for more information, photos, and customer reviews. If you're in the mood for pizza, there are also plenty of options to choose from.
You can find Cafe San Marco along Daang Hari Road in Evia Lifestyle Center. Whether you're a coffee lover or just looking for a place to eat, San Marco Cafe has something for everyone.
Related Blog: Bake My Day is The Best for Morning Coffee and Bread