It is time to bid farewell to one of the most trying years. 2020 has been a rollercoaster year due to the COVID-19 pandemic that affected the Philippine economy in many ways unexpected. Not only was the economy affected but, the people also. Each and everyone was challenged with their own battles because of the pandemic. And with the new year coming by, it is time to be optimistic and look forward to the New Normal.
Plans for Cebu
Filipinos are hoping that 2021 will see better opportunities to recover and bounce back, particularly in Cebu City. Mayor Edgardo Labella hopes for the city's economic revival with an approved budget of PHP 10 billion this year for economic recovery programs with a significant increase to the City Health Department's budget. The mayor stated in his New Year's message that he is looking forward to the reopening of most businesses as well as the increase in employment opportunities for those who were heavily affected by the pandemic. These sparks hope for the Cebuanos as vaccines are currently being developed and soon to be at one's disposal. Moreover, if the citizens will continue to religiously cooperate in practicing health and safety protocols, then there will be a bigger chance for Cebu to return to how it has always been, a booming economy in the South.
One of the most awaited infrastructure developments this year is the completion of the Cebu-Cordova Link Expressway, also known as CCLEX. This will be the first bridge that will connect Cebu City to Cordova, which is also within reach of the Mactan Cebu International Airport. This bridge will also improve the heavily-congested traffic from Cebu City going to the north, making it easier for locals and tourists to go back and forth to the city. With convenient access to Cebu City, tourists and investors can enjoy Cebu for both leisure and business. The opening of CCLEX in August of this year is just one of the many developments that are soon to be realized and operational, but definitely not the last. This is a good sign for investors as it shows that Cebu continues to be a high potential city to invest in next to Metro Manila.
Why invest in Cebu?
With major infrastructure developments that are soon to be realized in the Queen City of the South, real estate investments abound in the Cebu property market in the midst of the pandemic. A good investment to consider even amidst the pandemic is real estate. Real estate will only appreciate in value even when there is a pandemic. Crown Asia by Vista Land is a premium real estate brand that offers house and lot developments and condominium properties, showcasing the beauty of the world at home, fit for a comfortable way of living in the New Normal. Suarez Residences Cebu, one of the upscale vertical properties of Crown Asia, is strategically located at the heart of Cebu City. This high-end property features a premium pre-selling studio, 1 bedroom, and 2 bedroom condominium units that capture the scenic views of the bustling Cebu City, Mactan Channel, Guadalupe Mountains, and Nivel Hills. Moreover, this premium condominium development of Crown Asia is a mixed-use condominium consisting of a hotel, residential, and commercial floors all in one tower.
Investing in real estate in Cebu
The real estate market is one of the biggest contributors to the country's economic growth. According to Colliers International, a global property consultancy firm, they see a rebound in residential property demand in Cebu City by 2021 thus seeing a faster pace of price increase from 2021 to 2022 that reflects a stronger residential market. Joey Bondoc, a senior research manager at Colliers' said that Cebu is still the premier investment hub next to Metro Manila. This is truly something to look forward to in Cebu as skyscrapers are emerging fast all over the city. Cebu City is definitely the next big thing as the real estate market is highly in demand, and it should be one of the cities in the country to look out for this 2021.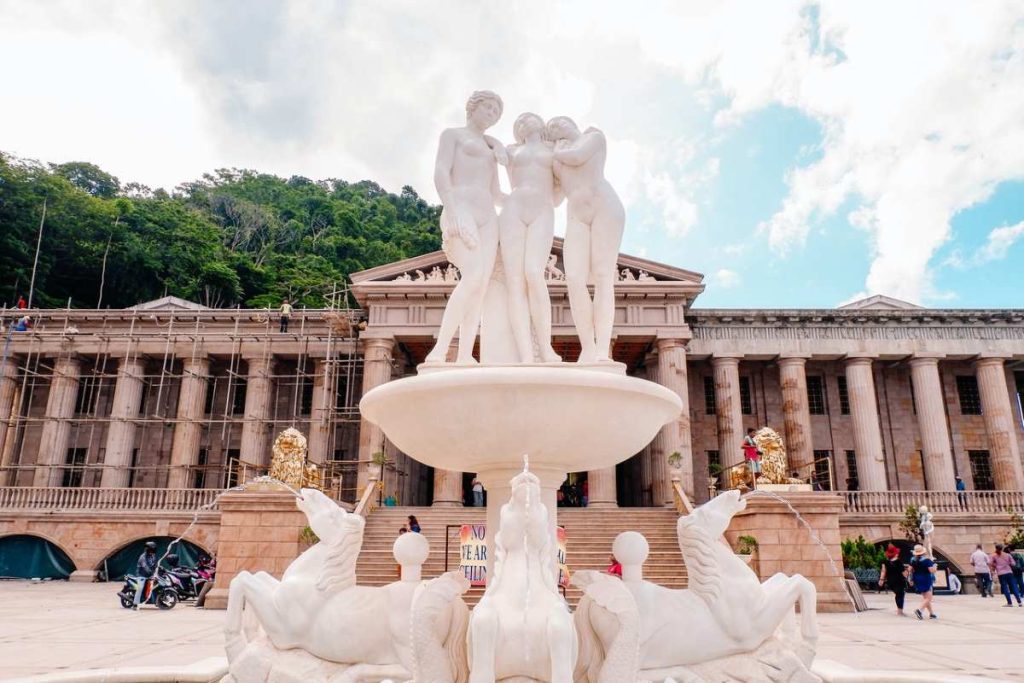 A wonderful mix of leisure and business
Investing in Cebu doesn't only limit itself to residential real estate, but there are plenty of other things you can experience when you invest in the queen city of the south. For starters, Cebu is an island. You can experience the wonderful beaches in the area just a few hours away from the city. Visit Oslob and there you can swim with whale sharks. However, it's not only limited to the sun and the sand, major historical areas are also on the island. Remnants of the Spanish colonization can be seen and one of the country's most famous/infamous landmarks, Magellan's cross, is there. Another is Fort San Pedro. Originally built out of wood, its main purpose was to repel Muslim raiders. Now, it's made out of stone and a museum holding Spanish-Filipino history can be found in the fort. Plenty of other famous places can be visited such as the Temple of Leah in the mountains of Busay. This seven-story building inspired by Roman architecture boasts statues, marble fountains, and Doric columns. It is home to Leah Albino-Adarna's collection of antiques, art, and books. You can find the Simala shrine, a grand monastery with castle-like structures, frequented by tourists in Sibonga, Cebu. Aside from landmarks, Cebu has a rich culture as well. One could not go to Cebu without seeing/experiencing the famous Sinulog Festival, the country's biggest and most colorful festival.
With Cebu being in the Visayas region, an area full of islands, you can also visit the nearby islands and experience their unique culture and traditions.
May 2021 bring in wonderful and prosperous things. And why not help your luck by investing in the wonderful Cebu, a place filled with color and life.
Related Blog: Why Consider Cebu as your Next Investment Destination?