Finding the perfect lot in a Subdivision in Cabuyao Laguna is the dream. However, finding the ideal community for you and your family makes it a little more worthwhile. You were able to find a roof for your family and a new wonderful group of people whom you can treat as a family at the same time.
Nowadays, it is important that you don't just feel safe in a community, you must also feel you belong. There is no denying that security and safety is top priority but being in a community where you and your neighbors have created a bond makes the stay in a Subdivision in Cabuyao Laguna a lot more fun. You get to enjoy not just the beauty of the community but also the beauty of the people in it.
So if you're currently on the lookout for a home, you might want to consider the community itself. Because indeed no man is an island. You are bound to interact and cross paths with a lot of different people so might as well use this time to build a close-knit community. But some may ask what really is a close-knit community.
What Does Close-Knit Mean?
Close-knit is defined as the establishment of a strong bond with a specific set of people and are usually bounded by sharing the same interests, beliefs, and sentiments in life. You are not just someone who lives next door or simply the neighbor who can't remember your fellow neighbor's name.
Being in a close-knit community means that everyone in your neighborhood has somewhat bonded over food, drinks, and stories which makes everyone closer. It is also about having the willingness to lend a hand, to listen to someone's story, and to be there for your neighbor is what makes a community a close-knit one.
Why Is a Close-Knit Community Good?
Yes, independence is good and all, but a close-knit community is something you don't know you actually need until you experience it because it actually feels nice to have someone who you can rely on. It gives you a bigger family, happiness, security, and belongingness.
The thought of having people who you know would be willing to help you in times that you are in need, people who would celebrate your victories, and console you in times of failure brings a certain comfort.
One thing that a close-knit community gives us is the chance to create strong and wonderful bonds and relationships with different people who you can not just call neighbors but also family.
What Does a Close-Knit Community Consist Of?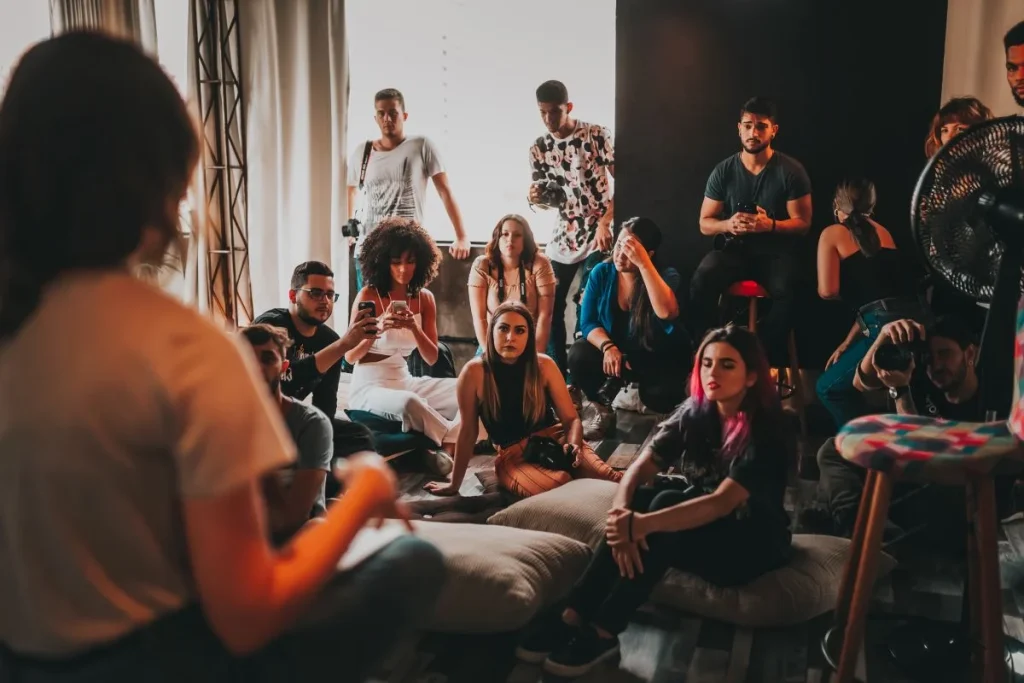 Inclusivity
Inclusivity is one of the keys that makes a community close-knit. It's basically one of the things that makes the connection stronger. It is important that you let everyone feel and know that they belong. This goes for both the newly moved-in neighbors and those who have been living in the community for a long time already. Exerting efforts to include everyone even in the simplest events and celebrations makes the bond stronger.
Amenities for everyone
A community with the right amenities such as a swimming pool, a gym, a garden, a common library, and a park with picnic spots and tables can foster a sense of belongingness that helps on bringing people together.
Thoughtfully designed amenities that can be enjoyed by everyone despite having different interests and belonging to different age ranges, will allow them to come together, forge lasting connections, and create cherished memories.
Community Activities
Being involved in community works, and activities helps you and the neighbors bond over your shared beliefs and support the same initiatives that greatly help the whole community and its people. This can be done by organizing activities such as clean up in the whole neighborhood, setting up, and/or volunteering for donation drives.
Doing such initiatives helps your community and your beneficiary's community be a better place, and instills good values in everyone, especially the kids at a young age.
Events and Gatherings
In achieving a close-knit community, consistency is important. Organizing events and simple gatherings, create meaningful interactions and opportunities. It can be by a community celebration of seasonal events, celebrating each other's birthdays and important milestones to barbecue and game nights spent on different neighbor's lawns and front porches each time. Moreover, holding a picnic day, sports day, talent shows, and movie nights is a great platform for individuals to forge new friendships and strengthen existing bonds.
Neighborhood Organizations
Another effective way to build a close-knit group is by establishing neighborhood organizations and clubs that everyone of any age can join and enjoy. Doing so will allow them to know who shares the same interest with them and develop a relationship and connection through that. With active involvement and support by the community members, they will not only find a space where they feel safe to talk about their interests but also foster community engagement which makes a thriving neighborhood close-knit.
Effective Leadership
A close-knit community is highly likely to be led by chosen leaders who have shown not just an excellent personality but also an eagerness to serve their people. Close-knit communities should learn that listening to their people, collaborating among community members, addressing complaints, and effective open communication sets an impression to their people that they are valued, belong, and are taken care of. These actions then lead to bringing the neighborhood closer.
Safety and Security
The feeling of being safe and secure in a particular neighborhood improves the quality of life of its residents which highly affects their behavior. Prioritizing safety and security creates a stronger and more resilient community which naturally comes with stronger bonds, cooperation, trust, and a sense of belonging.
Friendly and Helpful Environment
It is important that friendliness and helpfulness are continuously fostered in building a close-knit community. This creates an environment where a healthy and positive community relationship is maintained. A close-knit community bonded by friendliness and helpfulness establishes a sense of support and unity which makes everyone a lot closer—not just neighbors rather a big family.
Related Blog: Simple Tips to Have a Good Relationship With Your Neighbors