Given that Valenza Mansions is Crown Asia's first Italian-inspired premium condo development, its residents take pride in its prime location, which is only 30 minutes from Tagaytay and is also accessible via CALAX, which is the first and closest departure point upon entering Valenza, and four SLEX exits. However, with Valentine's Day approaching, instead of staying inside their condo in Laguna, it's no surprise that most couples are looking for prospective staycations in advance, where they may stay overnight or for a short amount of time — enjoying various activities available in their chosen destination while celebrating the day of love.
Hence, in this blog, a few of the best staycation places to visit around the Philippines will be recommended, along with why they are ideal for celebrating Valentine's Day or in any couple's getaway outside your home.
Best Places to Stay at if You're Looking for a Quick Getaway
Camp Netanya in Mabini, Batangas

Photo from campnetanya.com
Camp Netanya Resort and Spa is known as a haven of comfort and relaxation — courtesy to its Santorini architecture, which features stunning blue domes and whitewashed buildings. The resort has 48 guest rooms and villas, as well as a dive shop, wellness center, and family-friendly amenities. Camp Netanya delivers a wonderful experience for diving and snorkeling — offering everyone Anilao's spectacular marine life, amazing coral formations, and diversity of fishes, given that its location is commonly recognized as the birthplace of scuba diving in the Philippines.
Camp Netanya is a resort by the sea, with its layered scenery generating a resort sensation of being at the rim of Caldera opening to one of the most magnificent sunsets in the world, making it the ideal destination for couples to have the best underwater experience and ultimate relaxation. Couples can choose from a variety of accommodation types and room packages offered by the resort. The majority of the variances are due to room size, capacity per room, and the type of beds they prefer to sleep on. The prices of the various accommodation types range from P7,500 to P12,000, all of which have a check-in time of 2:00 p.m. and a check-out time of 12:00 p.m.
The Farm in Lipa, Batangas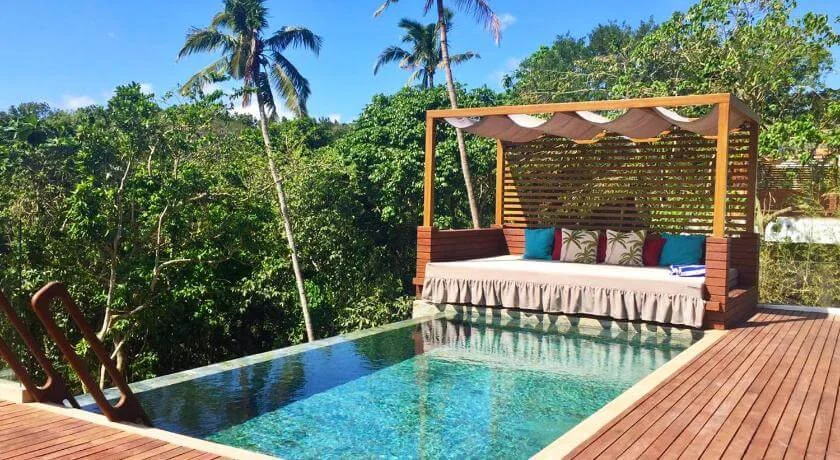 Photo from agoda.com
In addition to doing their meditations, workouts, or devotions peacefully inside their condo in Laguna, most couples would want to take a break in a more serene setting — a place that offers the peace that is being yearned for. The Farm at San Benito is an eco-luxury holistic medical wellness resort located in Lipa, Batangas, which is just a 90-minute travel south of Manila. It is set on a 48-hectare lush green jungle with a stunning view of the majestic mountains, fresh air, and uplifting life-giving energy radiating throughout the property.
The Farm at San Benito provides a healthy atmosphere for all senses, allowing couples to achieve inner peace and exude positivity. It also provides holistic therapies by licensed and competent doctors, nutritionists, therapists, living food chefs, yoga instructors, and fitness trainers, as well as a nutrient-rich vegan meal that is nutritious, delicious, and visually appealing.
The accommodation types that couples could choose from are the Sulu Terrace, Palmera Glass Vila, Banaba Deluxe, Bamboo Villa, Banaba Executive Suit, Narra Pool Villa, and Mahogany Pool Villa, wherein price ranges from P12,810 to P30,500.
Misibis Bay Resort in Cagraray Island, Bacacay, Albay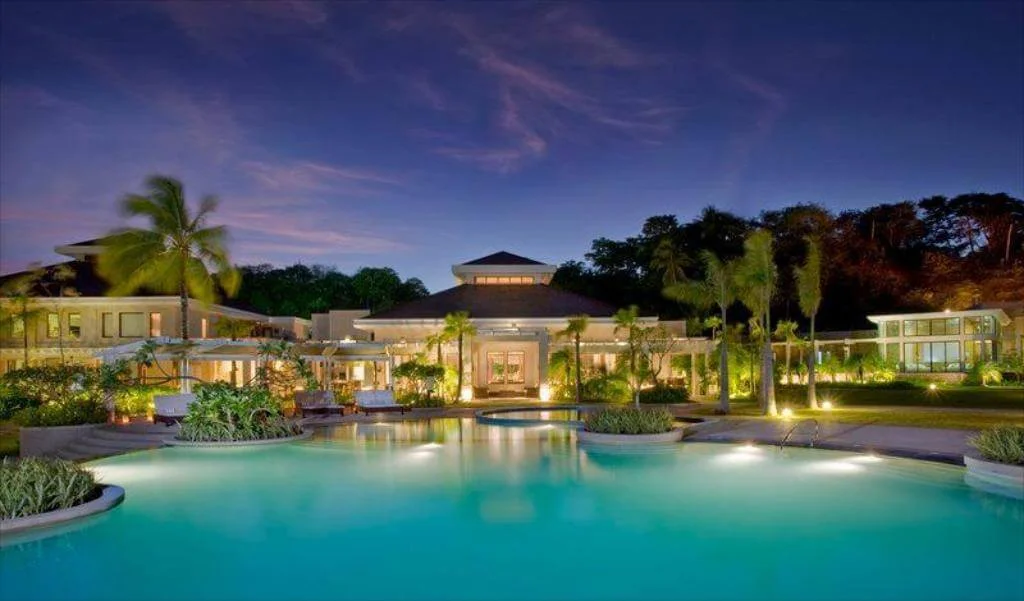 Photo from agoda.com
Misibis Bay is a 5-hectare island resort in Albay province, known for its perfectly formed Mayon Volcano. To get to the resort, it takes a 50-minute flight from Manila to Legazpi, followed by a breathtaking 50-minute road ride or 30 minutes on a swift watercraft. Misibis Bay is fully prepared for all those who left the comforts of their condo in Laguna to search for a balanced serenity and adventure, as the tropical destination is a private island resort where tourists can either choose to relax underneath the palm trees or adventure in the sun. The resort also offers a variety of land and water activities, including all-terrain vehicle (ATV) rides, trailblazing to the top of Cagraray's EcoPark, windsurfing, kayaking, stand-up paddling, jet skiing, and more. The modern design and decor of Misibis Bay allow couples to immerse themselves in leisure, with a variety of room types to choose from, including Garden View Rooms, Seaview Rooms, Beach Front Rooms, and Pool View Rooms. Rooms that are good for two people, however, range widely from P14,207 to P30,451, depending on the room type.
Bulod Campsite in Tanay, Rizal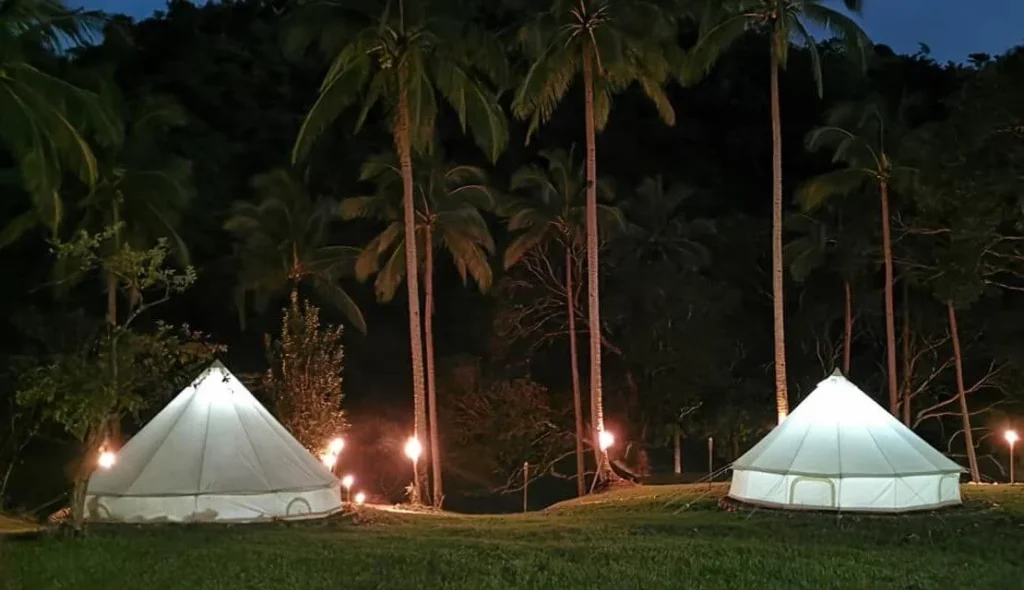 Photo from nolisoli.ph
Most couples would prefer to have dates in areas where they could both breathe some fresh air and enjoy the beauty that nature provides after spending a long time inside their own condo in Laguna. Bulod Campsite, located next to the Agos River, is a camping, hiking, and recreation area that was established with the purpose of helping rural and indigenous communities to create their own sustainable lifestyle. Four 17-foot bell tents with air beds and camping lights are available at the campsite, and guests can either bring their own food or order from their cook, as well as being able to share a meal in the mess hall with their fellow tourists. Bulod's program gives visitors access to a place where they can unwind, rehabilitate, have fun, and reconnect with nature; especially for couples since Bulod is currently offering a couple's retreat package that costs P6,000. The package, however, is only offered Monday to Thursday and includes a day trip to Camp Masayo, with use of its amenities, as well as an overnight stay in an air-conditioned room at Camp Tanaw-Darait.
Las Casas Filipinas De Acuzar in Bagac, Bataan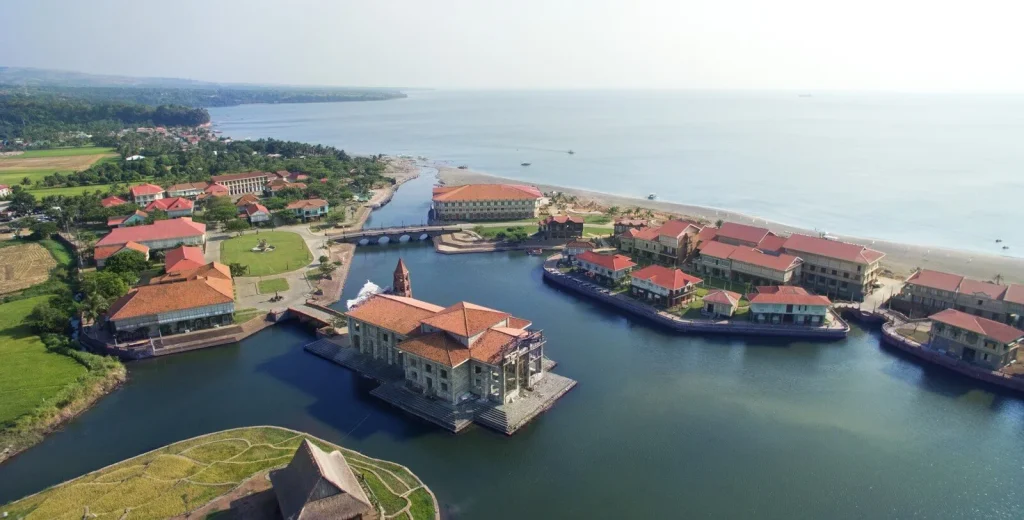 Photo from historichotels.org
Las Casas Filipinas de Acuzar is a beach resort, convention center, and heritage site located in Bagac, Bataan, all rolled into one. Offering its numerous facets, it is certainly a one-of-a-kind resort with everything to offer for everyone. The Las Casas Filipinas de Acuzar in Bataan is part of the Las Casas Heritage Collection, a collection of heritage resorts and hotels in the Philippines that honors Filipino artistry, craftsmanship, service, and skill. Las Casas is a demonstration of our local artists and craftswomen's skill, talent, creativity, and artistry — from its towns to the artwork and artifacts found in every nook. Traditional Filipino furniture, sculptures, boats, paintings, mosaics, and other items are almost all created in-house, ensuring that something new is always waiting to be discovered.
Couples can participate in a variety of activities at the resort, including tours, cultural experiences, witnessing Filipino artistry and craftsmanship by attending workshops, watching cultural shows, spending time having fun with water and beach activities, or perhaps joining indoor activities to play pocket games instead. Overall, couples will need a place to rest and sleep at the end of the day, which they might obtain if they booked either in a hotel room or possibly in one of the casas. The prices of the rooms, however, are determined by the type of accommodation chosen as well as the included features. One example is their Luna Fest 2022 promo, which includes a deluxe room with breakfast and dinner for two, as well as a chance to experience balsa river cruise, main street parade, and other activities that are part of the inclusions of the promo.
Related Blog: Staycation Destinations in Laguna