Everything seems tiring lately. From being locked inside the four corners of your home up to sitting for hours, working, or studying. Just trying to continue with life. And for once in a while, as someone who tries hard to stay positive amidst everything that's happening around them, an individual still needs a place where he can unwind aside from their RFO House and Lot. Uncloud overly crowded mind. You don't have to worry for there are numerous ways to de-stress. Treat yourself by visiting malls, strolling onto famous landmarks you haven't seen before, or just by binge-watching your favorite movies and sitcoms. But if you're someone who's on a quest of discovering a new side of themselves by trying different things and exploring new places, hiking might be the perfect activity for you. Disconnecting from technology may help an individual on reconnecting to other things that seem to be forgotten. Recharge through the beauty of nature. Aside from winding down, hiking allows an individual to improve their physical and mental being. It's also a bonus that they get to witness astonishing views that are famous and even those that are yet to be discovered. The Philippines aside from its beautiful beaches is also the home of different mountains with picturesque scenery. And if you're someone who wants to try it but absolutely have no single idea about it, here are some of the best places in the Philippines where you can hike.
A List of the Most Popular Hiking Destinations You Can Take a Hike On
Mt. Daraitan: Tanay, Rizal
Photo from pinoyfitness.com
Mountain Daraitan is located at Tanay, Rizal, along Sierra Madre Mountain Ranges. A few hours away from Manila that is accessible through both, private and public transportation. For public transportation, ride a van or jeep from EDSA-Shaw Crossing going to Tanay and then take a jeep from there to Sampaloc. Another ride going to Barangay Daraitan's Barangay Hall. The fare may cost 200 up to 300 pesos and might take three to four hours. After arriving at the barangay hall, you need to pay 20PHP for registration and there you can already request a local tour guide that will be with your company while trekking. It's ideal to go with a larger group of friends or family for aside from it can strengthen bonds and relationships, it can cut some of the expenses that you need to pay. But before proceeding to the place, don't forget to bring the right amount of food that will cater to everyone in the group and water for hydration. Pack extra clothes for water activities or just in case of emergency, you have a spare one. Wear comfortable clothes and shoes.
The level of difficulty is 4 over 9, so it's just really appropriate, especially for first-timers. It will take approximately 2 to 4 hours of walk. It's indeed a long and maybe tiring walk, but once you reach the summit, you will be in awe of its beauty. After trekking, there are various things you can do. Try cliff diving, don't worry for there will be someone who will make sure you are safe while doing the activity. Swim in the clean and cold water of the Tinipak River or even explore small caves. After a long day, bring out your tents or rent cottages and spend the night at the area's campsite.
Mt. Batulao: Nasugbu, Batangas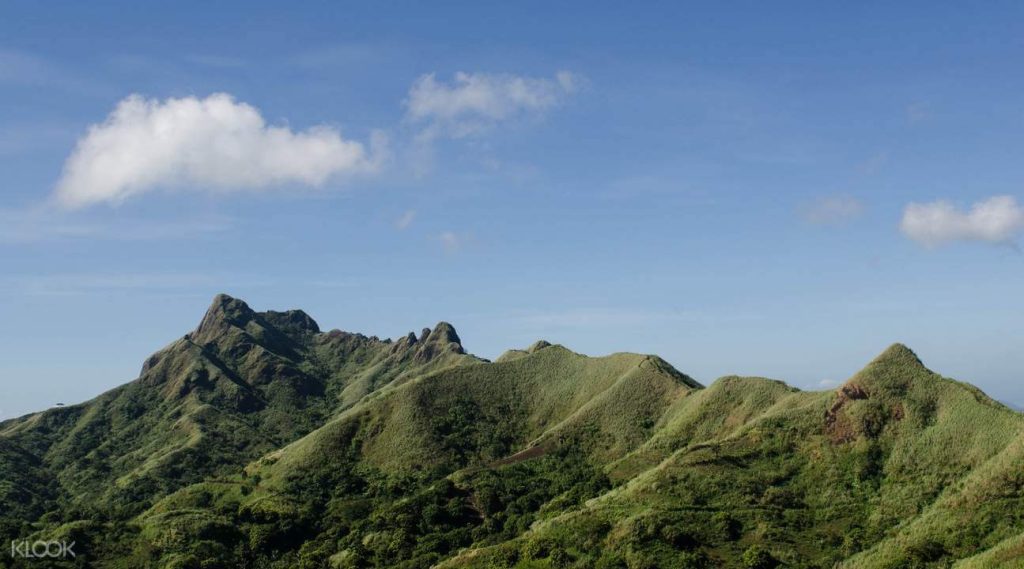 Photo from klook.com
Just like Mt. Daraitan, Mt. Batulao has a difficulty level of 4 over 9. It is situated in Nasugbu, Batangas. It is a 2 to 3 hours' drive away from manila which is also accessible if you're going to bring your own car, or you plan to commute. This is another beginner-friendly mountain that's easy to hike to the summit. For everyone's safety, it is advisable to wear lightweight hiking clothes and closed shoes for it can be a little too dusty or muddy, depending on the weather. Wear sun protection like caps, jackets, and even sunblock to protect your skin from the sun's heat. Bring a bag that consists of your water, food, or small snacks that are not heavy, extra clothes, towels, and other toiletries. Remember to just bring the necessary things for packing irrelevant things will just be an added weight for you to carry.
The trek will take at least 2 to 4 hours before reaching the summit. Mount Batulao has 2 trails, the old which will take 1-2 hours of walk, and the new, 2-3 hours still depending on how fast the walking pace is. Either way, hikers will be welcomed by the breathtaking view of the grasslands, nearby mountains, mini slopes, and rocky landscapes where you can pose and take a picture.
Osmeña Peak: Dalaguete, Cebu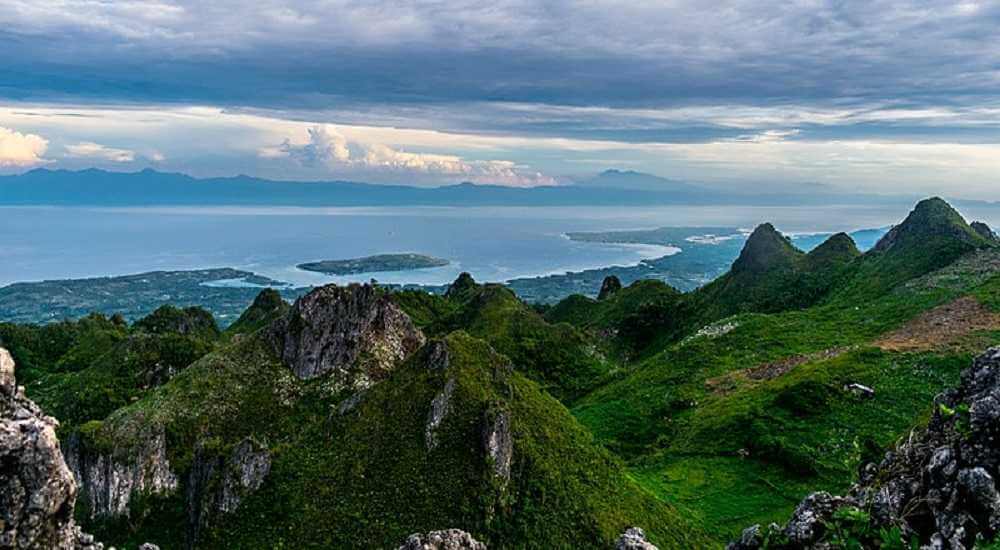 Photo from zenrooms.com
Before leaving your RFO House and Lot, don't forget to gather and search for the basic information you will be needing such as the route to get there, necessary things to bring on a hike, and enough money to cover up all the expenses that will be incurred. It's located in Mantalongon, City of Dalaguete, Cebu. Osmeña Peak has a difficulty level of 3 over 9. The hike going to the peak is not that intense for the trail has marks that are easy to follow. It's really a good mountain to hike if ever you are on your first time, but nevertheless a worth it treks for every hiker out there because of its astounding scenic view. It will take about 1 to 2 hours to reach the peak. It's the highest mountain in Cebu with a height of 1,013 that gives hikers a chance to witness the 360-view of Cebu. Aside from the hike, tourists can also swim on Kawasan falls, Magic Beach resort, and other beaches in the area.
Before coming home to your RFO House and Lot after a tiring but worthwhile escapade, hikers should remember these two things. Always follow your guide for they are the ones they know and understand the place better than you. It's also to avoid accidents or problems from arising. Do not leave any traces aside from your footprints. Respect nature at all costs. The journey will surely be tiring, but one thing's for sure, the view up there will be worth the energy and time spent.
Related Blog: It's the Climb: 6 Best Hiking Trails Near the Metro