These days, more and more people are choosing the condominium lifestyle as it is considered to be the most practical option, mainly in the highly urban areas of the Philippines. Contrary to the homes, the condos are ideal for families and individuals, who want to make a great investment without facing any hassle of managing things by themselves. Therefore, real estate developers all across the country are offering condos for sale in different strategic locations in the country. So, whether you are thinking of investing in a condo in the Philippines, here comes a list of the top five premium condos for sale that you can consider from the premium real estate developer, Crown Asia.
1. Valenza Mansions in Laguna
This property is developed to offer the residents a well-balanced life in the upscale market. This property is a 2.5-hectare enclave located at the huge 22 hectares Valenza community. It is a premium quality and the first mid-rise condo launched in Sta. Rosa, Laguna, and this property are also nestled within a gated, thriving, and highly secured Valenza community. This condo in Laguna includes 8 mid-rise buildings with 3-12 stories. The prime location of this property makes it unbeatable. This community is also accessible through CALAX which works as the nearest and first exit point. This condo property presently offers pre-selling units. And the property types include 3 bedrooms, 2 bedrooms, 1-bedroom units, and studio units ranging between 33 sqm to 70 sqm. The major amenities offered in this property are a fitness gym function room, a leisure swimming pool, and a garden area to relax on. So, by choosing this property, you can gift a customized lifestyle to yourself amidst the sprawling community. Even if you are a foreigner, you are allowed to invest in this property.
2. Pine Suites in Tagaytay
This property is a residential, leisurely exclusive condominium located close to the vibrant restaurants area of the city of Tagaytay. This property is easily accessible by Santa – Tagaytay Road, E. Aguinaldo Highway, Tagaytay Nasugbu Highway, and Tagaytay – Calamba Highway. The main attraction of this property is that it includes three 5-story, mid-rise buildings replete with Modern Danish and Swiss architecture. Other features of this property are the centrally located amenities and the interconnected parking. All of these things create the appearance of a lush resort like a community in an exclusive environment. So, by investing in the two-bedroom suites with a spacious balcony in this condo property, you can enjoy exclusivity while enjoying the cool Tagaytay breeze. And nothing can be a better family retreat than this. In this property, nature sets its mood. Therefore, you can experience a cozy, stress-free, and private life in this property endowed with carefully laid-out amenities and nature offerings within a beautiful mountain setting aimed for happy family bonding, quiet relaxation, and friendly gatherings.
3. Hermosa in Las Pinas
This property is located close to NAIA and the Bay Area where there is an increasing demand for residential properties. This property is also a part of the master-planned township known as the Vista City Global South. This condo in Las Pinas includes both commercial and residential properties, entertainment, and retail areas. The exclusive and modern condo village includes 6 mid-rise buildings that have in total more than a thousand residential units. The property types available in this condo village are 2 and 1-bedroom units. This property is an exclusive and modern resort-inspired condo village spread across 2.9-hectare areas. What makes this property a premium condominium is that it includes amenities like a swimming pool, a function area, and surrounding retail hubs. This verdantly landscaped and sprawling condo village is complemented by resort-inspired amenities, which offer the residents a refreshing ambiance for modern city living. So, by choosing this property, you will benefit from upgraded lifestyle experiences and unparalleled convenience.
4. Meridian in Bacoor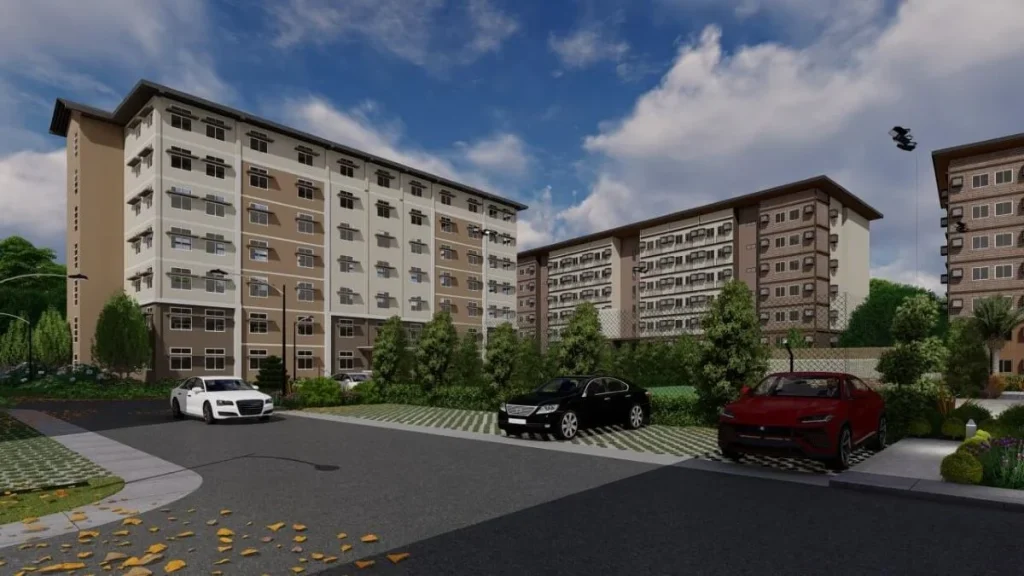 Condo in Bacoor | The perfect place where everyone loves to reside. With features like landscaped gardens and functional resort-inspired amenities, this condo in Bacoor also works as the ideal weekend destination for both tourists and local people.
This is a midrise flourishing real estate property complemented by the abundant open areas and a pleasing aura of nature. These things make this property the perfect place where everyone loves to reside. With features like landscaped gardens and functional resort-inspired amenities, this condo in Bacoor also works as the ideal weekend destination for both tourists and local people. Another great thing about this property is that it is located strategically in Bacoor City. With spacious 2 bedrooms and 1-bedroom condo units, this property makes your living very comfortable and convenient. The best thing about living in this property is that here the buildings are gated, well-planned, brightly painted, and uniquely designed. You can also enjoy the landscaped gardens, pocket parks, and paved walks while bringing a hint of delight to both adults and kids.
5. The Courtyard in Taguig
Taguig city is one of the bustling cities of the Philippines and it has many bustling developments in the domain. The Courtyard is one of the remarkable ones. So, if you love to lead a top-tier global lifestyle, in Taguig City, then you can consider investing in this property. This pre-selling condo property offers a wonderful upscale development experience within the urban city. Besides, this property also offers the residents the convenience of staying near the Bonifacio Global City along with the accessibility of many road infrastructures for a faster travel experience. The important features of this property are the open green space pavilion along with the resort-inspired amenities, which can harken the experience of everyday vacation. Besides, the modern and compact studio units of this property offer the residents an amazing view of the Bonifacio Global City skyline. So, by choosing to invest in this property, you can enjoy living in an investment-worthy and progressive condo-living experience in a gated, exclusive community, which is developed with elegance and finesse.
So, if you are planning to invest your hard-earned cash in fulfilling the dream of a well-built property where your family members and loved ones can grow and flourish, then you can consider these properties. Contact a professional realtor or a property agent for guaranteed free quotes, a personalized viewing experience, and the best property viewing assistance.
Related Blog: Condo Developments by Crown Asia in the South