Have you ever looked around your house, craving for something aesthetically pleasing to look at? It is, after all, tiring to see the same old furniture all the time. But buying new pieces and home decorations is expensive, and if you want to have something made or restored, it costs a lot of money.
Do-it-yourself projects may take time, but they will save you money. You will not just have something new and beautiful to look at, but something you can proudly show off to your guests as something that you made. It could be your ice breaker when guests come over. DIY projects also give you the opportunity to be more inspired and creative.
Get ready to deep dive into DIY home improvement. Here are some simple DIY home improvement ideas that you can try for yourself
1. Build your own indoor herb garden.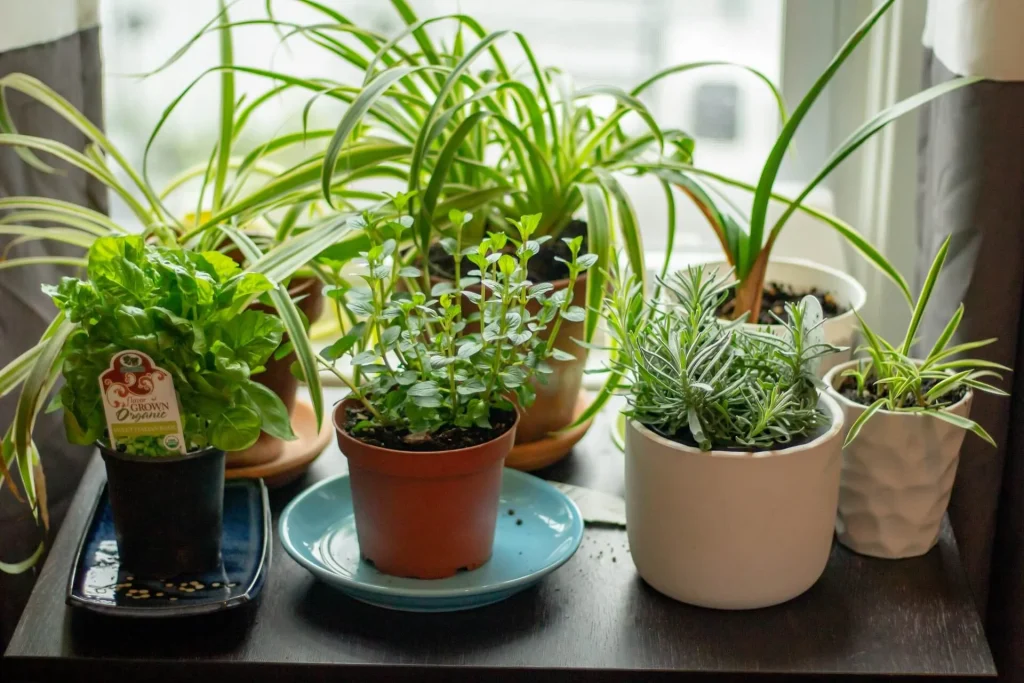 This is an especially exciting DIY to think about if you enjoy cooking! Herb seeds and seedlings are easily available at your local groceries or markets. Put them into pots or planters that will match the theme of your room, make sure they are located in a part of your kitchen that gets a lot of sunlight and doesn't forget to water. The best part is that many herbs are low maintenance, where you don't have to water them every day! You will literally see the fruits of your labor once your herbs grow and are ready to be used to season your next meal.
2. What you can do with paint.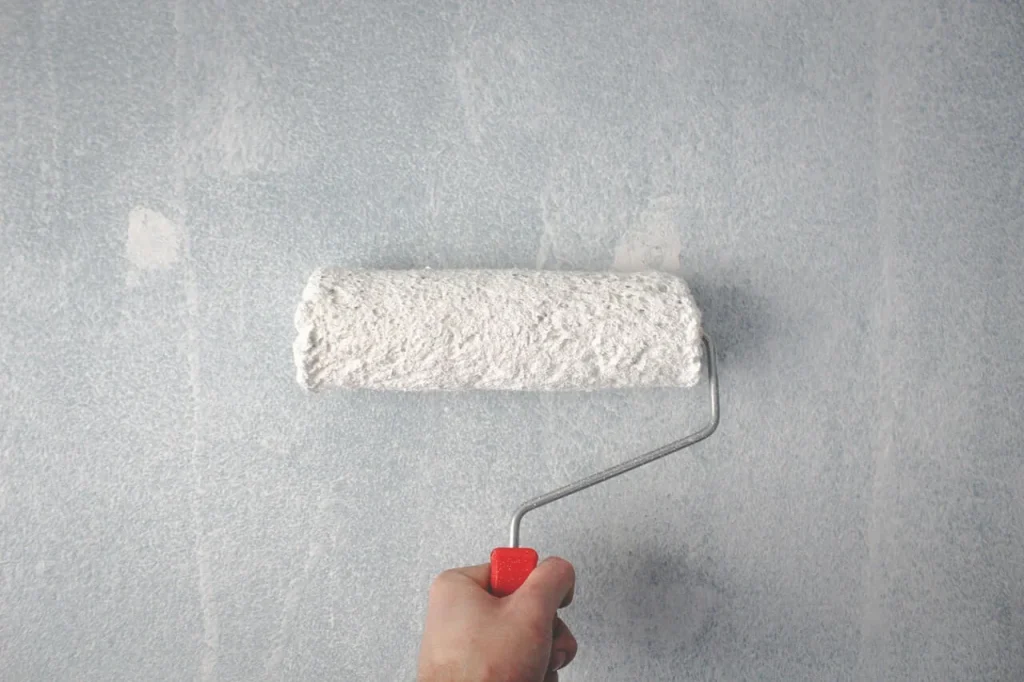 Interior design is for everybody. If you have old furniture that needs sprucing up or if you are craving a pop of color in your room, why not throw some paint on it? Old closets or side tables can be sanded down and pampered with a fresh coat of paint to look good as new. If you are looking to add an even more eye-catching colorful element to your room, then pick a wall to be your accent wall and paint it with a bold color. Just don't forget to cover up the areas you don't want paint on with tarps or tape! If you are too scared to commit to painting an entire wall, then paint on canvases or scrap wood and hang them up on your walls. Voila, your own pieces of custom art!
3. Simple shelves.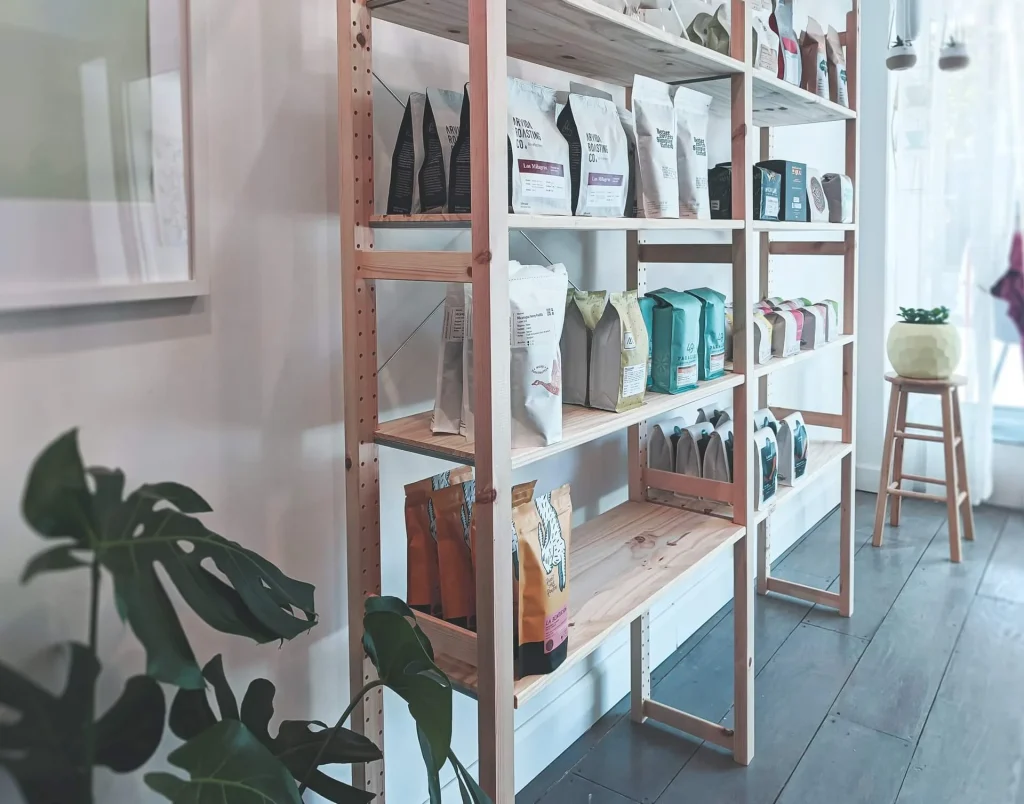 This is an easy home DIY project. If you are not too confident with your carpentry abilities yet, then you can opt to buy wall mounts in your local hardware store. Simply drill those onto the wall, sand down and stain your wooden planks, then drill those onto the mounts. But if you really want to challenge yourself, then try your hand at making the shelves from scratch. That definitely demands more time and accuracy, but the finished product will be fulfilling in the end.
4. Do something new with your pictures.
If you are tired of displaying your favorite photographs in department store-bought picture frames, cover a blank wall in cork boards. What is great about this is that you can keep changing your pictures and decorations for different seasons and holidays. They are the perfect creative outlet!
Something you can also do to your photos is to make your own wooden frame. It might not be like the generic ones you'll find in department stores but it will be unique and will have sentimental value to you. It's an easy DIY project to keep you active when boredom strikes! You just need some wood, wood glue, and paint if you'd like. All the materials can easily be found in your local hardware stores or brick-and-mortar DIY stores. Some would even come with full project instructions.
5. Add hidden storage space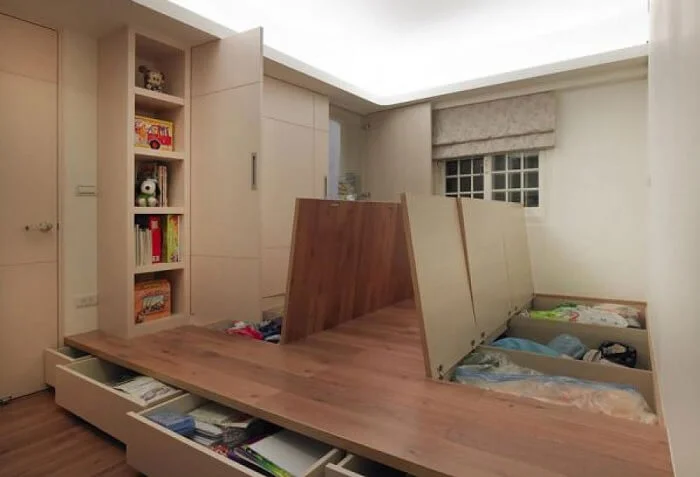 Photo from livabl.com
Hidden storage space can be placed anywhere in the house. An idea for this is to elevate the floor of your room or extra room and add storage in the elevated section. You'll need some wood, some insulation, screws, and metal runners. You can build it as high as you'd like to accommodate which things you need to store. Another idea for hidden storage space is to add storage to the back of your wall-mounted TV. Add an extra layer behind your TV, install some hinges and then you'll have more storage space and you could also hide those pesky cables behind.
There are multiple ways to add hidden storage in your house. Don't limit yourselves to just these two things. The possibilities are endless and be as creative as you'd like!
6. Love your front door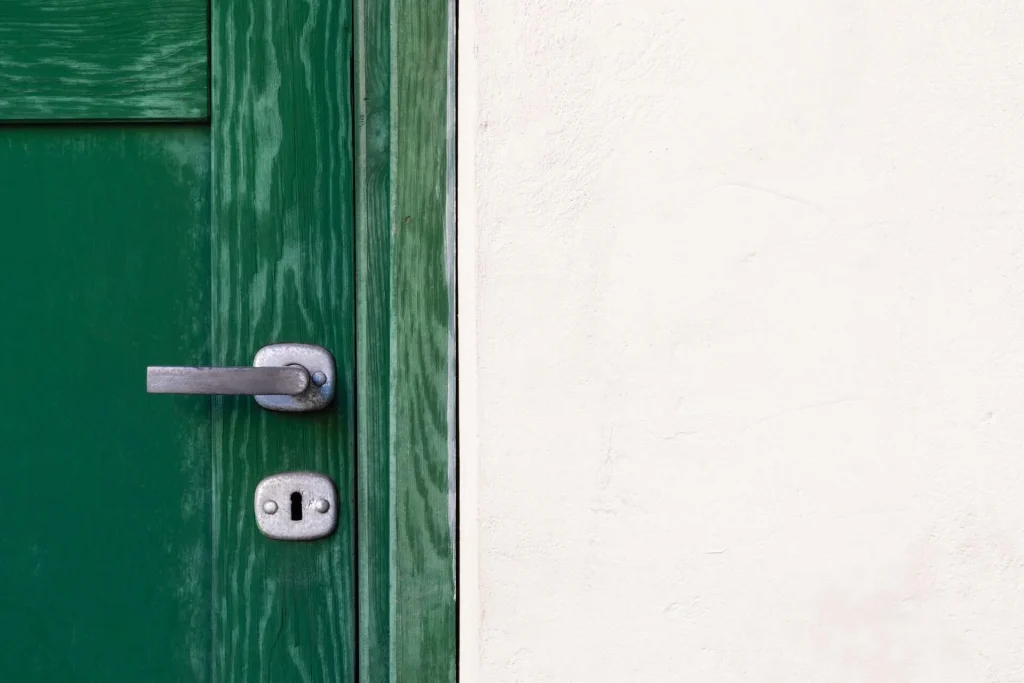 Your front door will be the first thing you and your guests will see when you get to your home. If it's looking a bit drab or needs a new paint job, recolor your front door to make it more appealing. However, if you live in a condo unit, you can only paint the inside of your front door, not the outside. You can spray paint, add decorations, do whatever your heart desires to make it more appealing. Just go to your local hardware store and start redecorating that door of yours! You'll have something different in just a few hours.
7. Re-organize Laundry room storage
If you need more space, have you ever considered re-organizing and fixing your laundry room storage? Your laundry room should be the least of your concerns in terms of decorating but it needs to be efficient and organized. If your overhead cabinet is open, add cabinet doors to get rid of any visual clutter. Another thing to do is to sort out your cleaning products to make your experience more efficient.
These are only a few suggestions to many home improvements that you can do. Some can even be done in a single weekend, yet a single free afternoon! If anything, these simple DIY projects prove that there is no excuse to limit your creativity. If you don't have much DIY know-how, the only way to learn is to start doing it. It's a learn-by-experience kind of thing.
Related Blog: Power Up Your Home: Power Tools You Need for DIY and Home Repairs