Living in Cavite can be a prestigious experience. It is a place where history meets modernity, and the urban meets the rural. However, as with any location in the world, no area in Cavite is inevitable to the call of sudden emergencies. Whether it is a natural disaster, medical emergency, or crime-related incident, it is essential for a house for sale in Cavite to be prepared for unexpected events.
Furthermore, emergencies may occur unexpectedly and pose serious risks to any life. And so, therefore, it is crucial to be prepared for these kinds of situations. One powerful approach is ensuring access to appropriate contacts and information. By having the right contacts, you can promptly seek assistance when needed. Additionally, having the essential information on handling emergencies can elevate your safety and compensate for safeguarding your loved ones within your vicinity.
Without further ado, here are the zip codes and emergency numbers you should consider in Cavite to help you stay safe and informed.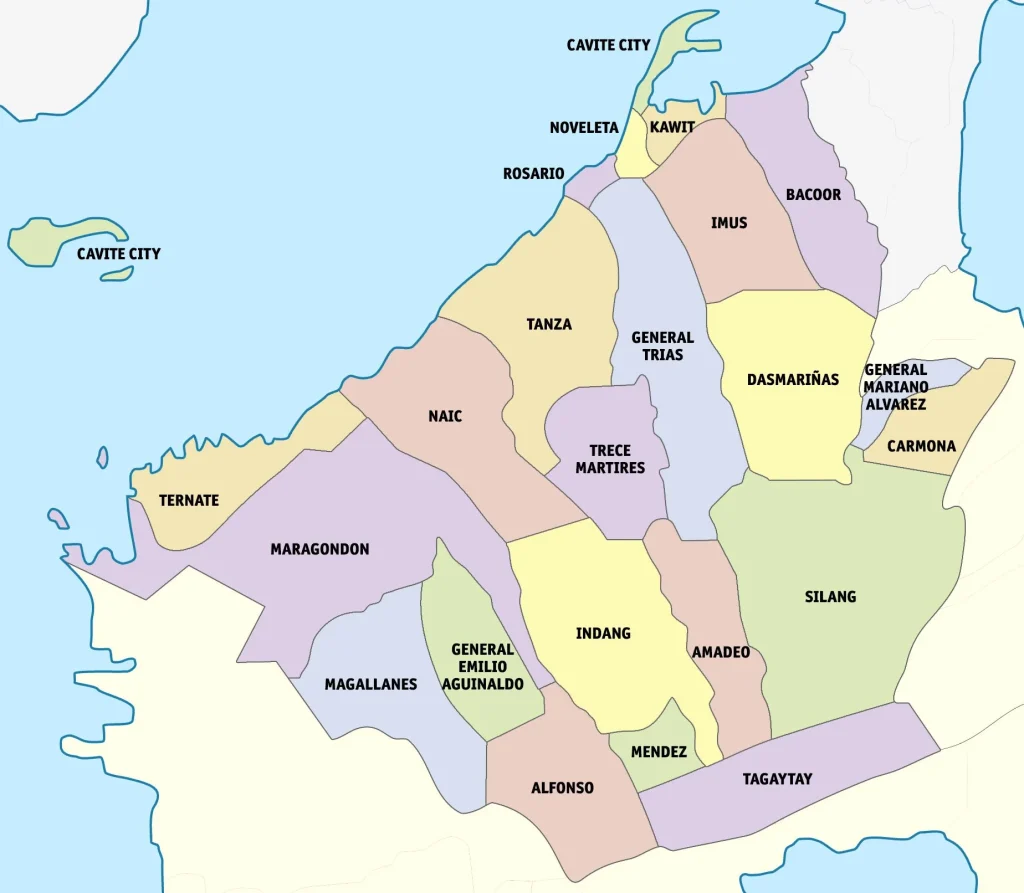 Photo from Adkranz, CC BY-SA 4.0 <https://creativecommons.org/licenses/by-sa/4.0>, via Wikimedia Commons
List of Zip Codes in Cavite
In emergency situations, such as medical emergencies, criminal incidents, or natural disasters, zip codes are utilized for swift and accurate location and response purposes. Emergency services depend on zip codes to dispatch suitable and nearby personnel and resources to the designated areas, leading to potential life-saving measures and minimizing harm.
Here are some of the zip codes in Cavite that you should remember:
Bacoor City – 4102
Tagaytay City – 4120
Dasmariñas City – 4114
Cavite City – 4100
General Trias City – 4107
Imus City – 4103
Kawit – 4104
Rosario – 4106
Silang – 4118
Trece Martires City – 4109
List of Emergency Hotlines in Cavite
Police
When it comes to emergencies, the police are usually the first responders. Whether facing immediate threats, reporting past crimes, or identifying suspicious activities that might be harmful, it is important for you, as a citizen, to notify law enforcement. By doing this, you may help gather vital data and possibly stop crimes from happening in the future.
There are multiple police stations located near each house for sale in Cavite. Below are some of the police hotlines available in the area:
Bacoor City Police Station: (046) 417-6366
Imus City Police Station: (046) 471-3993
Dasmariñas City Police Station: (046) 416-0254
Tagaytay City Police Station: (046) 413 1282
Fire
During fire emergencies, every second matters. The arrival time of firefighters can make the difference between life and death for those trapped inside a burning building.
Thus, keeping the emergency hotline number for fire services in your phone or notes provides you, as a homeowner, a sense of security and reassurance. Here are some of the fire hotlines in Cavite:
Bureau of Fire Protection – Cavite Provincial Office: (046) 471-4777
City of Bacoor Fire Station: (046) 417-6060
Imus City Fire Station: (046) 970-5161
Dasmariñas City Fire Station: (046) 416-0875
Tagaytay City Fire Station: (046) 483-1193
Medical
Access to essential resources, such as ambulances, paramedics, and other immediate healthcare staff, heavily relies on contacting the medical emergency numbers. Having a universally recognized emergency number for medical services makes it easier for you to remember and use it in times of crisis. This guarantees a quick and efficient response for your family and benefits those with medical conditions and caretakers of vulnerable individuals.
Below are the medical hotlines in Cavite that you can contact during emergencies:
Disaster Hotline
Like any other emergency circumstance mentioned above, no one is exempted from the impact of natural disasters. In times of calamities, individuals may undergo panic and confusion in these situations. Therefore, the emergency numbers provided by the disaster risk reduction and management office in your area are your trustworthy sources of information. They usually provide updates on the situation, evacuation protocols, and safety measures, enabling effective and timely responses. Below are the contact hotlines available for emergency response:
Cavite Provincial Disaster Risk Reduction and Management Office: (046) 424-0203
Imus City Disaster and Risk Reduction Management Office: (046) 472-2618
Bacoor Disaster Risk Reduction and Management Office: (046) 417-0727
List of Utility Company Hotlines in Cavite
Electricity
In the event of a power outage, electrical emergency, or hazardous situation, such as fallen power lines, electricity hotline numbers will serve as your safeguard from potential harm. By having an emergency number, the electricity company can be notified about outages, allowing them to dispatch professional repair crews and restore power as quickly as possible and minimize your inconveniences. Below is the hotline number for the largest electric power distribution company in Cavite.
Meralco – Cavite Business Center: (02) 16211
Water
Water is another essential utility that we need in our daily lives. Keeping a water emergency number in contact allows you to report instances of water wastage or leaks. Addressing the leaks immediately can lead to water conservation, cost reduction, and less environmental impact.
Here are the listed water provider hotline numbers in Cavite:
Maynilad Water Services, Inc: (046) 471-1594
Dasmariñas Water District: (046) 416-1236
Tagaytay Water District: (046) 483-1265
How to Save Emergency Hotlines on Your Phone
Having emergency hotlines is now essential in today's society due to the convenience and development of modern living. After all, saving emergency hotlines provide a sense of security and safety, particularly in anticipation of future emergencies. Here is a quick step-by-step guide on how to save emergency hotlines on your phone:
Open your phone's contact list.
Tap the "+" or "Add Contact" button.
Enter the emergency hotline's name and number.
Save the contact.
Being ready for emergencies is crucial, as they can occur at any moment next to a house for sale in Cavite. Having the necessary contacts and information readily available enables you to ask for support in times of difficulty. It is advisable to save emergency hotlines on your phone and familiarize yourself with the appropriate actions to take during such situations. And as always, ensuring your family's safety will always be your utmost priority.
Read more: Moving to New Heights: Why Bacoor, Cavite?