Nowadays, the majority of residential properties contain indoor home designs that are intended for guests rather than for families only. In addition to adding guest rooms, homeowners have begun to include powder rooms in their houses to give both visitors and homeowners a moment of privacy to attend to their personal hygiene.
A supplementary bathroom is known as a powder room or a half bath. Regardless of the home's architectural style, this practical area adds charm and is a useful addition to any modern, elegant home. However, unlike full-size bathrooms, a traditional powder room just has a toilet, a tiny vanity or sink, and powder room essentials (toiletries).
This article will essentially cover all aspects of powder rooms, including their definition, advantages, and some basic building procedures.
What Is a Powder Room?
A powder room is a smaller bathroom with a sink and a toilet that is normally found on the main floor of any residential property. It is also smaller in size than a full bathroom. It offers a space for visitors to use without having to make their way to the private living quarters of a home and is occasionally referred to as a half bath or guest bath.
What Is the Purpose of a Powder Room?
A smaller room called a powder room is designed to give visitors a convenient spot to wash their hands and use the toilets. The powder room's primary use is to give a space for people to powder their hair and noses, hence the name.
Additionally, a powder room is also primarily designed as an efficient place for guests to freshen up during gatherings or celebrations of typical occasions at home.
Benefits of Having a Powder Room
A powder room has many advantages, one of which is that it significantly boosts the resale value of residential properties. When guests are staying at a house, a powder room is very useful because it's typically positioned on the main level and apart from the master bedroom. It gives guests easy access to a second bathroom while keeping the owner's full bathroom private.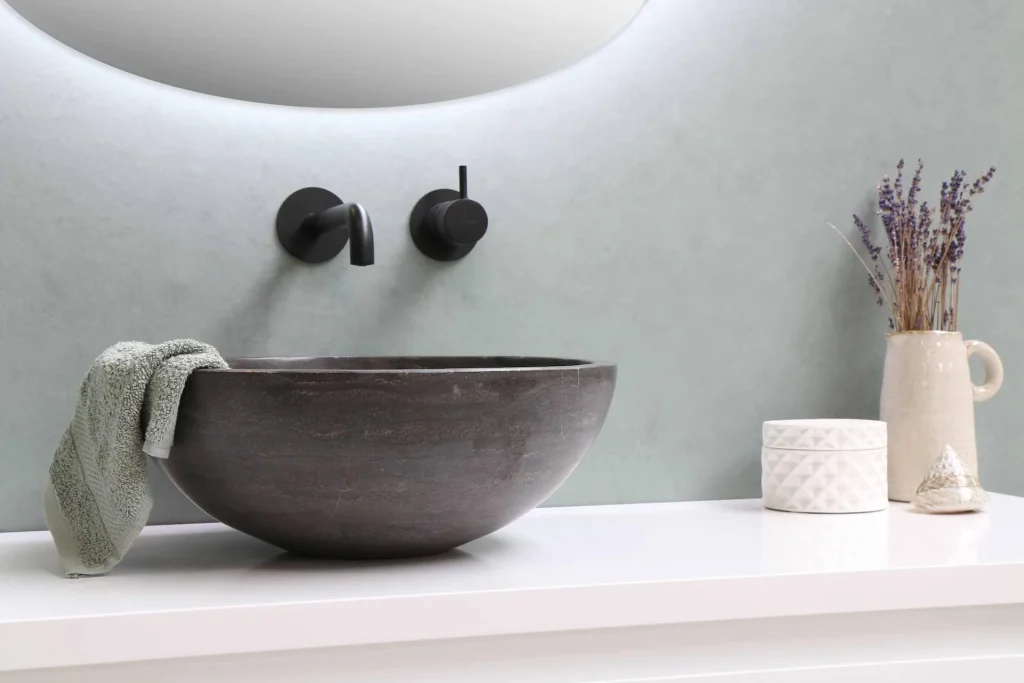 Modern Powder Room Ideas
Design the room's layout
To prevent any issues and mistakes, it is crucial to properly plan the room's layout before beginning any work. Plans are best created by an architect or engineer who can rationally place the various components and precisely measure the size.
Homeowners can get interior design ideas online to display the precise visual interest that works well in small spaces, or they may hire an interior designer to complete the layout while they just choose their preferred style.
There is practically no room for error when it comes to the intricate plumbing and electrical work that goes into a powder room because of the small area available.
Make a plumbing installation plan
Keep in mind that creating a powder room involves plumbing installations; as a result, hiring a trained plumber to handle this kind of job will eventually be necessary. So, if homeowners decide to handle the work themselves, they will at the absolute least need to engage a plumber.
Apply a bold wallpaper
A powder room is an excellent area to experiment with wallpaper because it is too small to be solely minimalist.
It's a frequent misconception that dark paint color can make a space appear smaller, but in reality, it may make an impressive statement, encourage color and pattern experimentation, and make a wonderful expression. A bold pattern of abstract or floral designs can help homeowners create an inviting space. As a result, the space exudes a regal appearance. To go along with the wallcovering, homeowners can also add streamlined basic fixtures in matte black or brushed metal.
Choose a sink, shower, toilet, and vanity
This step can be completed in conjunction with step one because it's crucial to take the room's measurements into account while selecting an interior design. As previously stated, powder rooms are typically modest spaces with a focus on functionality. Thus, the furniture and fixtures should be efficient and appropriate for the room's size.
The principal components of a powder room:
Sink
Vanity
Toilet
Mirror
Even while a modern powder room idea can help make a space look better, its functionality mostly depends on the type of wash basin or sink chosen. Hence, here are some ideal washbasins for any powder room:
Pedestal sink – offers an efficient footprint and a classic appearance.
Wall-mounted sink – can help in preserving floor space in a small powder room.
Corner sink – can maximize a small space by tucking into a corner and creating more room on the floor.
Vessel sink – a sleek and modern choice.
Console sink – may give a bathroom room a sense of sophistication.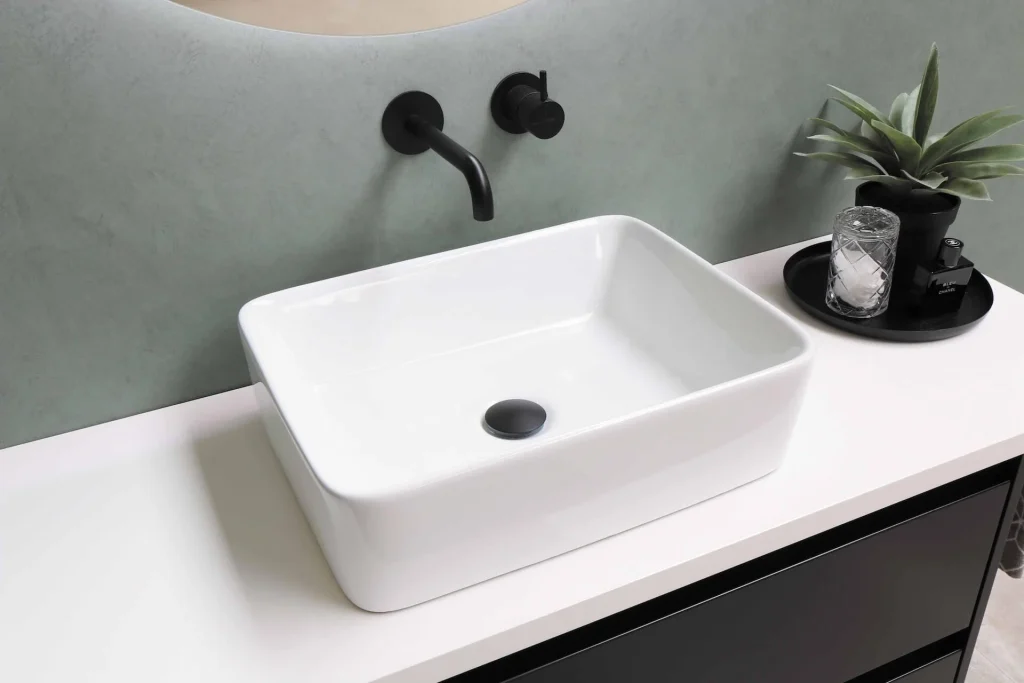 Choose the Appropriate Mirror and Lighting
The majority of powder rooms lack windows, have tiny ones when they do, or have limited access to natural light. Hence, lighting fixtures are quite important in creating a practical and welcoming space. The overall safety of the room can also be significantly influenced by the lighting. Most people have gone through the terrifying experience of slipping as they exit the shower. The likelihood of this occurring increases if the lighting is inadequate.
Furthermore, it is highly recommended to choose huge mirrors as much as possible. However, with a tiny powder room, homeowners can choose tall, frameless mirrors. After that, they should ask someone qualified to illuminate the mirrors. The powder room will have more depth when it's done. Additionally, guests can use it to touch up their looks.
Practical Concerns of Powder Rooms
Since a powder room often experiences a lot of traffic, homeowners should make sure to have lots of very absorbent hand towels and sufficient paper towels.
Homeowners can get inventive with storage if the powder room only has a pedestal sink or a tiny single vanity with little room for shelves. Place folded towels, candles, and bathroom supplies on the floating shelves used to decorate the space over the toilet. Get an elegant basket and keep spare toilet paper rolls in it.
Furthermore, homeowners may also use any current open shelves (or add open shelving) for more aesthetically pleasing objects and use any vanities with closed storage to put items like cleaning materials that are meant to be not seen.
Read more: Tips to Properly Organize Your Bathroom