Fixtures are equipment, appliances, or decorations that are attached to a property. These include plumbing fixtures brands, bathroom fixtures, lighting fixtures, double bowl sinks, kitchen sinks, heated seats, drop-in sinks, and the like. Price ranges vary for different fixture brands, but if you are planning to invest in upscale brands that enhance the quality and appeal of your Imus house and lot for sale, then this blog is for you.
View the various upscale brands in this blog that many customers love, many of which pass the American standard for product quality testing. This blog will primarily be discussing upscale bathroom fixture brands which also offer other kinds of fixtures.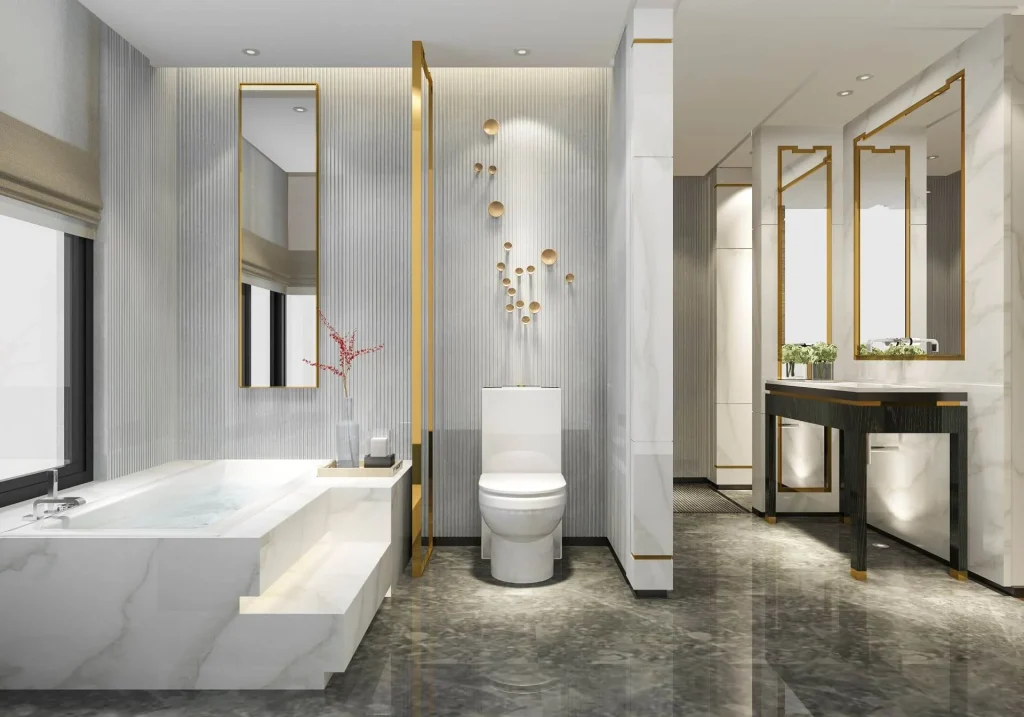 List of the best upscale fixture brands:
1. Kohler
Kohler products are focused on two things: beauty and functionality. Fixtures created by Kohler are designed to complement the style of a room, especially a bathroom. Functionality as a focus is observed in the way the products are designed. For example, the inclusion of grab bars in a bathroom is meant for increased safety when using and navigating the bathroom. In addition, the shower rods are designed to be curving away from a bath area for increased space for bathing. Kohler products are made with quality materials and are very reliable.
Kohler also has a digital interface for bathrooms called DTV Mode, which allows users to input a specific temperature for a bath or shower, and lets users create pre-sets for whatever shower or bath settings the user likes. Through sleek design and a seamless look that improves bathroom interior design, Kohler is one of the many brands that stand out.
2. Delta
Delta products are geared towards innovation, with an emphasis on durability testing, parts replacement, and offering a good warranty. One of the main features of their products is being leak-proof by having fixtures be hand inspected more than 100 times and be turned off and on an estimated 500,000 times.
Given their thorough process of ensuring leak-proof products, Delta offers a Lifetime Faucet and Finish warranty, which allows purchasers to have any Delta products with defects be replaced properly. In addition, they have designed features in products purposed to serve as solutions for different problems, like In2ition Showers, which allow two streams of water at the same time in the shower, or H2Okinetic Technology, which lets users take showers while being water-efficient.
3. Toto
Toto is one of the known bathroom fixture brands or toilet brands that are installed in many commercial and residential bathrooms. With environmental responsibility as a focus, Toto, mainly known as a toilet brand, creates its products with a design quality that can ensure customer satisfaction while ensuring energy and water efficiency.
Product performance is important to this toilet brand, constantly pushing for improvements in hygiene standards through different innovations such as automatic functions, warm water cleansing systems, anti-bacterial technologies, and the like. For example, Toto toilets are designed to have TOTO TORNADO FLUSH technology that is unique only to this toilet brand, which allows for a more thorough, yet quieter flushing system.
Moreover, Toto is one of the brands that are leading in the electronic bidet seat market. In addition, Toto offers other models that also possess innovative designs. If you are interested in installing one of the best toilet brands in your Imus house and lot for sale, then Toto is one of the brands to choose from.
4. Moen
Moen products are known for their bathroom and kitchen fixtures, such as double bowl or drop-in sinks, kitchen sinks, and the like. Their products are designed to create the best experience when it comes to convenience, comfort, and performance. Particularly, kitchen faucets and sinks are notable products of Moen, with innovations such as MotionSense for faucets that allow users to turn on the faucet by waving their hands on the faucet sensor.
Furthermore, Moen has Power Boost and Power Clean Technology, letting users fill up containers, cast iron pans, and pots with water faster and with less likelihood of a mess occurring, as well to ensure that users have better control of water usage during cooking. In addition, Moen has pressure-balancing shower valves that allow users better control of the right mixture of cold or hot water during showers.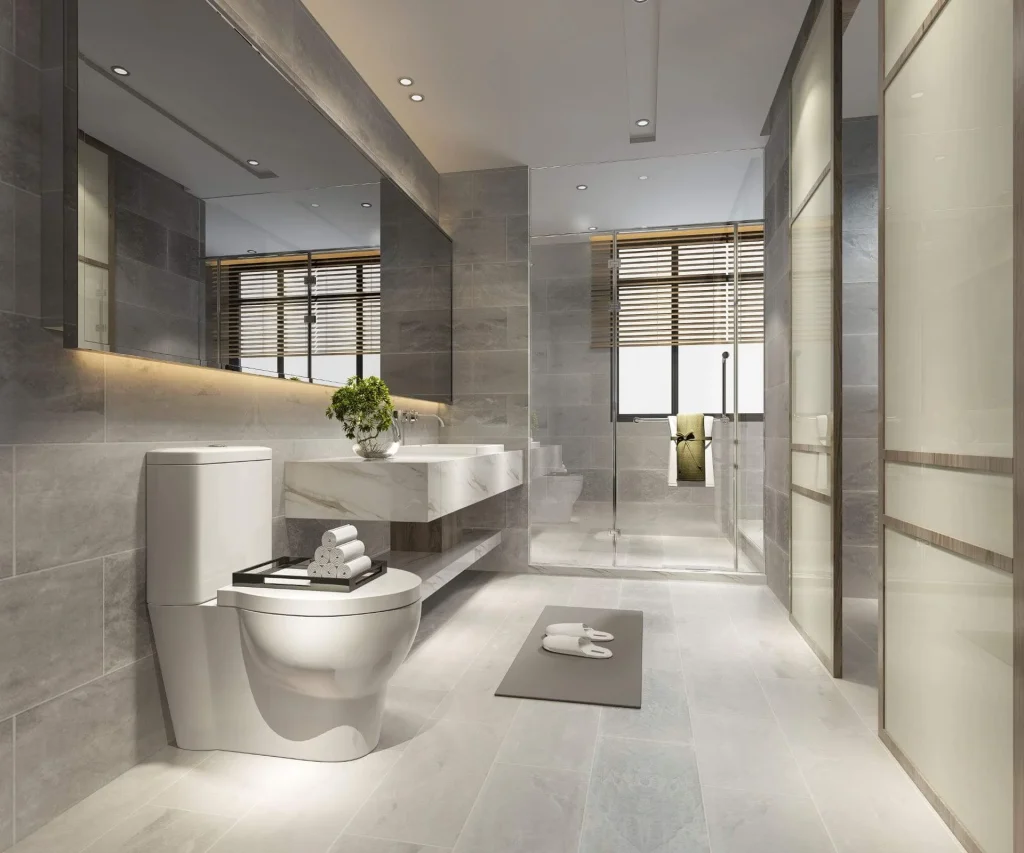 5. Grohe
Grohe products are designed with a focus on being able to endure factors that could potentially degrade an average fixture product. Through intense endurance tests, Grohe creates durable products that include bathroom sinks, shower faucets, kitchen faucets, and the like.
For example, the bathroom faucets were designed by Grohe to have different configurations and to be pressure-balanced. This is also observed in the shower and tub faucets designed by Grohe. Furthermore, this brand offers varied bathroom accessories that you can install in your Imus house and lot for sale, like soap dispensers, toilet paper holders, towel rings, and robe hooks.
6. Shaws
Shaws pride themselves in their premium handcrafted sinks. Their roots go back all the way to factories around the 1900s, where high-quality fireclay are carefully handcrafted to create upscale sinks that outclass stainless steel sinks. Their process is thorough and unique, to the extent that they have their own special techniques that are passed down from master craftsmen to apprentices for creating all kinds of sinks, whether it double bowl sink, drop-in sink, kitchen sink, or kitchen sinks, and the like.
In creating their sinks, Shaws makes use of heavy-duty fireclay to make a molten blend that is placed in a mold, which is later handcrafted, glazed, and placed in fire at 1200 °C for hours. It is because of this process that Shaws products are one of the most durable in their industry. Two exhaustive inspections are conducted before the product is considered fit to deliver. Whatever purpose the sink will be used for, whether it's to separate dirty dishes, food preparation, washing cast iron cutlery, and the like, Shaws products are corrosion resistant and resistant to scuff marks.
7. Donsbracht
Dansbracht products make their mark in the plumbing fixture industry by studying how water works and how such knowledge could be innovatively applied to design efficient bathroom and kitchen fixtures. Their products are handcrafted and possess a Smart Water system that allows for personalized adjustment for water temperature adjustment.
Their products also have an Ambiance Tuning technology that lets the stream of water from a shower head be tuned to a specific rhythm or flow, which could be used to create the ideal shower experience. With sustainability as their focus, Dansbracht is one of the brands that aim to integrate function and visual appeal in their products, like kitchen sinks, drop-in sinks, faucets, and the like.
Read more: 8 Luxury Items for your Condo Unit