'Tis the season to be merry once again! One more month until the official month of Christmas begins, as the last quarter of the year, the tradition of joy and cheer can be felt once again. With the news that Metro Manila is declared as Alert Level 3, the government lowers its restrictions, such as no more curfews for adults and children allowed in some public areas and essential services (e.g. dentists, pediatricians). As well as the announcements of vaccinations available for 12-18 years old and cinemas starting to operate again after 19 months from 2020 on November 10.
Families can go out again, of course, still practicing safety protocols to prevent the disease's spread and guidelines requiring fully vaccinated statuses before entering any public and/or private spaces. Because of that, most public areas have already adapted fully to the New Normal and the usual businesses and hangouts of yesteryear have slowly reopened to the public's delight.
Because of that, shopping malls with some level of openness are also included in Alert Level 3's operating guidelines. The eased restrictions already sparked joy in going out and people enjoying the (physical) commercial life that everyone missed during the full-on digital state of shopping for essentials and wants during the height of the pandemic in 2020.
In this article, we have curated a list of shopping malls in Taguig City for you to visit, shop, and dine (yes, it is tradition to that particular order). Why shopping malls in Taguig? You may ask yourself after clicking this article to read it.
Well, you might probably know by now that Bonifacio Global City, one of the world-class commercial centers and central business districts, is one of the well-known places in Taguig. The lifestyle is just oozing with an upscale taste, most particularly the nightlife and street culture present in it. It is a clash of cultures all around the world that truly encapsulates the first-rate country within this district and incredible amounts of retail shops and commercial malls add to the allure of BGC and Taguig itself.
Since November is the month before the most wonderful time of the year, you might as well do some advanced shopping for Christmas gifts for your loved ones, friends, colleagues, and of course, yourself. Or maybe you are just looking for a shopping mall that piques your interest in trying out new places, this list is perfect for you!
5 Premiere Shopping Malls to Shop in Taguig City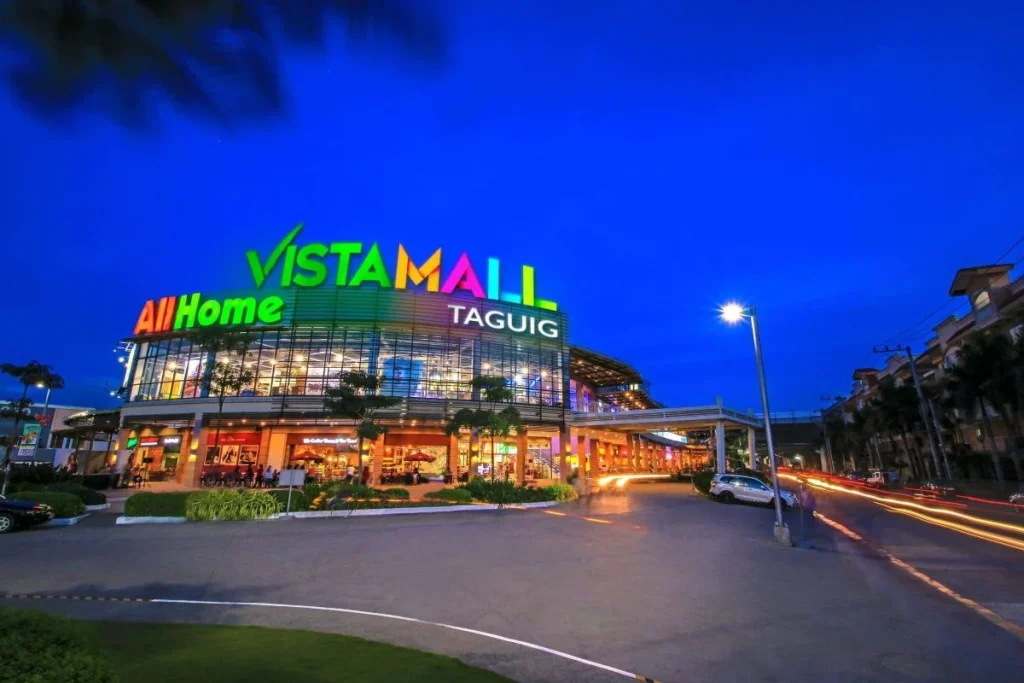 Photo from vistamalls.com.ph
1. Vista Mall Taguig
This mall is one of the branches of one of the long-line of shopping mall chains of Vista Land. What makes this mall special is that it prides itself on being "community-centered." Instead of the usual premier high-end malls only located within the centers of every urban city, this brings that premium-rate style and is closer to the residential side of Taguig.
It prides itself on being a low-density escape and brings the premium mall shopping that Vista Malls are known for, which is closer and convenient to mall-goers living within the area. Vista Mall Taguig includes some of the finest restaurants that give people a quick-and-easy food and shopping experience at a moment's notice. Vista Cinemas, one of the staples to the cinematic experiences in the Philippines, is also located in Vista Mall Taguig. With the powerful sounds of Dolby Atmos and crisp picture quality across its digital cinema projectors, the events of watching new blockbuster hits or indie films are even closer to your homes.
One of the newest stores that recently opened in this mall branch is KAL. It provides the world's best cultures in one store. One of its aspects is its wide selection of foods to eat in the form of food trucks, from tacos & quesadillas from Mexico, Korean Chicken, American Steaks, and even the iconic Filipino past-time delicacy, sorbets. While you are in the store, you can shop around for clothes, memorabilia, and indoor decorations to spice up your living room or bedroom designs from locally-made brands to international ones.
Vista Mall Taguig is perfect for a young professional coming home from work, a place to hang out with your friends or family, or simply someone who is bored at home and looking for something to eat or do. All your needs and wants are just within your reach and nothing is more comfortable and safe knowing that convenience and the quiet ambiance are a few steps away.
Vista Mall Taguig is located on Pedro Cayetano Boulevard, near Pateros and Barangay Ususan.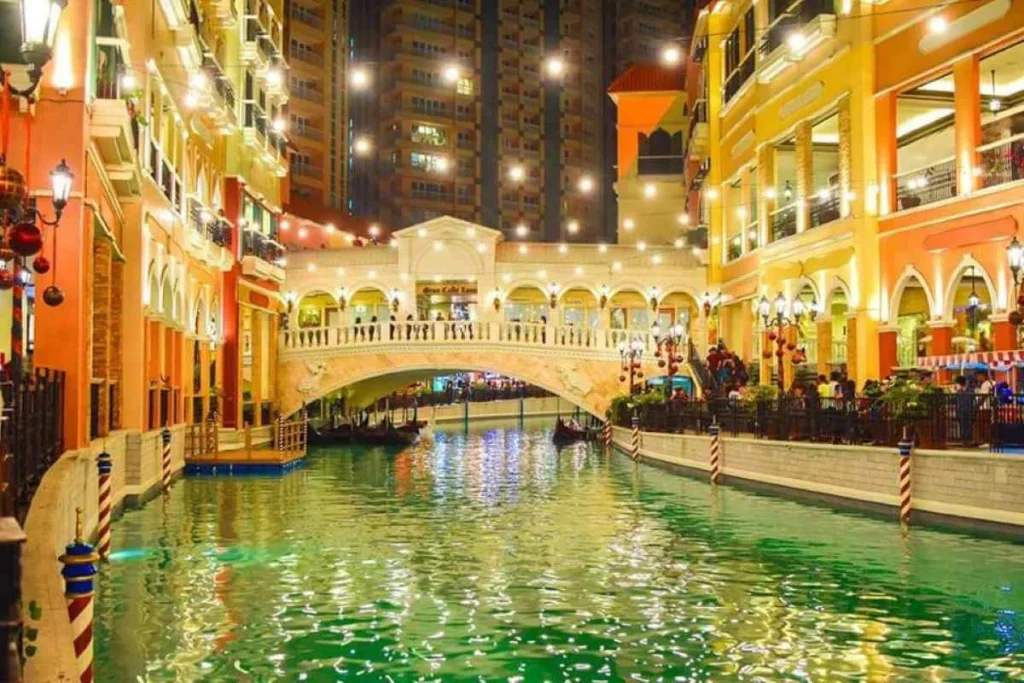 Photo from morefunwithjuan.com
2. Venice Grand Canal Mall
From the name of this lifestyle mall center, you can already tell its major inspiration. Styled after the classical city of Venice's iconic Grand Canal, one of the city's natural water channels dividing both sides of the water, the Venetian architecture design truly showcases a beautiful rendition in Taguig.
It is dubbed as one of the "most romantic malls" in the Philippines and lives up to its Italian roots through the restaurants, bars, and retail shops in its core. Its restaurants and overall mall ambiance are fantastic for a romantic date night with your loved ones, spending time with your family, or even a perfect place to spend your weekends with your friends during your payday. It is attractive to any given occasion! Local and international dining restaurants are interconnected for that al-fresco dining that gives its patrons a great view of the sky, particularly during the sunsets, directly suiting the mall's warm pastel colors.
The gondola ride tours are their most frequented service, as it is one of the well-known things to do in Venice. Everything is replicated closely to one of the iconic tourist spots in Europe is truly like, from the Rome-based buildings, St. Mark's Campanile, the water canal, the Rialto Bridge (which leads into a fancy bar), and the Ponte de Amore bridge, where it is filled with love locks, one of the traditions of couples to symbolize their everlasting love.
Everything that you would do here is Instagram-worthy, it is as if Italy is just simply a drive away from your home.
Venice Grand Canal Mall is located on McKinley Hill, near C-5 Road.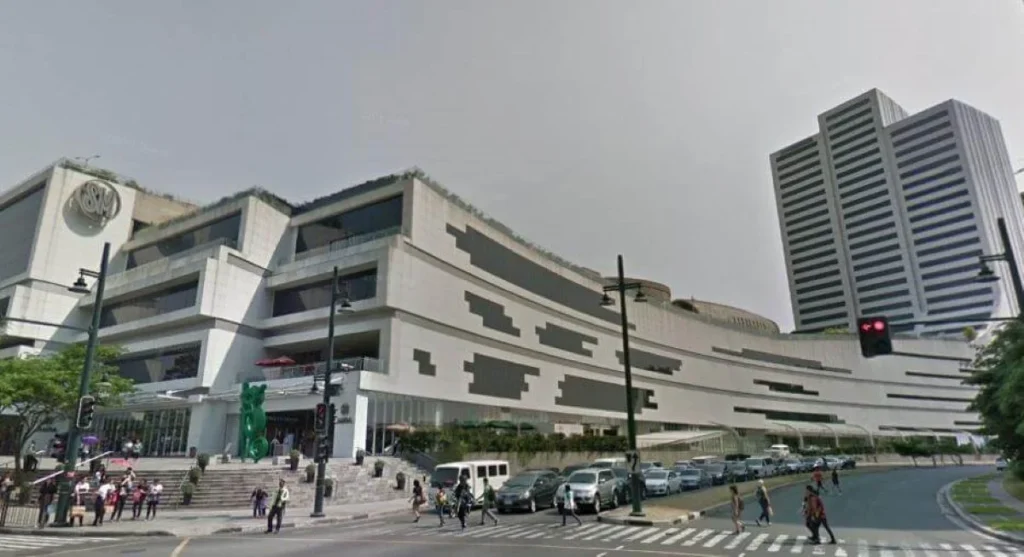 Photo from lobiengroup.com
3. SM Aura Premier
SM Aura Premier stands out in Bonifacio Global City as a mall with a unique design. The architectural design is uncommon for most malls and other buildings in the Philippines, thus making it a sight worth seeing when traveling to Taguig.
The mall's name "Aura," is taken from two elements: gold (Au) and radium (Ra), as it simply symbolizes the kind of mall this branch is known for. Almost everything here creates an aura of luxurious shopping and golden allure to its fine dining across its multiple high-end restaurants.
One of the stand-outs that this mall has is its Sky Park, located in their rooftop deck. It is designed to be "green" and "sustainable," where it has a breathable and peaceful space filled with different bars, restaurants, and cafes, which is described by many to be a different kind of dining experience with their friends and family. Also located on their rooftop is the Samsung Hall, a theatrical place for international performers.
This mall is one of the staples amongst its mall neighbors in Taguig and that luxurious lifestyle is waiting for you.
SM Aura Premier is located in Bonifacio Global City, along the corner of 26th Street of McKinley Parkway.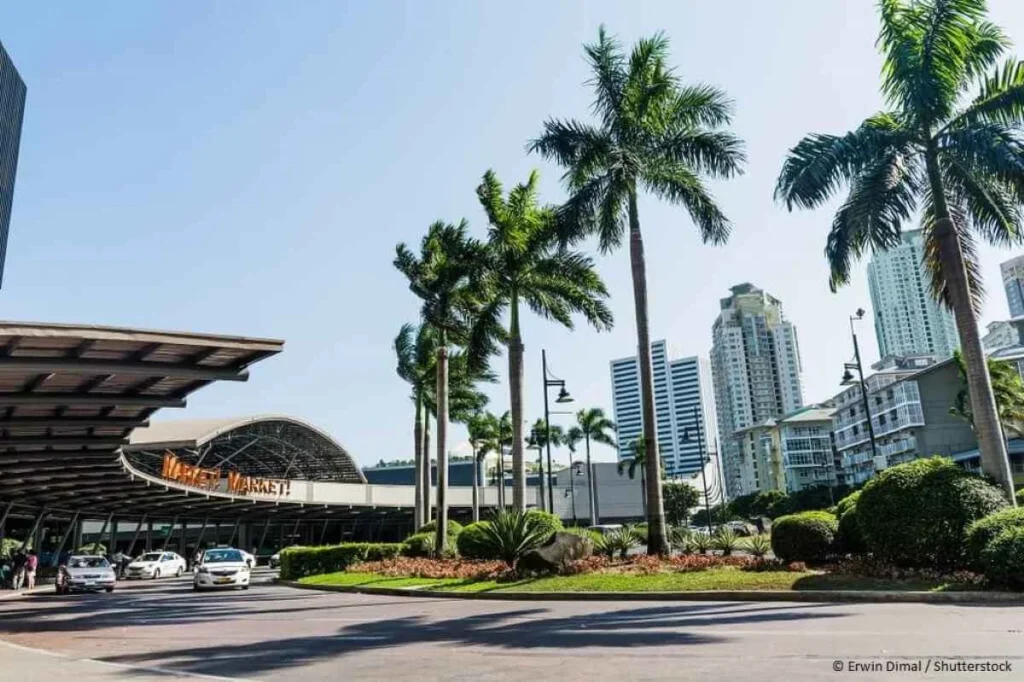 Photo from thefortcity.com
4. Market! Market!
Market! Market! is one of the earliest malls to be erected here in Taguig, opened in October 2004, and one of the malls that people automatically think of when associating the weekend getaway shopping sprees in Bonifacio Global City.
This mall is popular with people who frequently love endless selections for shopping needs and wants at affordable prices. They have a lot of themed bazaars and shops that cater to your tastes. For one thing, they have a section called, Fashion Market, where a wide variety of stalls and retail shops offer several clothing, accessories, and shoes from locally-made to international brands.
Market! Market! is a favorite place of thrift shoppers and maybe, you might go to endless bargains to get the best goods for a fair price at a comfortable pace.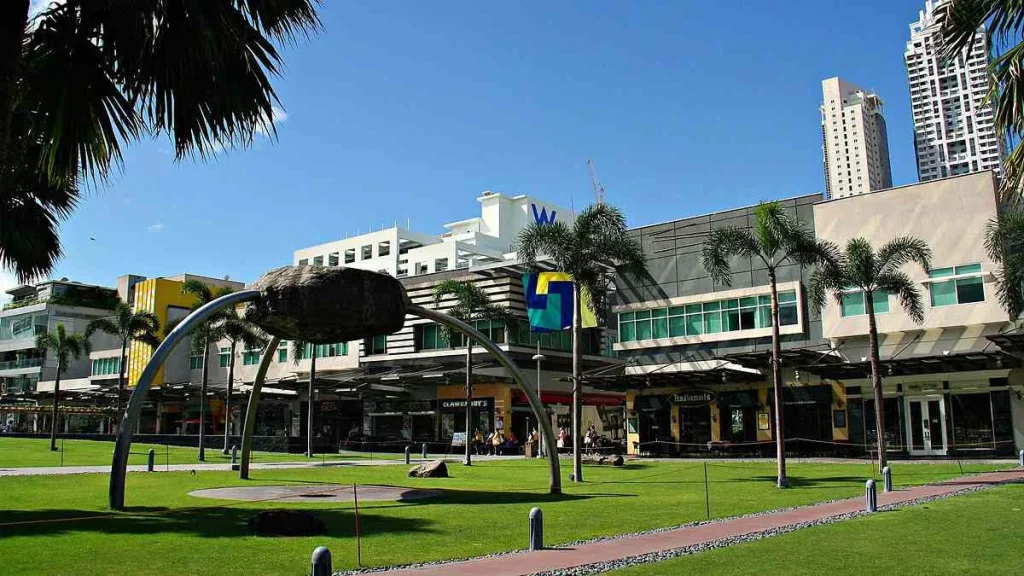 Photo from spot.ph
5. Bonifacio High Street
Bonifacio High Street is a distinct mall in the Philippines, it is essentially a mall as a street retail concept. It is described as a "large (public) mall and lifestyle center" for the most upscale shops and restaurants you could get.
The core of Bonifacio High Street is its open-air shopping area, which you would typically find many pictures of when you would search for the mall on the internet. This section comprises flagship international stores, designer brands, and locally-made products to attract passers-by to flock to their stores. The endpoint of this section leads to the different restaurants – from Shake Shack to Mango Tree – these are the food cultures of the world mixed together in one development.
They also have an indoor commercial building called, "High Street Central," which houses more flagship stores and other interesting shops that sell sports stuff and technology. This street mall is a comfortable place to hang out with your friends and family, as the open-air is suited for dog walks, a leisurely stroll to gaze upon the various street art and be entertained at recreational activities they hold in their activity park or be dazzled at their theater experience through their 4DX Cinemas. There is a lot to do in Bonifacio High Street and your shopaholic's desires will easily be quenched here.
Bonifacio High Street is located on 5th Avenue of Bonifacio Global City.
These malls truly provide a diverse selection of goods and places to choose around Taguig that encapsulates a global lifestyle that is attractive to young professionals seeking a career in the business district of BGC or investors and home seekers looking for a place that conveniently has it all.
What if you could travel to one of these world-class malls at a moment's notice? Perhaps a walking distance or a short drive to either one of these to satisfy your buyer's itch for the latest and greatest of high-end products.
Well, one of Crown Asia's vertical projects, The Courtyard, is surely an attractive investment that you simply must not miss the chance to own a condominium unit that embodies an upscale and luxurious lifestyle. That is one of the great benefits of living in The Courtyard. This pre-selling condo for sale in Taguig is just a 5-minute walking distance to Vista Mall Taguig and a 15-minute drive to the malls located in Bonifacio Global City.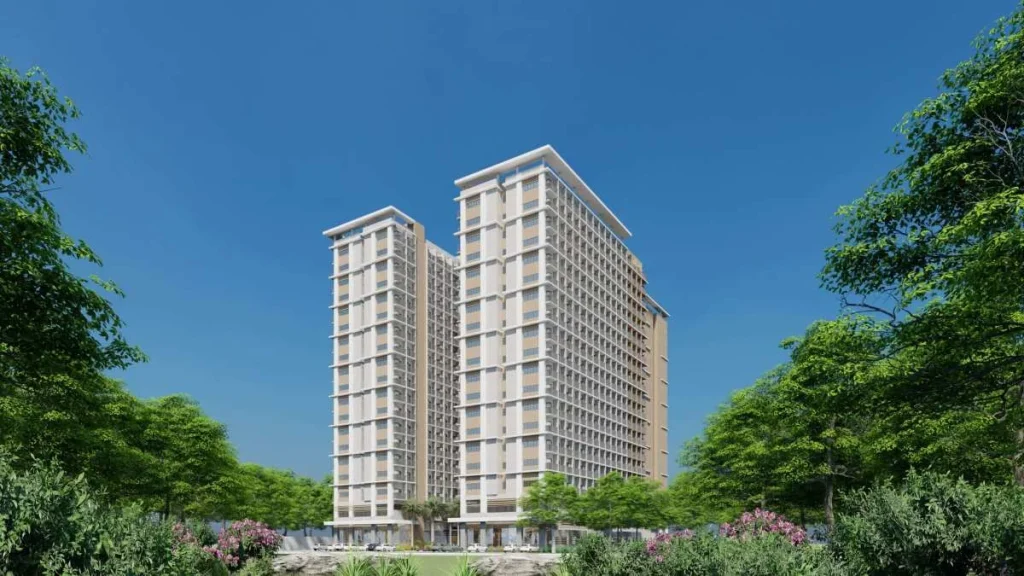 The Courtyard Condo in Taguig by Crown Asia
The Courtyard is your next premium real estate investment that will give a slice of that lifestyle. The Courtyard is a pre-selling condo in Taguig that offers extraordinary upscale development within the urban city. The condo development provides residents the absolute convenience of living near Bonifacio Global City and other first-rate key establishments, a retail commercial strip on the ground floor, and the accessibility of multiple road infrastructures for faster travel times.
After a long day at work, The Courtyard greets you with its resort-inspired amenities and an open green space pavilion that harkens the feeling of an everyday vacation. The posh amenities put future residents' wellness first and create a serene atmosphere just a few steps away from your doorstep. An active lifestyle is capable within this high-rise community and investors are attracted to this condo development's live-work-and-play atmosphere. Residents are comfy with The Courtyard's compact and modern Studio Units that give you a spectacular view of the Bonifacio Global City skyline.
Everything is at an arm's stretch, as the property is located along Pedro Cayetano Boulevard, strategically near the C-5 Road that gives residents a 15-minute drive to BGC and other places in Metro Manila. Transportation hubs, medical facilities, and lifestyle centers, such as Vista Mall Taguig, are within your reach.
This is the perfect time to invest in a property like The Courtyard by Crown Asia Properties, as the capital value appreciation of the property is growing. Due to the various infrastructure developments within the area, such as the C-5 Southlink, the future Metro Manila Subway, and South East Metro Manila Expressway, and the recently opened BGC-Ortigas Link Bridge, it is no wonder that the property is well-poised to appreciate in value over the next few years. The area's continuous developments further add benefits to the pre-selling development for seamless and accessible driving, higher rental yields, and the news of the Philippine economy opening up again due to more vaccinations and eased restrictions.
The Courtyard is the best condo for sale in Taguig, one that enables its investors a progressive and investment-worthy condo living – providing you with an exclusive, vertical village community that is designed with finesse and elegance.
Related Blog: Your Guide to Spending a Weekend in Taguig City