With clandestine cocktails and saucy speakeasies abound, Taguig has the perfect scene for those night life in BGC (and paydays) when you want to unwind in style and for places to drink in bgc.
Setting: You've just worked yourself off, got home in your condo in Taguig and you're looking to do something fun and release the inner party animal in you in some places to satisfy your party cravings. So it's time to leave the shorts and sandals at home and get dressed to the nines. Here are our top picks for the classiest BGC resto bar may it be rooftop bars, cafe, restobar BGC has to offer or disco bar in BGC, feel free to check this out!
Keep it lowkey cool and jump into the scene of the best BGC drinking spots, Here is a list of popular bars in Taguig to enjoy the vibrant nightlife
Bank Bar
RCBC Savings Bank Corporate Center, 26th and 25th Street, Bonifacio Global City, Taguig City, Metro Manila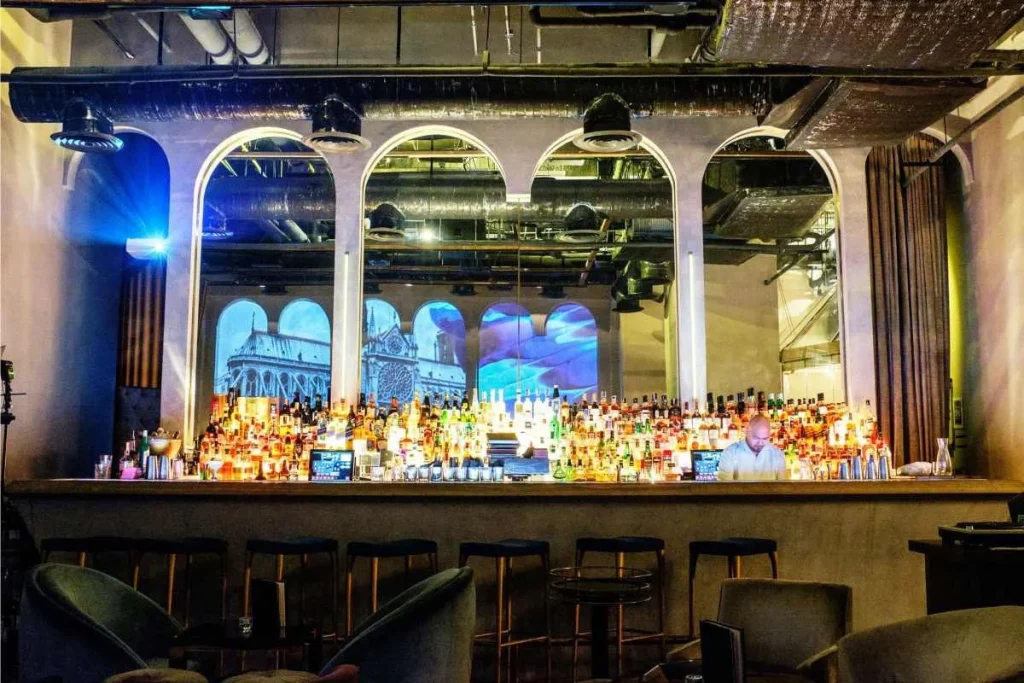 Photo from tatlerasia.com
Can you still call a bar a hidden gem when it gets this jam-packed?
Push past the unmarked white door inside the RCBC Building's nondescript 7/11 and you'll find yourself in the cozy hidden bar that is the Bank Bar, currently ranked #2 on TripAdvisor's Luzon nightlife list. With a lovely ambiance and the coolest bartenders, this speakeasy works both as pre-drinks and nightcap.
The Back Room
30th St, Taguig, Metro Manila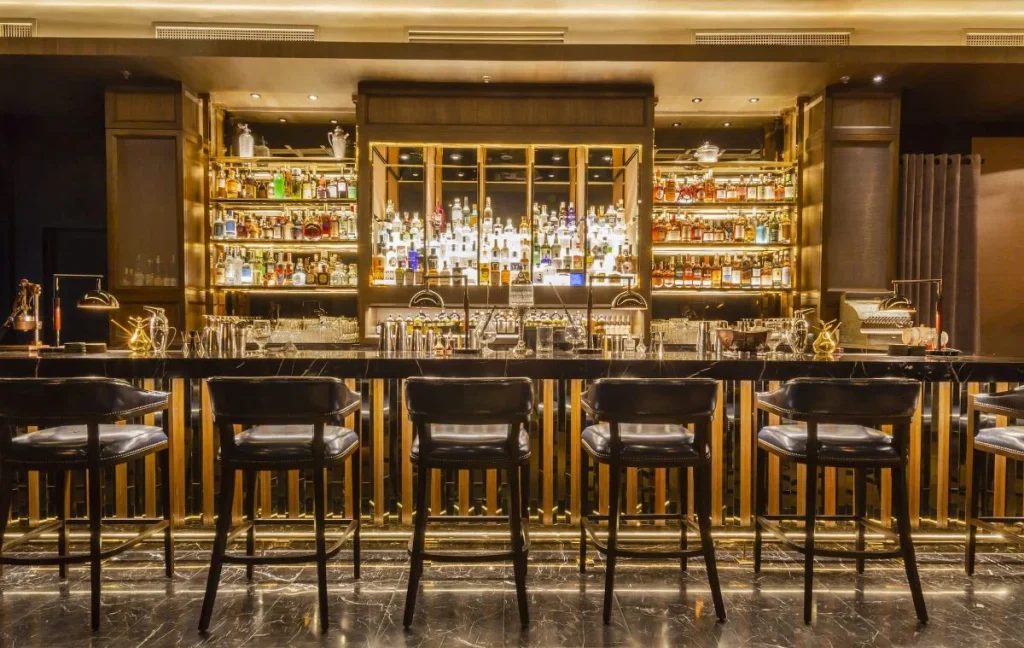 Photo from asia-bars.com
Look no further than BGC's Shangri-La to find #50 on Asia's 50 Best Bars.
More of an experience than just any old after-hours bar, The Back Room is a posh Prohibition-style nightspot that will make you feel part of an exclusive club. Every comfort food item on the menu has been carefully crafted, each cocktail has its own clever story and the service is top-notch. Check out the lab at the back to see how their signature Bee's Knees is concocted.
The Brewery at The Palace
10th Avenue corner 38th Street Bonifacio Global City, Taguig City, Metro Maynila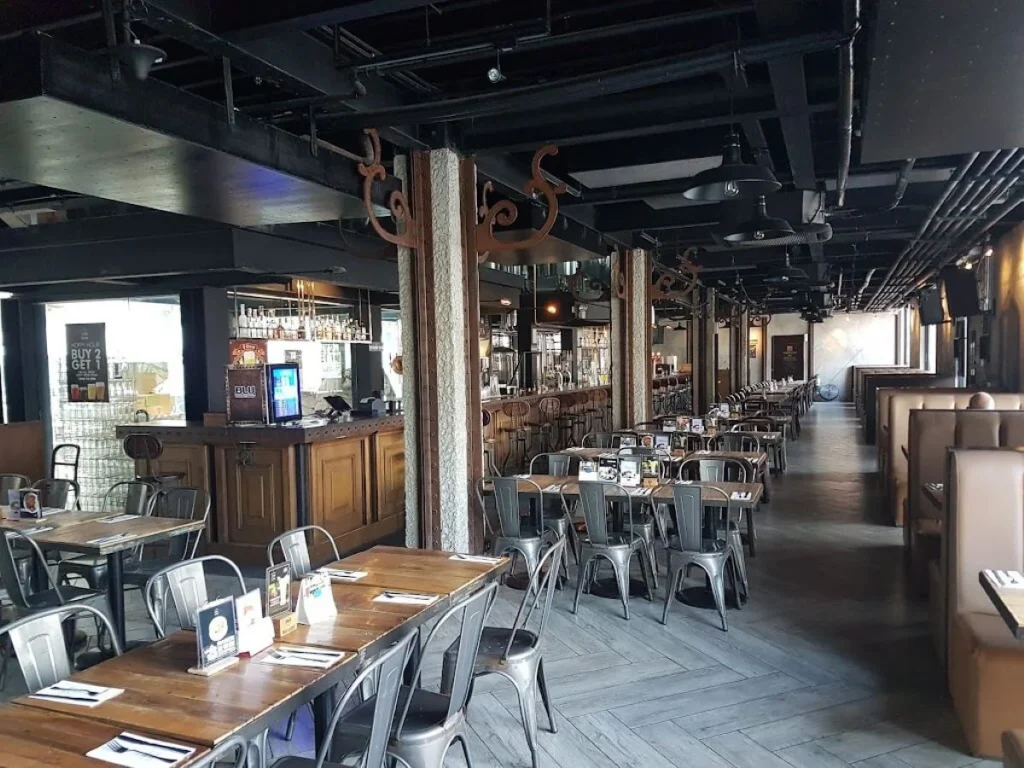 Photo from ph.polomap.com
If you want some wonderful craft beer before your party at x venue at The Palace, head on over to The Brewery right inside the famous nightlife area. This microbrewery offers craft beer from their six tanks used for brewing – Four basic beers and two specialty beers. As well, they serve wonderful Filipino-infused dishes from their Steak Taco Salad to their Crispy Pork Knuckle.
Hotel Bar at Pink's
Ground Floor, Shangri-la at the Fort, 5th Ave, Taguig, 1634 Metro Manila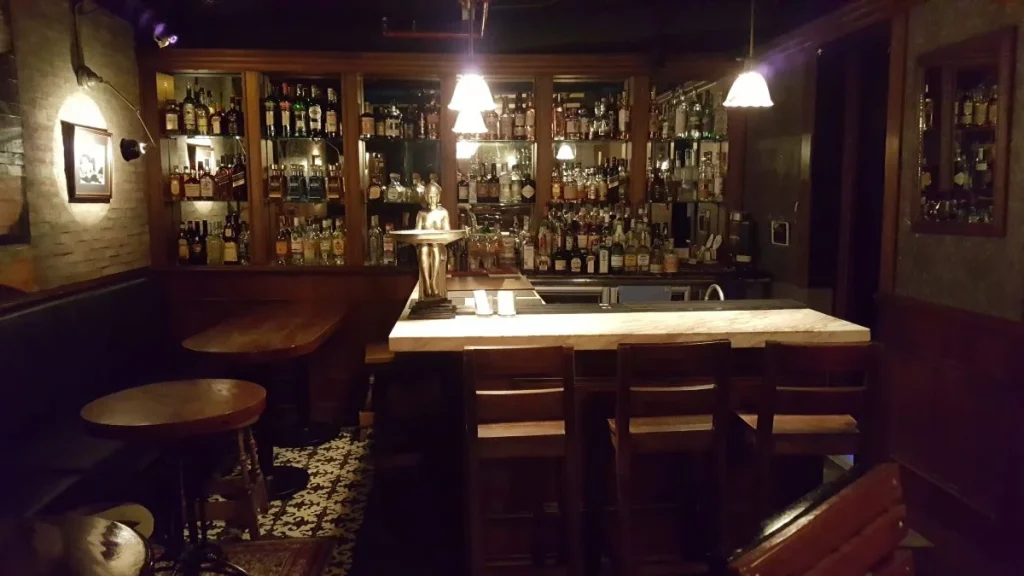 Photo from zomato.com
Need a date night idea? Grab some world-famous Pink's hotdogs and fries for dinner, drink some beer for pre-game then duck into Hotel Bar right behind the restaurant's black curtains. This moody, dimly-lit hideaway has its own roster of regulars, as the excellent DJs, delicious cocktails, and ice-cold beer keep the BGC work crowd coming back for more. You can also have a drink customized and named after you.
Hot tip: head into the bar-within-the-bar for an even more intimate feel.
Elbert's Upstairs Bar
Icon Plaza 26th Street, cor Federacion Dr, Taguig, 1630 Metro Manila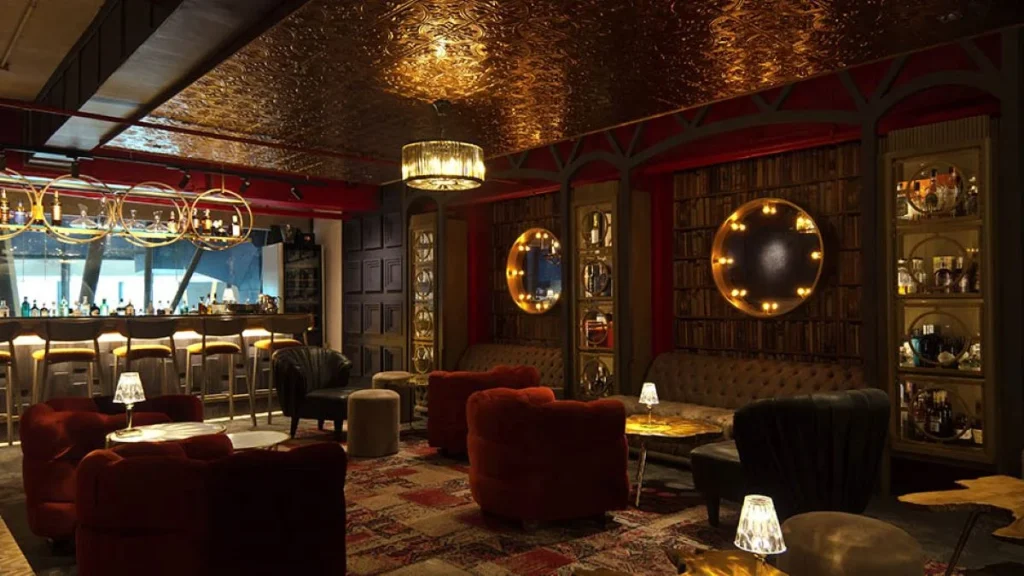 Photo from esquiremag.ph
One of famed restaurateur Elbert Cuenca's latest ventures is the new after-hours joint Elbert's Upstairs Bar. Located on the second floor of the building, you can find its entrance inside the Taguig branch of the popular ramen joint Mendokoro. This charming lounge is a great option should you find the neighboring Bank Bar too crowded and noisy for your classy night out.
Tomatito Tapas Bar
BGC Corporate Center 11th Avenue, cor 30th St, Taguig, 1634 Metro Manila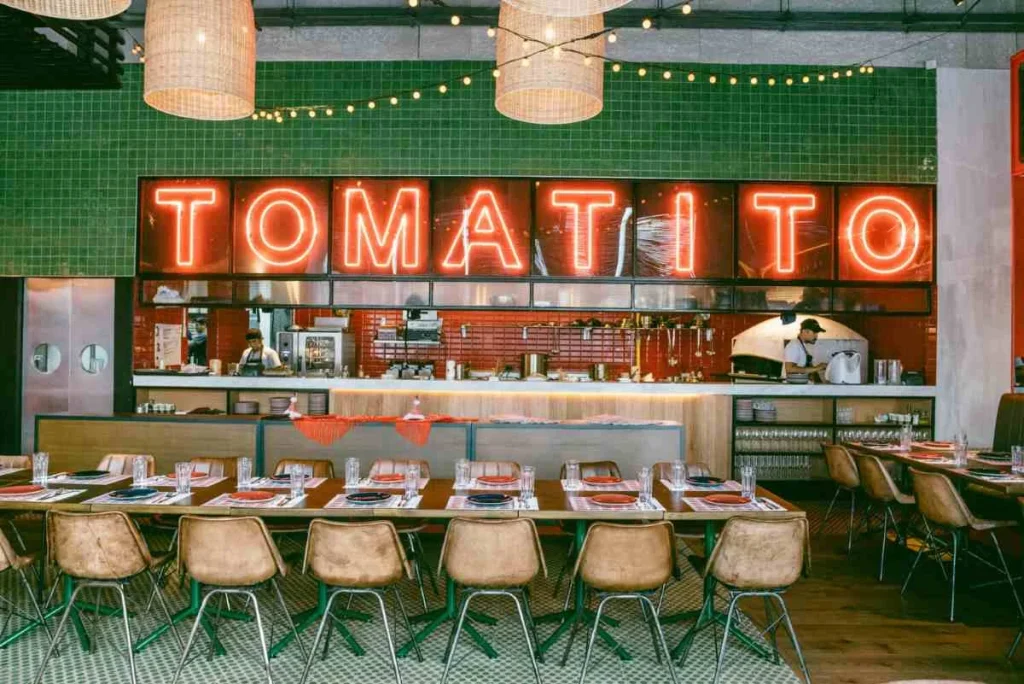 Photo from nolisoli.ph
Tomatito is an 80s-inspired Tapas bar that serves not only good food but great drinks as well. Their food is akin to the best restaurants in the country. We recommend their mouth-watering Shrimp Gambas as well as the Croquetas de Jamon. Enjoy these with (or separately) their cocktails and wine – similar to the ones in Spain. The place also sits well for an aesthetic Facebook or Instagram photo for your feed.
Tap Station
Forbes Town Road corner 26th Street, Parklane Building 7c G/F Forbes Town Center Burgos Circle, Bonifacio Global City, Taguig, 1634 Metro Manila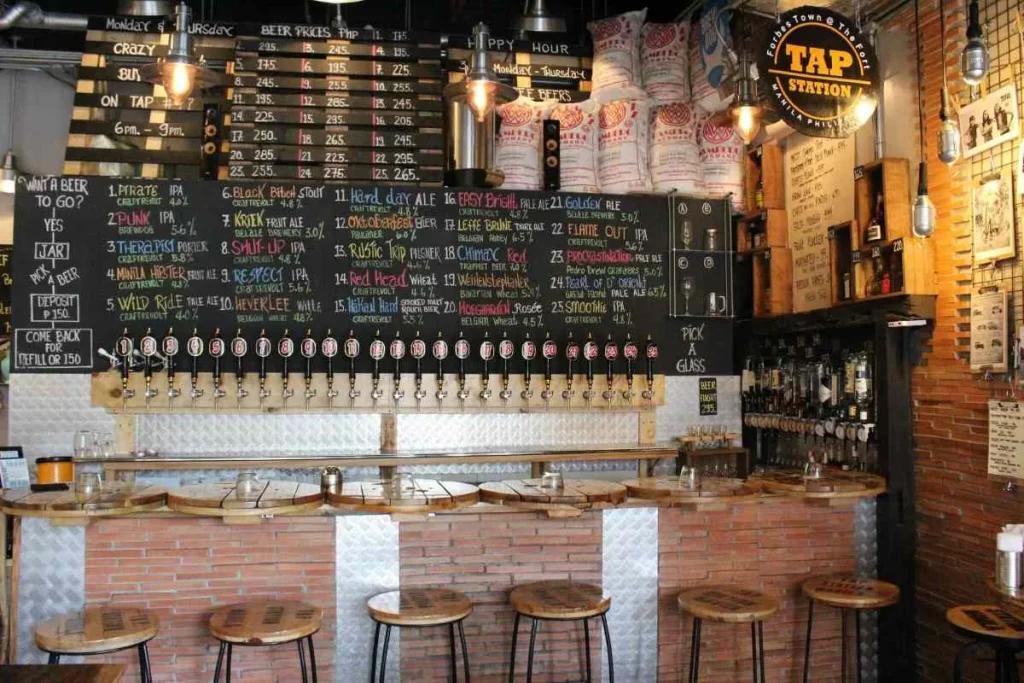 Photo from flickr.com/photos/craftbeerhipster
Want to feel like you're in one of those pubs that you see in Europe, well look no further as Tap Station in BGC will give you something close to one. The bar is full of fixtures collected by the owners from their travels abroad and it gives off the wonderful vibe of a pub where you can have a pint with your mates. They offer local and imported beers, giving you a wonderful choice of booze to choose from. This is then complemented by some wonderful snacks you can enjoy with. Tap Station is a great place to do some pre-game when going out to one of BGC's clubs.
Walking distance from each other
If you're in the mood for something that could literally take your spirits high, a "pub crawl" might do the trick. (in this case, it's a bar crawl.) These bars are all near each other and if you want to do to explore such things then these 5 crowd favourite bars are what we recommend. Of course, it's better to do things like these if you live nearby as things could get messy, and going back home far away might be hard. That's where The Courtyard by Crown Asia comes in.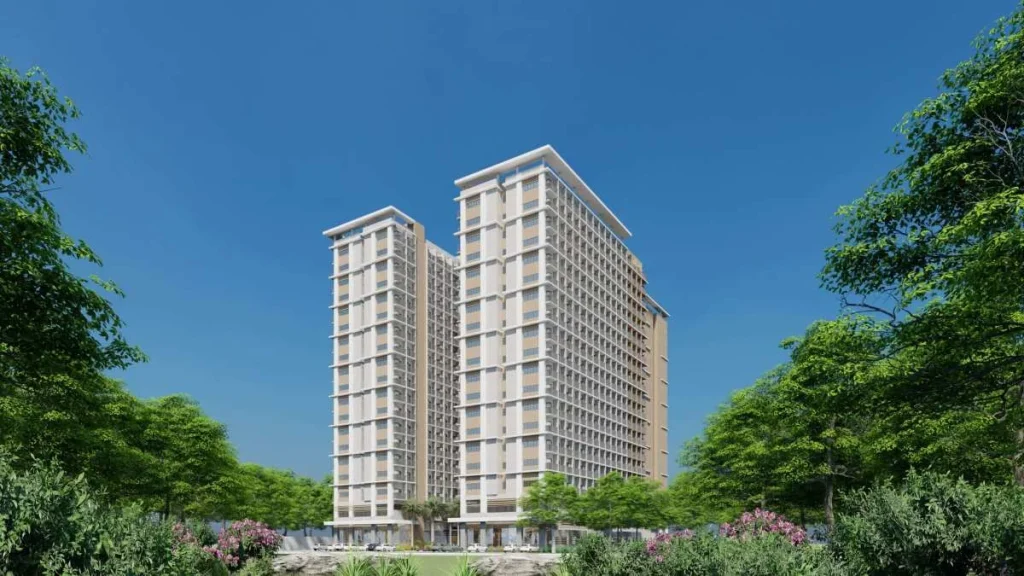 Resort-inspired condo in Taguig with a backdrop of a global city
The Courtyard is a condo in Taguig with wonderful resort-inspired amenities. This high-rise condominium development is found along Pedro Cayetano Boulevard, right across Vista Mall Taguig. As of June 2022, the first building is being constructed while other buildings are in a pre-selling phase. Experience the bustling world of a global city literally at your doorsteps. Another thing you can experience at your doorsteps is the wonderful resort-inspired amenities that come with the building. This helps its residents relax and unwind after a hard day's work. This location is also near other bustling locales such as Makati City and the Ortigas CBD and establishments like schools and malls.
Everyone deserves the best, and it shouldn't be too hard to make one when you've got great music, perfect company, and the most exclusive cocktails Metro Manila has to offer. Enjoy these wonderful bars just minutes away from your very own condo in Taguig.
So if ever you find yourself in BGC and got you wondering if there are bars near me, bar in bgc open now, high end bar in bgc or chill bars in bgc remember to check out this blog!