Tagaytay is a city located in the southern part of Luzon, the largest island in the Philippines. It is a popular tourist attraction due to its cool weather, great view, and strategic location. There are a lot of Tagaytay tourist spots you can visit, and we listed some of them!
It is also the home of Pinevale, a leisure condo in Tagaytay that offers breathtaking views of nature and modern amenities. Nestled in the heart of Tagaytay, Pinevale is a serene and picturesque haven that offers residents a respite from the hustle and bustle of city life. With its stunning location and modern features, Pinevale is the perfect choice for those seeking a tranquil getaway that is still close to all the action.
While the natural wonders of the area are well-known, such as the Taal Volcano, the man-made attractions in Tagaytay are just as impressive.
Now buckle up, because, in this post, we'll explore some of the top man-made attractions in Tagaytay and other famous tourist spots in Tagaytay, including People's Park in the Sky, Sky Ranch, Tagaytay Highlands, Taal Vista Hotel, Tagaytay Picnic Grove, and Praying Hands!
Overview of the Success of Man-Made Attractions from All Over the World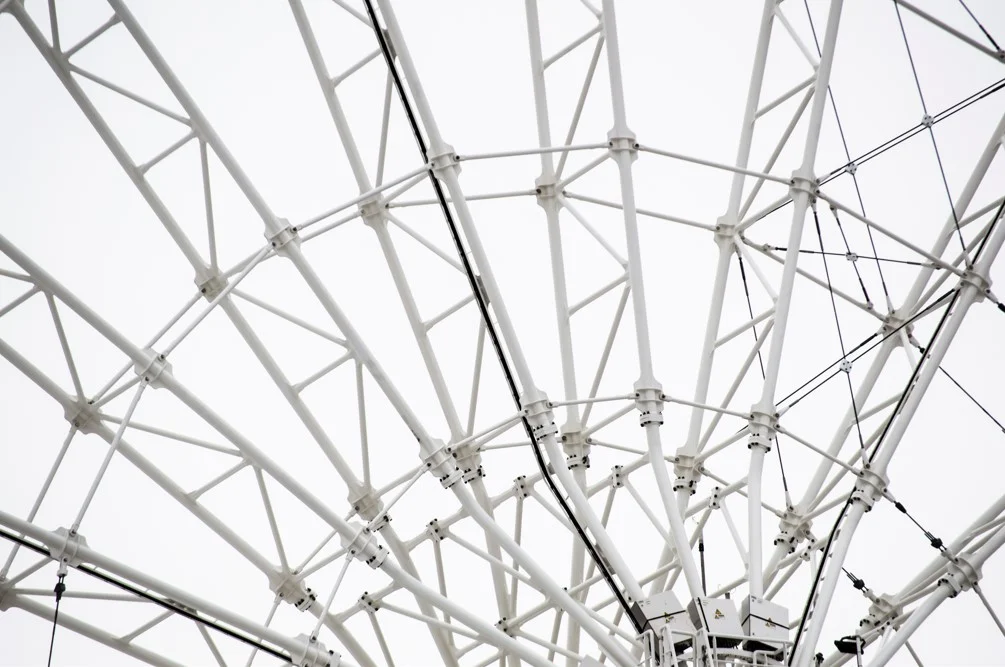 Before we mention the places in Tagaytay, here is a bit of information for you about the relevance of both Man-made and natural wonders from all over the world:
UNESCO World Heritage Site
Man has always sought to leave a lasting mark on the world, and one way we have done so is through man-made attractions. Some of these sites have become UNESCO World Heritage sites, recognized for their value in representing the ancient world or serving as one of the Seven Wonders.
The Philippines is home to some UNESCO World Heritage Sites, each a testament to the country's rich culture, history, and natural beauty. The Baroque Churches of the Philippines showcase stunning Spanish colonial architecture, while the Tubbataha Reef Natural Park boasts some of the world's most impressive marine life.
In the historic city of Vigan, there is a well-preserved example of a Spanish colonial town, and the Rice Terraces of the Philippine Cordilleras showcase the impressive craftsmanship and ingenuity of the country's indigenous peoples.
The Underground River in Palawan is a mesmerizing subterranean river, and the Mount Hamiguitan Range Wildlife Sanctuary boasts an extensive and diverse array of plant and animal life.
The world is full of natural wonders, but man-made attractions also draw lots of tourists each year. For example, the San Juanico Bridge in the Philippines is a popular tourist attraction that spans the Pacific Ocean and connects the islands of Samar and Leyte. The bridge's construction began in the 1960s and it remains the longest bridge in the Philippines.
The hanging coffins in Sagada, also located in the Philippines, are another attraction that dates back to ancient times. This practice of hanging coffins was done to honor ancestors and is still a common practice in the region.
Some are Not from the Ancient World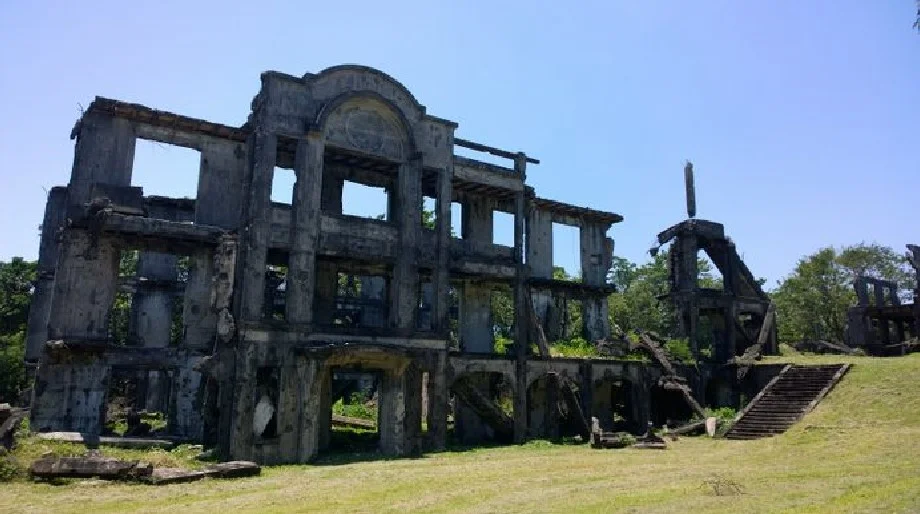 photo from: https://www.atlasobscura.com/
Of course, not all man-made attractions are ancient. Some, like the Eiffel Tower in Paris, the art galleries of New York City, and the Golden Gate Bridge in San Francisco, are more modern but no less impressive. Gustave Eiffel's towering creation is an optical illusion that continues to draw visitors to the City of Light over a century after its construction.
In the United States, Mount Rushmore is a man-made attraction that is on many people's bucket lists. The famous monument, located in South Dakota, depicts the faces of four American presidents carved into the side of a mountain. Meanwhile, the Colorado River and the Grand Canyon, both natural wonders, are often visited by tourists who also explore man-made attractions like the Hoover Dam.
Moving eastward, the Taj Mahal in India is another man-made wonder that draws millions of visitors each year. Built by the Mughal Emperor Shah Jahan in honor of his third wife Mumtaz Mahal, the stunning white marble structure lies on the banks of the Yamuna River and is considered one of the main attractions in India.
In China, the Great Wall is another man-made attraction that is celebrated worldwide. This vast wall stretches thousands of miles across the country, offering a great view of the surrounding mountains and countryside. It is a testament to the construction prowess of ancient Chinese engineers and is a must-see site for any tourist visiting the country.
In the Philippines, the island of Corregidor is a popular tourist destination due to its role in World War II. There are various monuments and walk around the island, which is at the western end of Manila Bay.
While man-made attractions may not be as old as the ancient wonders of the world, they continue to captivate visitors and leave a lasting impression. From towering statues and bridges to churches and museums, there is no doubt that man has left his mark on the world.
Tagaytay, a City Where Man-Made and Natural Wonders Meet
The Philippines is an expansive country with many natural wonders as well as man-made attractions that attract millions of tourists every year. At the end of Southern Tagalog, the country has Tagaytay, a successful blend of natural and man-made attractions that draws tourists from all over the country. So if you are looking for a place to go in Tagaytay there are a lot of places you can consider!
Natural Beauty
Tagaytay's natural beauty is undoubtedly one of its main attractions. The city lies on a mountain ridge that overlooks the Taal Volcano, one of the country's most famous natural wonders. The Taal Volcano is a complex volcano that consists of several craters, with the largest crater being home to a lake that is one of the world's largest volcanic lakes. From the ridge, tourists can enjoy a fantastic view of the Taal Volcano and the lake, which is surrounded by lush greenery.
Strategic Location
Another factor that contributes to Tagaytay's success as a man-made attraction is its strategic location. The city is located just a few hours away from Metro Manila, the country's capital city. It is easily accessible by road, and tourists can visit the city as a day trip or as part of a longer vacation.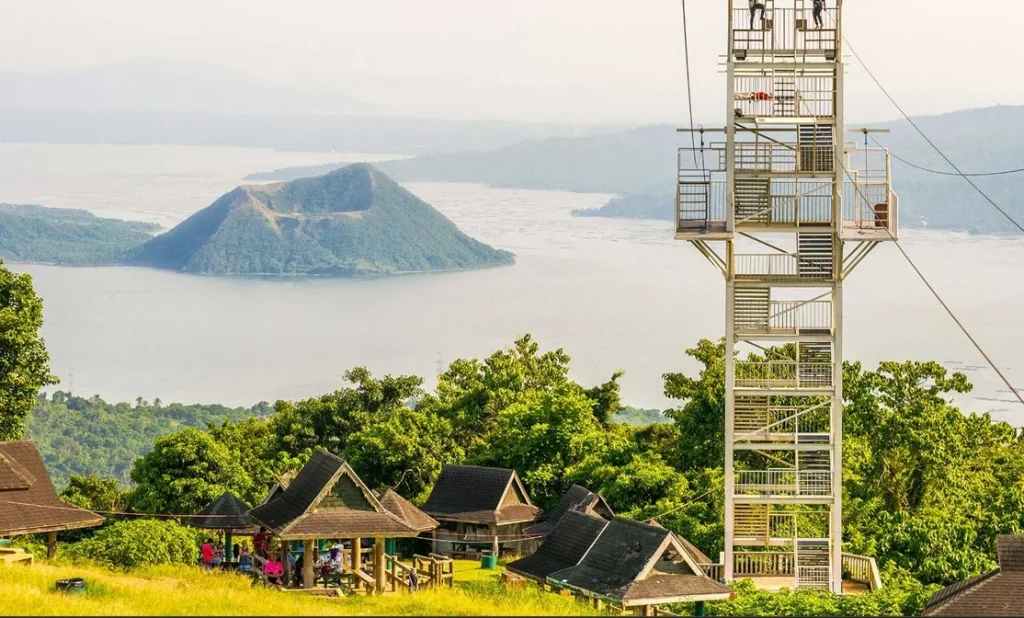 photo from vacationhive.co
Tagaytay's proximity to the Taal Volcano also makes it an attractive destination for tourists. The Taal Volcano is a popular tourist attraction that draws thousands of visitors every year.
Tourists can take a boat ride to the island where the volcano is located and hike to the top to get a closer view of the crater lake. They can also explore the surrounding areas, which are home to several natural wonders, such as waterfalls and hot springs.
It is also a bustling hub of restaurants, cafes, and other establishments. Visitors can find a wide range of options, from gourmet dining to casual eateries serving local delicacies.
Cafes and coffee shops in Tagaytay abound, offering the perfect place to enjoy a cup of coffee or tea while taking in the beautiful scenery. There are also plenty of artisanal shops and markets for those looking for souvenirs or local products. There is so much to explore and experience in Tagaytay!
Now here are some of the top man-made attractions in Tagaytay City:
People's Park in the Sky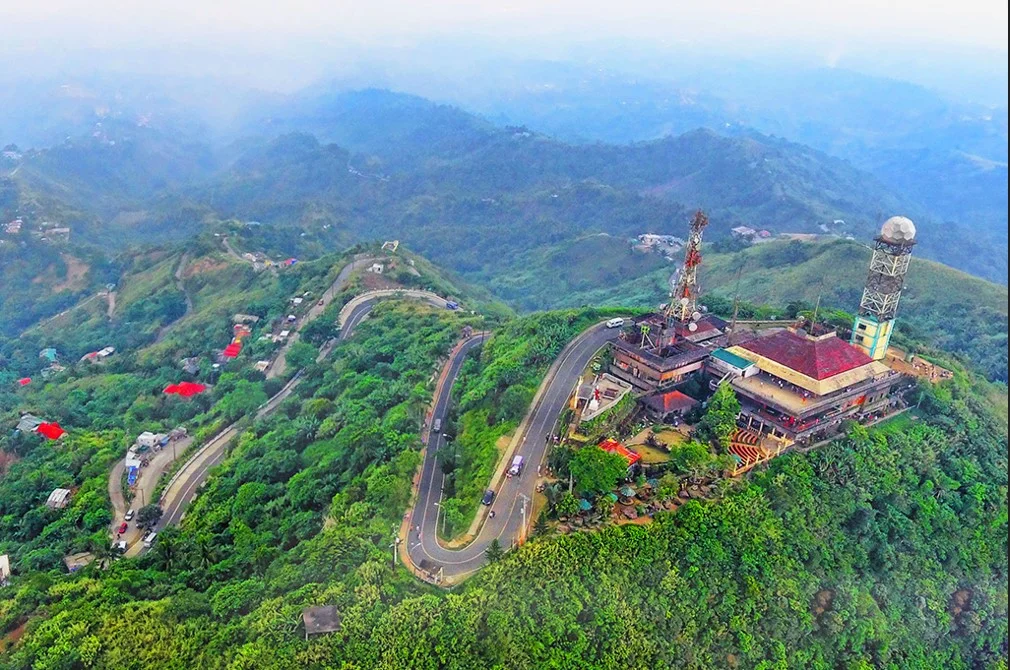 photo from tagaytaycity.ph
People's Park in the Sky is a popular attraction in Tagaytay City that sits atop a mountain and offers breathtaking views of the surrounding landscape.
The park is built on the ruins of an unfinished mansion that was meant to be a guesthouse for former US President Ronald Reagan.
Today, it is a popular destination for tourists who come to take in the panoramic views and learn about the park's history. Visitors can explore the park's lush gardens, walk along the winding pathways, and take in the stunning views of Tagaytay City and nearby Taal Lake.
Sky Ranch
Sky Ranch is a popular amusement park in Tagaytay City that offers fun and entertainment for visitors of all ages. The park features a variety of rides, including the Sky Eye Ferris wheel, Super Vikings, and the Drop Tower.
Visitors can also enjoy carnival games, food stalls, and souvenir shops. Sky Ranch is a great place to spend a fun-filled day with family and friends, taking in the stunning views of Tagaytay's rolling hills and cool climate.
Pine Suites Tagaytay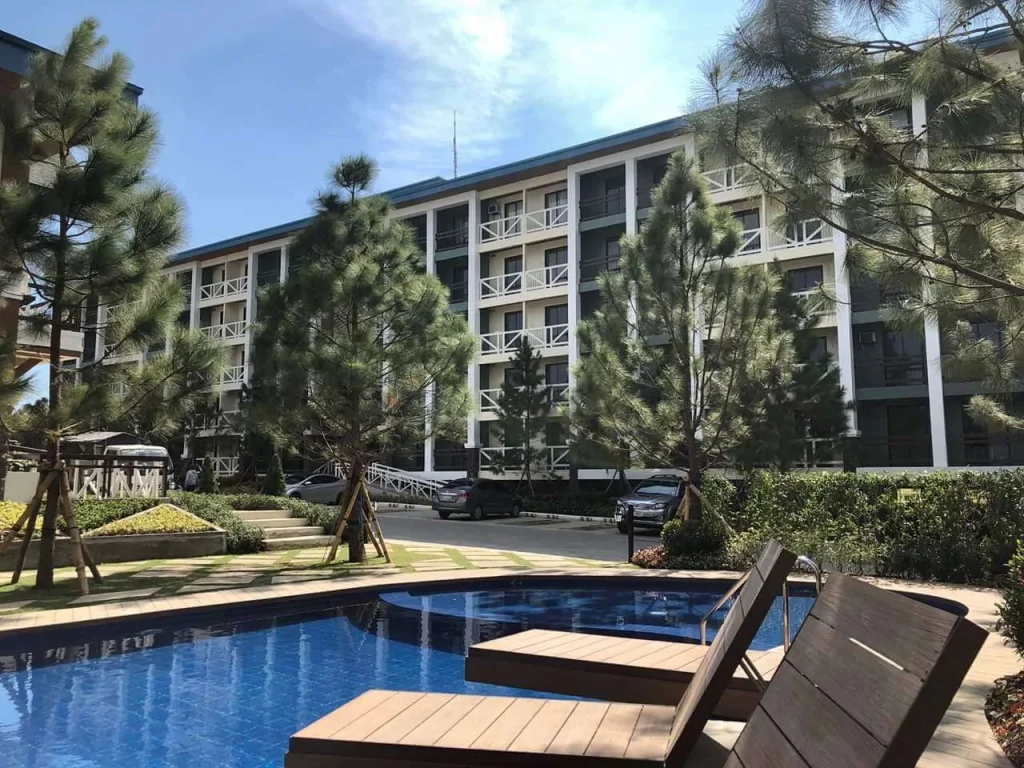 Pine Suites, a themed condominium by Crown Asia, is one of the best and most popular tourist destinations in the nation with views of Taal Volcano and other Tagaytay City attractions. Its architectural style draws substantially from Danish design, giving it a cozy, rustic vibe. You can make use of its deluxe amenities and unwind during the weekend. It is accessible to Aguinaldo Highway, Tagaytay Nasugbu Highway, Santa Rosa – Tagaytay Road, and Tagaytay – Calamba Highway.
Crosswinds Resort Suites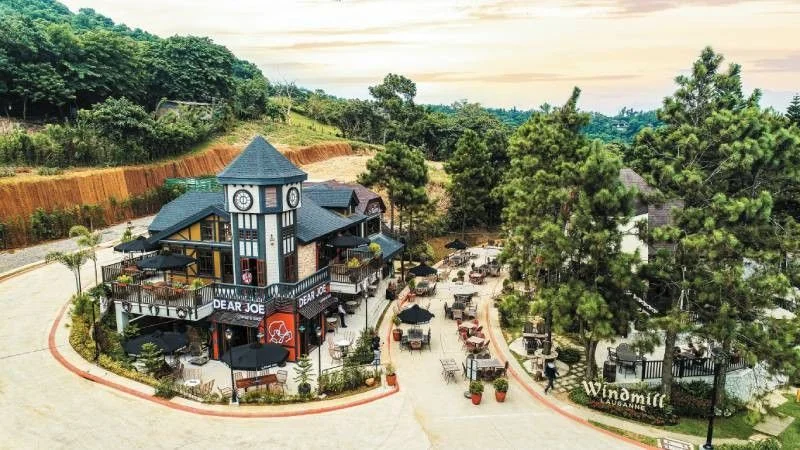 photo from philstar.com
Barangay Iruhin, Tagaytay, 4120 Cavite is where you can find Crosswords Resort Suites. With its lush woodlands and high mountain peaks, this 100-hectare luxury resort provides a tranquil and picturesque community that is largely influenced by Swiss architecture. One of the best spots for watching sunsets and unwinding in the fresh air, it's ideal for weekend trips.
Praying Hands
Praying Hands is a unique attraction in Tagaytay City that features a giant statue of two hands praying. The figure is set on a hill overlooking Tagaytay and is a popular destination for visitors who come to take in the stunning views and enjoy the peaceful surroundings.
Visitors can climb up to the statue and take photos, or simply enjoy the fresh mountain air and natural beauty of Tagaytay.
Praying Hands is a must-visit attraction for anyone who wants to experience the serene and peaceful side of Tagaytay City. Many bike riders also visit this place to take selfies and post them to their social media as a traveling milestone.
Conveniently Located: Pinevale is Just Minutes Away from Tagaytay's Top Man-Made Attractions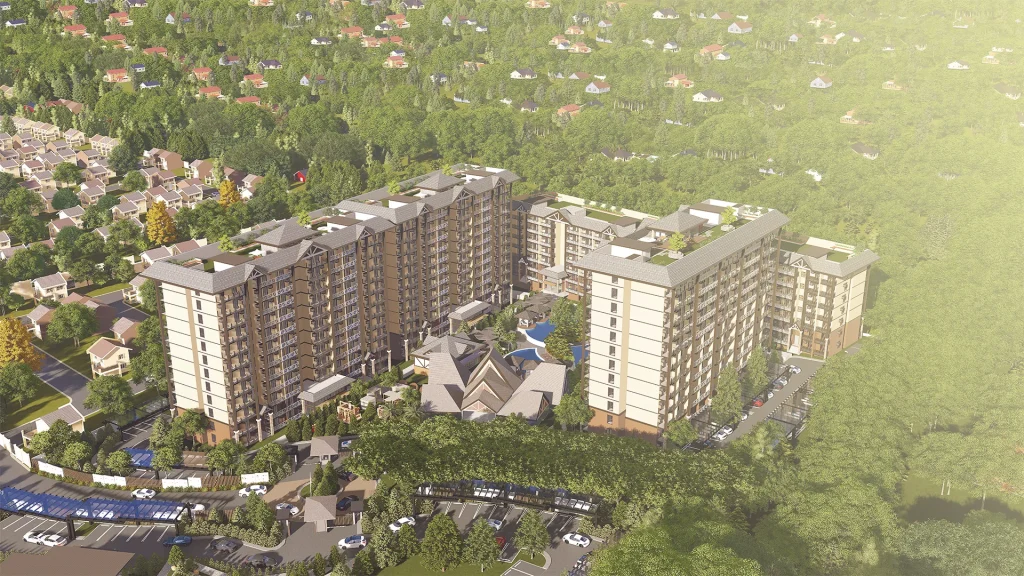 Close to these places are Pinevale, the first intelligent house condominium in Tagaytay City, and a beautiful 2.8-hectare residential marvel.
Pinevale is situated in a convenient location that makes it easy for residents to access some of the popular man-made attractions in Tagaytay City.
Think about that! How awesome it is to be close to these places if you consider having your own condo in Tagaytay. Here are the approximate distances of some of the attractions from Pinevale Tagaytay:
People's Park in the Sky: approximately 9 kilometers or 20-24 minutes by car
Sky Ranch: approximately 5 kilometers or 11-16 minutes by car
Tagaytay Highlands: approximately 9 kilometers or 25-30 minutes by car
Taal Vista Hotel: approximately 6-7 kilometers or 12-16 minutes by car
Tagaytay Picnic Grove: approximately 6 kilometers or 11-14 minutes by car
Praying Hands: approximately kilometers or 12-15 minutes by car
It is Time for You to Visit Tagaytay!
With its natural beauty, cultural significance, and strategic location, Tagaytay is a popular destination for tourists from all over the country. Whether you're looking to explore the city's rich history and culture, relax in the beautiful natural surroundings, or simply enjoy the great view, Tagaytay is a destination that should be on every traveler's bucket list.
Related Blog: Why Is Tagaytay a Dream Destination?