If you've got a condo in Tagaytay but haven't got the chance to explore what the area has to offer in terms of recreational areas, then this holiday season is the perfect time to go on a family trip—traverse through the great outdoors of the South, bask in that fresh air, and spend time with your loved ones.
Tagaytay is well known for its lush forests, stunning mountains, and serene natural environment amidst city developments. What's more, is that there are plenty of family-friendly places around the locale that offer various outdoor activities. So, to make the most out of your family trip, here are some of the top holiday destinations near your condo in Tagaytay guaranteed to make the family holiday outing a time well spent.
Best Holiday Destinations to Visit With the Whole Family
Picnic Grove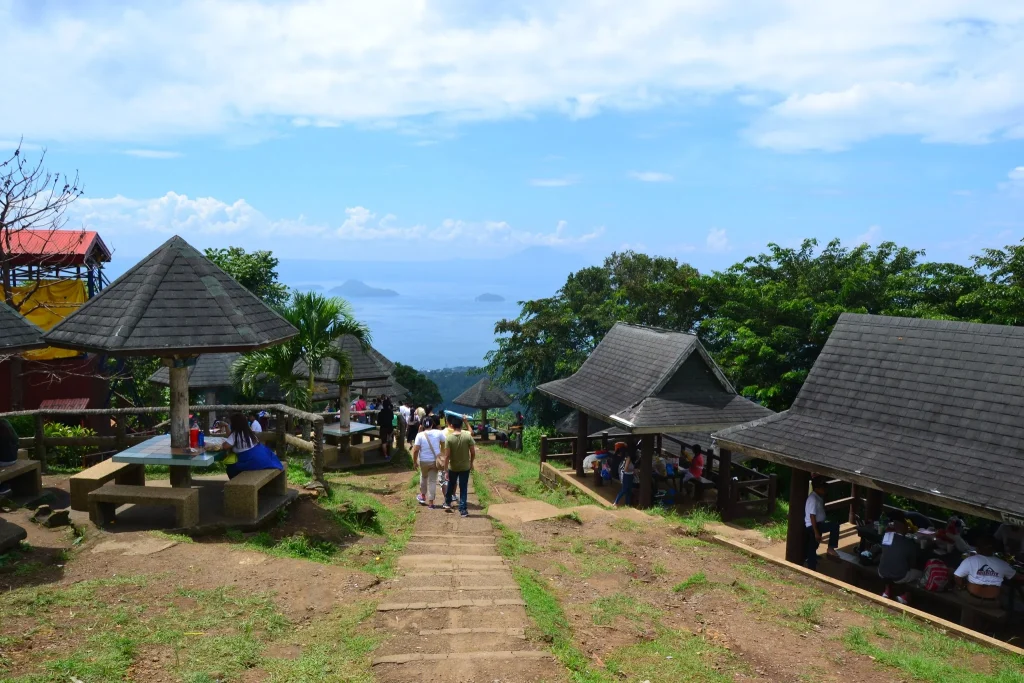 photo from thebackpackadventures.com
Picnic Grove might just be synonymous with Tagaytay when it comes to choosing which places to visit in the area, especially during a family vacation. It's quite understandable why it's a must-visit though, as its location offers families wonderful natural attractions such as the Taal Lake and the Taal volcano itself which they have a clear view of atop the park. Surrounding the area are rich greenery and tall trees. Visitors can walk around the place following the park's eco trail consisting of boardwalks and various bridges, it's an activity almost as if you're hiking trails up a mountain.
As the name suggests it is a great place for families to go on a picnic. Despite the usual tropical climate of the country, Tagaytay is quite a chilly place, especially during the Christmas holidays, and the breeze will be more than enough to relieve some of the heat away. Apart from just having a picnic, however, there are also other fun activities for visitors to try such as horseback riding, going on zip lines, and a suspended cable car perfect for both grown-ups and younger kids.
Overall, Picnic Grove is a budget-friendly place to go on a fun family holiday adventure.
Sonya's Garden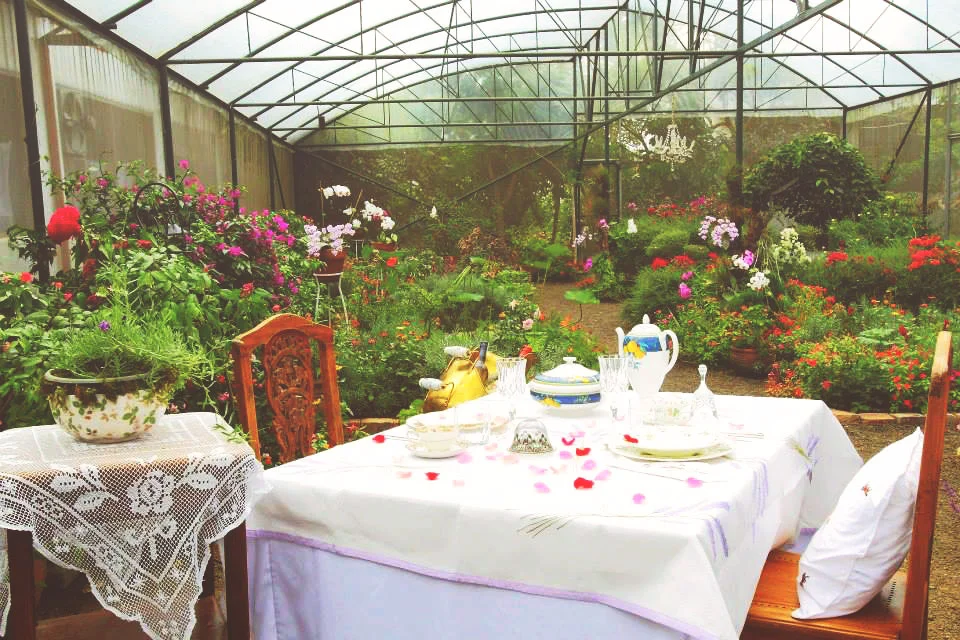 photo from phtravelexpress.com
Sonya's Garden functions as a bed and breakfast, as well as a restaurant at the same time, but it's more than just that as it's quite an all-around venue. At its core, however, it is a rustic establishment, surrounded by verdant plants and colorful flowers giving a cottage core aesthetic vibe that's hip to plenty of young people these days. If you're looking for a place to stay with your family other than your condo in Tagaytay, Sonya's Garden is the place to be.
Their restaurant offers a plethora of delicious dishes including traditional cuisine, cooked with ingredients free from pesticides and organically grown from their own greenhouses. A panaderia is also available where fresh bread is baked every day and in-house shops where guests are free to buy organic plants, fruits, and even bath products.
Meanwhile, the bed and breakfast was established after the fact that many visitors regarded the place as one of their favorite destinations and wanted an opportunity to stay within the private sanctuary of Sonya's for a longer period of time.
The B&B experience at Sonya's definitely makes for a great holiday away from the familiarity of one's own abode. It is also a chance to get in touch with nature and learn the "art of doing nothing" which the establishment offers free, fun activities on such as basic gardening, yoga for beginners, trekking, and many more. Sonya's Garden truly is one of the best family-friendly destinations to consider during the family holidays.
Museo Orlina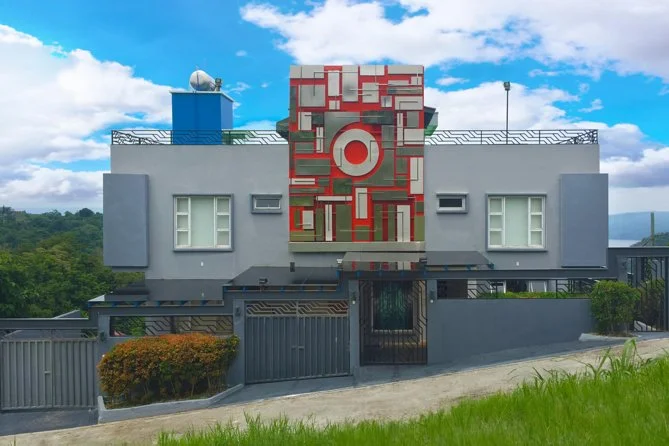 photo from viator.com
One of the few places in Tagaytay that is a museum, Museo Orlina is not your typical art gallery.
Museo Orlina showcases the artistry of multi-awarded world-famous Ramon Orlina, known as the country's pioneer and practitioner of glass sculpture. Before Orlina conceived glass art, glass was primarily only appreciated because of its utilitarian function, and is commonly used as drinking vessels and window glass panes among others. Orlina's work elevated the medium and transformed it into a dignified and respectable art form.
The museum opens its doors to the public where people can witness Orlina's enchanting pieces made of glass. There are 4 levels within the building, a roof deck, art cars, as well as a sculpture garden, and an amphitheater. While it may not be a place appropriate for younger kids because of the fragile pieces of artwork, older kids and adults would surely be able to appreciate art even more.
People's Park in the Sky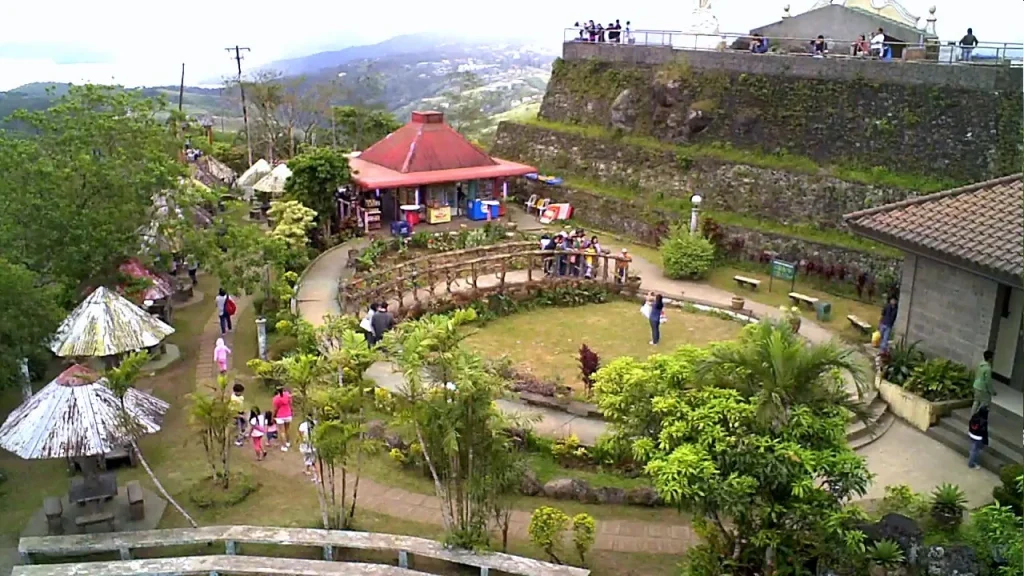 photo from arlenemarasigan6.home.blog
Also referred to as People's Park, this urban historical park used to be named Palace in the Sky. Most Filipinos are aware of the rich history behind its inception. But for those who haven't heard of this place before, it originally was built as a mansion during the Marcos era and was supposed to be former U.S. President Ronal Reagan's lodging within the country during his visit which was unfortunately canceled. The project was scrapped leaving it unfinished. It, later on, became the park many people know it to be today. Aside from its incomplete structures and mostly abandoned establishments, the venue houses The Shrine of Our Lady, Mother of Fair Love which features a wall with the face of the Virgin Mary. It is said that during the construction of the mansion, attempts were made to blast off the rock that contained the holy image, but surprisingly, it was able to endure such force. Meanwhile, within the park also lies PAGASA's Doppler Radar Station, though access to this station is only available for PAGASA personnel.
While it is no UNESCO world heritage site, the park offers a great view of the sprawling trees and mountains around Tagaytay and parts of CALABARZON which makes for a wonderful backdrop in photos the whole family can take.
These are just some of the family-friendly travel destinations Tagaytay has, but there's certainly more to discover and learn. With your condo in Tagaytay, the next family vacation in the South will surely be a breeze.
So what are you waiting for? Hit the road and visit these must-see destinations!
Related Blog: Scenic Tagaytay: 19 Best Places to Visit