Look around your house or any establishments like cafes and you'll find out that it's guaranteed that there's at least one piece of wooden furniture. Furniture is what turns rooms into suitable spaces for working and living. Woodworking is the term that is called for the skill that centers around crafting pieces and items that are primarily, if not entirely made out of wood.
Solid wood furniture, compared to other kinds of furniture materials, is said by passionate woodworkers to have a "soul" in them. After all, wood does come from trees; and trees are living things – it is from their organic material, specifically wood, that both its "soul" and the passion that went into crafting this material into furniture that life is breathed into your homes.
Aside from that, wood furniture also lasts very long and can serve multiple purposes. A wooden table in your dining room won't get easily broken or scratched. It's a long-lasting material that can stand constant use for long periods of time. It can last generations and even become a family heirloom – especially if it's a well-crafted one made from good solid wood. From dining tables, bed frames, chairs, or even rocking chairs, wood furniture in your home interior design would do you good.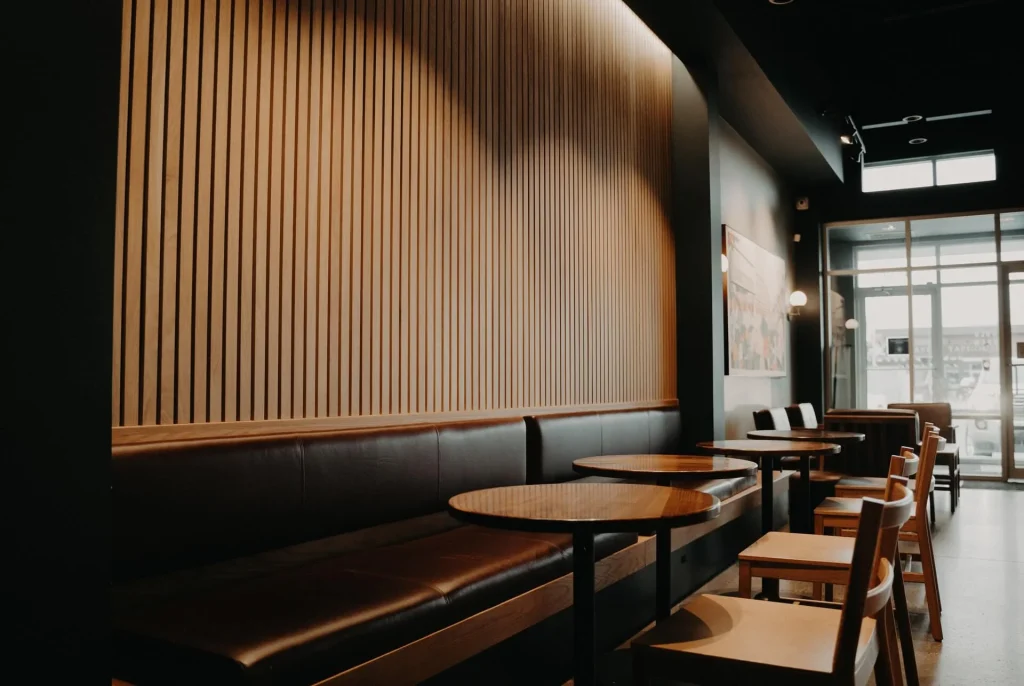 One may ask: what big of a difference does it make regarding who crafts the wooden furniture? The answer is that it makes all the difference. In the halls of woodworking legends, two titans in the woodworking industry stand out as exemplars of quality, technique, and world-renowned wood artisanship and design. In this blog post, you will find out how these woodworking icons go from immigrants with humble beginnings to pioneers of excellence in their craft in the 20th century; and you'll also find out how you can purchase or commission their fine work to place in your house and lot for sale.
George Nakashima: The Passionate Visionary
"In Japanese, Kodama, the 'spirit of a tree,' refers to a feeling of special kinship with the heart of a tree. It is our deepest respect for the tree. that we may offer the tree a second life."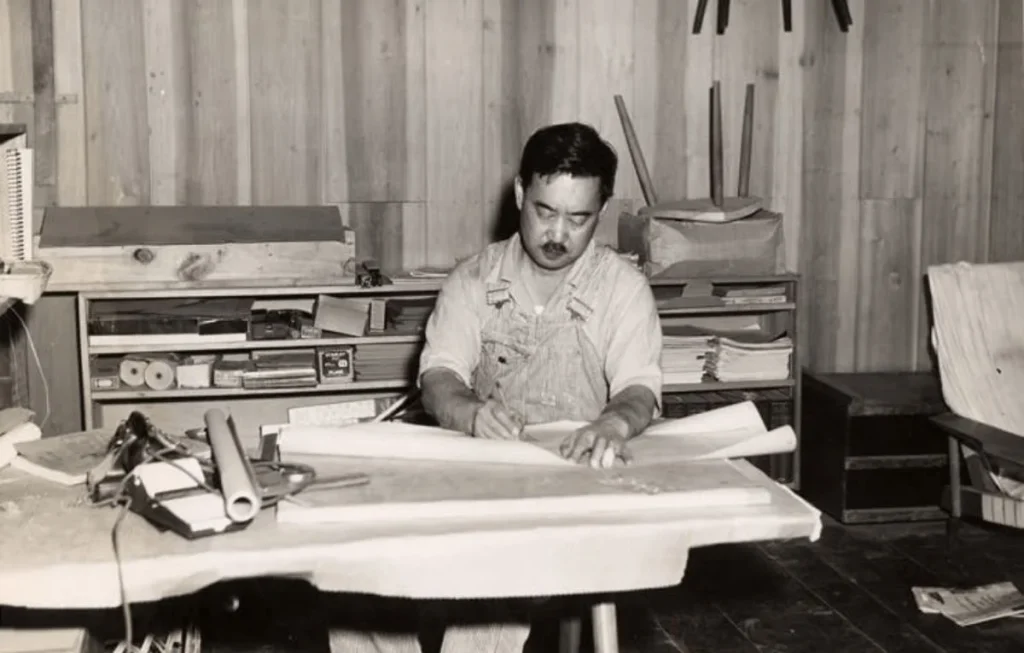 Photo from delightfull.eu
Early Life
George Nakashima was born to first-generation Japanese immigrants in 1905 where both sides of his parents' bloodline claim samurai ancestry. His family immigrated from Japan to live in Seattle, USA. In 1929, George graduated from the University of Washington with a degree in Architecture and won a scholarship to the Harvard Graduate School of Design; however, he transferred to the Massachusetts Institute of Technology when he realized that he wanted to focus on practice rather than theory to have more solid ground in engineering concepts. Clutching his vision of design tightly on his chest, George sold his car to buy an around-the-world steamship ticket to pursue his passion.
France (1930)
George earned a diploma from École Américaine des Beaux-Arts, Fontainebleau, after winning a scholarship to study abroad. It is in France that he encountered modernist design. Upon witnessing the grand Gothic churches of France for himself, it lit a passionate spark in his eyes. Two structures of French architecture in particular – the cathedral at Chartres and Le Corbusier's Pavilion Suisse in Paris – would go on to impact George's work in the coming years.
Japan (1934)
Traveling to Japan, George immersed himself in the philosophy of Mingei, which is the concept of design to be both inexpensive and purposed for everyday use by common people, and Shinto beliefs. Furthermore, he met his wife, Marion Okajima, and worked with Antonin Raymond, an architect who was working with famous architect Frank Lloyd Wright at the time to help with the Imperial Hotel Project in Tokyo. George joined Raymond's architecture firm in Tokyo, whose design centers on Japanese architectural forms integrated with Western technology. It is through George's experiences in this firm that he deepened his appreciation for Japanese design traditions and culture.
India (1939)
As a representative of Raymond's office, George traveled to Pondicherry, India, to supervise the construction of the Golconda – India's first modernist building and reinforced structure. In India, George became a disciple of the guru Sri Aurobindo, and George was given the Sanskrit name "Sundarananda," which means "one who delights in beauty." It is through being a disciple that George realizes his belief that the act of crafting itself and spirituality can be in unison, and this is where his concept of the wood having a soul comes from.
Return to the USA during the War (1941-1943)
Returning to the USA, George married Marion Okajima, and they both settled in Seattle. He also leaves the architecture industry to make furniture. However, it was during this period that World War II occurred, and the married couple and their daughter, Mira, faced internment along with 120,000 other Japanese-Americans. Fortunately, Antonin Raymond, the architect George used to work with, secured the release of George's family.
New Hope, Pennsylvania (1945-1946)
George bought land in Pennsylvania which he decided would become the place where his home and studio would be built, just like how you would choose the house and lot for sale that you believe is right for you. In New Hope, he opened a workshop in the garage of a cottage, where he designed wooden furniture for Knoll Associates. Following this, George Nakashima Woodworkers would be founded in 1946.
Later Life (1970-1990)
Years after, George's daughter, Mira Nakashima, returns to New Hope, Pennsylvania after finishing her studies and starting a family to begin assisting George with his drawings and crafting wood designs. George later passed away in 1990, and it was his daughter who took up the role of heading George Nakashima Woodworkers, where she oversees the production of George's designs.
Legacy: Harnessing a Union with the Wood's Soul
"There must be a union between the spirit in wood and the spirit in man,"
– The Soul of a Tree, George Nakashima (1981 autobiography)
George's wooden furniture is crafted with its design centered on a unique shape, soul, and features. Initially started as a reactionary movement against 20th-century mainstream "modern" design and architecture, George's elegant craftsmanship would take on becoming the cornerstone of the 20th-century design itself.
Significantly influenced by his experiences around the world, such as when he became a disciple of the guru in India, George pours into his work the belief that organic materials such as wood must be respected and carefully studied to a deep level of understanding. George emphasized that the uniqueness and "individuality" of the material must be maintained in the final product, and this applies as well to the "individuality" of the one who crafted the product as well. Perhaps having such a philosophy could help you choose the right furniture that will bring "soul" to your house and lot for sale.
Fine Products
"Nakashima furniture is meant to be lived with as a member of the family, full of imperfections as we all are, but maintaining a sense of balance and equanimity through all stages of life."
– Mira Nakashima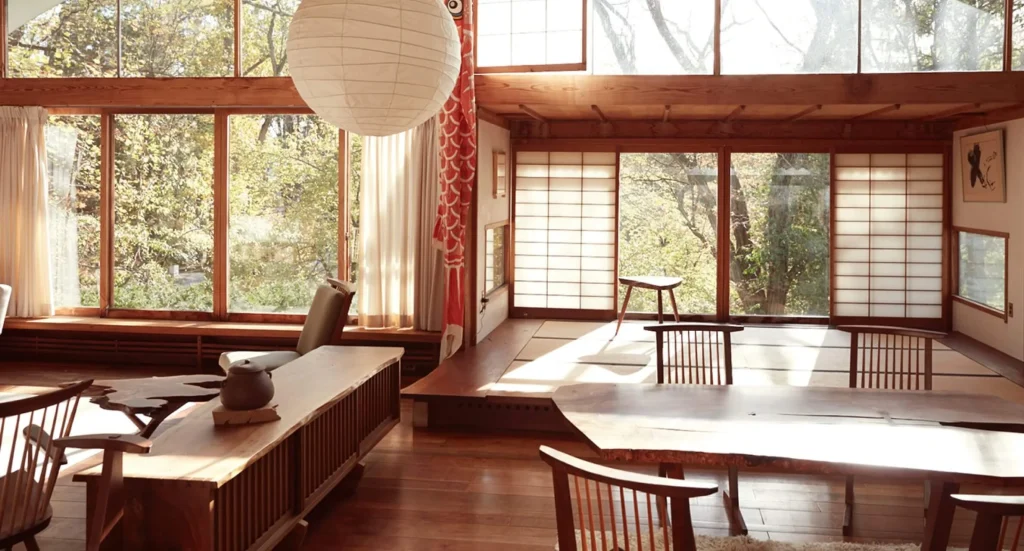 Photo from nakashimawoodworkers.com
At present, the wooden furniture designs of George Nakashima are crafted by George Nakashima Woodworkers. They take pride in the philosophy built by George by ensuring quality wooden furniture through a careful wood selection of trees that have passed their prime. According to the studio's official website, walnut is the prized fine material that their furniture is frequently made of. Cherry and fruitwoods are also the materials that they use to craft their wooden furniture, wherein "their graining is intricate and exciting," according to the studio's official website.
"The object created can live forever. The tree lives on in its new form. The object cannot follow a transitory 'style', here for a moment, discarded the next. Its appeal must be universal."
– The Soul of a Tree, George Nakashima (1981 autobiography)
George's designs – according to the official website (https://nakashimawoodworkers.com/furniture/) – are mainly comprised of the following:
• Beds
• Benches
• Cabinets
• Chairs
• Coffee Tables
• Desks
• Dining Tables
• End & Side Tables
• Lighting
• Shelves
Where and How You Can Buy Their Wood Furniture
If you are seeking to purchase or commission one of George's designs to bring "soul" into your house and lot for sale, you may inquire the studio regarding purchases on the Design Process section of their official website: https://nakashimawoodworkers.com/design-process/
The furniture studio emphasizes George's vision of harnessing the "relationship between the person and the wood" by carefully assessing the needs of your inquiry themselves, your preferences, the intended setting, the size, and materials, as well as the budget. Basically, you will get specially crafted wooden furniture of the highest quality dependent on your needs which you will directly communicate to the studio.
If you want wooden furniture of the finest quality that has been crafted to be aligned with your personal taste and individuality, George Nakashima's designs are worth considering buying from.
Sam Maloof: The Minimalist Master
"So much of me goes into each piece that I make that in making each new piece, a renewal takes place. So it continues a renewal in my commitment to my work and what I believe."
– Sam Maloof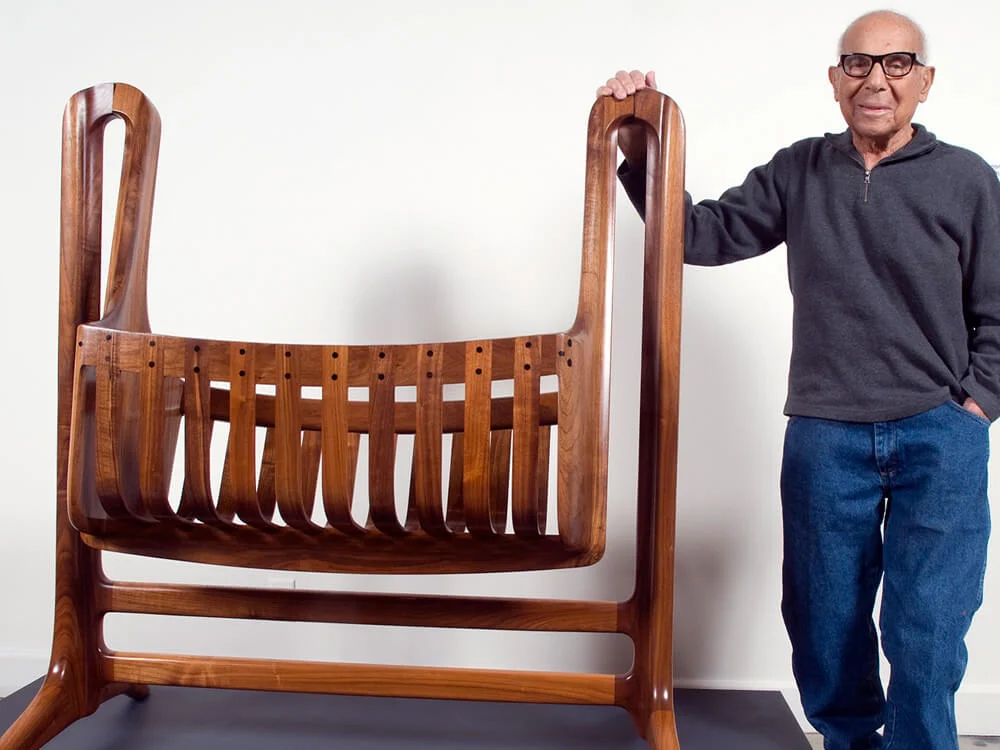 Photo from npr.org
Early Life
Sam Maloof was born to immigrant Lebanese parents in 1916 in Chino, California. He graduated from Chino High School in 1934, wherein he worked as a graphic artist afterward. After serving in World War II in 1948, he got married to his wife Alfreda Ward. It was when Sam built a set of plywood furniture for their house that he entertained the thought of getting into woodworking. It was his own wife Alfreda however, who motivated and pushed Sam to pursue woodworking. As a result, Sam put up a woodworking shop in their house's garage and wasn't commissioned to create pieces of wooden furniture until the 1950s. Despite having no formal training in woodworking, Sam was determined to pursue being a woodworker.
Involvement in "Californian Design" (early 1950s)
In 1953, Sam later moved his work to a bigger studio in Alta Lorna, California. During this time period, the Los Angeles area had a "modern design movement" for contemporary style furnishings called "Californian Design." Sam's designs became included in the exhibits and shows of this movement. Soon after, Sam was one of the key members of the "Californian Design" movement, where homeowners and leading West Coast decorators and architects would regularly order Sam's work. It was at this point that his rise to national attention started.
Rise to the Top (1957)
It was only at this particular time that Sam realized that he was in the midst of an exponentially growing craft design movement that spanned across the country. He was invited to participate in a studio craft furniture exhibit – the first of its kind – by the American Craft Museum in New York. Same also attended the first national conference of the American Crafts Council (ACC) at Asilomar, California, and it was here that Sam became one of its leaders as an ACC trustee. With his rising status, he worked relentlessly to advocate the virtues of quality hand craftsmanship.
Legacy: A Pioneer of First-Generation 20th-Century Craftsmen
"I want to be able to work a piece of wood into an object that contributes something beautiful and useful to our everyday living. To be able to work with materials without destroying their natural beauty and warmth, to be able to work as we want — that is a God-given privilege."
– Sam Maloof
The pioneers of the first-generation post-World War II studio furniture makers embodied a "modernist" aesthetic that prized solid hardwoods. They placed primary emphasis on functionality while maintaining simple shapes and a rejection of historical styles and applied ornaments. The impact that this first-generation of studio furniture makers had would be passed along to the second-generation, who are usually more focused now on historical styles and mixed materials, with less emphasis on function.
Sam Maloof's work became a strong influence in the studio furniture industry and movement for more than half of the 20th century. Sam's success proved that woodworking was a viable source of livelihood. Furthermore, his work has become widely appreciated to the extent that numerous respected institutions and private collectors have experienced ownership of Sam's designs. If Sam's designs are this valued, perhaps considering checking out his work and having one of his pieces in your house and lot for sale could up its décor game!
In 1998, Sam's wife and the one who pushed him to pursue woodworking, Alfreda Maloof, passed away. The non-profit Sam and Alfreda Maloof Foundation for the Arts and Crafts is one of the fruits of their love. This foundation has the vision of encouraging aspiring furniture makers and woodworkers to reach for the stars in the industry with their craftsmanship, just like how Sam's wife, Alfreda, encouraged him to take a leap of faith and pursue woodworking.
Fine Products
"Good furniture must convey a feeling of function, but also must be appealing to the eye. I never make conversation piece furniture… [and since] I'm not subject to the manufacturing syndrome, I don't have to change for the sake of change. I just keep improving."
– Sam Maloof
Sam Maloof's wooden furniture designs can be commissioned on the official website of Sam Maloof Woodworker Inc., a furniture studio that still crafts pieces of Sam's classic design to this day. It is currently under the ownership of Mike Johnson, as wished by Sam himself, and the studio offers wooden furniture that is handcrafted by woodworkers whom Sam has passed down his beliefs and philosophy onto.
The materials of the wooden furniture pieces are frequently comprised of walnut and/or leather. The pieces are carefully handcrafted to keep faithful to the first-generation era of hand craftsmanship in the 20th century that prized solid hardwoods, function, and minimalistic design.
Sam's designs have been prized and experienced by institutions such as the Boston Museum of Fine Arts, Smithsonian American Art Museum, and White House Craft Collection. On the Sam Maloof Woodworker Inc. website, his prized classic designs all the way from the 1950's up until the present are still available for purchase or commission until now that you can place in your house and lot for sale to add some class and taste to its overall aesthetic.
"I am a furniture designer and woodworker, perhaps in traditional manner, where craftsmanship and joinery are of prime importance, and also where design is of equal if not more concern."
– Sam Maloof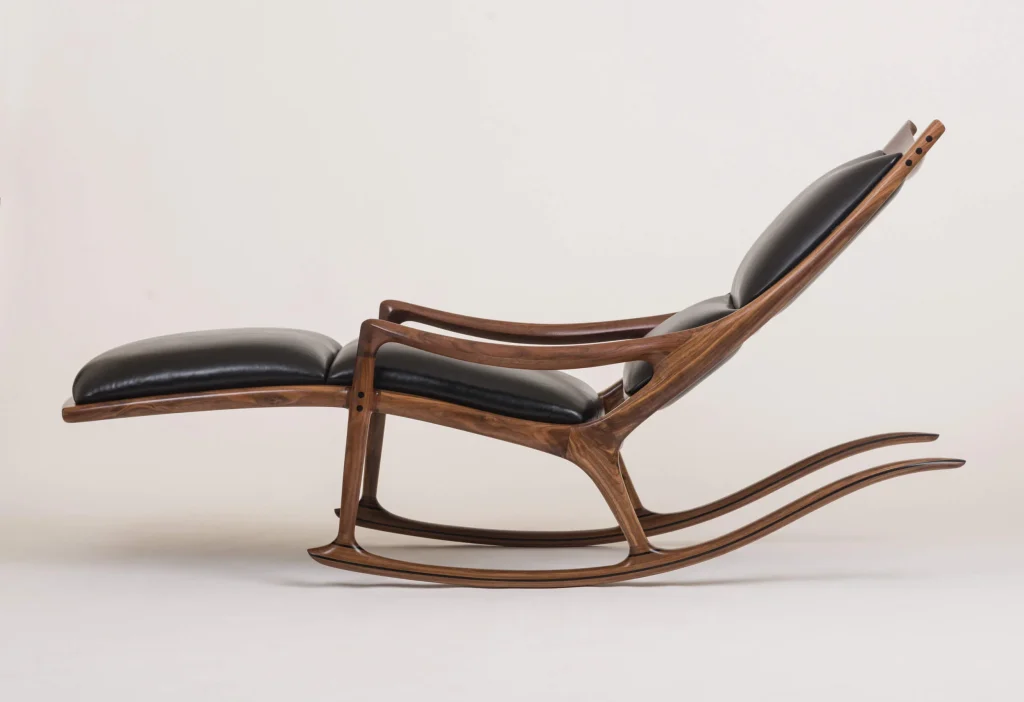 Photo from sammaloofwoodworker.com
Sam's designs – according to the official website (https://www.sammaloofwoodworker.com/furniture) – are mainly comprised of the following:
• Seating
• Leather Laced Benches & Bar Stools
• Tables
• Case Goods
• Mid Century
• Interiors
• Miscellaneous
o Hanging Side Boards
o Fish Sculptures
o Cradle Hutches
o Stands
• Commissioned Designs
Where and How You Can Buy Their Wood Furniture
If you are considering purchasing or commissioning Sam Maloof's prized wooden furniture pieces for yourself, you can check out the Current Inventory section of their official website: https://www.sammaloofwoodworker.com/current-inventory. This section is mainly comprised of tables, seating, fish sculptures, and miscellaneous items that are made of a selection of lumber that is handpicked by Sam himself. Additionally, you can also purchase pieces through their Showroom, if you ever get the chance to visit their furniture studio.
The furniture studio also has pieces that are available for immediate shipping in the Online Shop Section of their official website: https://sam-maloof-woodworker-inc.myshopify.com/. They also offer repairs and restorations for the pieces that are bought from their studio: https://www.sammaloofwoodworker.com/repairs-restorations
For custom orders – and to make inquiries directly to their furniture studio – you can contact them through the Contact section of the furniture studio's official website: https://www.sammaloofwoodworker.com/contact
If you want to upgrade the aesthetic experience of your house and lot for sale, perhaps you should consider Sam Maloof's minimalist 20th-century modernist design – especially if you have a taste for minimalism, then the work of the master himself is right up your alley!
Related Blog: Classic Italian Furniture Inspirations for Your Italian-Themed Home