As a popular tourist destination for many Filipinos in south Luzon, Tagaytay City has much to offer for those looking to enjoy a weekend getaway away from city life. From notable tourist spots that showcase the natural beauty of Tagaytay ranging from Taal Lake and Taal Volcano to popular attractions such as the People's Park in the Sky, Picnic Grove, and Sky Ranch, visitors are sure to enjoy their time in one of the Philippines' prime vacation and holiday destinations.
For the lucky people residing in a condo in Tagaytay for example, there are many other attractions that one can visit if they're planning on having a staycation instead of a traditional road trip out of town. Vacationers that happen to reside in proximity of Tagaytay City proper may also have the benefit of potentially experiencing their best staycation in Tagaytay if they check in among one of the many small luxury hotels or eco hotels available, especially with how accessible these establishments are via the Emilio Aguinaldo Highway, the Tagaytay-Nasugbu Highway, or the Tagaytay-Calamba Road. Rappler even recommends one possible hotel to spend one's staycation in Tagaytay City, namely the Hotel Casiana, which is conveniently located in the heart of the city for anyone to check out during their stay.
Without Further Ado, Experience the Four Best Staycation Spots in Tagaytay City.
Picnic Grove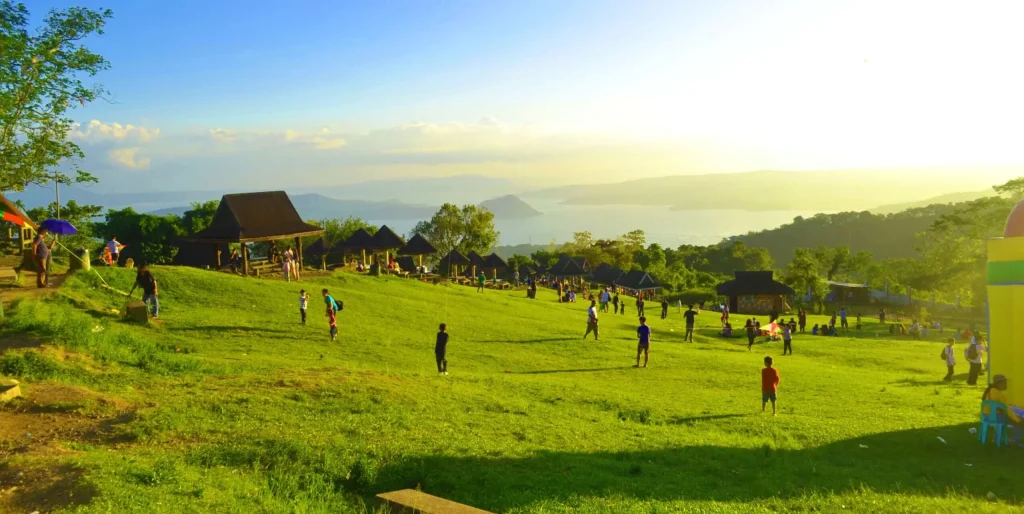 Photo from tagaytaycity.ph 
A prime spot for spending quality time with the family, Picnic Grove has much to offer for guests looking to bask in the beauty and fresh air of Tagaytay. With a clear view of Taal Lake and the iconic Taal Volcano within it, visitors are sure to relish their time there if they're planning to add this place to their staycation bucket list.
There are many activities that one can do in Picnic Grove, and one of them is of course having a picnic either in the field or in one of the picnic tables, cottages, or sheds that can be rented between the price range of ₱100-500. The more adventurous guests may even consider attempting the zipline (₱200 during weekdays and ₱300 during weekends/holidays) or try out horseback riding for just ₱150-200 an hour. Lastly, for those who want to just take it easy and enjoy the natural ambiance, they can opt instead to stroll in the eco-trail or admire and take pictures of the landscape from many of the excellent viewing spots in the place.
To enter Picnic Grove, it should be first noted that the entrance fee is ₱50 per head, with an additional ₱35 for parking.
Sky Ranch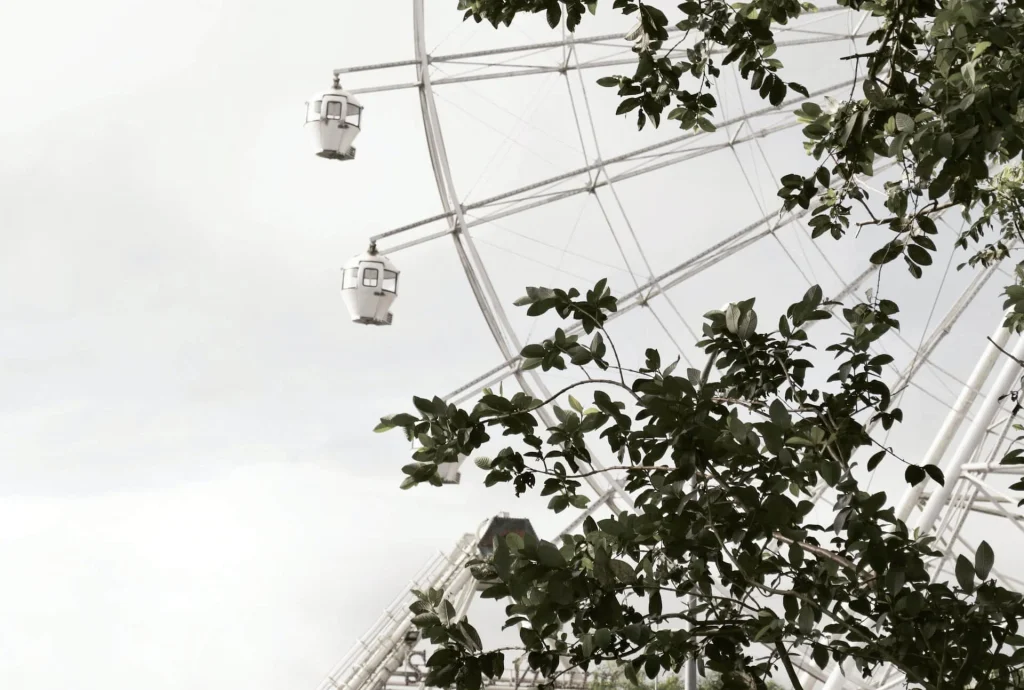 As one of the prominent places of interest in Tagaytay City, Sky Ranch can be considered one of the go-to locations that one should stop by along with their friends and family during their vacation/staycation in Tagaytay. With so many rides and attractions to choose from, visitors are sure to find something they'll enjoy that would become the highlight of their Tagaytay trip.
For thrill-seekers and ride enthusiasts, rides including Drop Tower and Super Viking are available, just for the humble price of ₱100 per ticket. Families bringing their children along can also allow them to have fun in the many kiddie rides that can be found in the amusement park too, all of which share the same ticket cost of ₱50. Lastly, who could forget the most iconic part of Sky Ranch, the Ferris wheel Sky Eye, the perfect place for those looking to enjoy the view of Tagaytay with their significant others?
As Tagaytay City's best amusement park, why not visit and check it out as part of the staycation? Another thing to note is that Sky Ranch is easily accessible to those who are planning to stay overnight either in the Taal Vista Hotel or Escala Tagaytay, which also happens to have its own outdoor swimming pool for its guests.
Taal Lake and Volcano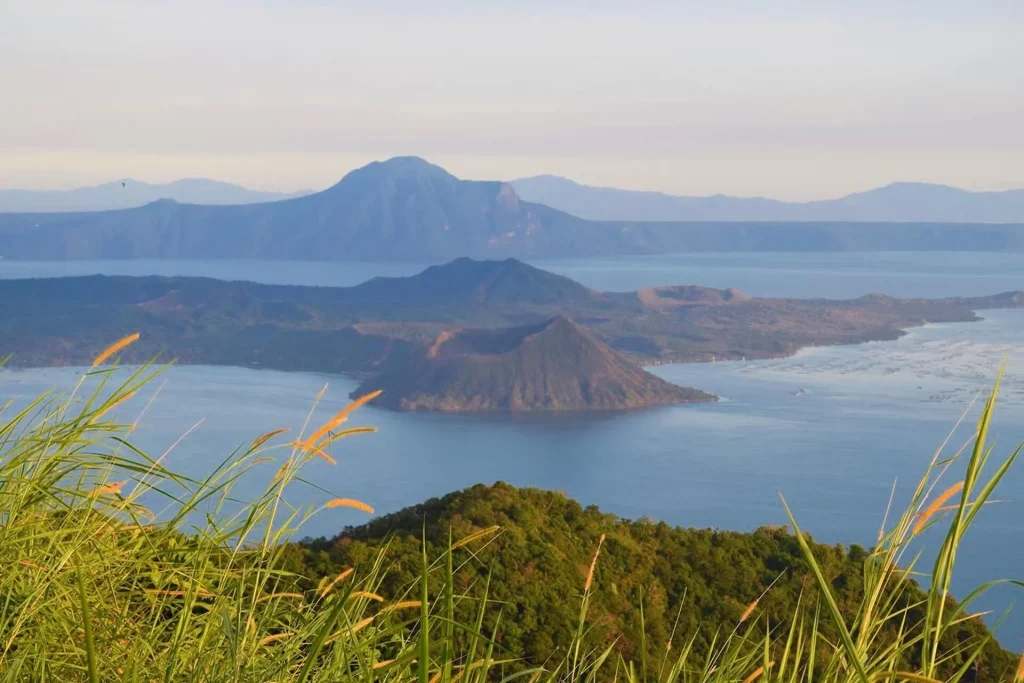 When seeking out the natural wonders of the Philippines, the Taal Volcano of Tagaytay comes into mind as one of many possible locations to explore. Found on the central island of the lake which shares its namesake, staycationers with an appetite for outdoor adventures should consider visiting this volatile edifice of nature with caution to complete their Tagaytay vacation experience.
Accessible via the Tagaytay-Talisay Road in the Silang Junction South, tourists may rent out a boat to get to the island that homes the volcano itself, so long as it isn't exhibiting any active behavior. From there, they may choose to hike towards the volcano's caldera on foot or even on horseback if they wish. Visitors would then be given the chance to admire its majesty, allowing them to get either a sense of accomplishment or peace depending on what they seek.
You may also go down to Batangas where one could go to Taal Lake. And after returning from the trip, a good rest would of course be necessary, and thus it is recommended to check in at one of the many rental spots/hotels in Tagaytay City such as Pine Suites Tagaytay by Crown Asia, and enjoy the outdoor swimming pool.
Nurture Wellness Village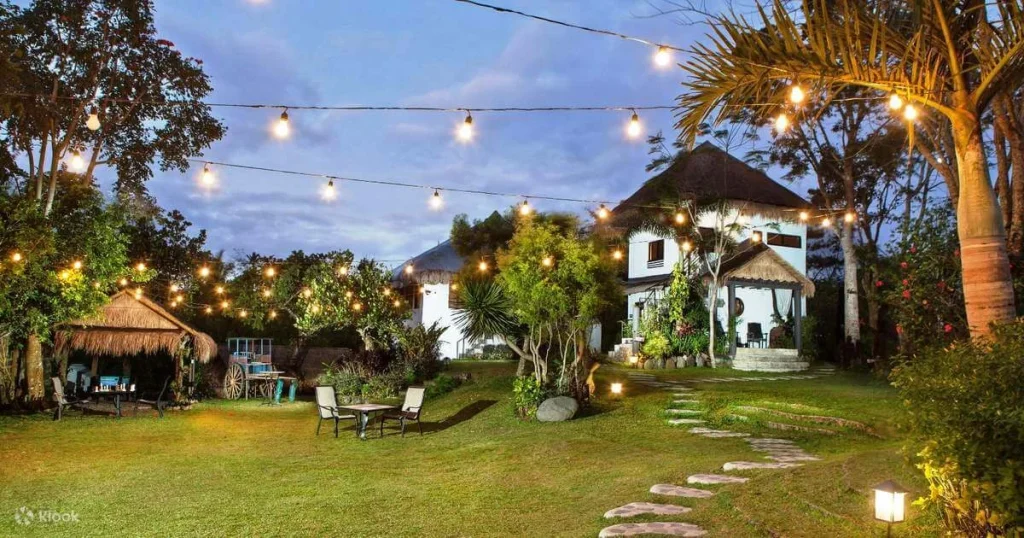 Photo from klook.com
After spending the entire day wandering around the many attractions and sights to fully feel the Tagaytay staycation experience, the temptation to wind down becomes all the more alluring. For weary tourists, booking an appointment in the Nurture Wellness Village can be an excellent way of ending a day full of adventure.
With complete amenities meant to provide only the best comfort and relaxation for their clients, this premium spa will guarantee that those in their care will get only the most sublime treatments for releasing stress via their many wellness regimens. The wellness village also offers overnight stays in its many deluxe rooms, such as its Ifugao Spa Suite, Garden View, and Forest View. If that isn't enough, customers also get the choice of having access to freshly grown, organic food provided by the restaurant known as Farmer's Table.
When looking for a final stopping point for one's Tagaytay staycation, the Nurture Wellness Village may be the right option for them, especially after an entire day of traveling around.
Lastly, if you're looking for some hotels you can stay at in Tagaytay, the Hotel Kimberly Tagaytay, Quest Hotel Tagaytay, Anya Resort Tagaytay, and Twin Lakes Hotel are some of the better ones you can stay at.
To summarize, Tagaytay City has much to give to its potential visitors in their vacation/staycation, so many in fact that they're spoiled for choice. Four places stand out, however: Picnic Grove, Sky Ranch, Taal Volcano, and the Nurture Wellness Village, each of which are sure to act as the highlights of one's time in Tagaytay.
While many may be satisfied with just spending a brief time in the Second Summer Capital of the Philippines to de-stress from the hustle and bustle of Metro Manila, there are some that may even consider the prospect of permanently settling down in a condo in Tagaytay City to savor its ambiance and culture, an opportunity that Crown Asia can arrange with the following condominium properties: Pine Suites and Pinevale.
As premium condominiums meant to give only the best living experience to their current and future unit owners, both of these Danish-styled properties can be considered the ideal homes for upper-middle-class Filipinos looking to put down their roots in Tagaytay. If one is looking for the perfect bedroom suite, a deluxe room complete with a flat-screen TV and other modern conveniences, both Pine Suites and Pinevale can provide them. Considered the first smart condo in Tagaytay, Pinevale especially can be a tempting choice for the potential homeowner to choose. Another benefit that one can get from choosing to live in either of these condominiums is their ease of access to the major highways which run through Tagaytay City, a boon for those who work in distant places such as Metro Manila.
When looking for a condo in Tagaytay to live in for the long term, why not give Crown Asia's Pinevale and Pine Suites a look?
Related Blog: The Best Staycation Places to Visit for Your Couples Getaway