The home is representative of many things.
It's a place of warmth, comfort, and affection. It's a depiction of a new chapter in your family's life, a new start filled with opportunities for you, your spouse, and your children to build memories that will last a lifetime. 
A secure home is a place where you can truly be yourself – a sanctuary for those who wish to escape the often busy and overwhelming rhythms of our everyday life.
In short, the home is the foundation where everything begins.
Timelessly Elegant Properties with a Home at the Best Locations by Crown Asia
Here at Crown Asia, we understand the values that the home embodies – we also know that it's difficult to find a home that truly emanates a feeling of serenity, filled with beautiful decor and memorable experiences.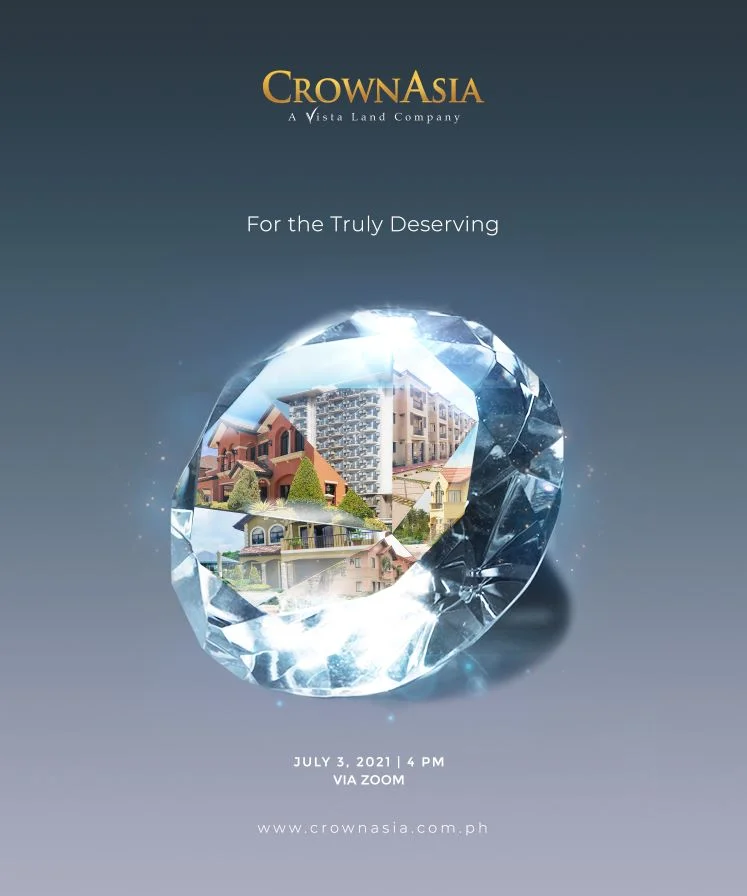 Whether it's for the family starting out, the intrepid entrepreneur looking to find a beautiful home near the city, or simply someone looking to set their roots, Crown Asia is the perfect home option to start living the life you choose.
For 25 years, Crown Asia has been at the forefront of inspired developments. Alongside our professional team of experienced and ingenious engineers, we've built thousands of homes enriched with our unique touch of sophistication.
That's why we're introducing you to our new campaign for Timeless Elegance, where we build on a feeling of poetry and an experience of design and innovation. Discover a curated collection of masterpieces that emanate our new ideology.
For our collection of horizontal homes and subdivisions, we look to create feelings of lightness, effortlessness, and splendor as we present to you three home categories that define the Crown Asia Horizontal collection. A series of traditional house and lot for sale properties tailored to fit your upscale lifestyle. Homes that evoke elegance, sophistication, and an overall splendor that cannot be found in the majority of real estate developers.
Our classic-style homes look to define higher living with romance and grandeur. These homes are located in the provinces of Cavite, Laguna, and Antipolo. Experience a more traditional style of house and lot for sale in Ponticelli, Citta Italia Amici, Vita Toscana, Vivace, Amalfi, Vittoria, Fortezza, and Maia Alta. Get to live within a secure community nearby urban areas that makes these homes the perfect option for those looking to build their families and careers.
Our fusion-style homes look to redefine the meaning of elegance within the colonial home. Developments featuring these homes include Mille Luce and Cottonwoods in Antipolo, Marina Heights in Muntinlupa, and Augustine Grove in Cavite. Experience different house and lot for sale from all over the world as we bring you everything from the relaxed American countryside to the love for the outdoors.
Finally, our contemporary-style homes look to evoke feelings of plush comfort within urban residences. A home that enjoys the conveniences of the urban lifestyle without the city hustle. You can find samples of our contemporary-style homes in our home developments in Carmel, situated in the province of Cavite.
Now, to explore a refreshing collection of vibrance and a dynamic lifestyle, we look towards Crown Asia's Vertical Collection. A series of vertical villages made to cater to your trendier lifestyle, one that is top tier, sophisticated, and an overall experience specially delivered for the affluent few.
Our contemporary spaces look to complete your experience of timeless elegance with Hermosa in Las Pinas leading the charge. Get to revel in astounding architectural design as with these spaces, Crown Asia looks to bring the exclusive ambiance of suburban living into resort-inspired condominium buildings.
We also join together a fusion of Danish-inspired duality combining together the beauty and energy of both nature and activity, with our conveniently-located residential development of Pine Suites Tagaytay.
Our new campaign for timeless elegance brings together two simple yet extremely powerful words that resonate within our community walls. Together, they form a formidable partnership that evokes feelings similar to that of poetry – building on a combination of both beautiful design and radical innovation. A harmonious relationship that equates to a home that you will surely be proud of. A home that prides itself as a jewel, a diamond, shining majestically throughout the years.
The essence of every Crown Asia property is for it to become your own crown jewel, that will only further shine and somewhat age like fine wine, a fitting reward for your years of hard work. Every property that Crown Asia develops offers a chance at being your home and investment for future endeavors. A home crafted to remind you that your success is valid, timeless, and worth it.
We look to create masterpieces of unparalleled design, materials, and workmanship, all beautifully sited in the progressive locations of Cavite, Laguna, Tagaytay, and Las Pinas.
For Crown Asia, our promise of "Timeless Elegance" is more than just a statement, it is a lifestyle that we choose to embody into every piece of work we build and one that we strive to share with every aspiring homeowner that looks our way.
With Crown Asia, experience timeless elegance for the truly deserving.
Register here: https://bit.ly/35XFA2V
Related Blog: Timeless Elegance, for the Truly Deserving by Crown Asia