A night to relish and a moment to savor.
True to its name, Hestia is a night to remember as Crown Asia spared no effort in unveiling its newest property offering in Palazzo Verde on the 29th of October 2022. Named after the goddess of the soul of a home, Hestia brought a new meaning to living and, with the help of 3D Mapping, showed to the people the promise that is Pinevale.
At the start of the year's fourth quarter, Crown Asia started it off by upping its game in the real estate industry with the launch of its first smart home, the Lladro Smart Home Model, located in Vita Toscana. Now, Crown Asia's smart upgrades are coming to their condominiums, completing its property portfolio upgrade to smart automation. Tonight Crown Asia showed innovation and creativity in unveiling their Pinevale condominium in Tagaytay project with the use of 3D Mapping. Making Crown Asia the first to use this type of demo- presentation in the real estate industry.
This proves that Crown Asia is one of the ever-evolving digital landscape.
But that does not stop there. Crown Asia too has shown an impressive feat in creativity as they were able to merge artistry with technology in telling the story of Pinevale through their grand launch entitled, Hestia.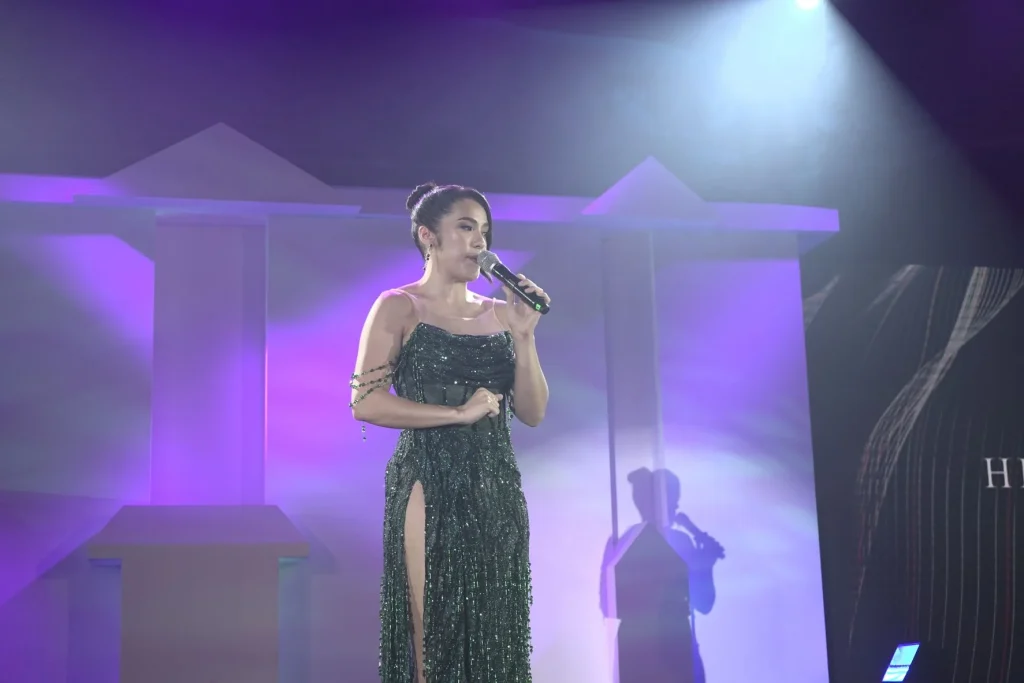 Attended by VIPs and dignitaries, Crown Asia held their Pinevale launching entitled Hestia at Palazzo Verde on the 29th of October 2022 and was hosted by Erika Kristensen.
Following with the warm greeting of Crown Asia's Marketing Head Ms. Deborah Eria gave her welcoming remarks to all — thanking everyone for coming for tonight's "unveiling of this long-awaited project" that has been months in the making.
Building up to the highlight of the Pinevale launch, Hestia slowly told the story of Pinevale through four tranches: Feel, Relish, Savor, and Gratified. Where each one begins with a performance of music and dance.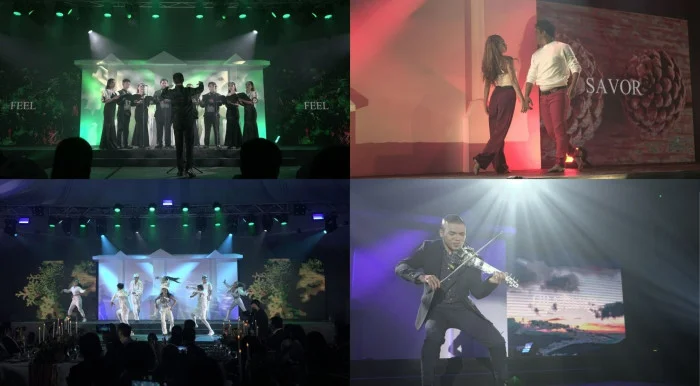 A choir serenaded the people with their rendition of "Somewhere Over the Rainbow" to set the mood and the atmosphere of living in Pinevale. Moving on to the essence of the feel of nature's beauty and lifestyle in Pinevale Tagaytay further elaborated by Vista Land's Head of Research, Data Analytics, and SEO, Ms. Avon Mananquil.
Pinevale, which is located in Tagaytay, is considered one of the most visited by tourists and locals for its natural beauty and cool climate. A place where you can enjoy most of the city life while nestling in the serenity of its embodiment of nature and cool breeze. A home that merges both urban and rural, making one living in convenience while in touch with nature.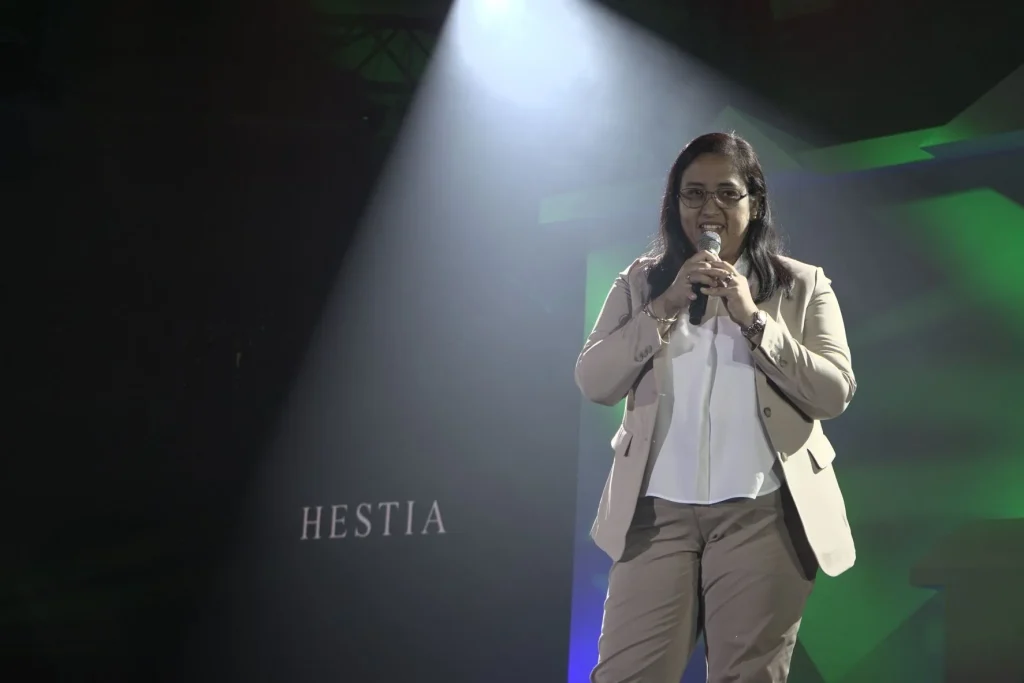 Following is the second tranche, Relish, where a solo ballet enchanted everyone with her graceful performance. To tell the story of the perfect destinations that patrons can enjoy within the vicinity's reach, and also having the convenience of getting one's essentials with ease of just being a few minutes away from the doorstep.
After an eccentric performance of modern dance, Head of Planning, Architect Rafael Ramos gave a vivid picture of the vision in mind of Pinevale for the third tranche – Savor. From the unique setting that guided the master plan to the design inspiration of Modern Danish, Pinevale offers a holistic experience of both nature and modernization. While Pinevale's outside amenities offer a touch of nature, inside the towers is a modern resort-like setup where one could relax, and each suite is featured to be automated with its smart technology that would make living comfortable and convenient.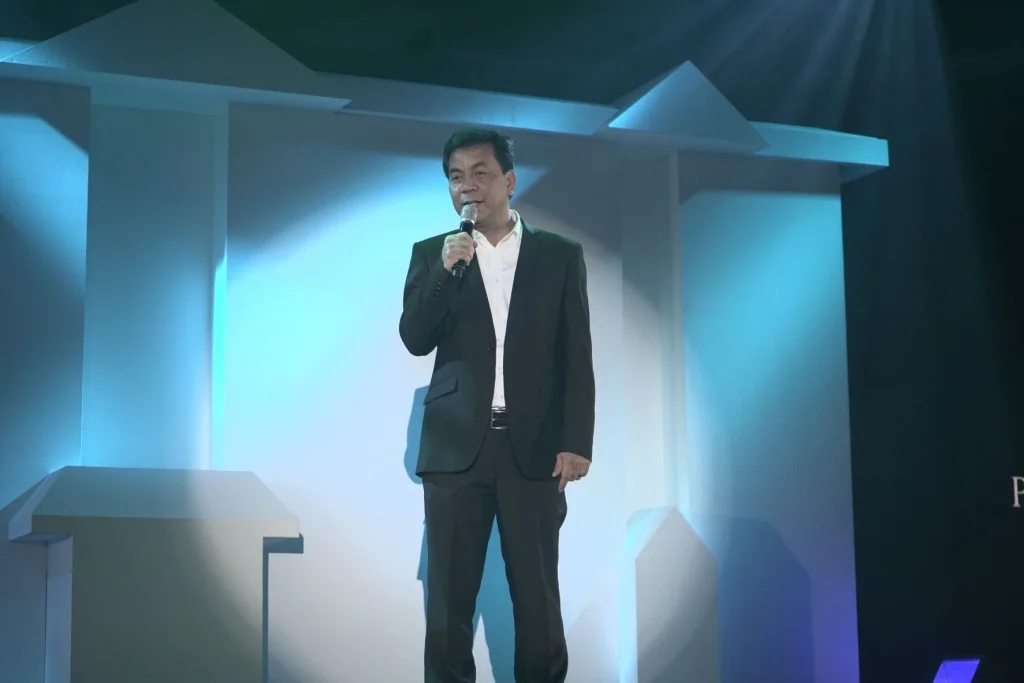 Approaching the final tranche, a violinist serenades the crowd in preparation for Crown Asia's grand reveal. In its last tranche: Gratified, a speech conducted by Crown Asia's Division Head, Engr. Dante Julongbayan slowly built up to the excitement for what Pinevale has to offer.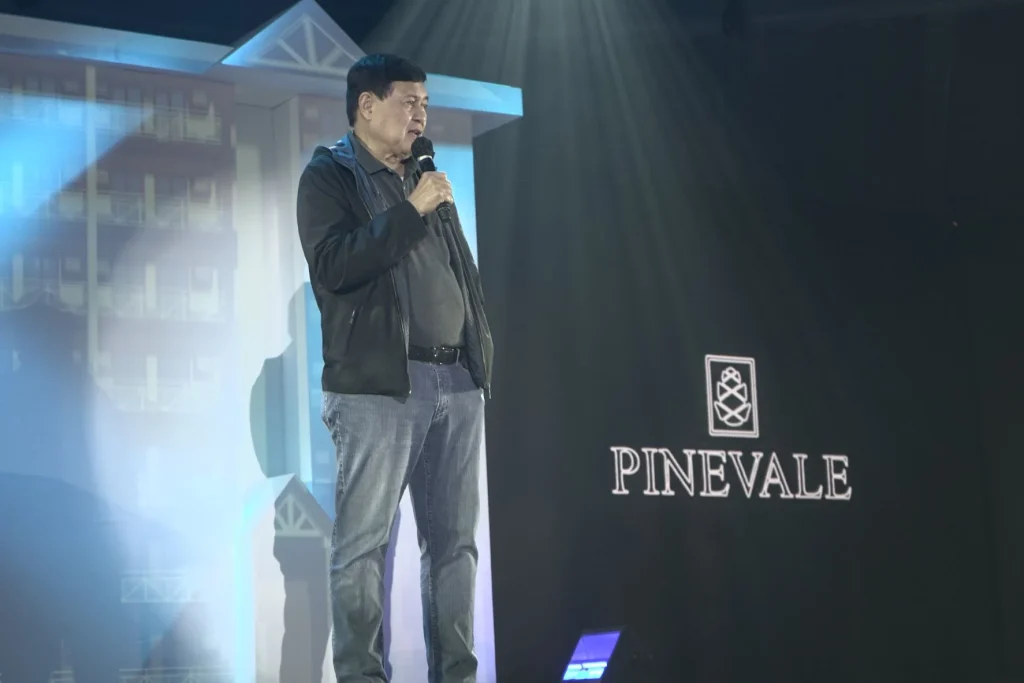 Through its breathtaking and detail-oriented animation, the 3D Map of Pinevale's Canary Tower proves Crown Asia's innovation and creativity in both planning and execution with its capabilities to continuously evolve with the times and provide a premium living to its patrons.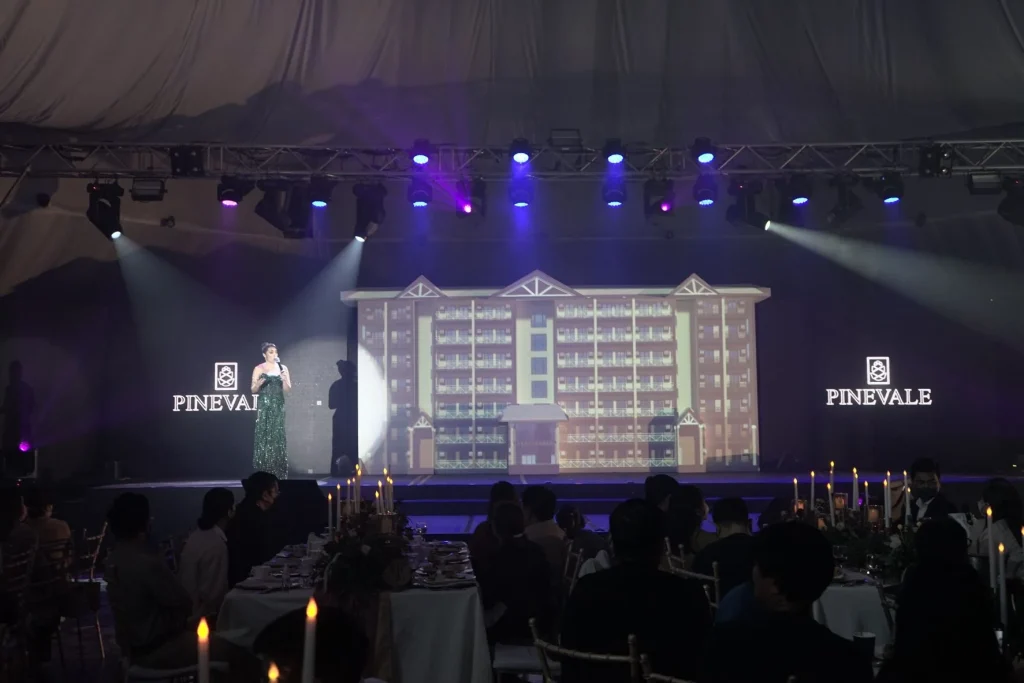 As the night came to an end, Vista Land's Chairman, Sir Manny B. Villar, joined Engr. Dante Julongbayan on stage and gave his remarks on Pinevale. With the VIP guests and Crown Asia's ManComm, Mr. Manny Villar led a toast to a successful night and to the success of Pinevale.

What to Expect with Crown Asia's Pinevale
The formal launch of Crown Asia's project, Pinevale, with its Smart features and Modern Danish-inspired design, is something that'll keep people on their feet for it. Its outdoor amenities alone portray the convergence of modernity and natural beauty of nature, thus keeping people tranced by its ethereal appearance.
Where the presence of serenity and tranquility meet in the canopy of trees, followed by the Hygge Gardens (inspired by its Danish philosophy) gives an enticing atmosphere where one can savor every moment at Pinevale.
Serenity Trail – a place to take one's morning jog while having the calming ambiance of nature.
Forest Canopy – where one can take a break, and take a stroll to clear one's mind.
Hygge Garden – named after the Danish philosophy of happiness, the Hygge Garden is a scene made to create warm moments with loved ones while also appreciating nature's cool embrace.
Cascading Heated Pools – With Tagaytay's cool climate, one would avoid a dip in the pool, but in Pinevale's Cascading Heated Pools, one would be able to relax their senses and let their tensions flow.
For Pinevale's indoor amenities, one would find the resort-like, modern living with the vicinity's Ardensen Venue and Community Lounge, a space to celebrate life's greatest moments with family and create new friendships; maintain a healthy mind and body in the Hyperactive Concourse, where one could choose between the Fitness Center, a Yoga Deck, and a Game Room
Pinevale's suites are also something to marvel at as each one is spacious with a smart automated feature, making living convenient, comfortable, and secure.
In addition to Pinevale's premium offers, Crown Asia has found a way to make finding your next home easier while assisting you with your finances. With the aid of Crown Asia's Mortgage Computation, you may be able to see the available suites in your preferred available tower while also viewing the computation for the mortgage in two different modes of payment.
With the latest update on the availability of Pinevale's Pre-Selling Condo Property Type, Canary Tower is a suite size of 37.26 square meters.
Nestle in your dream home, relish life at every moment at Pinevale.