Know Which Italian-Themed House and Lot in Daang Hari Cavite is Perfect for your Lifestyle
July 21, 2021 by Janine C. Aseron
When it comes to premium living in Daang Hari Cavite, the name Ponticelli will be among the first that will come to mind. Owning a home in this community also makes one live lavishly with its state-of-the-art amenities that provides the best experience for its residents. More so, the Italian-themed homes include lush greens to amplify its classic elegance. Its location still being within reach, Ponticelli gives its homeowners everything modern and convenient. Known for its pristine landscaping and architect-designed homes, Ponticelli will let you live the luxury life.
Ponticelli offers a chance at living in comfort and convenience. Accessible through major road networks and thoroughfares as well as in proximity to your daily life essentials. Schools, groceries, hospitals, and other commercial establishments are within reach at this beautiful Italian-themed community along Daang Hari. As being a resident in the last premium house and lot in Daang Hari Cavite can be one of those achievements for all the hard work, one should also consider which house model should fit with their lifestyle. The perfect home should be fitting in relation to his lifestyle, financial capabilities, and future life plans. Here is a guide for the classic series available for pre-selling, tailored to one's needs.
Martini: For Newlyweds to the Starting Families
The Martini model is a perfect starting home for young couples. It is a 109 square meter home that symbolizes the best of quality and style. It is a cozy two-story home with three bedrooms, two toilet and bath, one garage porch and balcony. This home is designed for savvy residents who are ready to move into a community that takes care of them and their needs. Carefully curated, it also has lanai with trellises for the residents to enjoy. Come home to a charming three-bedroom martini model home. With the size and design perfect for a small starting family, Martini might be the initial investment for your future.
Francesco: A Cozy Home in the South Perfect for Retirees
This house model is a home that is perfect for those who want to enjoy life. It is a 142 square meter house and lot that exudes luxury for retirees. With its master's bedroom on the ground floor, it is a 2-storey house and lot in Cavite with 3 bedrooms and 3 toilet and bath. Moreover, it is a one car garage and front porch with balcony.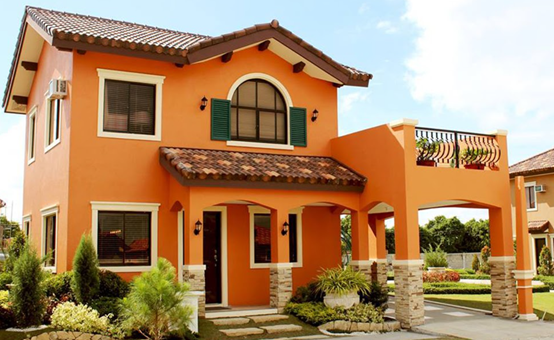 Offering a blend of art and tradition, the Francesco is a master crafted masterpiece reserved for those with a refined taste. The elegant master bedroom includes its own suite bathroom and walk-in closet.
Beryl: For the Hustlers of the Family who still Wants to Achieve a Work-Life Balance
Beryl was created with the hardworking people in mind. The perfect home for professionals, busy mums and couples, Beryl seamlessly blends two uses of space from work to family time. With its built-in office den and family area, Beryl is perfect for those who want to have a home that works for today's lifestyle. At a spacious 177 square meters, this luxury home has 3 bedrooms and 3 toilet and bath – and exclusive from the rooms is the maid's room. It also has a two-car garage and lanai with trellis plus a front porch and a powder room. For a home designed for your life's purpose, you deserve only the best. The exceptional finishes and attention to detail all complement each other to provide a haven of relaxation after a long day at work.
Lladro: A Spacious Lavish Home for a Big Lavish Family
A home with a high ceiling, Lladro is a luxury, spacious home that gives you space to spread out. This house model has 3 bedrooms, 3 toilets and baths, plus one more powder room. This 211 square meter house also has a family area, perfect for bonding time with your loved ones. An extra room can be converted to an office den or entertainment room, whichever is suited for the needs. Its 2 bedrooms has a connecting toilet and bath, while the master's bedroom has its own walking closet and shower with Jacuzzi. Moreover, Lladro also has Lanai with trellis, plus front porch, and balcony. The Lladro home offers a relaxed, indoor and outdoor open space for all of your family to enjoy.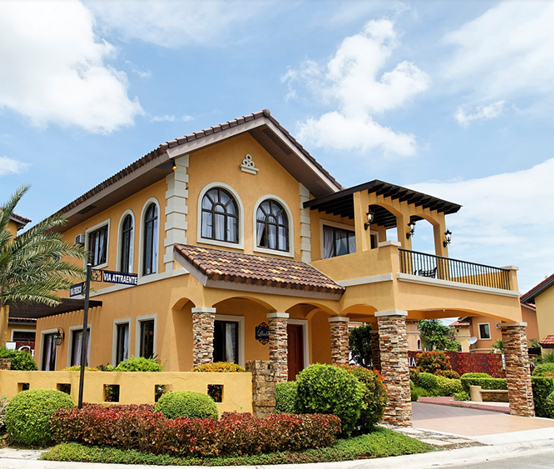 Epitomizing luxury, these Crown Asia homes in Ponticelli has a unique sense of aesthetic that is visible at first glance. Featuring an exterior crafted with quality materials, these Classic Series Homes consist of sand beige ceramic tiles on the ground floor and vinyl strips on the second floor. It also includes ebony countertops, with concrete base cabinet and carpentered doors in the kitchen – all carefully structured to fit one's taste.
Currently the most spacious home available at Ponticelli, Lladro is the home that showcases the epitome of your dream house and lot. A home big enough to house your family and celebrate momentous occasions in your life.
On Choosing Ponticelli as your Italian-Inspired Home in Daang Hari Cavite
Live in a grand estate; with a home with walls that reach into the skies, there is a clarity and confidence in the quality of life that comes with a secure home at the last luxury house and lot in Daang Hari, Cavite. The rich fabrics and furnishings, the exquisite design that sits quietly with elegance – you deserve a place to call your own. In the heart of Daang Hari, you'll find a sanctuary of upscale homes that exude luxury and make your life remarkable. With everything you need, live the good life that you truly deserve here at Ponticelli.
Related Blog: Everything to Know About Daang Hari and the Housing Opportunities it Covers