Valentine's Day is coming! Have you come up with a simple yet sweet surprise for your partner? Or maybe you are planning to eat somewhere romantic yet near the area of Bacoor? If that's the case, this article is for you! Bacoor City has a wide array of romantic restaurants in Bacoor that you and your partner will enjoy not only the food but the ambiance as well! To know more about where to dine on this Valentine's day, read this article and decide what restaurant is best for you and your lover.
Restaurants in Bacoor to Visit With Your Lover This Valentine's Day
ROMA Café – NOMO Avenue
Looking for the most romantic place in Bacoor? This is definitely it! ROMA Café offers a very romantic ambiance perfect for a lunch date or a dinner date. With its Italian-inspired interior design surrounded with different kinds of indoor and outdoor plants, broken pillars inspired by the exterior design of the buildings in Rome, and its al fresco "underneath the lights" dining at the back of the café, you and your date will definitely feel like dating in Europe. And of course, not only the café has an amazing ambiance to offer but the food is good as well! ROMA Café serves Italian-inspired and Filipino dishes, and whether you are a coffee or tea kind of person, they have everything to offer! Safe to say that this is the top one on the list that is 100% perfect for you and your lover.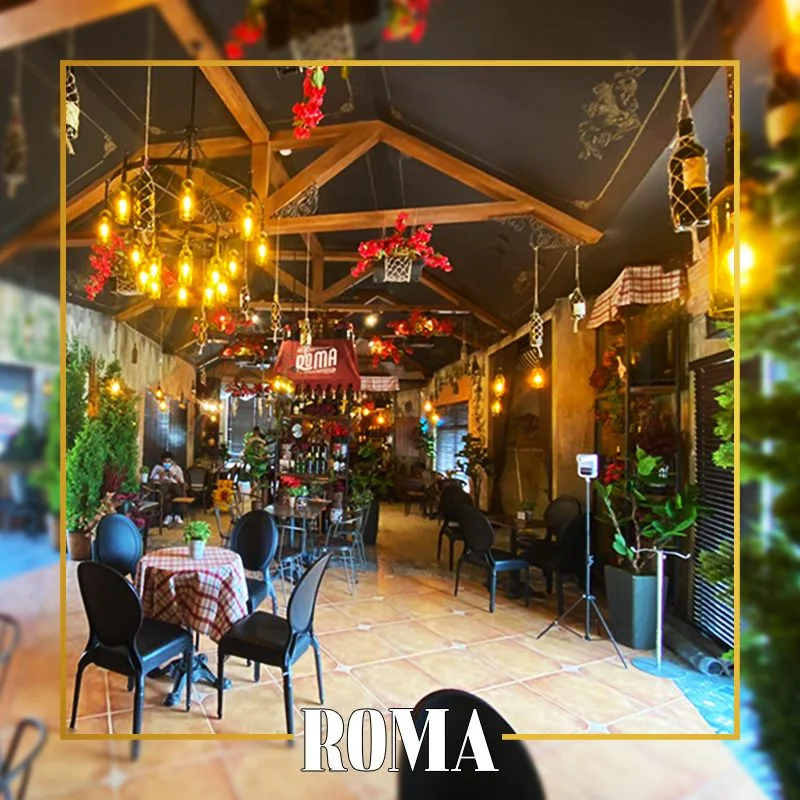 ROMA Café is located at Niog Road, corner Molino Boulevard, Bacoor, Cavite. They are open every day from 7 AM to 10 PM on Mondays to Fridays, and from 7 AM to 11 PM on Saturdays and Sundays. Wifi is available to ordering customers. Parking is available and the café allows pets as long as you are willing to stay outdoors or via al fresco dining.
Sombrero – NOMO – A Vista Lifestyle Center
Planning to drink beer, cocktail, or wine with your date? The best place with the best drinks in town is none other than Sombrero! This place definitely brings good vibes, day and night as they offer different kinds of alcoholic and non-alcoholic drinks. You can have a drink inside their beautiful, Mexican-inspired interior or enjoy the view at the balcony of the bar with its al fresco dining. Speaking of Mexican, they also serve Mexican food! If you want to enjoy your cocktail drink with a big bite of burrito, you can definitely go for it! Just make sure you eat it flawlessly in front of your date if you want to make a good impression.
Sombrero NOMO Branch is located at Level 2, NOMO – A Vista Lifestyle Center, Bacoor, Cavite, and is open every day from 10 AM to 8 PM (mall hours). Parking is available outside the mall and beside Vittoria subdivision. Pets are allowed inside the mall.
Modern Shanghai – NOMO – A Vista Lifestyle Center
Looking for a Chinese cuisine restaurant that has a modern and romantic ambiance for you and your partner? Let's go to Modern Shanghai! If you and your date are a big fan of dim sums, you will enjoy it here as they serve different kinds of it! From their famous Signature Xiao Long Bao, Hakao, Siu Mai, and Pan-fried Shanghai Pork Buns, this restaurant offers a wide array of Chinese foods.
Modern Shanghai is located at Level 1, NOMO – A Vista Lifestyle Center, Bacoor Cavite, and is open every day from 10 AM to 8 PM (mall hours). Parking is available outside the mall and beside Vittoria subdivision. Pets are allowed inside the mall.
San Marco – EVIA Lifestyle Center
Let's go outside Bacoor and go to EVIA Lifestyle Center, Las Pinas! Truthfully speaking, the whole mall is already as romantic as it can be but there is this special place inside that is wonderfully romantic and it is the San Marco Café.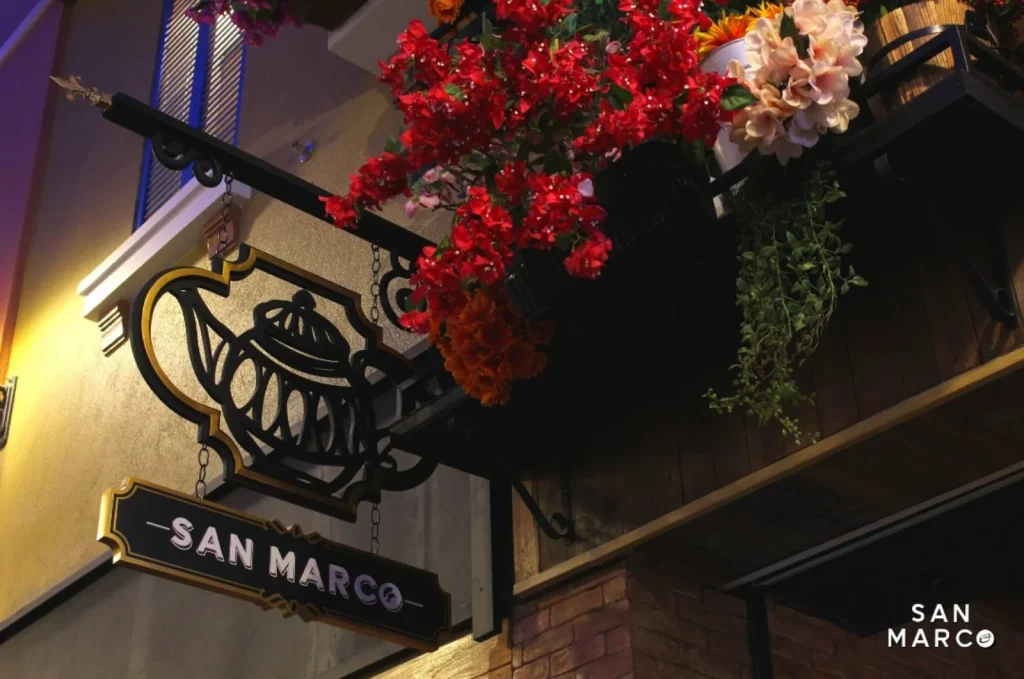 San Marco Café, just like ROMA Café, is an Italian-inspired café and restaurant that also gives a very romantic ambiance. If you love flowers hanging around almost everywhere and interior designs inspired by the broken walls and romantic sidewalks of Italy, you will find this place aesthetically pleasing. For the food, they serve semi-fine dining Italian-inspired dishes. From savory pasta and pizzas to sweet cheesecakes and frappuccinos, they got everything you want for your lovely dinner.
Discover the taste of San Marco Café at Level 2, Piazza, Evia Lifestyle Center, Almanza Dos Las Piñas. They are open every day from 8 AM to 9 PM (mall hours.) For the wifi, both the mall and the café can provide it for you. The Mall is pet-friendly so you don't have to worry about bringing a fur friend to your date.
Dining in the New Normal
To help curb the number of COVID-19 cases, restaurants comply with the IATF's safety regulations for dine-in and take-out. Make sure to do your part and follow the establishment's safety guidelines of presenting your vaccination card, contact tracing, social distancing, and wearing of face mask and face shield.
Meridian COHO
Meridian COHO is a premium mid-rise condominium development for sale where the project offers 1-bedroom and 2-bedroom spacious and secure condominiums, complemented by modern contemporary architecture, sprawling landscaped gardens, and resort-inspired amenities perfect for entrepreneurs aspiring for spacious condo-living at the center of Metro Cavite.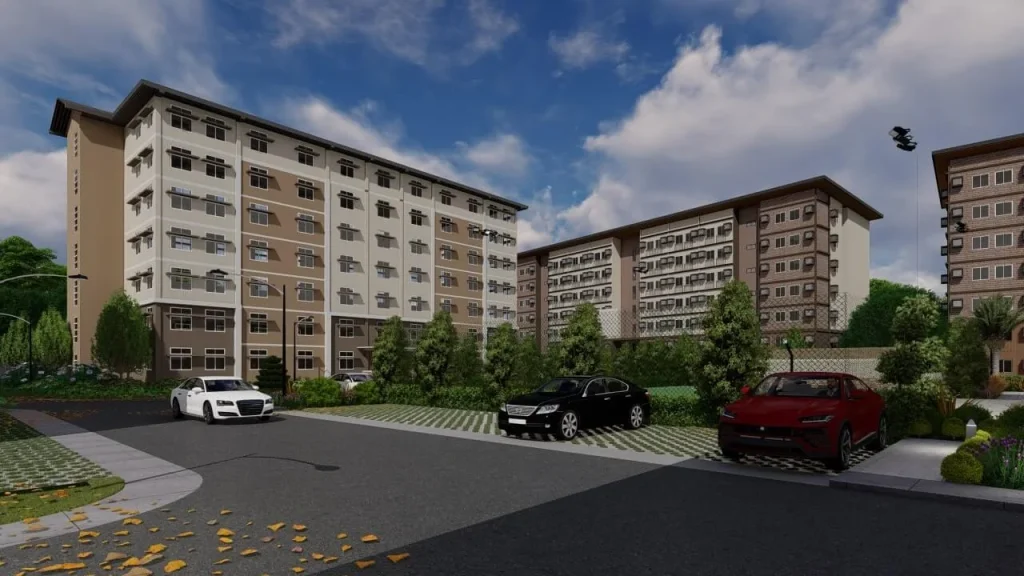 NEW YEAR 2022: Furnished Unit Promo is extended! Get the chance to avail our furnished unit from AllHome at Meridian COHO if you reserve a unit this month until February 28, 2022.
Move-in this 2022 at a strategically located in Bacoor City where you can find a multitude of lifestyle food establishments. When you are deciding where to eat and what cuisines the City of Bacoor has to offer, the high amount of options you may find can overwhelm you and that's great news! There are more than a hundred food restaurants located within a 3 to 15-kilometer radius of The Meridian COHO.
Make your condo living experience in Bacoor more memorable. Click here to know more about the condo for sale property
Related Blog: The Best Way to Celebrate Valentine's Day this 2022