Mostly, people begin to make plans for their dream home when they are at a very young age. The reason why many home buyers are also very eager to look for the finest house and lot for sale in Laguna once they are financially prepared for it and when they begin to add more family members for their new chapter in life. However, it is evident that most home buyers tend to ignore one important thing while they are too focused on the typical elements in a home, such as the home design, the style of the house, and how large the lot is being offered; and that is having safety measures at home.
Why is it important to have home safety rules at home?
No matter how often the phrase "accidents happen" is repeated, it is still crucial to make house improvements that can ensure the safety of the family, especially if there are young kids present. In this way, it can prevent children from being in risky circumstances.
All ages should consider the importance of home safety. Little children may be hurt or experience accidental intoxication, height-related accidents, drowning, or electric shocks and burns. Because of mobility or vision issues, older persons are also frequently at risk for falling.
The rehabilitation from and prevention of severe injury, as well as the support of functional and independent living, are all impacted by home modifications. Most individuals' overall health and quality of life may improve with detailed assessment, evaluation, and application of home safety measures.
Because of this, some homeowners, especially parents, set safety rules at home to protect kids against possible damage and other serious incidents. To the greatest extent possible, some parents also discipline their kids by only allowing them to play in a playing room. Some parents also include "keeping sharp objects out of reach from kids" in the list of their safety rules to protect both kids and elders from harm.
With this in mind, some prospective buyers ask themselves "How may I improve home safety for me and my family?" This article will basically provide safety tips that homeowners could apply to provide a safe environment for their loved ones and to allow the kids to play freely without the parents worrying too much about what might happen.
Ways to Improve Safety in Your Home
Plan your bathroom right.
Apart from the typical risky conditions, one of the things that most homeowners get into unpleasant situations would be water-related accidents. The room in a home where water activities mostly happen that could cause this type of incident is the bathroom.
Given that most people take their daily baths here, whether they are adults or children, it is obvious that the floors will become completely soaked. Children occasionally play when they are on the water, thus it is inevitable that this could result in unintended accidents.
Considering this, it would be highly recommended to install all bathroom floors with non-slip tiles. In this manner, it can prevent homeowners from slipping and hurting their heads, particularly children. Another tip is to place rugs next to the shower or bathtub so that people may wipe their feet dry after taking a bath.
Create an emergency plan.
When looking for a house and lot for sale in Laguna, it is important to consider the size of the house, which should be large and accessible enough to establish an emergency plan. For instance, it is vital that every family member should stay informed of the designated escape route when conducting a fire escape plan. Everyone will benefit from having more time to react in case of an emergency.
To implement this safety strategy, purchasing a house and lot for sale in Laguna that has wide windows, preferably ones that aren't grilled, and are easily accessible from the outside is advisable. However, owners who have children at home might add doors as an alternate escape route rather than big windows to stop further accidents. Every night, families could practice this with their kids to help them learn which doors to use as escapes and where their safe place is in the neighborhood.
Other than the home design, adults might perhaps make emergency contacts on their phones and their children's to alert other relatives or friends when an accident occurs. They should also teach kids where and how to discover important phone numbers they can dial during dangerous situations.
Install plenty of carbon monoxide and smoke alarms.
Installing smoke detectors is not always sufficient. Every floor of the house, including all sleeping areas, should have smoke alarms and carbon monoxide detectors installed by homeowners. A monthly test of the alarms is also recommended, and replace any that are ineffective. Nonetheless, alarms should be changed every ten years.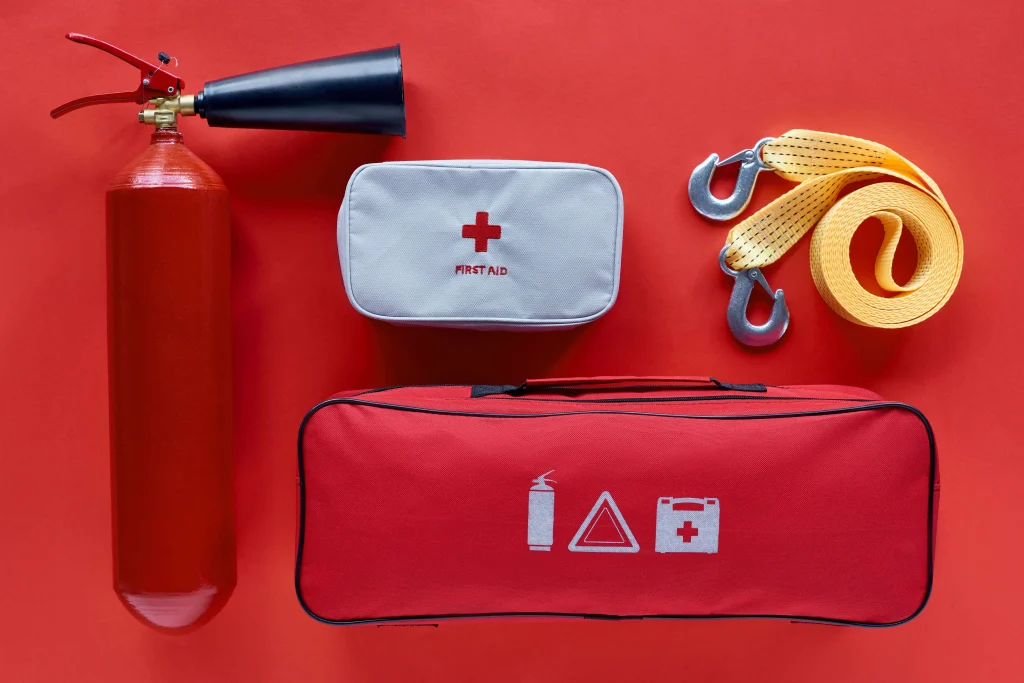 Employ fire extinguishers.
Every home needs extinguishers in case of fire. Every family needs to own one because aside from being affordable, it is a potentially life-saving instrument as well. Homeowners who possess fire extinguishers should understand how to install them properly. One can be kept in the kitchen and one on each floor to do this. It is also strongly advised that all members of the family, including the kids, learn how to operate extinguishers and the basics of fire safety. If they want, homeowners may also consider installing a fire sprinkler system and a smoke alarm.
Have a first aid kit ready.
Every home should have a first aid kit on hand in order to avoid injuries from getting worse and possibly save any visits to the hospital or walk-in clinic. This is especially important if there has been blood loss from the injury. Homeowners can easily put together a first aid kit by purchasing a large box or container and some basic supplies, such as cleaning products for a wound, antiseptic cream, safety pins, different types of bandages, tweezers, scissors, thermometer, skin rash cream, and several others. Children may occasionally learn about this in school, where they are taught about its purpose and possible applications.
Read more: How To Make Your Home Baby-Friendly