If you're reading this, then you're probably thinking about redecorating your room or maybe you're moving to your new house in a subdivision in Cavite. Either way, it can take a while before you can really feel peaceful in this space.
In this article, we'll show you ten steps you can follow to make personalizing your bedroom less intimidating and make it look like it's actually your space.
Step #1: Evaluate your bedroom space
The most important step of it all. Before anything else, you have to evaluate your space and ask yourself some questions like:
What type of bedroom will this be?
How big is the entire room?
How do you want your bedroom to work for your life?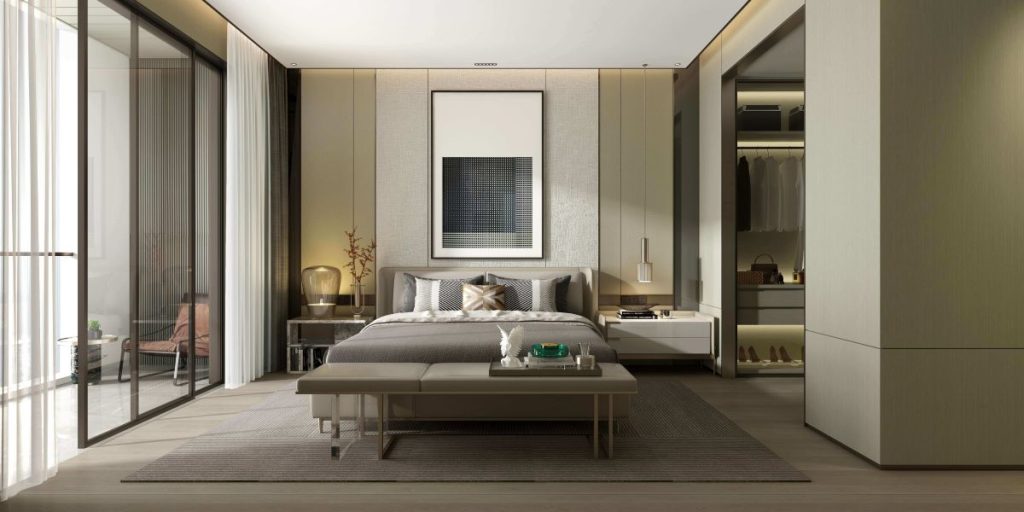 These questions will help you decide on pretty much everything you need to put into the room. What you may need for a master bedroom will be different for a guest bedroom— different bed sizes, furniture, electronics, lighting, and stuff like that.
Most importantly, of all the things you need to consider, the size of the bedroom takes first priority. This will define your whole shopping decision, whether or not you should buy that king-size bed. Will it really be fitting if you get that 146-inch 4K TV? Do you really need that extra bedside table?
Fully evaluating your bedroom space will help you save time, money, and effort. You wouldn't want to either underestimate or overestimate whatever you'd put in your bedroom. Underestimating it will make it look dull and too minimalist. On the other hand, overestimating your room will lead to so much clutter and less space.
So, get a tape measure and take note of the dimensions of your bedroom. When you go shopping for furniture in the nearest mall to your subdivision in Cavite, you also need to take note of the dimensions of their dimensions. It would also be a great idea if you could have your partner, or a friend, or one of your older kids to help you out on this one because this can be challenging to do alone.
Step #2: Consider the essentials
Since we're on the subject of buying the furniture for your bedroom, the next thing you need to do is to list down the essentials for your room. What are your non-negotiables? What are the things that you just want and the things that must be there at all costs?
Why should you do this? Well, most importantly, so that you don't miss anything. Secondly, when we visit the mall or go shopping anywhere, we tend to get distracted by all the other stuff that we see that we forget what we really need to buy. Moreover, this could also lead to overspending on things you never really needed, which will eventually just turn to clutter in the long run.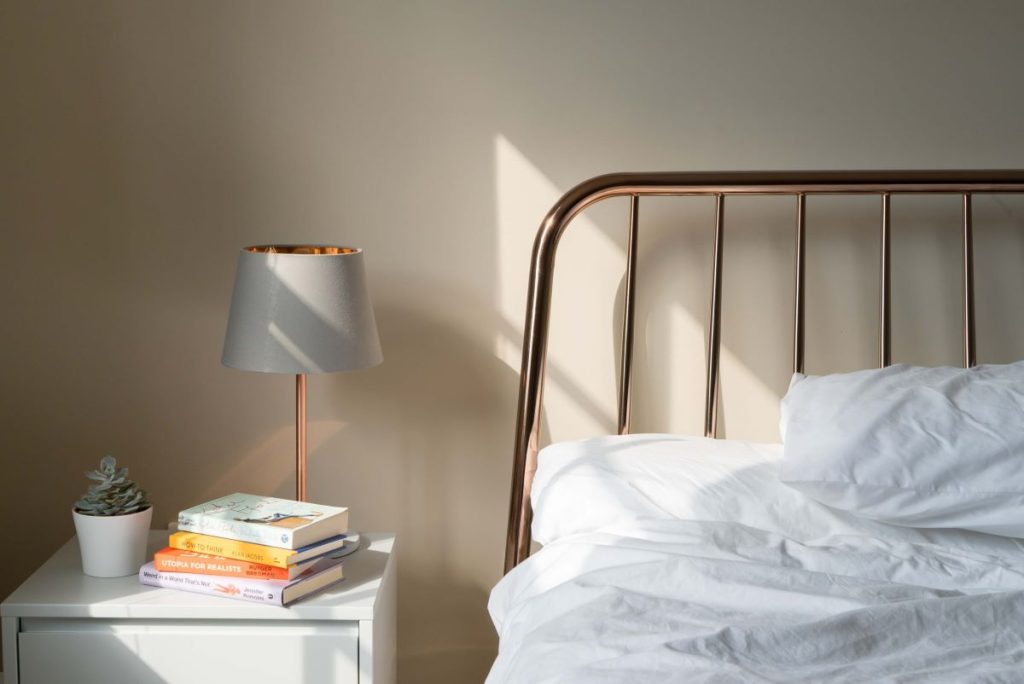 So, list down all the things you need. This could vary depending on what you like as a person, but essentially, here are some of the things that are commonly found in bedrooms:
An adequately-sized bed
A bed mattress
A pillow or pillow
A wardrobe or closet (if you don't have a walk-in closet)
A nightstand or bedside table
This will help you decide what you could then add as accessories, or just stuff to make things prettier. Essentially, knowing what you can't live without will help guide you on the extra pieces that you put in your room moving forward.
Step #3: Follow your personal style
Of course, the whole point of this article is to guide you in personalizing your bedroom. So, it's critical that you follow your own personal style. However, this part can be difficult if you don't really know what your style is, so you should at least reflect on the things that you like, in general.
You can start by inspiring yourself with things that other people have already done for their bedrooms. Photos are everywhere, but great platforms for bedroom designs are Pinterest and Instagram. You can also check out some bedroom interior design blogs, like Design Cafe or Decorist. Although out of all of them, we do recommend using Pinterest so it's easier to pin photos that you like.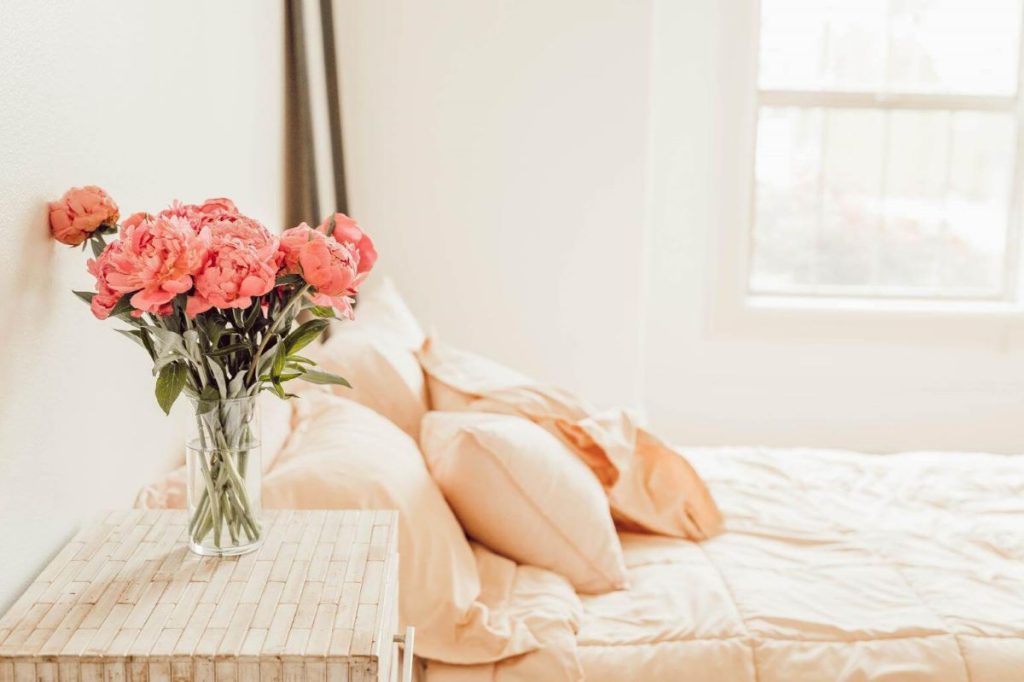 When you're browsing for inspiration, it's important to take note of what you liked about what you saw. Is it the color palette of the room? Did you like just the bed on that particular bedroom layout? Could the storage strategy of the cabinet or closet be used in your bedroom space?
Once you've gathered enough ideas, look back and keep everything you liked the most and which ones would make more sense to put in your bedroom.
It would be great if you had a hobby that you could incorporate into your bedroom. Of course, if you have a spouse, it becomes a whole different story. However, if that's the case, you and your partner should talk about who will be in charge, or better yet, work together in finding a middle ground of all the things that you want to put into the room.
Step #4: Layout your space
Probably the most exciting part of personalizing a bedroom is finally laying out everything for your space. A lot of people skip this step, but this is important because planning where your furniture will go can make everything else come easier.
One of the things that you need to consider is the architectural features of your bedroom that could possibly limit how you will use and fill the space. For example, you might want to put indoor plants in your bedroom, but you don't have a window where sunlight can feed them. You may want a television in your room, but there is only one outlet.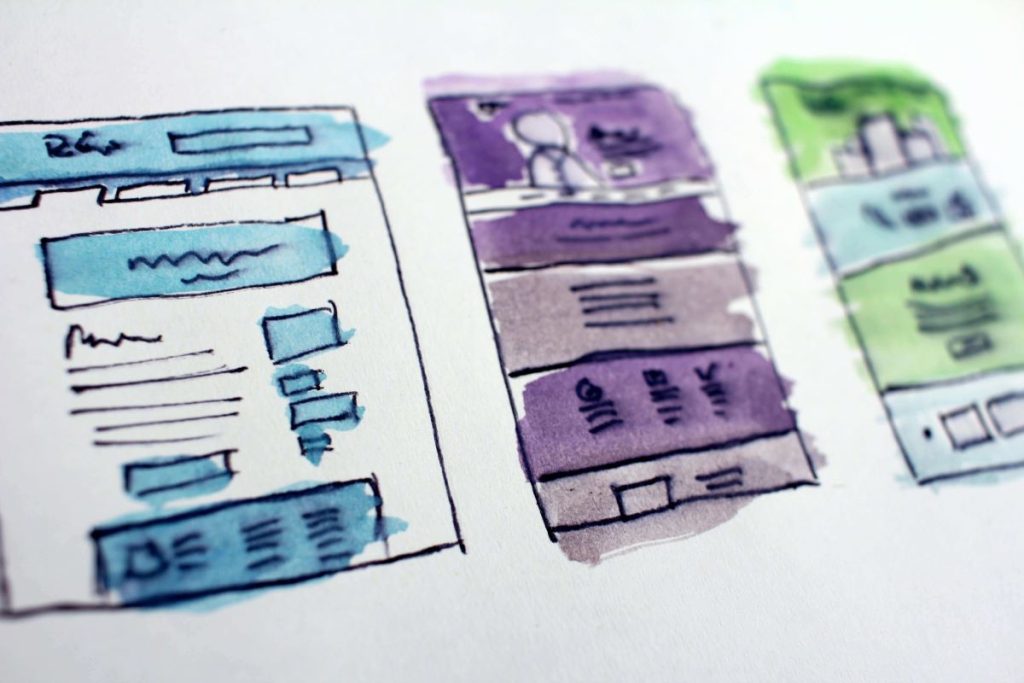 Considering everything and laying them all out on paper (preferably with measurements) will take a lot of time to finalize, but it will be worth it. This can also help you explore opportunities and be creative, like space-saving hacks like customized cabinets or floating furniture.
Just don't forget to consider that you need to be able to move around the space. Ease of movement can be easily neglected. Just having enough space for walking is not enough. You need to be able to move without feeling cramped.
Step #5: Set a budget
Even if you have money to spend, you still need to set a budget on how much you're only willing to spend on a bedroom. If you only just recently moved into your house in a subdivision in Cavite, your bedroom isn't going to be the only room you need to fill, and bedroom furniture can be really expensive.
You don't really have to be exact. All you need is a budget range and you're good to go. If you don't know how much to consider, a good thing to consider is to think about your must-have pieces and what are the things that you can skip.
Take advantage of this step to come up with a rough outline of the decoration, furniture, and other pieces and how much you're willing to spend on each one.
Step #6: Choose a color palette
Choosing a color palette will determine the color of the room and the pieces you want to put in. Additionally, this will also define the tone and feel of your bedroom, so you need to make sure to think about this part.
If you don't really have a specific favorite color, you can check the ideas you found online. Meanwhile, if you do have a favorite color but you don't know how to accentuate it, or you don't know what colors would complement them, you can use a color wheel to help you out.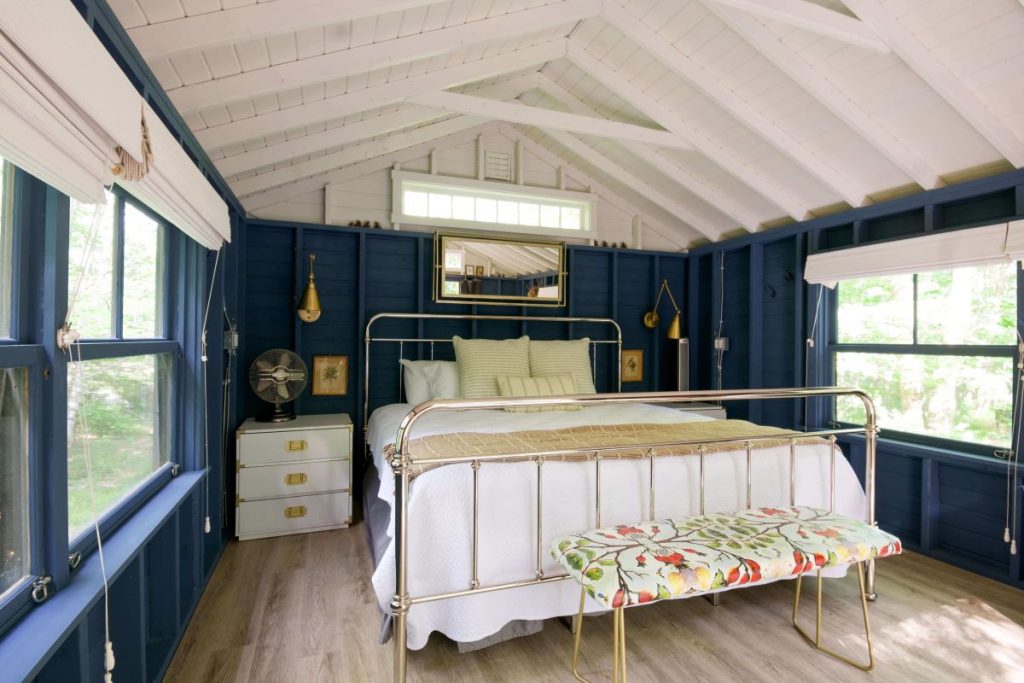 Essentially, whatever you pick on a color wheel, the color on the opposite side of the wheel will always complement your choice. You can check out this color wheel tool by Canva to make things easier for you. They can show you different color combinations, be it complementary, monochromatic, analogous, triadic, or tetradic. Visit the page to see the differences between each one.
If you want to DIY everything, painting your walls can be the most challenging part, especially if you don't have the skill to do it properly. Luckily, there are a lot of tutorials online, so be sure to check them out. There are numerous modern designs you can do, just make sure to do enough research before actually doing it. Otherwise, you might waste a lot of paint.
Step #7: Invest in a really good bed
Now that you know everything that you want for your bedroom, it's time for some action. To start, we suggest choosing a bed first before anything else. Since you're personalizing your bedroom, it only makes sense that the focal point of the room will be your bed.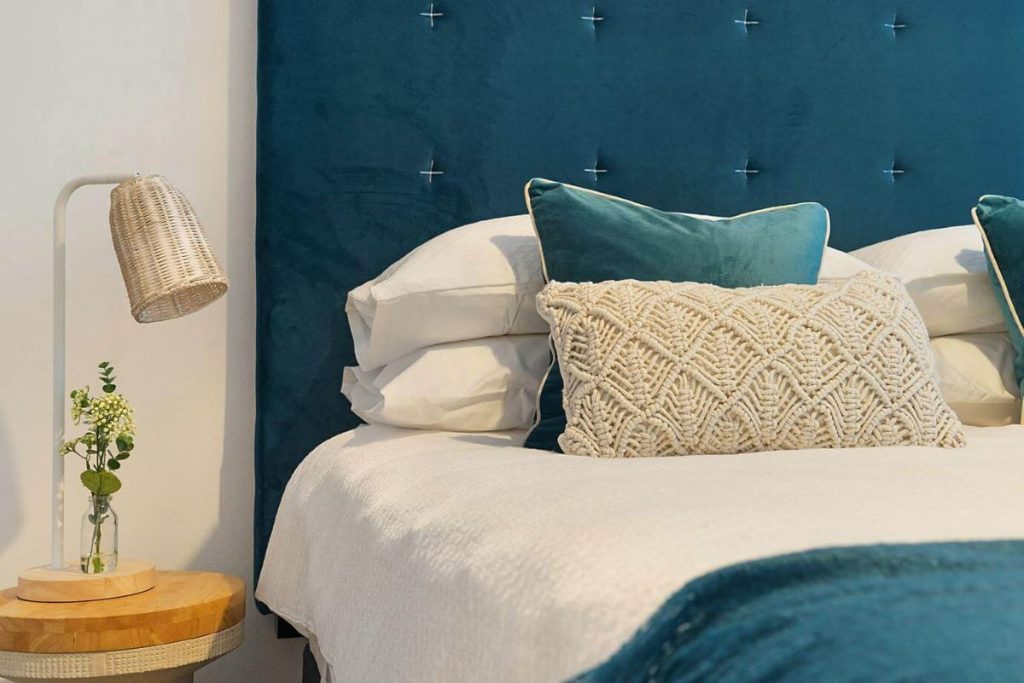 So, think about each piece you want your bed to have. Will you be using a bed frame? What type of sheets do you want? How many pillows are you planning on having? Since your bed is going to be the star of the show, personalizing your bed itself will also matter.
Consider visual weight. A minimal bed frame without a headboard will look visually lighter compared to a Victorian-style frame. If you have a small bedroom, it's best to stick to light-looking or minimal pieces. A great hack is to use a large wall mirror to create the illusion that your room is larger than it looks. Otherwise, if you have a lot of space to fill, then go ahead and go extravagant.
Step #8: Accents
After deciding on your focal point, it's time to move to the pieces that will accent or complement your bed. Accent pieces are perfect for creating a contrast in the bedroom. Again, be sure to be considerate of the space and the function of every piece you add to the room. Even if they're just complementary stuff, they still need to be functional.
Moreover, you should also consider how to accentuate your room with the color of the walls. Since you already have a color palette to guide you, decide on which of the colors will be on the walls and which one will be for the other pieces of furniture.
Step #9: Mix textures and materials
Speaking of accents, you should also keep an eye out for the textures and materials of the furniture and other items you want to add. Think of these as minor ingredients to a dish that will bring all the flavors together. In your bedroom's case, these could be leather pieces, natural-fiber accents, or grainy wood pieces.
The texture or material of a piece will make your bedroom look more layered, which will give it that extra "oomph."
For example, if your bedsheets have a velvety texture, you can match them with lighter linens for your pillowcases. You can also consider metals, like brass, iron, or steel designs if you want a more industrial loft design for your bedroom. The key is to not be afraid to play with textures.
Step #10: Decorate with your final touches
Finally, the finishing touches. After adding all the necessary furniture, you should think about how to further elevate your bedroom with more touches. This could be something as small as a painting, adding some mirrors, rugs, and other things.
As a rule of thumb, be sure to choose the finishing touches that you can easily change. The reason being, if you want to change something in your room in the future, swapping out these final touches with new things can already make a huge difference in making it feel like you did something new to the room.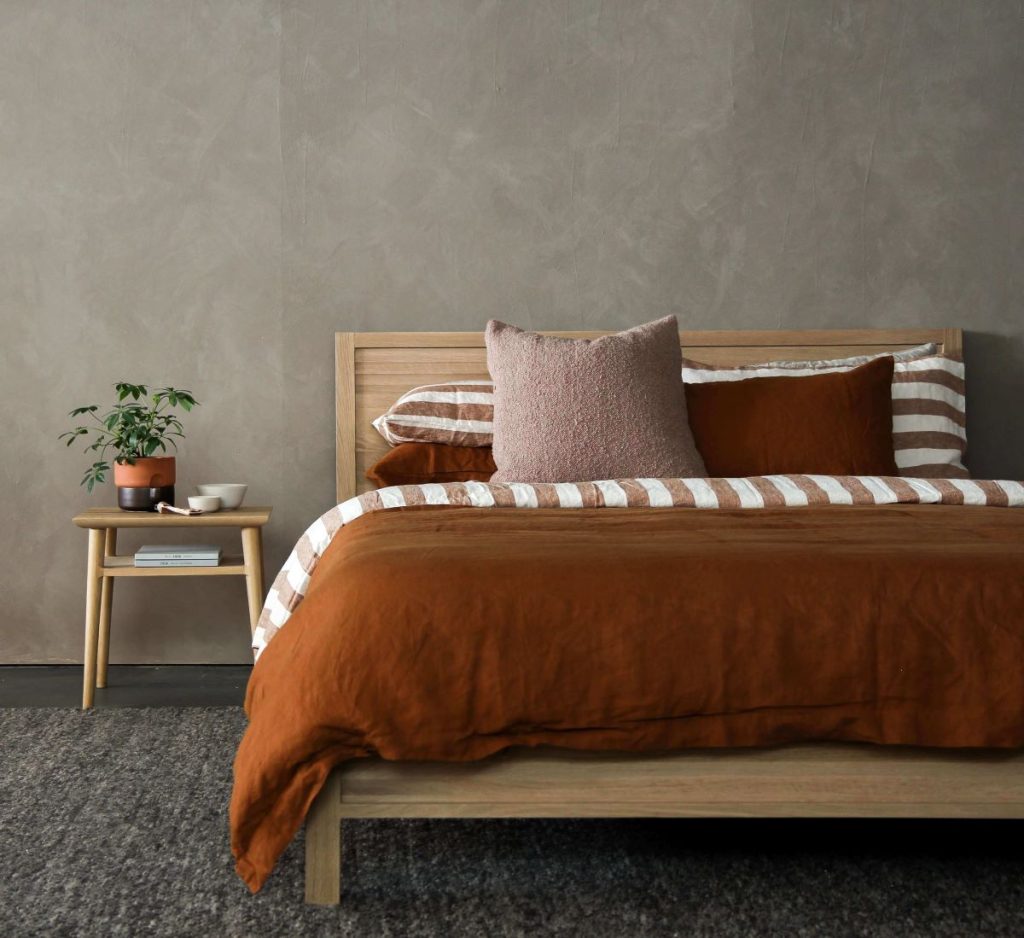 One of the best things you can do is to use house plants. Not only can you easily swap them for new plants in the future with different colors, but adding plants is also a good way to make your room healthier and more relaxing. If you're not confident in taking care of plants, you can always opt for low-maintenance succulents.
On the other hand, you can also play with lighting. Instead of just having overhead daylight or an old-school table lamp, you can come up with other light sources that could change the vibe in your room. You can also consider the color and brightness of the light.
At the end of the day, what matters is that you'll have a comfortable space where you, your spouse, or your kids can rest peacefully.
Watch the video version of this blog right here:
Related Blog: Styling your Home fit for your Upscale Lifestyle