As summer approaches, many people are excited by the idea of taking a week off or spending their time in places that make them feel at ease and a place that provides a picturesque landscape. Despite the fact that most people are satisfied with the view, comfort, and world-class amenities that they experience first-hand in their Condo in Bacoor, it is still undeniable that the majority of the population would want to spend some time outdoors, preferably at nearby tourist attractions.
Cavite province is among the provinces that most people visit to explore and experience insane adventures, not just during the summer season, but also on regular days. The area is known for its historical significance, delectable cuisine, hotels and resorts, and breathtaking views of nature.
Hence, this blog will highlight some of the best resorts in Cavite during the summer season, as well as the reasons why you should go!
Here is a list of the best resorts in Cavite to visit this summer
Riverfront Garden Resort
Individuals can momentarily leave their Condo in Bacoor to visit the famous Riverfront Garden Resort, which is located along the Maragondon River in Cavite. It was a one-hectare property purchased by a German retired businessman for his beloved wife as a gift of their love in 1996 when it was still an empty property beside the river. It began as the Missus' private property, where she planted a thousand of her favorite mahogany trees. Then, it became well-known for its inexpensive glamping cabins set amongst lush nature.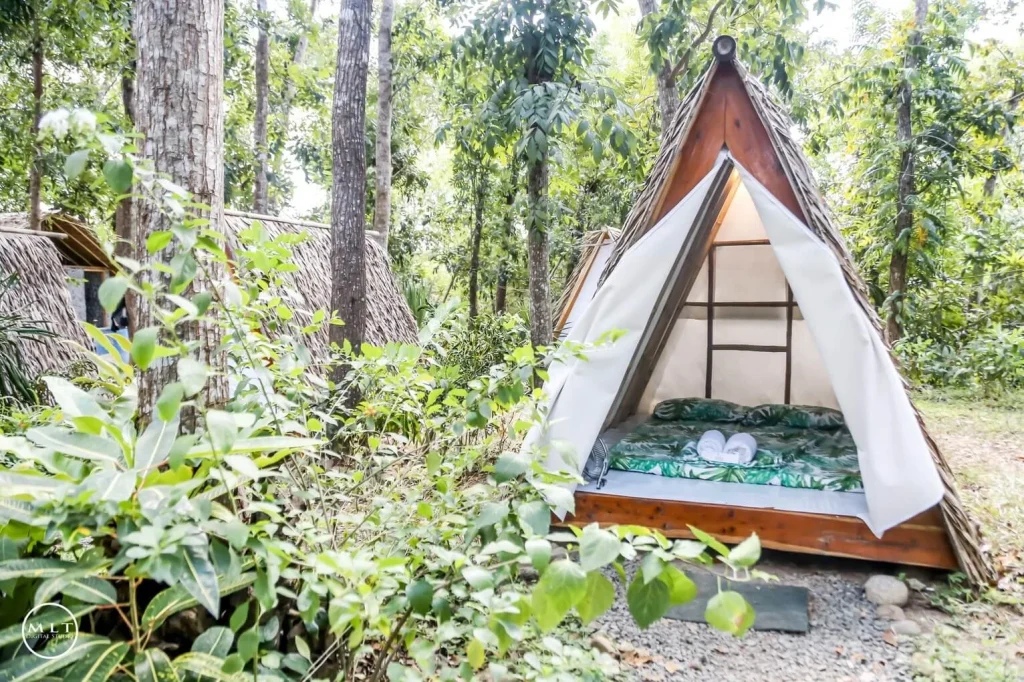 Photo from riverfrontgardenresort.com
The opening schedule for day tours starts at 8:00 AM-5:00 PM, while check-in for overnight stays starts at 2:00 PM and check-out at 12:00NN. For day tours, walk-ins are accepted until the maximum guest capacity is met. Overnight stays, on the other hand, must be reserved because the resort is frequently fully booked. The pool is open from 8:00 AM to 10:00 PM.
Because the Riverfront Garden Resort is a pet-friendly attraction, people who can't seem to leave their pets alone in the warmth of their Condo in Bacoor can bring their fur babies with them. Pets, however, must be kept on a leash at all times, wear diapers, and are not permitted in the pool area. Smoking is also prohibited, and discounts for PWDs and older citizens are available. The resort's rooms are finely designed and equipped, while the log cabins and glamping are all handcrafted by skilled woodworkers. It is made of exquisite Mahogany wood, to suit every guest's inner royalty.
Bed foams, pillows, an electric fan, a charging outlet, towels, and toiletries are all included in overnight stays. Two adult pools and one kiddie pool are available. On-site restrooms, showers, and handwashing stations are also provided. Day tour visitors, however, have areas that are restricted for them, such as the area for glamping huts and larger gazebo.
Torres Farm and Resort
For homeowners, such as those who live in a Condo in Bacoor and especially those who appear to enjoy staying in world class-inspired theme properties, Torres Farm and Resort is a private resort that boasts miniature replicas of world-famous monuments, such as the Eiffel Tower in Paris, the Pyramid in Egypt, the Statue of Liberty in New York, the Merlion in Singapore, and the Leaning Tower of Pisa, among others. The resort is located in Brgy. Sabang in Naic, Cavite — one-hour drive away from Metro Manila, and is ideal for unwinding, family bonding, social gatherings, and team building.
Photo from klook.com
The villas are also themed after some of the world's most renowned tourist destinations, with some accommodating up to 16 people along with a private pool and other amenities for guests' leisure. The resort offers day tour packages that include an outdoor swimming pool, photography, and sightseeing for seven (7) hours. Guests have the option of staying in villas or renting a "kubo," a large umbrella, tent, or gazebo that can hold up to 25 people.
There are no restaurants at Torres Farm and Resort, but there are some businesses nearby where guests may buy refreshments. Ordering food can be possibly done by approaching any member of the staff. However, it is recommended to bring your own food as there is no corkage cost. If visitors wish to barbecue meat or fish, a grilling station is available near the gazebos and tents.
Gratchi's Getaway Tagaytay Farm Resort
The Gratchi's Getaway is a 4-hectare natural landscape on the boundary of Tagaytay and Silang, about an hour and a half from Metro Manila. This farm resort, which is surrounded by a variety of natural elements and a pleasantly cool breath of pure mountain air, offers groups the opportunity to safely engage in socially-distanced activities for enjoyment, relaxation, and mental wellness.
Gratchi's Getaway is also a fantastic place for gatherings, conferences, seminars, team-building activities, educational trips, and workshops in a secure, natural setting during the New Normal, thanks to its expansive, open-air layout.
The unique features of Gratchi's Getaway allow guests to fully enjoy the clean, natural surroundings, such as:
● Bulwagan – a pavilion surrounded by a 360-degree view of nature for parties, events, seminars, etc.
● Waterfall Swimming pool – a large, infinity swimming pool that has two cascading waterfalls.
● High Ropes Challenge – 9 challenges in the sky, with safety helmets and harnesses included, along with trained guides.
● Talon, Takbo, Gulong – an obstacle course for team-building activities with a great view of People's Park (Palace in the Sky).
● ATV/Bike Trail
● All of this, as well as a variety of other activities, can be enjoyed with friends and family!
Other resorts to visit in Cavite
Other Cavite resorts to visit are the following: Tanza Oasis Hotel and Resort, Mount Sea Resort, Water Camp Resort, Villa Colmenar Resort, Casa Verde Boutique Hotel, Wyndham South Forbes, Aquamira Resort, Anya Resort, and more. Some of these resorts/beach resorts offer an in-house restaurant, deluxe rooms with air conditioning, recreational facilities, sports facilities, free Wi-Fi, swimming pools, room service, and free private parking. Some of these establishments are even near Cavite's most popular tourist destinations and the city center.
Pine Suites Tagaytay
Pine Suites, established by Vista Land and Lifescapes Inc., is Crown Asia Properties' first and only condominium development in Tagaytay City. It is a leisurely exclusive residential condominium development located away from the main road along Bonifacio Drive — close to the city's bustling restaurant district. The place is ideal for people who wish to live or take a short vacation in stress-free, cozy seclusion endowed with nature's offerings and thoughtfully laid-out amenities inside a tranquil mountain setting condominium with a relaxing ambiance, suited for quiet relaxation, joyous family bonding, and friendly get-togethers.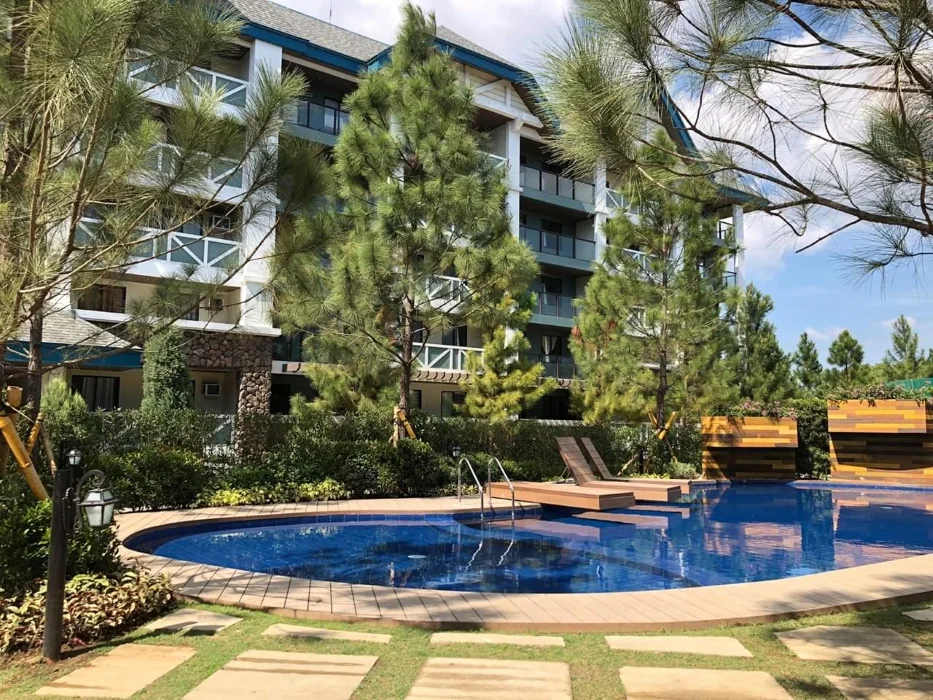 Residents in Pine Suites Tagaytay experience the pleasure of returning home to their very own log-cabin-themed lobby with a fireplace and panoramic floor-to-ceiling picture windows that bring the outside in — welcomed by a lush, pine tree-lined entrance to this gated community of Pine Suites Tagaytay. Amenities of the property also include a fitness center, an outdoor pool, a game room, a spa, and a lounge area.
Unlike the other aforementioned properties above, visitors can invest here as this RFO condominium property in the country's second summer capital offers an out-of-country residential experience as well as a lifetime of enjoyment. Pine Suites provides units that are ready to move into right away. It has a studio unit that is 21-23 square meters, while the two-bedroom units, which range in size from 48 to 51 square meters, are ideal for investors who want to see their lifestyle come to reality.
Related Blog: The Best Resorts to Visit in Laguna this Summer of 2022