The holiday season is here! Many families are buying presents, putting up holiday decorations, and snuggling by the fire, but there is no doubt that all these wonderful festive things may come under stress. Parents are usually spending quite a bit more money around this time of year with gifts, volunteering, and hosting holiday parties; it can be very overwhelming.
Merry but Demanding
Although several people refer to this as the most wonderful time of the year, people know that the weeks leading to and around the holidays can really be among the most demanding. Spend considerable time getting ready for the upcoming months to enjoy and relax a bit during the holidays instead of just getting by.
During holidays, there is constant work to be done, a party to be at, cake swaps to participate in, and the list is endless. Even while people enjoy all the holiday festivities, they can occasionally be too much. All the preparations people perform for the holidays in an effort to make them more joyful often result in things being much more stressful and cause us to completely miss the point of the season.r
Many are caught in a pattern of overspending and begin the new year in debt. Make a list of the people you want to buy gifts for and the amounts you want to spend on each one. Once you've added up the list, make any necessary corrections. Then, until the gift list is within your budget, take advantage of bargains and make adjustments to the list.
Holiday Goals
Establish the holiday goals and priorities for your household. Putting too much on your plate and trying to please everyone can be so demanding that we lose enjoyment from the numerous planned events. In the end, it really is your decision to make the holiday season less stressful. Make a family holiday bucket list, prioritize the things that matter most, and do not be afraid to say no to the rest. This enables you to value your time, space, and energy so that you may spend it on the things that are most important to the family.
Staycations are Fun!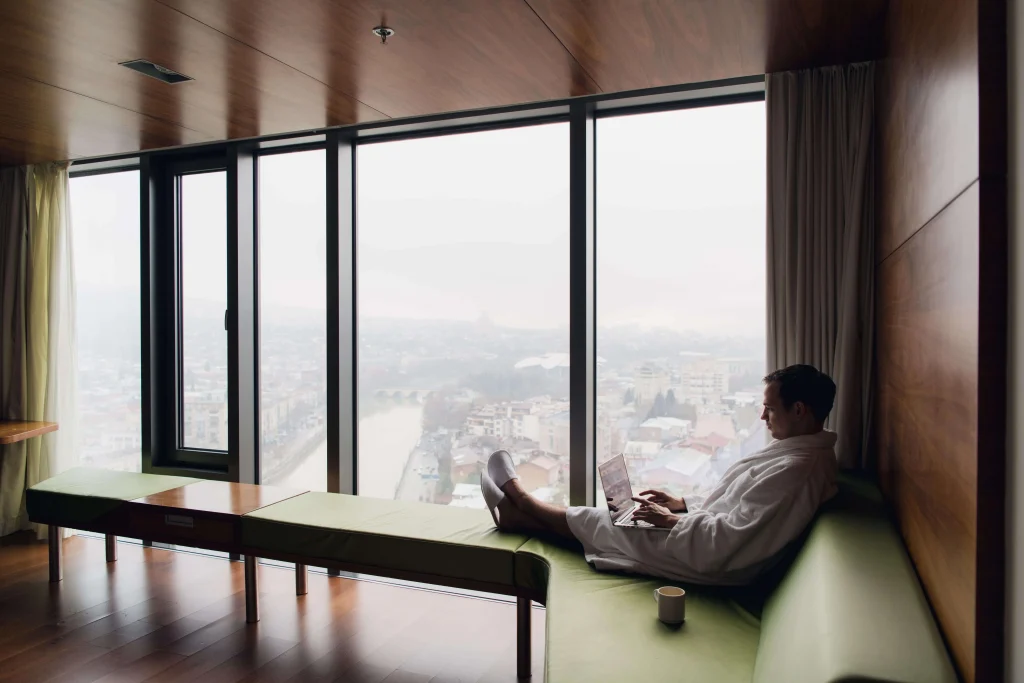 Since they are frequently hassle-free and can reduce many of the pandemic-related anxieties connected with international travel, this has led to a boom in staycations.
The holidays are increasingly being spent on staycations. In the past few years, COVID-19 has presented difficulties for travel, making international visits challenging. Tourists who opt to travel abroad are still subject to strict testing procedures and possible last-minute cancellations.
They can be organized at the last moment, which is unusual for international or domestic travel. Staycations are ideal for those who require a brief release of stress after a demanding work journey.
The majority of people learned throughout the pandemic that we can still have fun at home on our own terms. Staycations encourage families to appreciate all the breathtaking vistas a place has to offer.
Discovering a stunning beach, a quiet hiking route or a bustling campsite close to home is the ultimate reward. Staycations enable us to see places with new eyes and develop a greater sense of enjoying time with family.
Even with extended weekend city trips, the family will lose out on quality time away when they add up the travel, waiting, and flight times. Additionally, people like to jam-pack as much as they can into their schedules, which might make them feel exhausted when they come home. A major advantage of a staycation is that, since you spend less time traveling, you can really spend more time with your family. Additionally, individuals do not need to recuperate from the effects of lengthy travels, fatigue, or jet lag.
Staycation Holiday Destinations in the Philippines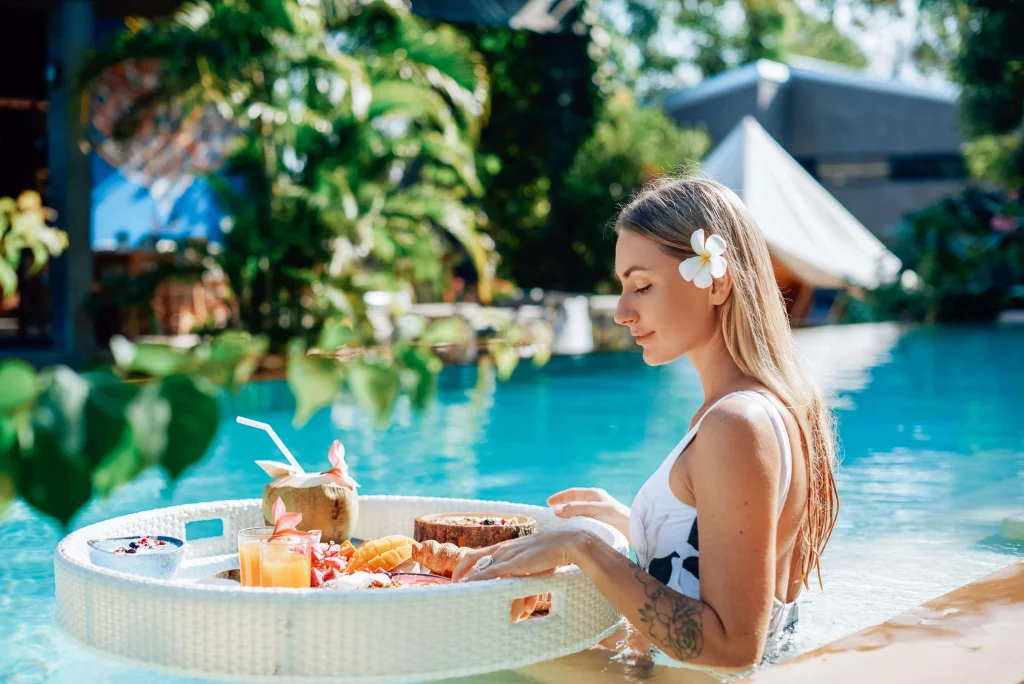 Hotel Jen Manila by Shangri-La
The Paseo del Sol outdoor swimming pool, a kids' wading pool, and a fitness facility are among the recreational amenities offered to visitors by JEN Manila by Shangri-La. It is about 400 meters from Manila's convention and exhibition centers, including the World Trade Center and Cultural Center of the Philippines. The air-conditioned, contemporary, and spacious rooms and suites come with a cable TV, a refrigerator, and a safe. Private bathrooms include a hairdryer, a bath or shower, and complimentary toiletries. The hotel also provides massages in-room, LCD TVs, and views of Roxas Boulevard and Manila Bay.
Paradis Island – Laguna
Visitors can choose to stay in one of the two lake villas on Paradis Island, a private island that is available for rent and is eco-friendly and pristine. Each villa features glamping tents that are entirely set up and rustically decorated. It is about a three-hour trip from Manila to the Sierra Madre mountain peak in Cavinti, Laguna, close to Lake Lumot.
The French word for paradise is paradis. The management wants visitors to thoroughly enjoy the Paradis way of life and relaxation. Despite not having air conditioning, the villa is properly ventilated, equipped with electric fans, and has screen windows so that visitors may remain and sleep peacefully.
Nurture Wellness Village – Tagaytay
If you have a condo in Tagaytay, you can opt to go to Nurture Wellness Village and Nurture Farmacy, which are hidden away in coffee orchards, and provide a unique style of "Ecotherapy," or healing by and through nature. This place is an instant paradise in Maitim II West Luzon in Tagaytay, a perfect opportunity for nature lovers in your family with its great outdoors. With their recognizable Ifugao native huts where you may have a wonderful picnic and Filipino-themed decor, therapeutic spa treatments, Filipino fusion food at our restaurant The Farmer's Table, and their farming experience with a medicinal plant theme, they offer a distinctive Filipino wellness experience – a perfect staycation spot with your loved ones.
Escala Tagaytay
Escala Tagaytay is well situated in Tagaytay for both business and pleasure travelers. To make sure you have a nice time, the hotel offers a variety of conveniences and benefits. The Escala Tagaytay's kind and helpful staff will assist you. The style of the guestrooms is designed to promote a high level of comfort type of accommodation. The hotel includes practical facilities such as televisions with LCD or plasma screens, wireless internet connection, air conditioning, private pools, and minibars.
Gingerbread House
Near Tagaytay, you can also explore a Christmas village, the Gingerbread House. The large manor dwelling that resembles the gingerbread home from a fable welcomes guests to the Christmas-themed hamlet which calls for a nice adventure.
This enormous home serves as both a restaurant and a playhouse. Snack Place, which is located on the first floor, offers home-baked pastries such as cupcakes, cookies, muffins, and brownies, as well as pasta dishes and entrées. Children can expect to be greeted by large, cuddly bears and gingerbread figures in the play area, which is upstairs and through the veranda.
Inside the Sweet Spa, a tank of fish eat the calluses on the feet of your loved ones, while the Candy Village is distinguished by small buildings, swings, and slides. Visitors can enjoy multicolored burgers, cotton candy tufts, or baked s'mores over the campfire.
Mella Hotel – Las Pinas
Runway Manila is located 7 miles from the 4-star Mella Hotel. It has been receiving visitors in Manila since 2018.
The location is situated close to The Fountain at Okada in Metro Manila and is accessible from Santuario de San Ezekiel Moreno. SM Mall of Asia is a 10-minute drive from the lodging. The Mella Hotel Manila is located in the Las Pinas neighborhood, 7 km from the indoor Mall of Asia Arena, and features a garden, a bar, and an outdoor pool which are perfect to reduce stress from work, especially when you are with your family and friends. A fitness center and free Wi-Fi are available to visitors.
Breathing Spaces Staycation
The hotel is situated in the Las Pinas neighborhood. Also, approximately a 10-minute drive away is X-Site. Breathing Space Staycation At South Residences Las Pinas City 1Br is a short walk from the SM Transport Terminal bus stop. While staying at the lodging, visitors may choose from neighboring dining establishments like Kenny Rogers Roasters, which is located 5 minutes walk away, or Cafe Mary Grace, which is 700 feet away.
Read more: The Best Staycation Places Near the City of Bacoor