2021 is indeed the year of new discoveries. From learning new talent as we all joined the Tiktok community and started to try dance challenges, to trying out new food experiments during the quarantine period and discovering new places to go to that are Instagramable, comfy, and most importantly safe for everyone.
Even pandemic people are getting hooked up with the coffee craze and coffee shops are really in demand in the country today. Millennials are exploring and discovering new coffee shops because of either the work-from-home setup or just because they want a more peaceful and comfy place to be productive than home. Also, who would resist the smell of freshly brewed coffee beans while working? For all of us, it's an energy booster and makes us more efficient when completing our job assignments. In fact, we are tagged as A nation of coffee drinkers according to comunicafe.com.
Did you know that coffee remains as the crown drink of the Filipinos? After all, according to recent studies, 93% of the population buy coffee mixes at least once per week. Most of the buyers come from urban-based homes like Metro Manila, catering to an older, more mature demographic. With all of that information, let us get to know more about world-class coffee shops in the Philippines that offer an Instagramable ambiance, mouth-watering food, and extraordinary concepts and unique interior designs.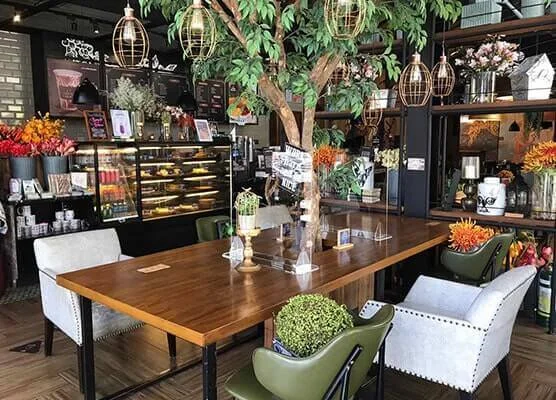 Photo taken from allvalue.com.ph
Starting off with the Coffee Project, the coffee chain under All Value Corp. of the Villar Group. Coffee Project was named "One of the most Instagramable cafes in the World" listed by the popular travel website, Big Seven Travel – the only one in the Philippines that made it to the prestigious list. Coffee Project was placed 24th on the spot out of 50 cafes in the World. This makes the Coffee Project a truly world-class café with its good quality options of espresso-based drinks and mouth-watering food, Coffee Project boasts of its exceptional interiors filled with flowers, greens, and rustic elements that create a vibrant and whimsical mood among its customers. With extraordinary concepts and unique interiors, Coffee Project is dubbed by its loyal customers as the Most Instagramable Café in the Philippines.
A Look at the Most Instagramable Coffee Shop in the Country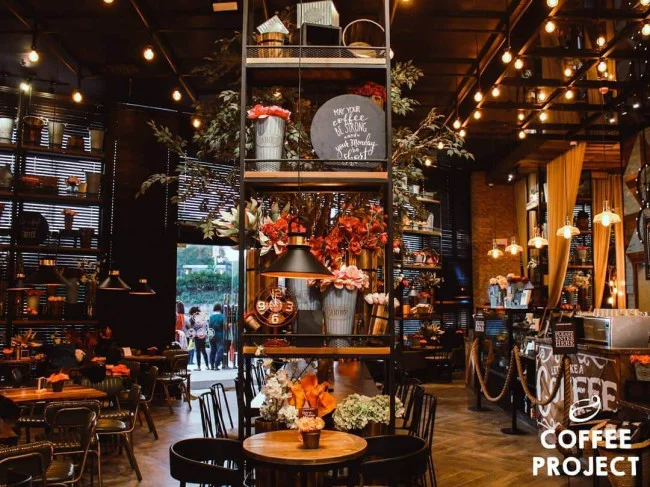 Photo taken from facebook.com/coffeeprojectofficial
Coffee Project opened its first branch at Starmall Alabang, Muntinlupa. Serving good quality concoctions of espresso based drinks and mouth-watering food, Coffee Project aims to provide excellent coffee and gracious service creating memorable experiences for people. Besides Coffee Project's high-quality service and best-tasting food and drinks, the interior of its shop is exceptional, granting them an extra edge among others. The place itself is a reason enough to drop by. Every coffee outlet of Coffee Project is filled with flowers and greens to create a happy and vibrant mood among customers. In the Philippines, Coffee Project already has sixteen branches around Luzon, in Starmall Alabang, Vistamall Sta. Rosa, AllHome Imus, Vistamall Las Pinas, Vistamall Molino, Vistamall Pampanga, Vistamall Bataan, Vistamall Taguig, Vistamall Lakefront, Vista Place Quezon City, Worldwide Corporate Center Shaw Blvd., Mosaic Tower Makati, Scape Bldg. Macapagal Blvd., Salcedo Square Makati and its newest branch in Symphony Towers Quezon City. Every location has a unique look and character to it but all locations have these in common—long tables that can comfortably seat big groups, a multitude of sockets for those who prefer to work in cafes, and cozy nooks for those who want to enjoy some quiet time. On top of that, coffee lovers can always look forward to new drinks and items on the Coffee Project menu every season.
To add to that, Coffee Project has different faces for each location. Did you know that Ruined Project in Tagaytay is a sister company of Coffee Project? In Tagaytay there are several cafes that you can visit that offer the same world-class, comfy and refreshing experiences. You can try NAPA, Café Voila and Ruined Project. All loved by many, that's why Tagaytay has been one of the best and most visited tourist spots in the South.
Innovations from the Traditional Cafés
The newest addition to the Coffee Project is the letter-writing café in the Philippines- Dear Joe Café. The Philippines' first letter-writing café, Dear Joe is actually the brainchild of the folks behind the Coffee Project franchise, so you can expect IG-worthy aesthetics in every corner.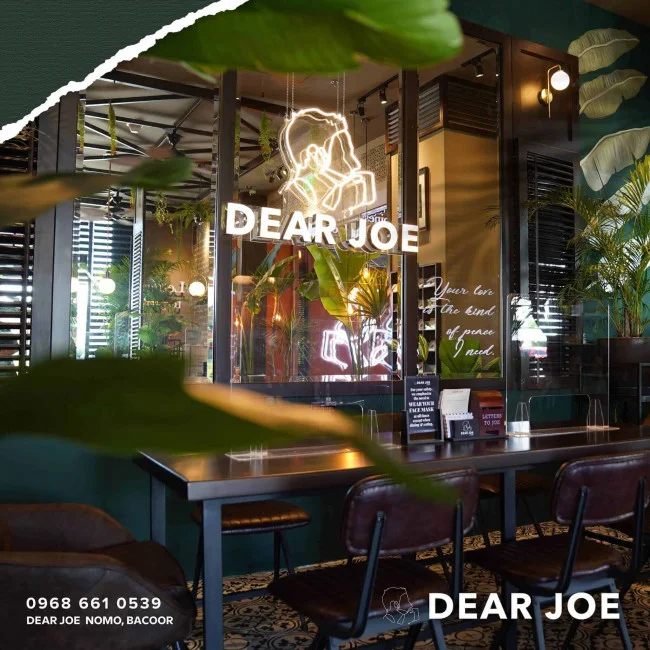 Photo taken from facebook.com/dearjoephl
All around the café is a sleek yet comfortable vibe that is reminiscent of the American retro style. The earthy palette and warm lighting are easy on the eyes, allowing guests to spend long hours in the cafe comfortably. This café lets you write a letter to your loved ones while enjoying your favorite food and beverages from the menu. Indeed, a very relaxing, comfortable and serene ambiance if you wish to unwind and de-stress. If you are staying in the café, you can write anything you want on a cute piece of paper for your loved one. What's more interesting is that Dear Joe Café will send out those love letters to the doorstep of your loved one's house. All you have to do is to pay Php50 for the delivery of your mail letters. That sounds like a good deal. As of to date, Dear Joe already has 7 branches in the Philippines, and these are located in Vista Mall Daang Hari, Evia Lifestyle Center, Vista Mall Sta. Rosa, Vista Mall Taguig, NOMO Lifestyle Center, Vista Mall Global South and Vista Mall Bataan.
The 8th Branch of Dear Joe in the Philippines will be located in Pulang Lupa Uno, C5, Las Piñas, right in the vicinity of Crown Asia's condo in Las Pinas offering — Hermosa. The said branch is now ongoing construction and is said to be completed by the end of the year. Now, the residential unit owners of Hermosa are a few steps away to one of the best and most Instagramable Cafes in Las Piñas.
Hermosa: The Best of the Condo in Las Pinas living made Premium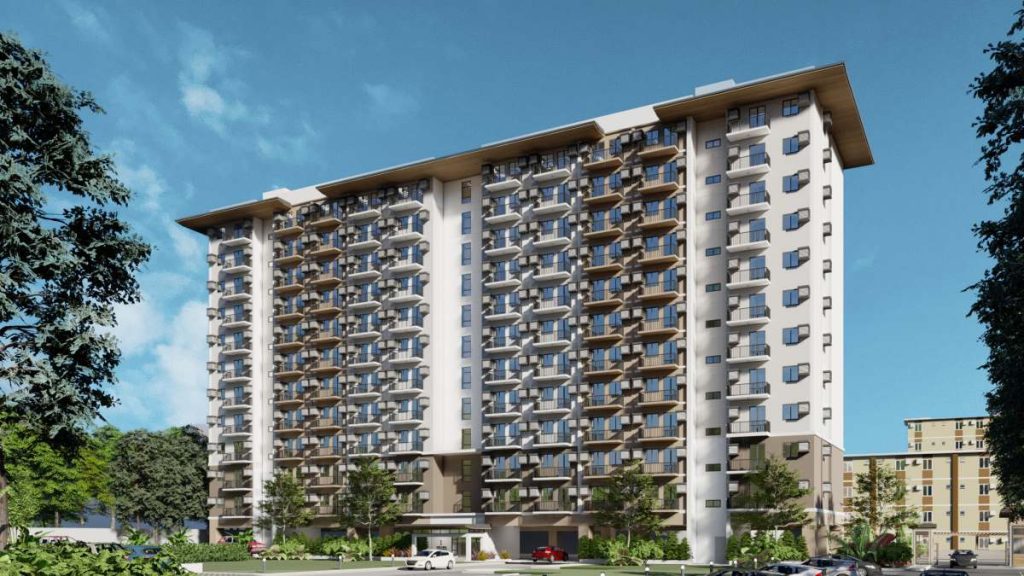 A sprawling and verdantly landscaped condominium village complemented by resort-inspired amenities that give a refreshing ambiance to modern city living. It has continuously been a testament to its potential as the metro's breakthrough city. One of the most in–demand urban vertical villages in this city blends the promise of progress with a uniquely beautiful lifestyle in a modern development- The Hermosa.
Hermosa is a 2.9-hectare modern and exclusive resort-inspired condominium village rising in the vicinity of the upcoming 100-hectare integrated and master-planned Vista Global South township development rising along C-5 Extension in Las Piñas City, just 15 minutes away to NAIA and The Bay Area. The said condominium development is now on its 5th Building- Las Palmas. This condo in Las Pinas offers spacious unit options from Studio units at 24sqm to 1-bedroom with balcony at 34sqm and 2-bedroom with Balcony at 44sqm. Aside from all existing and upcoming development in the Vista Global South, Hermosa is set to become more prime in the years to come, as commercial developments in the vicinity of the project itself have finished their construction. Hermosa will launch its new building features, set of amenities, and exciting story that will make it a desired home and a solid long-term investment.
Start your new story at Hermosa and create the life you deserve where the ultimate modern city living meets and its beauty pronounced value.
Related Blog: The Best Coffee Shops Around Taguig City