When talking about investment, real estate is considered one of the most prolific and profitable investments one could ever have. With the increasing demand for condominium properties, there are hundreds of options to choose from. Condominium developments around the Metro and in various emerging cities and municipalities in the Philippines offer various unit types, designs, features, and amenities that a condo buyer might consider. A condominium property is an ideal investment preference for people who are looking for leasing opportunities or a potential source of passive income. Condos could also serve as your ideal home in the city if you are coming from the provinces and working in the Metro.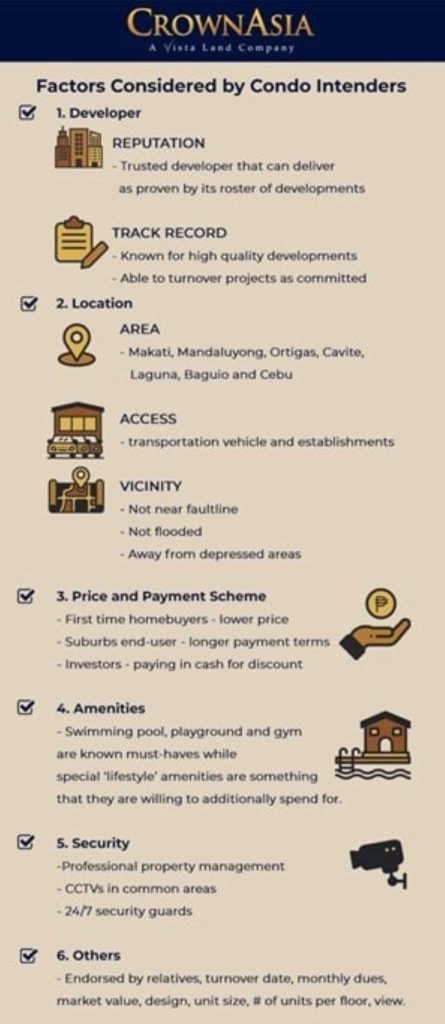 As a first-time homebuyer or property investor, one would certainly look for specific qualifications that would match their preferences and needs. Either as your first home or first investment, a condominium property will serve as one of your perfect options at present and in the future. With this, Crown Asia enumerated some of the main considerations in buying a condo property. Crown Asia is here to guide you in making your first condominium investment.
Aside from the common areas to meet your neighbors in a condominium development. Here are some of the considerations in the process of buying your first condo property:
Developer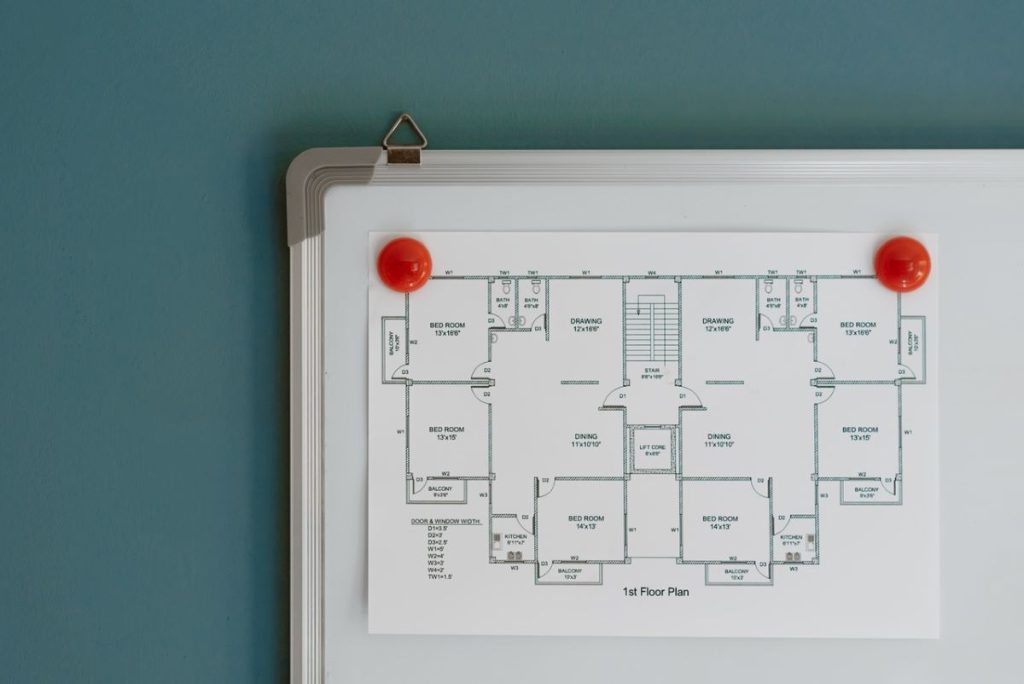 One of the main factors that you need to consider in finding the right condominium property is a reputable developer that holds an excellent track record in the industry. A reliable developer makes a huge difference in making your investment purchase. For one, you will have the assurance that your investment will grow because you are investing in a company with a great track record and reputation. Crown Asia's condo for sale in the Philippines are a great choice.
Crown Asia has been in the real estate industry for 25 years. One of the subsidiaries of Vista Land, the largest homebuilder in the country. Developing luxurious themed-communities and condominium developments across the landmarks of Makati, Pasig, Sucat, Laguna, Baguio, and Cebu.
Location
When we talk about real estate, the most essential factor a buyer needs to consider in investing in a condo is the location. The location predominantly determines the accessibility, convenience, and potential growth and value of the condominium property.
Crown Asia by Vista Land offers condo for sale in the Philippines in some of its most prosperous areas in Metro Manila, Laguna, Baguio, and Cebu. A stone's throw away in business districts, establishments, landmarks, access roads, transportation systems, and lifestyle centers; strategically located where convenience and comfort can be found just around the corner. Crown Asia provides condo properties in prime areas making it a good investment for passive income or if you want to start your family amidst a community just a stone throw away from your life's daily conveniences.
Price and Payment Scheme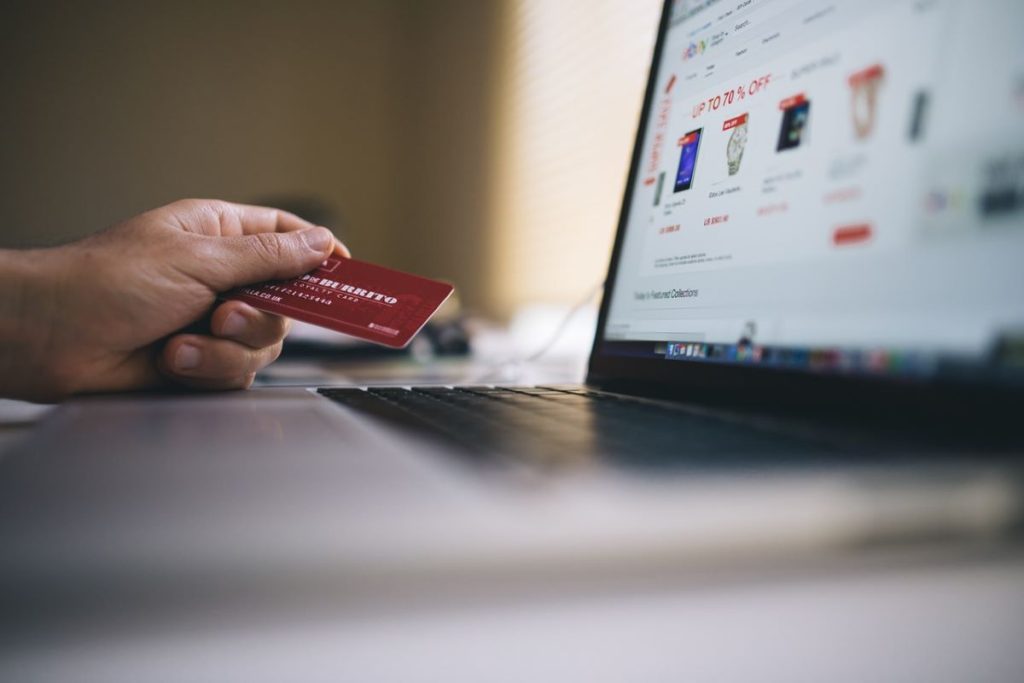 Another major consideration in purchasing a condominium property is the price and financing options. Basically, the price of the property would highly depend on its location, property type, unit type, unit area, and its premium features or add-ons. You may opt to buy a studio, 1 bedroom, or 2 bedroom unit depending on your preference. Developers would usually offer various payment schemes, promos, and discounts for specific payment options like spot cash or spot down payment. It is also a good option to take advantage of the 0% interest down payment period to lessen the balance amount or loanable amount and to avoid high interest rates or monthly amortization. This also gives you the option to avail of bank financing or lumpsum payment upon turnover of the property.
Crown Asia offers both pre-selling and ready for occupancy units to give you more comprehensive property options. Get to choose your condo for sale property based on your preferred property type, price, and payment scheme. Crown Asia's condominium properties are reasonably priced for their strategic locations and unit packages. It is a winning investment in any facet, may it be the upscale vibe, its strategic location or its beautiful thematic aesthetics.
Amenities
Living in a condo gives you premium access to its amenities like the swimming pool, fitness center, game room, social halls, and lounge areas. Privileges that you get to enjoy in a luxury condominium property that offers such features.
One of the benefits of living in a Crown Asia condominium is having the access to experience, not just the building amenities but also nearby commercial establishments and lifestyle centers within the vicinity providing convenience and comfort within arm's reach. Its condo for sale in the Philippines have their very own amenities where the owners can enjoy all of these in their off days.
Security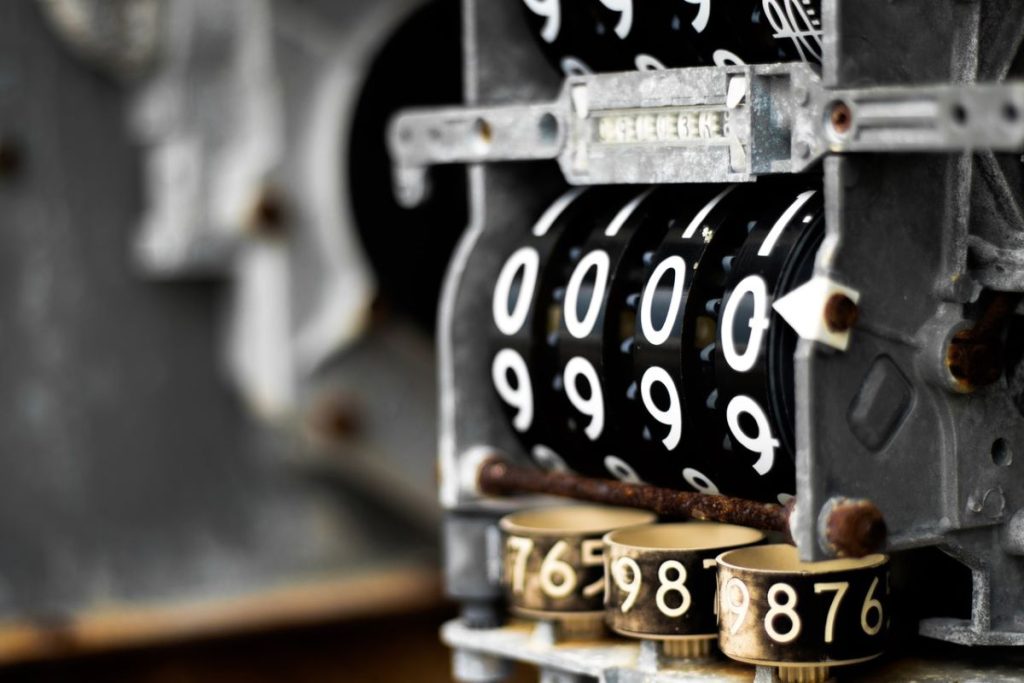 In choosing the property to invest in, you must also consider the security features of the condominium. At these times, a condo must have various safety measures and parameters to keep its residents and tenants at ease day and night. At a minimum, every residential tower must have CCTVs installed in common areas, security personnel, roving guards, and lobby attendants to secure and track the activities within the building. There should also be a professional property management in place to handle all of these to secure the welfare of the residents.
With Crown Asia, security is one of the top priorities when it comes to maintaining the properties. Every residential tower has an appointed professional property management team to cater to and provide the security essentials of the building. Crown Asia provides top notch security in all its condo for sale in the Philippines. A fitting service for its upscale market ensuring them that they are safe and stress free from all the properties it offers.
Purchasing your first property investment means making a huge decision in your life. It could be a challenging one to make but it would surely make a tremendous change in one's life. Finding the perfect condominium for you or your family is like searching for the ideal partner in life. You must dedicate a lot of time to researching and comparing the important considerations in purchasing a condominium property. It is, indeed, an important decision for you and your future.
Related Blog: Moving in Guide: Transitioning from Horizontal to Vertical Living