An opulent lifestyle is one of the aspirations for individuals to reach in their lifetime. Freedom, financial stability, and enjoying the finer things in life, are just some of what you can expect to attain. But when talking about living in a premium house and lot, it compromises properties that go beyond normal or average housing features. Living in these prominent neighborhoods comes with a cost, but those who are familiar with their luxury know they get every worth of their penny. Apart from real estate, this article features other aspects on what is luxury living and how you can elevate your thinking to enjoy the most of everyday life.
What Is an Opulent Lifestyle?
An opulent lifestyle refers to one's luxurious or extravagant way of living in terms of abundance of wealth. Among other things, an opulent lifestyle includes owning expensive cars, traveling, designer items, and housing properties. Opulence can also pertain to individuals who live a luxurious life beyond performative or showy wealth. An opulent lifestyle shouldn't just be embedded to the material display of wealth but to every aspect of an individual's life.
Combining Opulence Living in the Real Estate
In real estate, opulence is defining the turning points of going beyond traditional housing and focusing on features that elevate real estate properties. Upscale real estate features spaciousness, interior, premium-quality materials, and premium finishes from interior to exterior, opulence in real estate has made.
What Defines As, "Luxury Home?"
Luxury is a state of mind as they say, but in most cases like real estate, there are specific points that may a property luxurious apart from others. Luxury properties offer housing that goes beyond the traditional and common household. These features focus on craftmanship and superiority in design.
Characteristics of Luxury Estates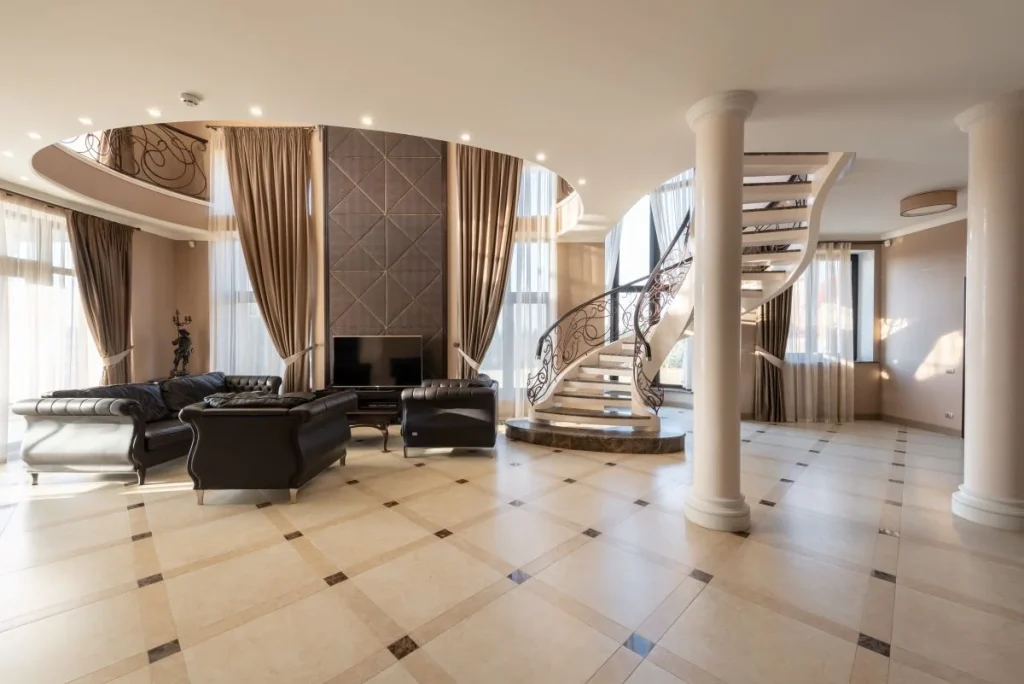 Exclusivity
High price points in luxury estates are not the hallmark of what makes them unique. The key element to what makes these homes luxurious is the exclusivity; this means coming up with bespoke architecture and interior design. The overall uniqueness of the property is not just focused on one specific area, but dressing each to its own. From grand theatres to custom-made chandeliers, experimenting and creating pieces upon preference
Privacy and Security
Apart from the housing themselves, privacy and security when entering these properties are more guarded compared to other neighborhoods. Most of these luxury estates have built-in features or right from the start, have already their security planning. For high-profile clients, this is a must to ensure their security and privacy within their enclave.
Most large lots or expansive grounds have higher walls and gated entrances with security cameras that ensure their distance from immediate surroundings or prying eyes.
Lavish amenities
Luxury homes have this sense or feel of a resort-like, thus, these estates usually come with built-in amenities that set them apart from mid-segment properties. These are usually nearby clubhouses, huge swimming pools, in-house badminton, full gym equipment, a home theatre, an arcade room, and a jacuzzi. High-end kitchen is also common for these estates, while most of these have their own on-call chefs, these kitchens have full equipment that any chef would want or need.
Prime location
Luxury homes are situated in neighborhoods coveted by individuals due to their easy access to leisure centers like shopping centers, restaurants, private members clubs, and other upmarket features. Prime luxury in real estate is being situated in a neighborhood not so many can live in. These residences are not only settled in the convenience of city living but in an area provided with breathtaking or scenic views.
Sustainability
Sustainable luxury living demonstrates that opulence and environmental awareness can harmoniously coexist. The modern luxurious lifestyle genuinely embraces the principles of reducing environmental impact and fostering social responsibility. In this fusion of luxury and sustainability, homeowners can relish the world of eco-friendly opulence, making their dream of a conscientious and lavish life a reality, all while fostering the well-being of our planet.
High-quality materials
High-quality materials elevate luxury homes with longer usage and having to lessen maintenance. The materials used are above normal standards and are not common in other mid-households. The use of marble or natural stone for flooring or kitchen counters is not locally sourced which adds elegance to a luxury home. Premium lighting is customized to make the house well-lit from all angles; this also includes custom chandeliers made upon request. Other high-grade equipments are connected security and network systems, appliances, elevator, and designer bathrooms are what elevates everyday lifestyle.
Smart home features
Smart technology provides a high level of convenience and at the same time is safe, energy-efficient, and the hallmark of modern luxury homes. Some of these features include smart lighting, temperature control, whole-home audio or video, smart security, and energy management. High-resolution security that is accessible through apps.
How you can live a luxurious lifestyle
A life of opulence is more than flaunting, other ways to express living a luxury lifestyle, not living in excess.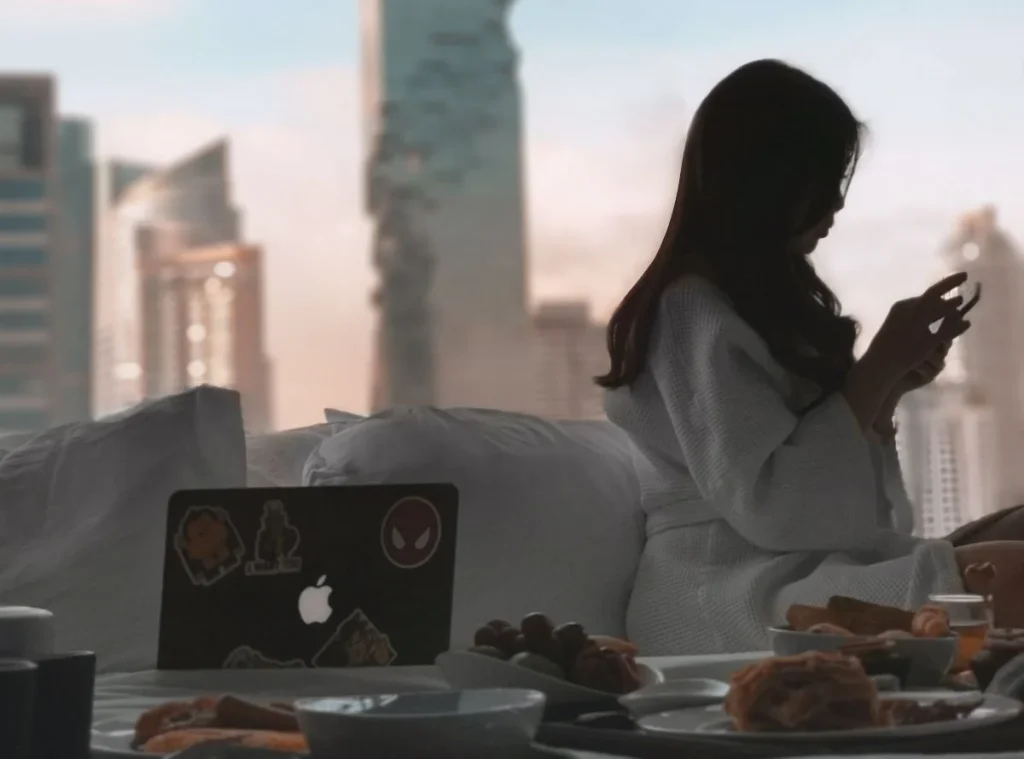 Self-care
Luxury is often only thought about money and excess living, but true luxury is being able to live better mentally and physically. Having time to take care of yourself is a key luxury anyone should prioritize. Go out and have a spa day, do your workout or exercise, do yoga, eat healthy and delicious food, do some spiritual healing, learn a new skill or hobby, and keep yourself active is a luxury that you should do especially at a younger age.
Appreciation for art
True opulent individuals know how to value art in all its forms. Not just who made it, but the craftsmanship and keen attention to its details. Value for art transcends from any individual and can be both an investment and a reflection of one's taste in expressing their individuality.
Optimism counts
Enjoying the finer things in life should entail a feeling of gratitude and contentment. When appreciating all aspects of life besides material wealth, optimism makes individuals more focused on life's experiences and likely enhances everyday activities. It further strengthens one's ability to connect or network with different people as it leads them to create more relationships and discover more partnerships.
Invest in pieces, save for the long run
When it comes to statement pieces, luxurious individuals not only look at the price tag but look into investing for the long run. Classic artworks, vintage furniture, and other state-of-the-art pieces last for a lifetime. True luxury chooses quality over quantity.
Freedom to do what you love
Lastly, living a life of luxury is being able to live a life where you can have the time to do things you love. Factors like pursuing education, your passions, philanthropic work, and creative pursuits are meaningful ways to have a sense of fulfillment. Behind it all, financial security also plays a crucial role in attaining freedom. It does not solely depend on one's fortune, but it is necessary to have enough to have a sense of stability.
Remember that when it comes to your finances, you should be wary of spending it on things that you truly need. Never rush into buying things in bulk or right away.
Takeaway
Living a life of luxury is more than just material wealth, but is the freedom to choose what you will be doing with your own time. But in real estate, luxury is being nestled in a property that not only has premium features, but an oasis that puts back all your hard-earned investments. Choosing a premium house and lot is one of the things you should look into when establishing your luxury estate.
Related Blog: 10 Luxurious Items to Treat Yourself With and Where to Find Them