Photo source mb.com.ph
If you live in a subdivision in Cavite, you might already know that you're living near one of the most technologically advanced grocery stores in the country to buy what you want to eat. The AllDay Supermarket in Evia Lifestyle Center has all of the latest upgrades that the brand offers its customers. But what exactly are the innovations that AllDay Supermarket offers? What else could we expect from the grocery store industry? Let's find out.
AllDay Supermarket Innovations (So Far)
AllDay Supermarkets have disrupted the grocery retail industry with their innovations. At the time of writing, you can only find these innovations in their grocery stores that improve customer service operations. Making shopping trips a world-class shopping experience.
The Philippines' First-ever Automated Grocery Assistant
The latest innovation of AllDay Supermarket was released on October 14, 2022 — the introduction of Addie, the first-ever grocery service robot in the Philippines. If you find yourself in an AllDay Supermarket near your subdivision in Cavite, don't hesitate to interact with Addie. This supermarket service robot has numerous features, including an interactive touchscreen interface, shelves, and an obstacle detection system as the service robot patrols the supermarket without bumping into anything or anyone.
Addie can benefit both AllDay Supermarket shoppers and business owners at the same time.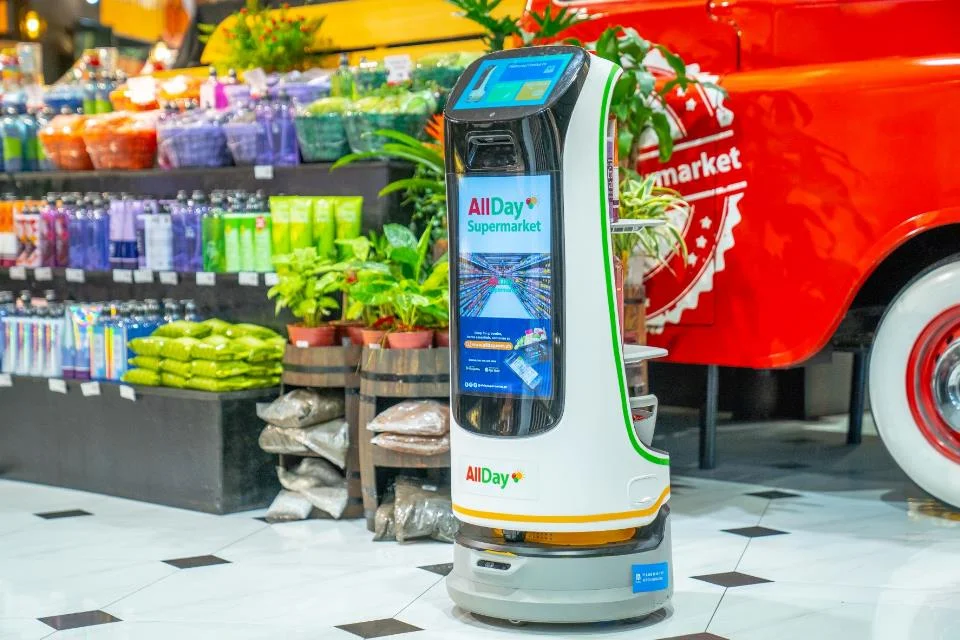 photo from businessmirror.com.ph
Of course, for the shoppers, Addie offers a premium and elevated customer experience while they shop. They can also interact with Addie through its touchscreen interface to learn more about the product that the robot is holding at the time. Moreover, the service robot serves as easy access to the products that customers might be interested in.
For businesses, this can serve as a next-generation, offline interactive product marketing — benefiting consumer goods businesses that currently don't have a digital marketing strategy. The robot can carry products and prompt customers to purchase the products it's currently holding. Audio prompts help push the product further, catching the attention of shoppers in the supermarket. Best of all, the automated grocery assistant is far from being passive, because it has the capability to escort shoppers to product displays if they're interested in purchasing more products.
According to Manila Bulletin, Addie the service robot will be seen promoting the newest brands and items, particularly those products that are recently launched to the market. Using its interactive touchscreen interface, the robot will also be used as a platform to feature promotion ads for the latest deals, items, and other offerings from AllDay Supermarket's partners.
The Country's First Smart Grocery Carts
Another innovation in 2022, AllDay Supermarket released the first smart carts in the Philippines earlier this year as part of their continuous efforts to provide the best experience for their customers and to encourage in-person grocery shopping.
According to Camille Villar, the Vice Chairman of AllDay Supermarket, these smart carts are intended to make "in-person grocery shopping even more intuitive and enjoyable." These smart carts provide more convenience for their shoppers, as it brings forward more information about the products that customers are buying in real time.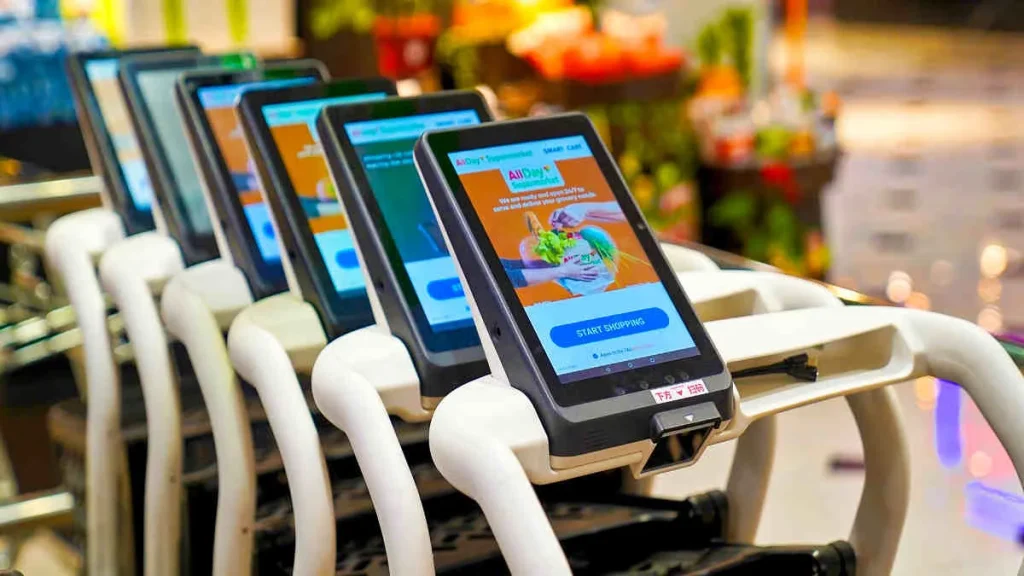 photo from booky.ph
With this simple and efficient addition, customers are given more autonomy in-store. All they have to do is place the products they want in the smart cart and it will automatically scan the items' information and then reflect information on the screen, like prices, ingredients, and other essential info. With this feature, customers can see their running total in real time. When a shopper is ready to check out, the cart will automatically generate a QR code which can be scanned at the self-checkout counters (selected branches) or by the trained cashiers of AllDay Supermarket.
If you want to experience a more innovative way of shopping for groceries, you don't have to go too far from your subdivision in Cavite because these smart carts are available at AllDay Supermarket's Evia Lifestyle Center branch.
The First-ever Self-checkout Counters in the Country
With the dawn of self-checkout counters in the country in the fast food industry because of the pandemic, AllDay Supermarket decided to take advantage of this idea and launched the first-ever self-checkout counters in the Philippines.
According to Business World, AllDay Supermarket partnered with PayMaya to power their self-checkout counters with the technology to make the system possible. The concept was first launched in premium areas in Cavite and Metro Manila: Evia Lifestyle Center and Libis branches.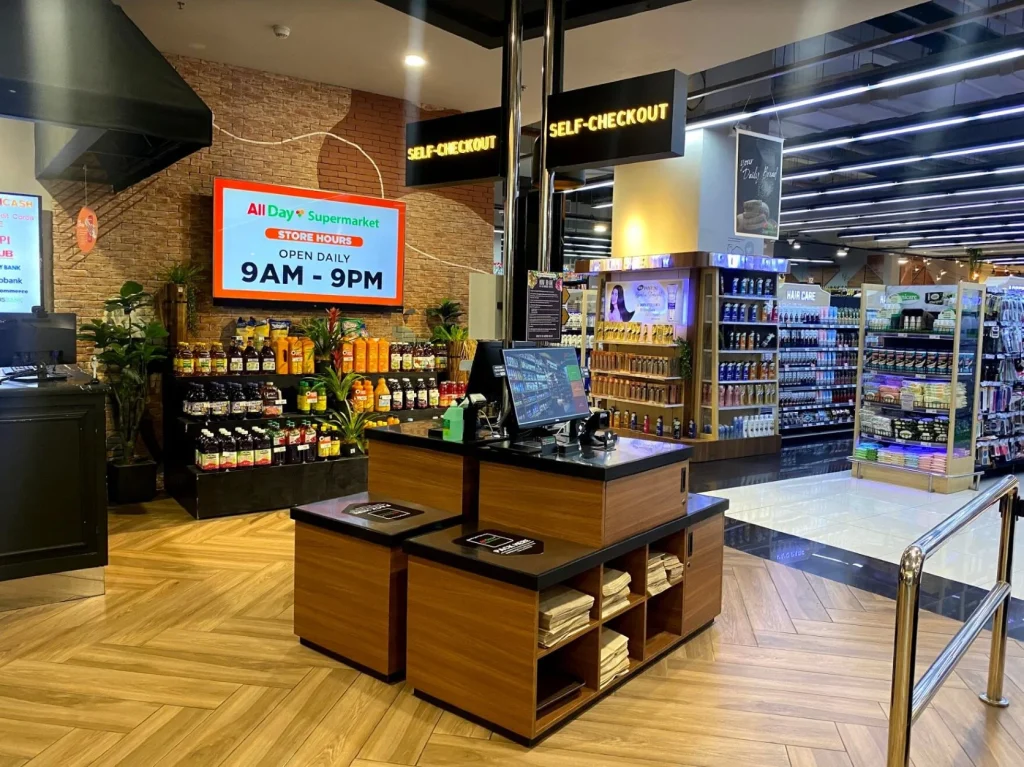 photo from cnnphilippines.com
With its partnership with PayMaya, these AllDay Supermarket branches were equipped with PayMaya ONE terminals to make them capable of accepting digital payments using PayMaya QR, any credit or debit card, and other e-wallets. 
In an interview by Business World, Leony Labos, a regular customer of AllDay, said that self-checkout counters are faster and easier to use because they reduce long lines. Another regular, Emman Laanan, claimed that they were nervous when it was first launched because it was new, but once they learned the steps, the self-checkout counters were pretty easy to navigate.
AllDay Supermarket continues to launch these innovations for multiple reasons. The most obvious one is that they want to provide the best possible experience for their customers, and they can only do that if they offer shoppers a different experience from what their competitors are already doing. By embracing technology, AllDay Supermarkets can offer more efficient shopping for their customers versus the usual supermarket experience like long lines and slow checkout.
Other Trends Shaping the Future of Supermarkets
With all the innovations that AllDay Supermarkets have been offering their customers, who knows what they'll do next, right? Well, for now, we can only guess. However, there are some innovations happening in other parts of the world that we might see soon in our supermarkets. Here are some of them:
Checkout-free Supermarkets
If you think self-checkout counters are the next big thing, think again. Amazon, the trillion-dollar retail company, launched Amazon Go, the first cashier-less grocery store in the US as far back as January 2018. 
These grocery stores are equipped with machine learning, shelf technology, and a lot of cameras to track the items that shoppers pick up and take with them in real-time. With this technology, Amazon Go can offer shoppers full autonomy and a faster shopping experience because there is no need for scanning and sale interaction. All you really have to do is take what you need and leave. 
For stores, this is a business model that can definitely cut staff costs. They can also use the data they receive from automation to identify the buying habits of their customers.
According to Amazon, the checkout-free concept was done to give customers a more experiential way of grocery shopping. By eliminating checkout counters, they also removed the other processes that make grocery shopping feel like a chore, including queuing, scanning, and paying. 
This idea is so brilliant that it caught the attention of New Zealand and Japan.
A New Zealand start-up company called Imagr tested autonomous checkouts in the country, which then managed to accumulate 600 billion US dollars worth of supermarket revenue. Because of its success, the company partnered with Toshiba Tec with a 9.5-million-dollar deal to implement the cashier-less shopping scheme. 
According to Forbes, Imagr also signed with H2O Retailing Corporation, which is the parent group of Hankyu Department Stores and Oasis supermarkets in Japan, to conduct a pilot outlet across 152 supermarkets. 
Now, unlike what Amazon Go has done, Imagr uses Dash and Caper smart carts that feature cameras and lights around the rim of the basket to detect the items. Using computer vision and AI, these carts can automatically register the items. This is a less tech-heavy source than what Amazon came up with, which means it's easier to sell to existing grocery stores because of its relatively cheaper operational costs.
With Imagr's system, shoppers just have to download an app, while the staff of the supermarket is equipped with an operations app to manage the carts and track purchases. Each item added and removed from the cart during shopping is reflected on the app where customers can immediately pay. 
One downside of unmanned stores is that a supermarket has to consider the learning curve it requires for its customers to adapt to the innovations. Additionally, this may not be a customer-friendly option in such a way that For this reason, you may not see these types of supermarkets near your subdivision in Cavite — or anywhere in the country, for that matter — any time soon.
Voice-based Shopping
Voice-based shopping is a form of online shopping that involves using a smart assistant to buy products online. This trend began during the pandemic, as more and more consumers in the US started using their smart assistants to buy products. According to Supermarket News, nearly 80% of US consumers opt to shop online for groceries through the use of Google Assistant or Amazon's Alexa.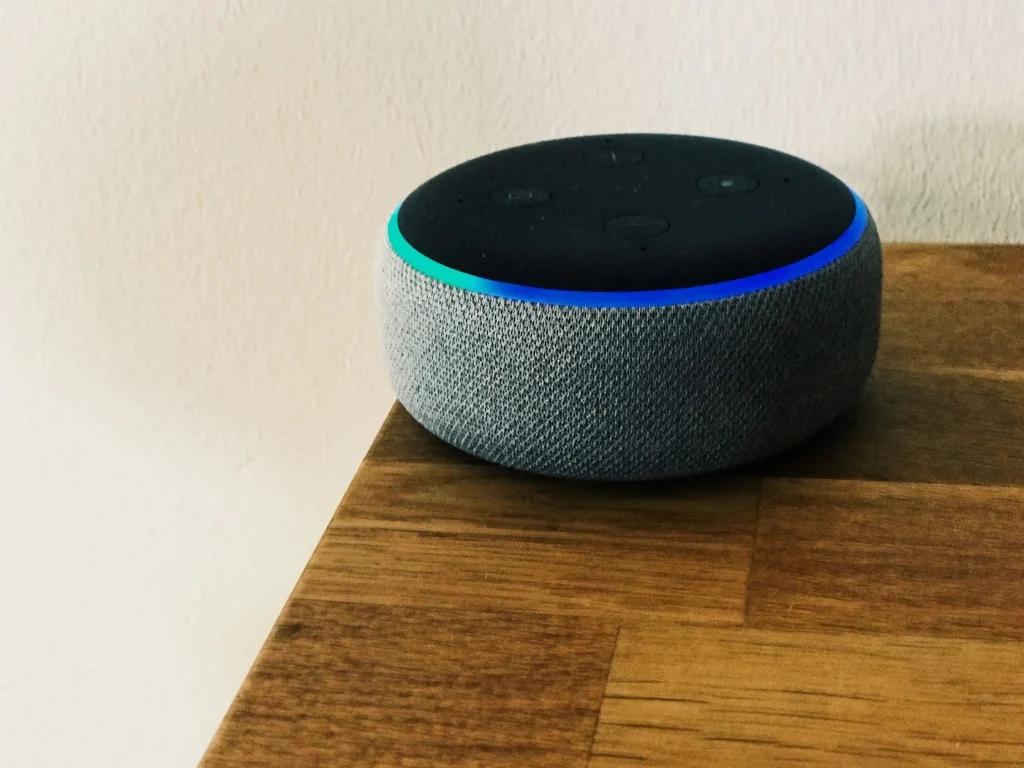 This trend sparked a new form of shopping called "Voice Commerce" or voice shopping, which now represents 40 billion US dollars worth of market share in 2022.
Just like your usual online shopping using your phone, voice-based grocery shopping has similar benefits, including:
Fresh Hydroponic Produce
Hydroponics is a type of horticulture that involves growing plants using a water system that feeds all the essential nutrients needed by a plant without the need for soil. This has long been used in the agriculture industry to mass-produce crops, like lettuce, tomatoes, peppers, celery, and so much more.
Now, according to FreeThink, an Egyptian company built a hydroponic farm inside a grocery store last October 23, 2022. The system involved installing a hydroponic farm to grow lettuce to eliminate the need for transporting goods from a farm and extend the freshness of vegetables as they are literally grown inside the grocery store.
This process wouldn't have been possible without hydroponic technology because growing goods inside a grocery store using soil could get extremely messy. Luckily, most edible plants don't need dirt to grow. 
Using hydroponics, grocery stores can easily stack trays of plants vertically, waiting to be picked by their customers. Not to mention, this could cut down costs from delivery and other overhead costs of sourcing goods from suppliers. 
This system is so simple that you can actually do it in the comfort of your home in a subdivision in Cavite. Better yet, hopefully, we can find these at the ease of your nearest grocery store.
Two-way QR Codes
QR codes have become so common these days that it's become part of our everyday lives. But just when we thought it couldn't get any better, two-way QR codes were patented by ContactPigeon to give retailers more versatility in collecting information about their customers. 
Retailers can provide a more personalized experience for their customers because this technology works by returning relevant information specific to the person scanning the code. So, for example, if you scan the code in the grocery, you will receive personalized product recommendations based on how you interacted with the store or what items you purchased.
Additionally, ContactPigeon offers visitor data in a single-view platform, which makes it easier to capture consumer behavior and transactions. With this system, physical grocery stores can have an automated and personalized way of marketing their products. You can offer numerous promotions, including:
Birthdays or anniversary offerings
Product recommendations
Repurchase reminders
Price drop announcements
Welcome series for first-time shoppers
Remarketing
Stay tuned to see more of AllDay Supermarket's continuous improvement in innovating each customer routine
Related Blog: A Smart Grocery Store: AllDay Supermarket