Have you ever yearned to venture out of your house and lot for sale in San Pedro Laguna and explore your province which is known to embody the perfect combination of city life and province life? If ever you plan to visit or even stay in this CALABARZON province, here are the zip codes and emergency numbers you ought to take note of during your next visit.
What Is a Zip Code
One's zip code or area code is often overlooked as it could be seen how people tend to forget to add it when they write down their addresses. Zip codes are not just random numbers designated to be a city's so-called reference number. Nor it is listed in order. It is also not just a number to identify where a location is.
The "zip" actually stands for Zone Improvement Plan, a route system that was first used in the United States. The Philippine Postal Corporation, also known as Philpost, adopted such a system soon enough. Each number in the 4-digited zip code represents something. They are called social identifiers which represent the demographics of the population in a certain area. Not only that but it also guides couriers on the best route to go for deliveries to a certain area. By adding a zip code to your address, it will make your deliveries come to you faster because you have already fed the information they needed in order for them to know how to go to your area. Or say you have a business and you want to get your goods delivered from your house and lot for sale in San Pedro Laguna to different areas in Laguna as fast as possible. Well, being knowledgeable about how zip codes work can do the trick.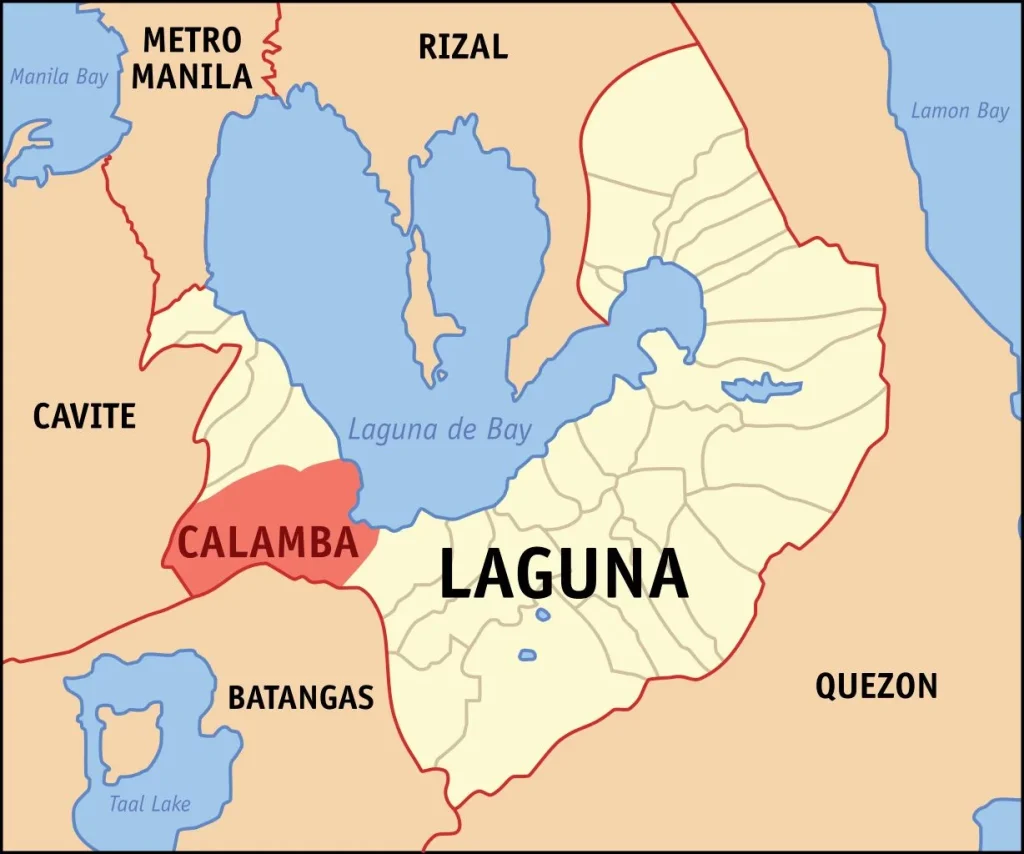 Photo from HueMan1, CC BY-SA 4.0 <https://creativecommons.org/licenses/by-sa/4.0>, via Wikimedia Commons
The Laguna Zip Code List
Below are the zip codes you ought to know of the different areas in Laguna especially when you live in the area (a house and lot for sale in San Pedro Laguna, for example):
Alaminos – 4001
Bay – 4033
Binan – 4024
Botocan – 4006
Cabuyao – 4025
Calamba – 2029
Calauan – 4012
Camp Vicente Lim – 4029
Canlubang – 4028
Cavinti – 4013
College Los Banos – 4031
Famy – 4021
Kalayaan – 4015
Liliw – 4004
Los Banos – 4030
Luisiana – 4032
Lumban – 4014
Mabitac – 4020
Magdalena – 4007
Majayjay – 4005
Nagcarlan – 4002
Paete – 4016
Pagsanjan – 4008
Pakil – 4017
Pangil – 4018
Pila – 4010
Rizal – 4003
San Pablo City – 4000
San Pedro – 4023
Santa Cruz – 4009
Santa Maria – 4022
Santa Rosa – 4026
Siniloan – 4019
Victoria – 4011
Emergency Numbers in Laguna
Anywhere one goes, one should at least be aware of where to go or which number to call for emergencies. Nothing is more frustrating and panicking if one goes to a certain place and is clueless about where to go especially when you need immediate help. So, what are the emergency numbers you need to take down when you plan to go to Laguna?
Laguna is a humongous place as evidenced on how there are different zip codes there are in this province. With its 1,917 square kilometers (740 square miles) of land, records show that Laguna actually ranks 26th in the country when it comes to land area among the 81 provinces in the Philippines. With such a vast territory, it comes as no surprise that various zip codes are assigned to different areas, leading to occasional confusion among residents and visitors alike. During times of dire need, knowing the appropriate hotlines to call becomes crucial, and the local government recognized this challenge.
To address this concern and enhance public safety, the government of Laguna embarked on an innovative journey towards becoming a "smart" province. Introducing a centralized phone dial system, the authorities launched the #Laguna helpline. And no, it's not merely a hashtag; it serves as a lifeline for residents in need of immediate assistance, support, or vital information.
Through the simple act of dialing #LAGUNA or #524862, individuals gain access to a comprehensive range of services and support. Whether faced with fire or medical emergencies, seeking answers to business queries, inquiring about government services, or reporting specific city issues or government projects, this integrated helpline caters to diverse needs.
The #Laguna helpline emerges as a beacon of hope, streamlining communication and providing a rapid response to those seeking help. With a single call, the intricate web of government agencies, emergency services, and public amenities converges to deliver timely aid. In critical situations, every second counts, and this centralized system stands at the forefront of the province's commitment to safeguarding its residents and visitors.
Needless to say, #Laguna serves as a testament to the province's commitment to embracing technology for the greater good. The implementation of this forward-thinking initiative reflects the region's dedication to progress and efficiency, further solidifying its status as a modern and dynamic destination.
Beyond emergencies, the helpline also proves to be an invaluable resource for residents and businesses alike. Individuals seeking to engage with government services find a convenient and accessible platform to voice their concerns, seek information, and participate in community-driven initiatives. Local projects and developments receive valuable feedback, facilitating more transparent and participatory governance.
Additionally, through #Laguna, it would be ensured that residents will be able to seek help from the correct office, or if it is a health emergency, they would be directed to medical help that is nearest to them.
Collaborating with the Laguna government is Gur Lavi Corp. (GLC), one of the up-and-coming fastest-growing telecommunications companies. GLC had also done similar services to different municipalities such as Makati, Bulacan, and Rizal.
Stay Safe With These Emergency Numbers in Your House and Lot in Laguna
Staying safe in a house and lot for sale in San Pedro Laguna involves being aware of emergency numbers. Keep a list of crucial contacts, such as local police (PNP), fire department, ambulance services, and nearby hospitals. Install smoke detectors, have a fire escape plan, and maintain a first aid kit. Vigilance and preparedness are paramount.